Four Furniture Parts Makers Talk About Survival Strategies
One maker boasts high self-manufacturing ratio to secure production flexibility

2013/09/11 | By Steve Chuang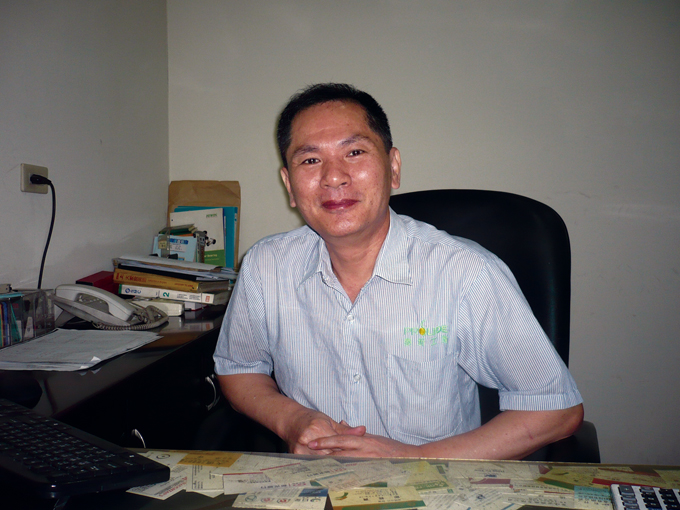 K.C. Weng started up Tai Cheer in Taiwan's central county of Yulin and built its third plant later in Changhua.
Mostly clustered in Taiwan's central counties of Taichung and Changhua, Taiwanese furniture parts makers saw their heyday as the island's export-driven economy took off in the 1960s, with the prosperity being relatively fleeting as labor, land costs rose on the island, coupled with rivalry from emerging nations as China and SE Asia, to force many downstream suppliers to seek greener pasture offshore in competitors' nations where costs are still business-friendly.
The out-migration wave did not sweep the entire furniture hardware line in Taiwan, for some remained to stand their ground at home to have performed commendably well. Three suppliers reveal their strategies amid increasingly challenging environments in interviews with CENS.
Tai Cheer
Founded in 1985, Tai Cheer Industrial Co., Ltd., a drawer slide maker, taps its seasoned know-how in machinery to achieve high efficiency and mass customization capability in production, to have grown steadily despite global economic fluctuations, not least being the 2008 financial meltdown that crippled the housing and commercial construction sectors across the world.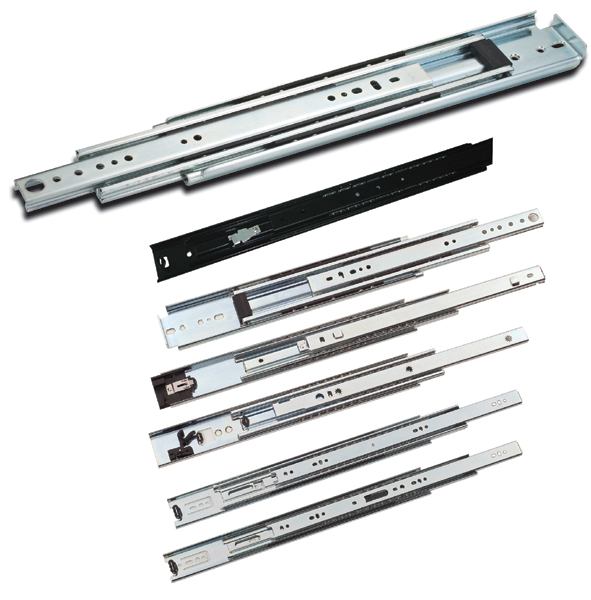 Tai Cheer's drawer slides range from light-duty to heavy-duty with load capacity up to 500lbs.
Corporate president K.C. Weng says that Tai Cheer initially engaged in roll forming machines, then branched into drawer slides and focused on overseas markets in the 1990s, due to shortage of skilled technicians and peaking of local customers' migration to China.
The decision to diversify into drawer slides, though made amid worries about the abovementioned market changes, has paid off in sustainable development, as the maker has evolved into one of Taiwan's largest suppliers of its kind by scale, with three factories in Taiwan and more than 200 employees. The maker turns out drawer slides with load capacity from 22lbs to 500lbs and applicable to not just furniture, but automotives, medical instrument and industrial production, 90% of which going to the U.S. and Europe annually.
"Years of knowledge in machinery is our bread and butter, core competence of which enables us to design and develop machines in-house to better suit production of drawer slides, also to fine-tune within the shortest time to fill custom orders," says Weng. This gives Tai Cheer strong competitive basis in the ever-changing market.
Bolstered by such competitive edge, Tai Cheer can handle nearly all front- and mid-end production including molding in-house to boast high self-manufacturing ratio to secure greater production flexibility and capacity, as well as higher qualitative consistency and lower costs than most peers, adds Weng.
The ISO-9001-certified company regularly assigns QC staff for training by ISO experts, and improves quality control measurements and standard operating procedure by closely working with larger customers worldwide on an OEM (original equipment manufacturing) basis, to attain unquestionable quality, according to Weng.
Mostly thanks to its competitiveness, Tai Cheer has maintained robust ties with bigger customers globally for years, hence seeing stable growth in 2012 and the first half of this year. "Dedicated to upgrading products for wider-ranging applications, we believe our company can take on underselling rivals to maintain solid performance in the second half and in the future," says Weng.
To boost global presence, Tai Cheer, a regular exhibitor at the Interzum, a globally renowned trade fair in Germany for furniture parts, will return to International Hardware Fair Cologne 2014, held March 9-12, after its debut several years ago. "We aim to take advantage of this globally prestigious trade fair to enhance global exposure, despite the lackluster European market," says Weng.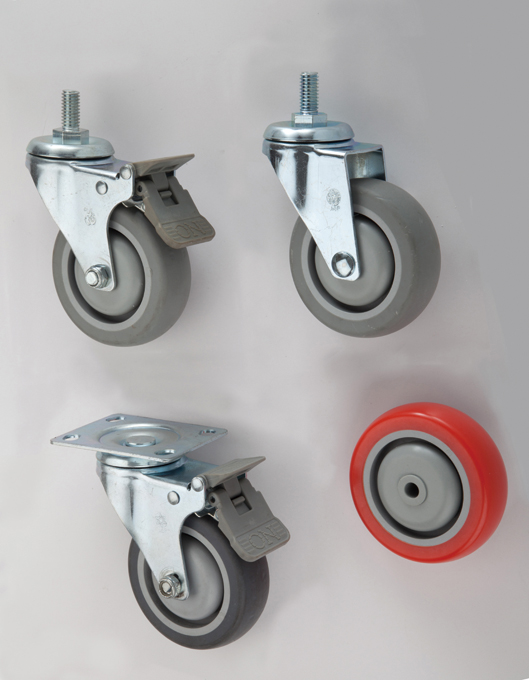 Hsin Chao Sheng runs two factories in Taiwan to supply casters and wheels for household and office furniture.
Hsin Chao Sheng
Established in 1993, Hsin Chao Sheng Plastic Co., Ltd., a specialized manufacturer of casters and wheels has competed well on excellent production capability driven by skillful, experienced workers.
C.P. Hsu, senior administrative assistant, says that with more than 25 years of expertise in plastic injection molding backed by two factories in Taiwan, the company supplies plastic parts and accessories, mostly casters and wheels, for household and office furniture, with about 80% exported every year.
"We were also despondent over the overall downturn following local furniture makers moving to China during the 1990s, but eventually survived the crisis because of our outstanding production capability and skilled workers," says Hsu. He adds that corporate growth was pushed forward last year when it garnered a big order for wheels from Japan, also remaining subcontractor for a large customer in the U.S.
As Taiwan's traditional manufacturing industries are racked by manpower shortage, Hsin Chao Sheng religiously believes that employees are valuable assets and key to achieving high production efficiency. "Although our company doesn't have a large workforce, each senior production line leader is treated with great respect by the company for their ample experience and skills, which also includes independently handling full-cycle order receiving and filling, as well as cost management, which helps to greatly enhance operating efficiency," says Hsu.
Besides, employee loyalty cultivated from self-motivation and support from company founders is also a source of Hsin Chao Sheng's competitiveness. Being loyal to the company and work, the workers generally are more willing to support company policies and do their utmost to improve operations, says Hsu.
Backed by loyal employees and experienced production line leaders along with semi-automatic machines, the company can better satisfy customers with flexible, efficient production, speedy delivery and high-variety, low-volume production to survive and grow, according to Hsu.
To penetrate the ASEAN (Association of Southeast Asian Nations) market, the company is working to start up a factory of casters in Vietnam to back up a Taiwanese customer operating in Malaysia. Emerging economies in Southeast Asia have made the ASEAN bloc a tremendous market with great growth potential. "For sustainable development, we are therefore trying to build a foothold there," says Hsu.
Pei Feng offers more than 3,000 different furniture hardware and parts mostly thanks to efficient manufacturing network.
Pei Feng
Pei Feng Industrial Co., Ltd., founded in 1991, is an OEM specializing in furniture hardware, K/D and metal parts in the central Taiwan county of Changhua.
Increasingly cornered by rivals from China and Vietnam, C.J. Chiu, Pei Feng's owner, realizes that satisfying customers with production efficiency is a smart way Taiwanese small and medium-sized manufacturers as his can compete globally.
To that end, the company is not just a reliable supplier to global customers of system furniture, but also a technologically capable R&D consultant by drawing on its knowledge of metallurgy and decades-long experience in furniture hardware to help speed R&D, according to Chiu.
Besides, Pei Feng has teamed up with smaller subcontractors to form a sound supply network, which realizes a bigger subcontractor hub with larger capacity and higher efficiency. Each member of the network focuses on only one production process according to its specialization, with Pei Feng engaged in assembly and representing the network to contact customers, Chiu says.
"By sharing know-how, including electroplating, painting and packaging, as well as production capacity, we fill customer orders more efficiently to create mutual benefit," says Chiu. Mostly thanks to the partnership along with over 10 years of concentration on production efficiency, the company supplies a comprehensive collection of more than 3,000 different kinds of furniture parts and hardware, to be able to stay afloat in the increasingly competitive market, according to Chiu.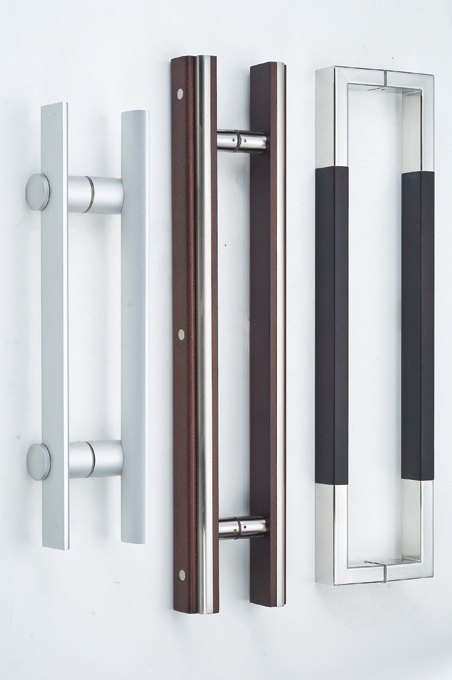 Chih Hsian specializes in production of large door handles as market-differentiation strategy.
Chih Hsiang
Chih Hsiang Hardware Co., Ltd., a furniture and door handle manufacturer established in 1993 in Taiwan's central city of Changhua, has effectively carved out niches with market differentiation.
Witnessing the downturn in Taiwan's furniture industry in the 1990s, Chih Hsiang's chairman Chen Shu-fin says that his company, after a few years of making small cabinet pulls and knobs of zinc alloy, decided to diversify into larger door pulls and related fittings for commercial buildings.
"We spent considerably on mold development and production upgrades at that time and cooperated with an Italian door designer to absorb the newest design concepts and CNC (computer numerically controlled) and CAD (computer aided design) technologies to position ourselves in the segment," says Chen.
With strenuous effort, the company has evolved into a leading supplier of its kind in Taiwan in the recent decade, commanding a 90% share of the market on the island and building solid overseas footholds in the Middle East, South Asia and Japan. Besides, the company is also well-known for its OEM and ODM (original design manufacturing) capability.
Not to rest on its laurels, the company steadily improves production capability and enriches know-how about application of metals and composites, electroplating technologies such as PVD (physical vapor deposition), aiming to hold its lead in Taiwan, according to Chen, whose firm can turn out door handles with maximum length of 3.3 meters in Taiwan.