Jia Goang Furniture Industry Co., Ltd. is a top furniture maker located in central Taiwan. Ever since its inception in 1987 the company has concentrated its efforts toward the goal of becoming a leading integrated office chair manufacturer with the capability to select suitable raw materials and handle all manufacturing processes up to and including final packaging.

To meet growing market demand, Jia Goang decided to extend its operations to mainland China about 10 years ago, first setting set up Jia Goang International Co., Ltd. in Shanghai. Following the success of that venture, the company went on to establish Jia Goang Technology Co., Ltd. in Chongqing, Sichuan Province in 2010 and a year later Kunshan Ruby Furniture Co., Ltd. in Kunshan, Jiangsu Province.

"We always stick to a manufacturing philosophy of streamlining production lines, developing ergonomic products, and strictly controlling quality," insists Peter Lin, general manager of the company. "Moreover, to meet the global environmental protection trend, we use high technology to turn out multifunctional products that are eco-friendly and recyclable."

To stay competitive, Jia Goang has kept rolling out new products to meet ever-changing global market trends and keep its offerings popular with consumers. Today the company enjoys an international image as a supplier of innovative high-end products.

The company recently unveiled its latest product, an ergonomic multifunctional high-tech office chair carrying the serial number 'JG1301,' and dubbed as "Everest Chair". The chair combines functions of both work and leisure, reflecting the human-oriented concept behind its design. "We conducted strict tests on various sitting positions for working and resting, and finally developed this multifunctional ergonomic chair," Lin says.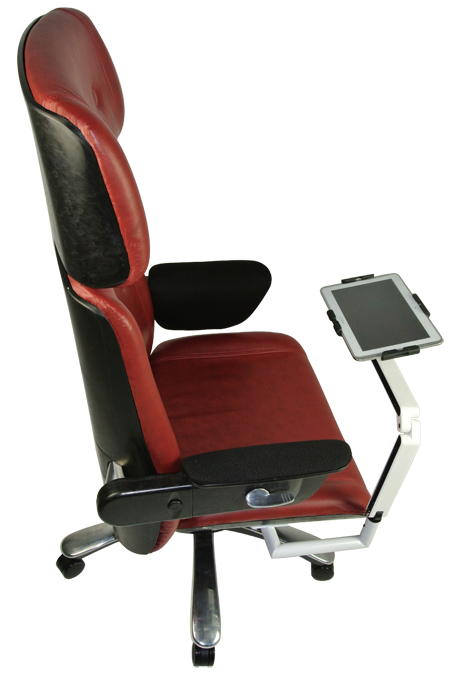 The stylish high-tech office chair will hit the market after its August debut.
"The seat and back of the chair can be synchronously adjusted to meet the needs of the user, providing comfortable lumber support," Lin explains. "Moreover, a speaker inside the headrest provides stereo sound through a blue-tooth interface. The sitter can relax and listen to music whenever he or she is tired of working."
The chair comes with an iPad/flat computer holder that can be turned to any angle, enabling the user to easily operate e-devices while sitting in it. "To provide the utmost in comfort," Lin adds, "the seat of the chair can be tilted forward and backward. The back and seat are made of non-toxic PU foam and environmental engineering plastic, and 99% of the materials can be reused and recycled. Moreover, there is a foldable footrest under the seat that can be pulled out when needed." The chair is to make its debut in August. (JL)