Taiwan's auto-parts industry is often reported to be internationally known for supplying quality, reasonably-priced products for the global aftermarket (AM), as well as product comprehensiveness that is not easily surpassed by typical rivals due to steady product development over decades.
At the 2013 Taipei Int'l Auto Parts & Accessories Show (Taipei AMPA) and Taipei International Automobile Electronics Show (AutoTronics Taipei), held April 10-13 in Taipei and a major automotive parts show in Asia, global visitors saw many Taiwanese companies show impressive advancement in product quality, innovation, global competitiveness, having become leaders in niche markets worldwide.
These makers seem to be immune to economic fluctuations, able to post steady business growth for offering, not just competitive prices, but overall competitiveness unmatched by many other rivals.

Restyling Products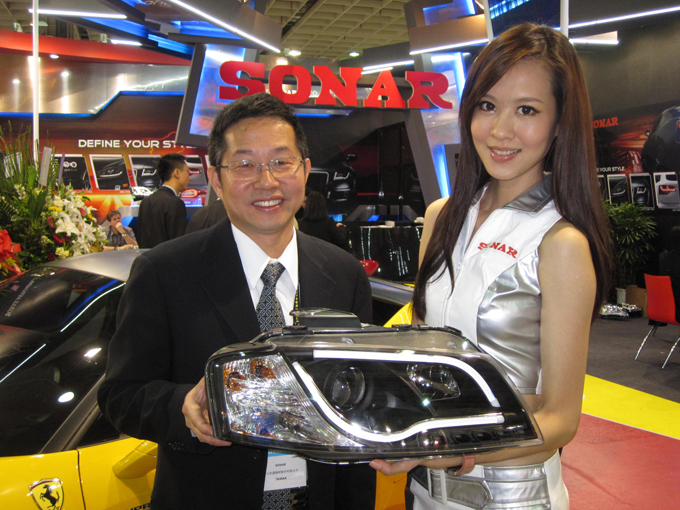 Hubert Yang, Sonar's vice president and chief of its R&D team of Sonar.
One such maker is Sonar Auto Parts Co., Ltd. of Taiwan, a major international player focusing on restyling or enhanced auto-lamp market for some time. The company has been tapping the Blue Ocean strategy, gleaning design and development know-how in Taiwan, to rapidly and effectively gain solid foothold in the global AM auto-lamp market.
At this year's TAIPEI AMPA, Sonar showcased head and tail lamps built with its patented light-tube technology. Hubert Yang, Sonar's vice president and chief of its R&D team, says that the light-tube modules have four global patents for headlamp application.
Cooperating with a tech firm, Sonar drew the light-tube idea from the backlighting-module concept from the information and communication technology (ICT) and liquid crystal display (LCD) panel industries. Each light tube has edge-lighting LEDs, with the special coating in the tube able to turn edge-light upward to emit very smooth, balanced light in head or tail lamps.
The light-tube design is widely built into Sonar's lamps, and Yang says the ITC-inspired technology is relatively stable and cost effective relative to competitors' solutions.
Besides adoption of newer and better technology, production processes and materials, Yang says that his company's success in sales of both tail lights and headlamps is attributable to taking the road less traveled.
While major counterparts focus more on AM replacement or performance lamp models, the VP says that Sonar has found a niche in developing headlamp and tail lights that are stylish, innovative but priced minimally higher than typical AM replacements. "This type of market positioning enables us to quickly win customers and expand sales worldwide. It also helps us avoid infringing OE design patents and direct competition against AM and performance counterparts. Our innovative designs as using LED light tubes or bars tend to attract younger drivers and replacement parts buyers looking to upgrade styling, as well as exceed OE designs. The market response has been positive, encouraging us to more aggressively develop new products for popularly-priced, luxury makes and models," says Yang.
Sonar operates three factories in Taiwan, including two in northern and one in southern Taiwan, with about 500 employees. Backed by steady investment over the years as well as regular annual product-development investment of about NT$300 million (US$10 million), the firm supplies over 1,000 head and tail lamp models.
"Sonar enjoys stable sales growth yearly, and the company's sales are often mostly unaffected by the global economy, thanks to clear market positioning, appealing products, and rapidly-widening product range," says Yang.
For major Taiwanese auto-lamp makers including Sonar, according to Yang, they have gained solid footholds globally to be able to stay ahead of rivals relatively easily.
More OE-oriented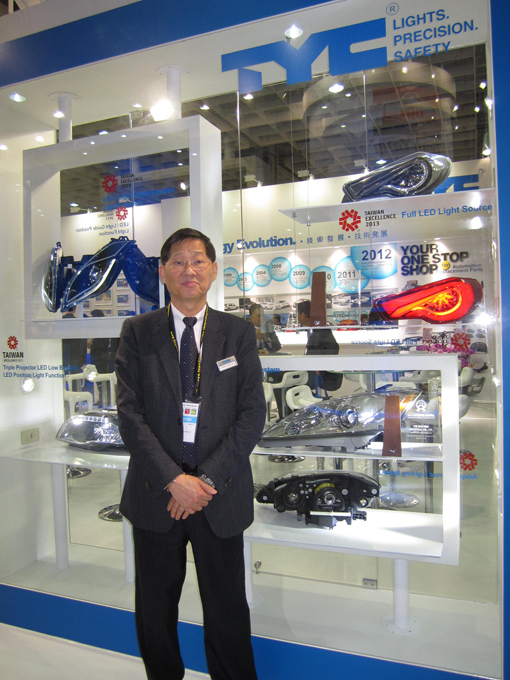 Carlos Ting, vice president of TYC, showing his high-end products supplied to international vehicle makers on OE basis.
TYC Brothers Industrial Co., Ltd., a major auto-lamp maker in Taiwan and leader globally, is gradually eyeing to become an international original equipment (OE) supplier after building a firm foothold in the AM replacement market.
Carlos Ting, TYC's vice president, says that his company will continue to expand OE sales, backed by new OE orders from auto, motorcycle and other types of vehicle makers in North America, Europe and other regions.
Founded in 1986 in southern Taiwan's Tainan, TYC Brother Industrial Co., Ltd. is a major auto-lamp supplier on both OE and aftermarket basis. Backed by an R&D team to ensure technological superiority, the firm offers a wide range of auto-lighting products globally. Backed by advanced production facilities, vast experience in production, well-trained technicians, the firm has acquired ISO14001, ISO 19001, and ISO/TS16949 certifications, also approved as full participant in the Certified Automotive Parts Association (CAPA) program in North America.
At 2013 TAIPEI AMPA, TYC showed the TYC AFS (Adaptive Front Lighting System), the first aftermarket headlamp equipped with intelligent adaptive system and HID bulbs, with a sensor that monitors steering angle and vehicle speed to adjust projection orientation to enhance driving safety. TYC uses AFS to develop headlamps for U.S. and European vehicles on OEM and aftermarket basis. The product has been awarded the Taiwan Excellence 2012. According to Ting, TYC developed in-house the mechanisms of the AFS headlamp to avoid patent disputes, and CAPA of the U.S. will soon certify TYC's AFS headlamps for sales stateside.
TYC will also launch its new Full LED Tail Lamp, made of eco-friendly materials and designed to apply multi-reflection technology, total internal reflection (TIR) optical technology, and direct LED diffusing technology to offer quality, appeal and competitive price.
"TYC has focused on product development, technical upgrading and quality control for more than 20 years. Initially, we concentrated on the AM replacement vehicle-lamp market and then gradually became OE supplier to international auto and motorcycle makers due to integrated competitiveness. Now we try to further upgrade our global OE business, and are confident of achieving eye-catching results," says Ting.
TYC operates auto-lamp production or assembly factories in Taiwan, China, Thailand, Iran, and Lithuanian. Ting says that China is a focus for TYC's OE-business development, believing that Chongqing, Sichuan Province, where about 25% of new cars are produced in China, is an important target market for global auto and parts makers.
Ting also adds that his company has been aggressively developing newer, better LED auto lamps, which are now more popular in Europe than the U.S., adding that his company stays updated to market standards and regulations on such products.
NHC's "ECO" Friction Products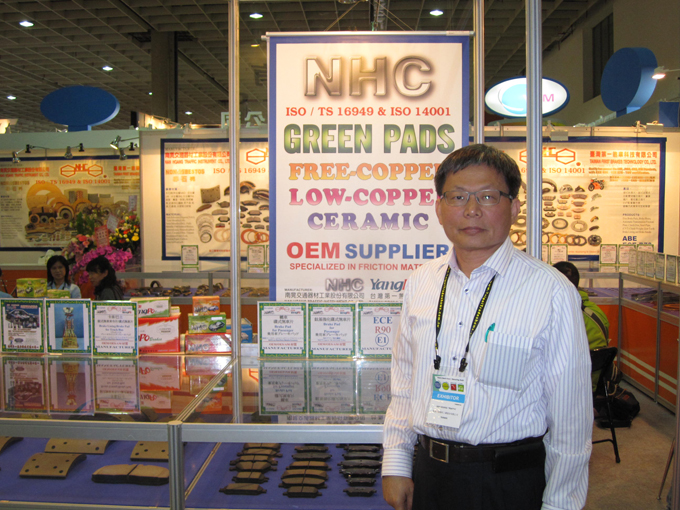 Fred Cheng, Nan Hoang`s chairman, announces three major corporate plans to be completed by 2014.
Nan Hoang Traffic Instrument Co., Ltd. is a major supplier of friction products in Taiwan. Established in 1961, the company is ISO9002, QS9000, ISO14001, and ISO/TS 16949 certified and has developed about 7,000 products that are popular with global automobile and motorcycle manufacturers, first-tier brands, and aftermarket parts customers. The products meet ECE R90 (for European cars), ECE R78/ABE (motorcycles), and TUV quality approval and comply with SAE, JASO, DIN, and CNS test standards, making them especially sought-after in the high-performance segment.
At this year's TAIPEI AMPA, Nan Hoang's president announced three corporate development directions for the next one to two years.
The first, according to Cheng, is that Nan Hoang will more aggressively develop OE business by supplying big international makers of automobiles, powered two-wheelers (PTWs), bicycles, agricultural machines and other types of vehicles, or first-tier parts makers. In 2013, the company is expected to land at least two big-ticket orders, including from local carmaker Luxgen Motor and international tier-1 TRW's operation in Europe.
Cheng says that his company already supplies brake pads to 30 global auto and motorcycle manufacturers on the OE basis, with several big cooperation projects in the pipeline, including with an American electric vehicle (EV) maker, and several European carmakers as Volkswagen and Audi. Cheng says that Nan Hoang's products exceed those of rivals in tests involving various parameters.
To win more OE orders, Nan Hoang continues promoting the eco-friendly "ECO" series products, Cheng says. According to the president, increasingly serious eco-pollution with heavy metals and toxins threaten the global ecology. Backed by ample know-how and expertise in friction-materials, Nan Hoang has developed its "ECO"-series friction products totally free of metal (steel fiber and copper), asbestos and toxins. Cheng stresses that the ceramic-fiber NAO (non-asbestos organic) brake pads and shoes are not merely green products. The "ECO" brake pads and shoes are outstanding in brake force, low-wear on discs or drums, high temperature, low-noise, durable etc.. The "ECO" series products are also fully compatible with RoHS and REACH standards of the EU.
The second corporate target is to steadily upgrade testing and inspection capability and renew equipment. Cheng says that his company has purchased the world's latest and most advanced friction-material performance tester from LININK of the U.S. to test products for passenger and racing cars. This tester is versatile and tests under variable ambient conditions as humidity, as well as for noise. It tests and inspects brake pads and shoes for racing cars at speeds of 350 km/h. In addition, Nan Hoang has also bought another set of high-end equipment to test brakes on truck, bus, rolling stock and trains.
Cheng proudly claims that Nan Hoang is one of few players globally with full capability to formulate friction materials for various applications, backed by top-end inspection and testing equipment.
The third corporate direction is the planned construction of a factory by the end of the third quarter 2014, to be backed by the most advanced integrated production with material feeding, forming, production and processing. Nan Hoang has self-designed the whole production line, and placed orders for local, international machinery makers.
The new factory's automated production line is expected to double Nan Hoang's capacity, also helping the company accept more orders from international customers.
"With these corporate plans to be completed by 2014, Nan Hoang will be a step closer to be a global leader," says Cheng.