Brake system parts, master/slave cylinders, wheel cylinder, clutch master/slave cylinder etc.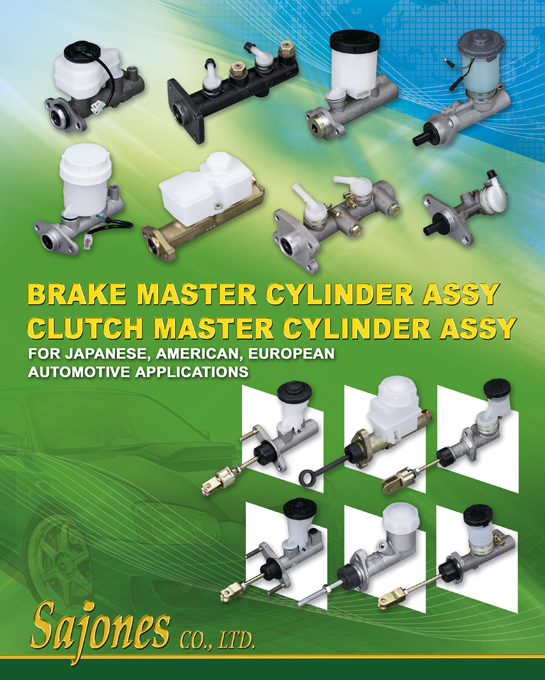 Established in 1970, Sajones Co., Ltd. is an ISO/TS 16949-certified company specializing in making high-quality brake system parts, boasting in the past four decades to have accumulated abundant know-how and experience in related fields, hence being a major supplier of its kind in the global automotive aftermarket.
Developing and manufacturing brake master cylinders, wheel cylinders, clutch master cylinders and clutch slave cylinders, Sajones claims to adopt the highest standards to produce, process, and inspect every item. In addition, it insists on offering satisfactory service to customers worldwide and is very proud of its well-trained, experienced staff.
The R&D team conducts reverse engineering in-house with top-end and advanced equipment, the maker says, and as long as a sample is provided by a customer, Sajones is fully confident of counter-producing such item to original equipment (OE) quality but at competitive price.
Sajones claims to adopt manufacturing processes strictly following the SAE and JIS guidelines, hence able to offer products that are very popular with customers pursuing higher quality in major markets as Japan, North America, Europe and South America. With long-term devotion to quality, durability and functional improvement, Sajones is very confident that its customers are offered the best quality.
The maker stresses that its core competitive edge lies in product comprehensiveness (achieved by the firm's continued investment in product development), superior in-house design, customer-oriented services, advanced technical concepts, production flexibility (small-batch, large-variety), one-time delivery and customized packaging designs etc. Such capabilities enable Sajones to build a solid reputation globally, also being competitive and able to respond to ever-changing markets by fully meeting customers' demand.
Sajones strongly believes that it can be any buyer's practical partner in the long-term, also inviting inquiries from all kinds of aftermarket operators. (QL)
Sajones Co., Ltd.
6th Fl., 5 Tunhua S. Rd., Sec. 2, Taipei, Taiwan 106
Tel: 886-2-2700-9301
Fax: 886-2-2704-7987
E-Mail: sajones@ms9.hinet.net
Website: www.sajones.com