Disc brake pads, brake shoes and linings etc.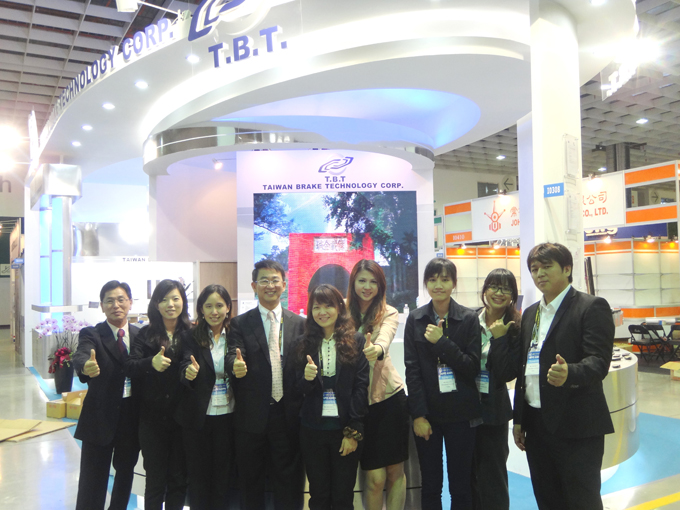 Founded in 1986, Taiwan Brake Technology Corp. (TBT) is a veteran specializing in developing and manufacturing high-grade friction products, especially brake pads and shoes for passenger cars and light trucks (under-3.5 ton). Known for quality, reliability and safety, TBT brake pads and shoes are certified to ECE R90 (E mark), E1, AMECA etc. standards.
The ISO 9001-certified and TS 16949-pending (scheduled to be approved by 2013-end) maker is purportedly the most comprehensive supplier of brake pads and shoes for passenger cars in Asia or even the world, offering more than 2,000 brake-pad models and about 800 brake shoe models for approximately 3,000 makes and models worldwide. The maker steadily invests in product development to enhance its lineup by dozens yearly, claiming to have brake pads or shoes for almost every make and model within three years.
After gaining solid foothold in the international market with high confirmation of product quality, durability and safety, TBT began globally marketing its own "INTIMA" brand in 2005 to directly compete with major nameplates in Europe and Japan.
All of TBT's products are made of Non-Asbestos Organic (NAO) materials, achieving longer product life, excellent Noise Vibration and Harshness (NVH), friction stability, low dust etc., with NAO materials being self-formulated by the in-house R&D team. The maker claims to supply products fully meeting requirements of pad life, dust control, stopping power, anti-noise, integrated control, rotor scoring solution etc.
In addition, the company's mechanical engineers self-developed a set of scorching machine to improve the production process for achieving higher product quality. The machine won the National Golden Invention Award of Taiwan in 2010.
In recent years, TBT has ventured into high-end racing brake pads and shoes that have been proven on racetracks in Europe and Japan. The firm's Type-D series products, for example, offers extraordinary brake control and superior initial bite at high speed; and the proven stopping power ensure the best safety at racing speeds with high fade-resistance even at 800 Celsius.
To meet strong demand globally, TBT is expanding capacity at its factory, targeting to elevate annual capacity to some 4.5 million pad/shoe sets by 2014 from about three million now.
Taiwan Brake Technology Corp.
123-6 Chungsha Village, Anting Dist., Tainan City, Taiwan 745
Tel: 886-6-593-3800
Fax: 886-6-593-3528
E-Mail: tbt@taiwanbrake.com
Website: www.taiwanbrake.com