Taiwan is important as market and export production base for Yamaha

Having been a top-three player in Taiwan's powered two-wheeler (PTW) market for dozens of years, Yamaha Motor Taiwan Co. (Yamaha Taiwan) shows potential to jump to the No. 2 position this year, with sufficient market share to break the long-term dominance by its major rival Kwang Yang Motor Co., Ltd. (KYMCO brand) on the island. Notable is that Yamaha's export volume has been growing steadily in recent years.

Hiroyuki Seto, president of Yamaha Taiwan, recently said his company has been aggressively building brand image, customer satisfaction and product quality, and that now is the time to show determination to become the No. 1 player in Taiwan in terms of brand image, customer satisfaction and sales volume.

Taiwan's PTW market has been dominated by the top-three KYMCO, Sanyang Industry Co., Ltd. (SYM) and Yamaha Taiwan who own more than 90% of the market. With well-established sales and service points island-wide, as well as products meeting consumer requirements, KYMCO has led Taiwan for about 15 years running, followed by SYM (which terminated technical cooperation in motorcycle production in 1995 with KYMCO) and Yamaha Taiwan. In recent years, KYMCO has steadily commanded over 40% market share to widen the lead over SYM and Yamaha.

Seto says that Taiwan is very important tactically in Yamaha's global PTW business deployment, for being not only the export base of high-end light scooters, but also an important market, and that Yamaha Group will further expand parts procurements from Taiwan for adoption in Yamaha's high-end, big-displacement PTWs, jet skis, all terrain vehicles (ATVs) etc.

Domestic Market
For the long term, Seto says that sales volume of PTWs in Taiwan will inevitably drop due to graying population and low fertility rate in Taiwan, as well as rising MRT systems in major cities.

However, Seto says, Taiwanese people rely on unmatched mobility and convenience of PTWs, which will remain in demand steadily on the island, as well as being dual functional as transport and recreational vehicles driven by rising living standards on the island. Yamaha Taiwan is moving to meet such product transformation to lead such market changes.

Seto took the helm as Yamaha Taiwan's president in January 2012. In response to a fuel-pump recall for some scooters, he says that Yamaha Taiwan kicked off a series of changes starting last year with the new corporate motto "Revs your heart"—targeting to provide products and services beyond customer expectations.

Targeting No. 1
Seto says that his company aims to be an all-round No. 1 in Taiwan's PTW market, in terms of brand image, product quality and sales volume. To achieve that goal, Yamaha Taiwan will soon kick off an unprecedented distribution channel restructuring plan on the island to completely renew the image of all its 3,000 sales and service points in three years.

Yamaha's headquarters in Japan has always deemed Taiwan a very important market in its global business deployment, as well as a production and export base of sub-150cc PTWs. Currently, the Taiwanese subsidiary exports some 150,000 PTWs globally through Yamaha's sales channels.

Yamaha Japan has also set up a procurement subsidiary in Taiwan to purchase key parts to ship to global factories for final assembly.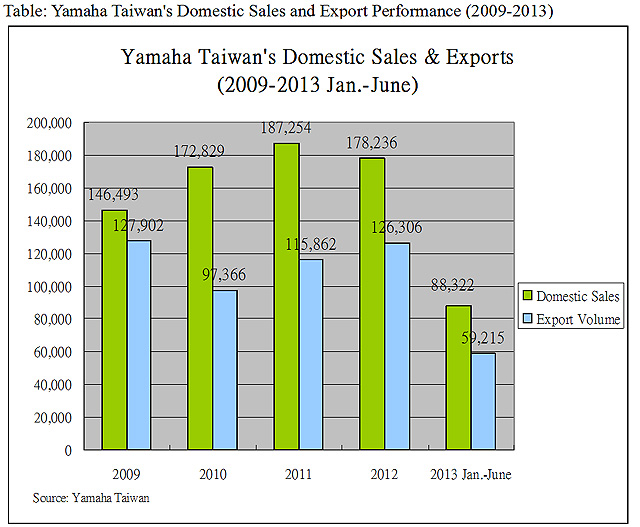 Hiroyuki Seto, president of Yamaha Taiwan.
According to Seto, Taiwan-made PTW parts and accessories feature high quality, superior cost control and prompt delivery, while suppliers are flexible to respond to different requirements, also having advantages to supply good-quality parts for higher-end powersports products as big-displacement motorcycles and motor scooters, ATVs and other watercrafts. So Yamaha Group plans to further expand parts procurements from the island.