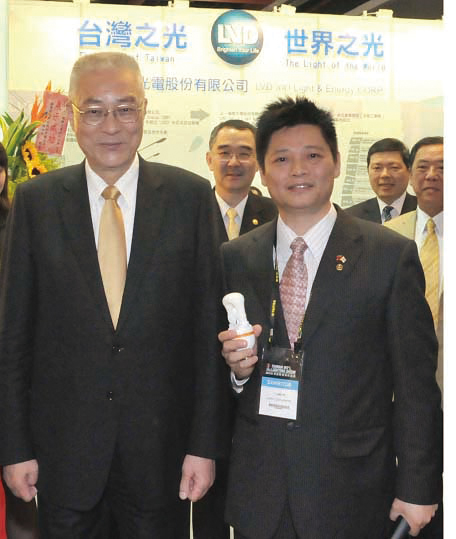 ROC Vice President Wu Dun-yi (left) poses for a photo with with Jack Chen, chairman of New Taipei City Lighting Association.
Interview with Jack Chen,
Chairman of New Taipei City Lighting Association
In Taiwan's lighting industry, Jack Chen, General Manager of the LVD International Light & Energy Corp., is something of an anomaly. LVD International, which he established in 2007, is the first Taiwan-based company to specialize in the design, production, and marketing of induction lamps.
Compared to peers who have been working in the lighting industry for decades, Chen can only be regarded as an arriviste. Although he originally lacked any particular qualification for success in the industry, he has been deeply involved in lighting research ever since he entered the field. Today he is able to talk fluently and cogently on all aspects of the industry's evolution and current status; and, importantly, he has developed his own unique ideas about lighting sources and the future development of the market.
The recent rise of green lighting follows the global trend toward energy conservation and carbon reduction; its future prospects look generally bright, yet the market performance of green lighting is falling far short of most expectations. The reason for this, Chen believes, is that while green energy products meet the demands of environmental protection, energy conservation, and carbon reduction, they currently lack market acceptance mainly because the average consumer is still unfamiliar with them.
Even professional lighting designers may not know how to best illustrate the characteristics of various light sources.
To address this problem, Chen worked for the organizing of the New Taipei City Lighting Association, which was formally established last March with basic education and training in lighting among its major missions.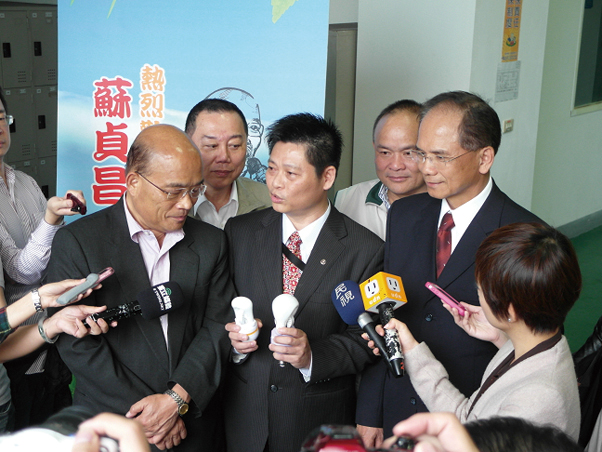 Chen (center) explains the characteristics of LVD induction lamps to former premiers Su Cheng-chang (left) and Yu Shyi-kun (right), as reporters watch.
Broad Membership and Professional Training
The New Taipei City Lighting Association, Chen said, is focused on building a solid foundation for the industry's development. He noted that the association's membership covers a broad spectrum; all lighting-related businesses, organizations, and individuals can join, including those involved in lighting design, production, marketing, installation, assembly, and education. The association aims to effectively propagate professional lighting expertise and achieve universal professional training in lighting.
"Lighting is something needed in everyday life, and has long been a part of the daily lives of ordinary people," Chen observed. "This is precisely the reason why people often ignore the professional knowledge associated with lighting." For example, he continued, "higher education is now widespread in Taiwan, but while there are over 100 colleges and universities on the island with electrical engineering faculties, as well as a variety of electronics-related departments in other schools, professional lighting departments are lacking."
Even industrial design departments, which have become so popular with students of all ages in recent years, do not offer any lighting-related design courses. "We occasionally see students publishing works on lighting design; but that's just lamp design, and such things can't be considered professional," Chen scoffed with some feeling. Lamp design is just the tip of the iceberg and, strictly speaking, does not involve any professional lighting expertise. Chen believes that light sources should be central to professional lighting design, and that the exterior design of lamps should complement the characteristics of their light sources.
Based on this premise, Chen has invited a number of experts and scholars, through the New Taipei City Lighting Association, to join forces with the National Taipei University of Technology in setting up an educational cooperative for lighting courses as a mans of encouraging cooperation between academia and industry.
The New Taipei City Lighting Association will also offer its members and the public a range of professional lighting training courses as a building block for the future development of Taiwan's green-energy lighting industry.
Lighting safety alone, Chen remarked, represents a huge area of learning. LEDs and other new lighting sources have emerged in recent years and are becoming more and more popular, but there is still no uniform national electrical safety standard for this kind of lighting. Fortunately, for the induction lamps produced by LVD International, Taiwan enacted the CNS15535 Induction Fluorescent Lamp National Safety Certification Standard last year at Chen's instigation.
Chen believes that every kind of artificial light source has its own characteristics, and so its own suitable area of application. People working in lighting design should first gain an understanding of the characteristics of different light sources if they want to choose a source most appropriate to their needs, and then create a design which can take full advantage of the particular characteristics of the chosen source.
Further, if consumers understand the various characteristics of artificial light, they will be able to make purchases which more accurately suit their lighting needs.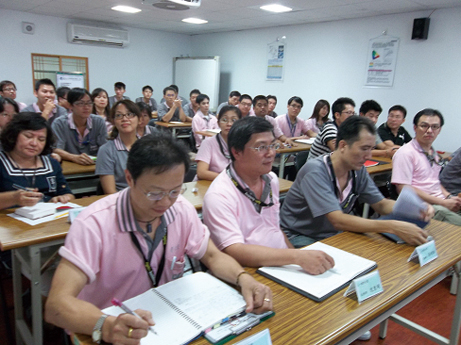 Arranging professional lighting training courses is a major task for the New Taipei City Lighting Association.
Medium and Long-term Goals
When the New Taipei City Lighting Association was first established last year, it had just over 100 members. Chen estimates that the number will grow to more than 400 this year.
Chen pointed out that the New Taipei City Lighting Association and the decades-old Taiwan Lighting Fixture Export Association (TLFEA) are different in nature, and that the relationship between the two is complementary. The former has a broad membership including all kinds of lighting-related firms and individuals, and is committed to strengthening the roots of the lighting industry. The membership of the latter, by contrast, is made up of companies; its mission is to help members develop new markets, and it places emphasis on commercial development.
With his keen interest in all matters related to the lighting industry, in addition to masterminding the creation of the New Taipei City Lighting Association and serving as its first chairman, Chen is also on the board of directors of the TLFEA in charge of matters related to product safety specification.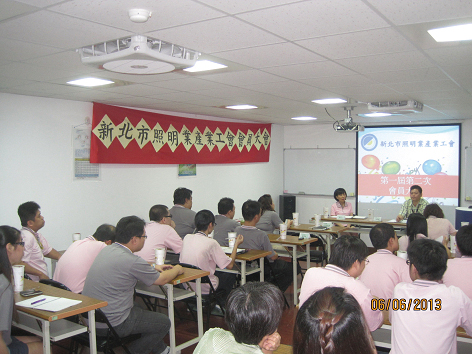 The New Taipei City Lighting Association holds events every month to encourage interaction among its members.
At the time of its founding, the New Taipei City Lighting Association took a number of tasks upon itself. Its short-term focus is on enhancing exchange and liaison among its membership in order to promote professional training in lighting. For the long-term, it may expand into a national federation in order to increase its sphere of influence.
On the one hand, the association serves as a voice for the industry and acts as a bridge for communication between members and the government; on the other hand, it can assist the government in organizing Taiwanese delegations and bringing together groups which represent the island's lighting industry to participate in international lighting shows and exhibitions. In this way, it can help upgrade Taiwan's status on the global lighting market.
The rise of green energy in recent years affords Taiwan a powerful advantage in terms of industrial technology. "Taiwan should integrate and utilize its resources, grasp the opportunities that present themselves in today's rapidly rising global green energy industry, and thus enhance its influence in the international market," Chen concluded.