Advancements in automotive technology in recent years have extended far beyond engines and powertrains to include the "connected vehicle" concept of automotive
electronics.

As part of this concept, in-car entertainment has undergone a major transformation over the last five years as vehicle manufacturers have rushed to adapt to major advances in media consumption in daily life. Not long ago consumers were satisfied with analogue radio and a CD player, but the automotive technology consultancy and research firm SBD predicts that by 2018 32 million new vehicles per year will be shipped with advanced infotainment systems that offer drivers a much richer and much more connected entertainment experience. As the car becomes an entertainment hub, digital radio, Internet radio, and advanced media streaming are all rapidly becoming standard features on many models.

To adapt to this transformation, the automotive industry has been busy debating how best to enable next-generation entertainment services in the car. They face an expanding array of options, including smartphone integration solutions, embedded SIMs, and multi-functional digital radio receivers.

Many vehicle manufacturers are coming to realize some important new realities about the future of in-car entertainment, SBD says.

First reality: Hybrid platforms

The first reality is the importance of hybrid platforms. Each type of connectivity has specific strengths and weaknesses. Smartphone integration enables drivers to access their favorite apps in an affordable way, but OEMs have struggled to enable a simple user experience. Embedded solutions provide a simpler user experience, as drivers using them do not need to pair their smartphone to access services, but few are willing to pay yet another subscription fee to cover the communication costs incurred by in-built SIMs, SBD notes.

Digital radio, on the other hand, offers content delivery at a fraction of the cost (or even free), but the industry has faced uncertainty in the past about the roll-out of such services in some key markets. The days of agonizing over which platform to adopt are gradually coming to and end, however, as more OEMs begin to see the complimentary nature of each approach and to develop hybrid solutions.

Second reality: Regulation of driver distraction

The second reality faced by OEMs, according to SBD, is the role that regulation will inevitably play as governments grow increasingly concerned about driver distraction. In the United States people have already seen the government introduce tough new design guidelines that will force some OEMs to scale back some of the functionality of their existing systems. Although these guidelines are often positioned as 'voluntary,' in reality OEMs are unlikely to ignore them for fear of risking stronger government action or potential legal action by drivers involved in distraction-related crashes.

Third reality: Content-centric user interface

Based on the above, SBD continues, it is easy for the automotive industry itself to be distracted by debates about technologies and government restrictions on those technologies. However, this brings the third reality faced by OEMs: success relies on developing content-centric rather than technology-centric solutions.

SBD recently conducted a major consumer survey of the latest in-car entertainment systems, many of which are promoted by OEMs as offering advanced features such as Facebook and Spotify. When presented with these systems, one of the most common reactions among drivers was confusion. All of the systems tested offered a wide range of entertainment platforms, such as smartphone apps, Internet radio, digital audio broadcasting (DAB), CDs, and analogue radio. However, OEMs have not yet found a way to seamlessly and intuitively integrate the content from each of these platforms into a single user experience. Instead, drivers are forced to jump through hoops in order to navigate between all of the platforms and find their favorite content. Doing this while stationary proved difficult for many of the consumers who participated in the survey, and it is easy to imagine how much more complicated it would be to navigate through the menus while driving.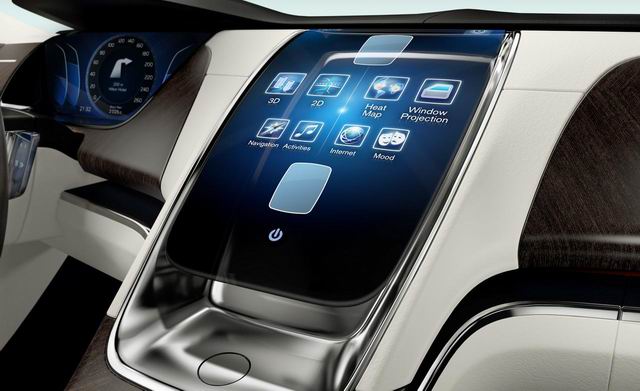 In-car infotainment systems are advancing rapidly, but the end-user experience is a major concern. (photo from the Internet)
SBD says that developing next-generation in-car systems that offer intuitive and content-centric end-user experiences will require OEMs to begin working more closely with broadcasters and app developers. Some of this collaboration is already occurring between individual players, and cross-industry standards may also be required in the future.
But one thing is clear, SBD concludes: while the diversity and complexity of entertainment-related technologies in the car will continue to grow, the end-user experience must become simpler.