Displays by domestic and foreign lighting firms show LED as the trend of the future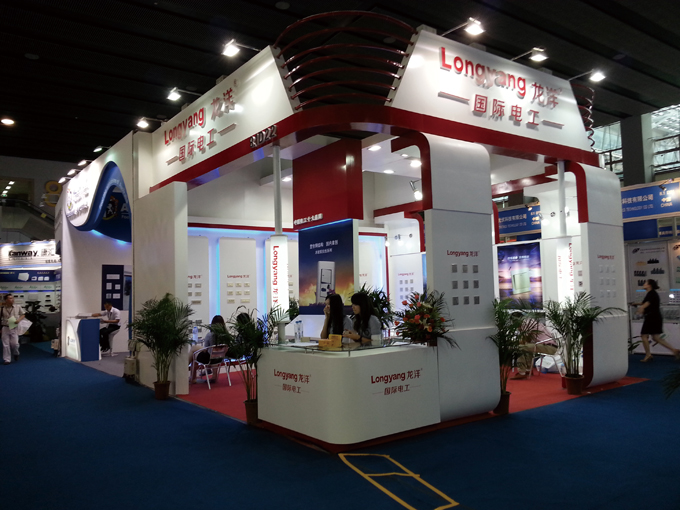 The 18th Guangzhou International Lighting Exhibition was held on June 9-12, 2013, with exhibitors showcasing their most innovative products and latest technologies.
The Guangzhou International Lighting Fair, which claims to be the most influential show of its kind in Asia, celebrated its 18th run on June 9-12 at the China Import and Export Fair Complex in Guangzhou. The event attracted a large number of top-end exhibitors from around the world to showcase cutting-edge products and trendsetting technologies, providing Chinese lighting manufacturers with inspiration for upgrading and transformation.
More than 2,900 exhibitors from 29 different countries, some 1,700 of which were LED companies, took part in the show, among them such big names as GE Lighting, Osram, Philips, Lumiled, Cree, and Thorn. The LED suppliers spanned the upstream through downstream segments, forming an integrated supply chain that facilitated sourcing at the show. Their presence delivered a clear message: LED indeed leads the development of the global lighting industry.
An LED-themed area called "LED Asia," spread across the eight exhibition halls, attracted a continuous influx of interested visitors and buyers throughout the show's four-day period.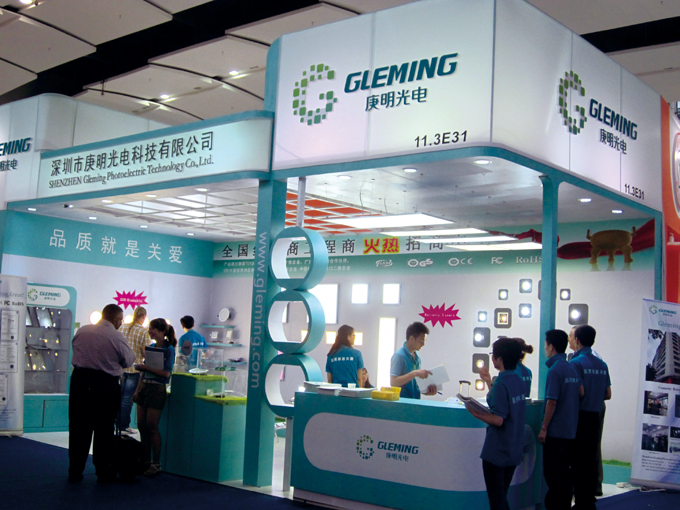 The Guangzhou Guangya Messe Frankfurt Co. introduced the show at a press conference on June 9th.
At a press conference held on the opening day of the event, Dr. Pan Wenbo, director of the Guangzhou Guangya Messe Frankfurt Co., the show's organizer, stated, "With the increasing demand for LED backlights in the lighting market and the full order of chips, encapsulation, and application suppliers, the market has gradually opened since the second quarter of 2013. The LED industry boom is coming soon, and will last seven to eight years. Nearly 80% of all lighting products will be replaced by LEDs; and the growth of demand in the whole market in China is considerable."
To encourage more insiders to engage in R&D and contribute to the future development of China's lighting market, the organizer introduced the "Guangzhou International Lighting Exhibition Alighting Award" program this year. With a panel of judges consisting of over 100 industry experts, the award honored participating companies for outstanding products and projects that have greatly contributed to the development of the lighting industry in China. The winners included the Osram (China) Lighting Co., whose track light, LED Touch, was chosen for the "Best Product Award," and the Light & View Lighting Design Co., which was awarded another "Best Project Award" for the impressive lighting design used in the Guangzhou Opera House.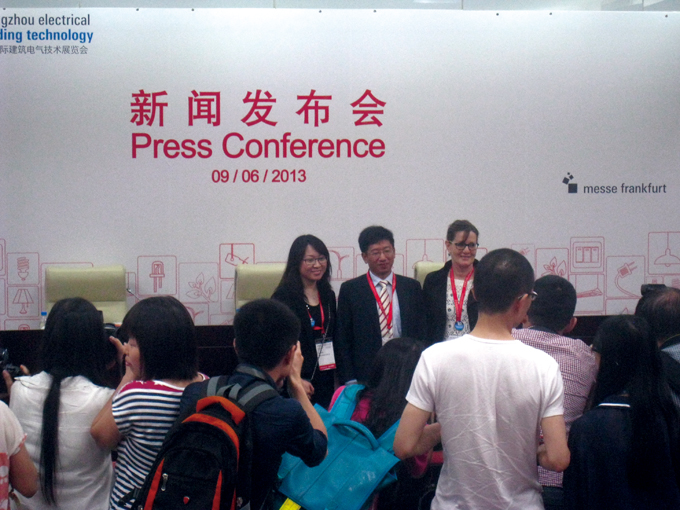 The Guangzhou Guangya Messe Frankfurt Co. introduced the show at a press conference on June 9th.
Local Focus on R&D and Branding
With the mature development of LED lighting applications, China's domestic market for lighting has grown rapidly over the past few years and has attracted the entry of numerous players. This trend was reflected in the companies participating in the Guangzhou International Lighting Exhibition that displayed their market-driven technologies and promoted their own brands.
Among these participants was the Kapego Lighting Co. (Dongguan), a subsidiary of Taiwan's Kapego Lighting Co. The firm's "KAPEGO" name has been internationally registered as a trademark.
The company has concentrated on the development of outdoor landscape and construction lighting ever since its inception in 2006 in Guangdong, southeastern China. After years of development, its product lineup is now composed almost entirely of high-end lighting products including garden lights, in-ground lights, underwater lights, pool lights, wall lights, and wall washers. What sets this supplier apart from the flock is its insistence on developing models using original designs instead of copying ideas from existing products on the market.
The company's annual production capacity stands at approximately 400,000 sets of LED outdoor lighting fixtures, more than 50% of which go to Europe. In addition to their exceptional original designs, Kapego's products are sought after globally for unbeatable quality achieved through the use of testing equipment in house as well as the implementation of strict pre-delivery quality tests in line with international standards. Most Kapego products carry CE, LVD, IP, RoHS, CETLUS, SAA, and C-Tick certification, and the company also achieved ISO9001: 2008 certification in 2010.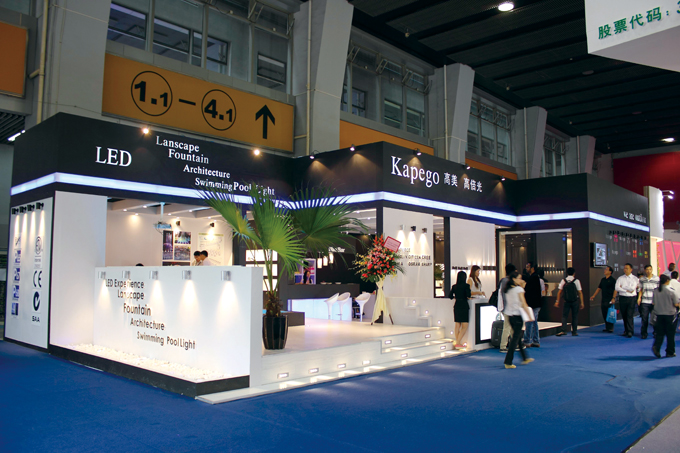 The Kapego Lighting Co. showcased its most innovative products at the fair.
A number of Chinese suppliers are dedicated to original design in an effort to rid themselves of a notorious global reputation as copycats, and some are focused on developing their own brands to boost the industry's overall competitiveness.
A leading example of such a firm is the Shenzhen Jiuzhou Optoelectronics Technology Co., which displayed its LED lighting, indoor lighting, outdoor lighting, landscape lighting, display screen applications, and special lighting solutions, mostly eco-friendly products, under its "Greeble" brand at this year's show.
"The style of our stand is different this year from what it was before," said the firm's chairman, Xie Yongjun. "We're highlighting commercial lighting this year instead of municipal lighting and street lighting. Our stand shows applications for household and supermarkets, which is our biggest change and improvement." The chairman went on to say that in the near future, his company will set its sights on commercial lighting and the expansion of distribution of channels so as to build a higher profile for its brand.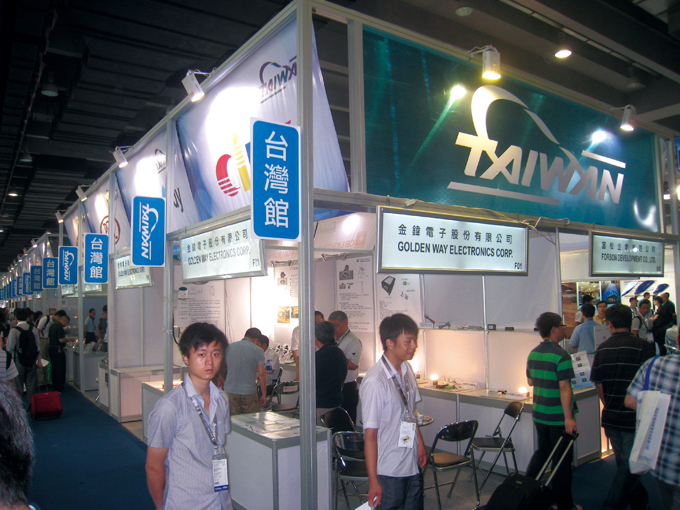 Taiwanese manufacturers eager to enter the Chinese lighting market attracted show visitors with integrated LED backlighting products.
Eager Taiwanese Players
At the show, a large number of Taiwanese companies, including such heavyweights as the Epistar Corp., Everlight Electronics Co., TSMC Solid State Lighting Ltd., and Lextar Electronics Corp., unveiled cutting-edge products and technologies, reflecting their strong ambition to explore China's rapidly growing LED lighting market.
Driven by the bright prospects of the Chinese market for LED lighting, Epistar, which for two years has been working on virtual vertical integration in cooperation with downstream packagers with the aim of strengthening its competitive advantage in the market, displayed a variety of LED modules and actively promoted products that are an easy market match. Li Bingjie, the firm's chairman, said that the development of LED lighting will be very important from 2013 to 2018, that sales will increase sharply, and that Taiwanese manufacturers are capable of surviving and growing in this lucrative market.
Everlight also attempted to boost its market presence in China by exhibiting LED bulbs, COB LED lighting components, and other products at the show. To better penetrate the market there, this Taiwanese firm has just set up a Chinese branch, Everlight Shanghai, and is working out more energy-saving lighting products to meet Chinese market demand.
TSMC Solid State participated in the show the first time this year, introducing its newest TH3 and TMx series of products in the hope of making an impressive debut. Backed by technology from its parent company, the Taiwan Semiconductor Manufacturing Co., the firm said the two series of LED chips mentioned above can help customers develop high-end lighting products easily and economically.
Tan Changlin, the firm's general manager, revealed that his company hopes to cooperate with large plants in China, saying, "We are now proud to show the TH3 and TMx series to the lighting world."
"By applying our state-of-the-art technologies and manufacturing capabilities to the integration of epi to packaging," continued president Jacob Tarn, "we demonstrate solutions that are definitely competitive and can match other world-caliber competitors. High reliability and low thermal resistance are our technological strengths, and they prove our capabilities and determination for innovation in the industry."
At the same time, Lextar announced its newest plug-in COB Core series, which brings the plug-and-play concept to realization. With a mechanically incorporated COB, the Core series helps cut assembly costs by allowing the connection of more LED chips. Su Fengzheng, the chairman, noted that "Since we entered the lighting market, Lextar has been communicating and cooperating with large manufacturers from Japan, Europe, America, Central and South America, and India."
With more globally famous brands showing off their LED lighting products at this year's lighting show, including Philips, Osram, GE Lighting, Opple Lighting, Foshan Lighting, CNLight, PAK Corp., Unilumin Group, MLS Lighting, and BYD Lighting, the competition among local and foreign rivals in the Chinese market has grown increasingly intense, especially with the structural upgrading of the local industry as it attempts to strengthen its competitive stranding.