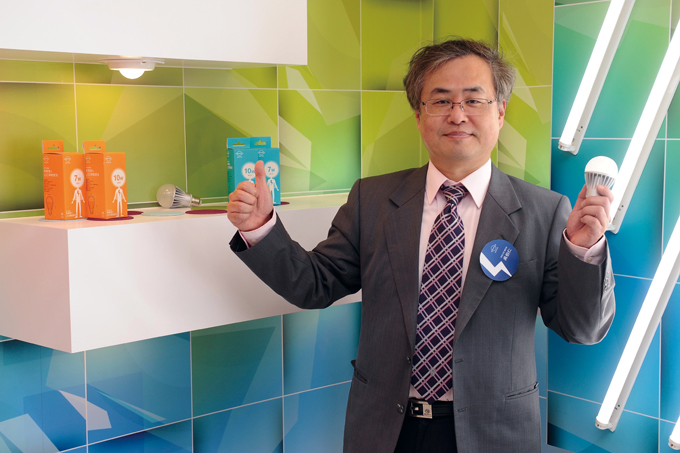 Bir-jen Wu holding an LED bulb from NYPI's automated line.
Nanya Photonics Inc. (NYPI), an LED subsidiary co-owned by the Formosa Plastics Group (FPG) and Epistar Corp., saw LED light bulb orders nearly double in the first half of this year relative to the second half of last year mostly thanks to automated assembly, reportedly the world's first.
The line will turn out 4 million bulbs with consistent quality a month, motivating retailers to raise orders since the line was completed in mid-2012. Industry executives, based on the brisk order growth, predicts the company to see "exploding" orders in the second half this year.
Company president, Bir-Jen Wu, is very confident of the automated line and hopes the line to be the hub of Taiwan's LED lighting manufacturers. "We hope to create a win-win situation with local lighting manufacturers. Since Taiwan is an export-oriented economy, so it makes no sense for in-fighting in the modest, local market," he says.
Wu stresses that automation is critical for Taiwan's LED makers to boost global competitiveness, or go to China, but "Made-in-China" is no match against "Made-in- Taiwan" in reputation.
Meanwhile, he suggests that the LED industry should agree on a uniform structure for basic LED lighting to enable large-scale automation, which still allows room for differentiated exterior design.
While the private sector should thoroughly discuss design structure to work out uniform standards, the government should side with manufacturers by strictly overseeing implementation of standards and product safety regulations, says Wu.
The company uses automation to turn out own-brand and contract lamps, with its branded operation, according to Wu, overcoming reckless underselling among contract suppliers and rivalry from Chinese manufacturers, as well as promoting contract service to international big-name lighting makers. "Big-name suppliers struggle to cut cost without compromising quality after wining market share with high brand recognition," he says.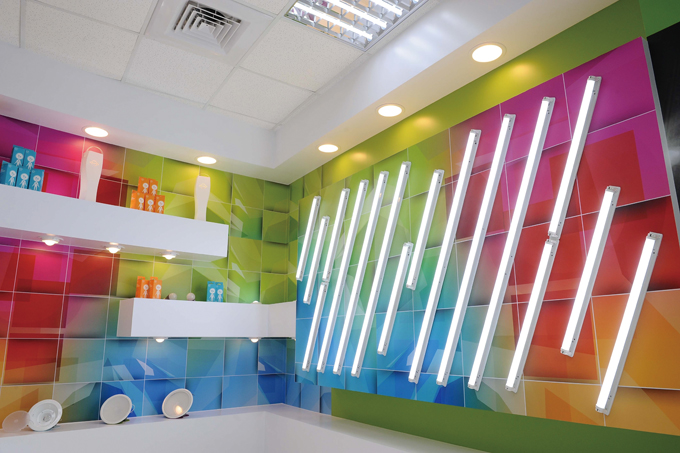 NYPI uses automated line to make both own-brand and contract lamps.
Exclusive Access
Despite many in the sector trying to copy this automation, their attempts are in vain not just because NYPI rarely shows the factory to the public, but also because of its exclusive access to FPG's abundant resources and chipmaker Epistar's technology.
FPG is a major Taiwanese supplier of plastics, chemical-fiber, education, healthcare, petrochemical refinery, semiconductor, steel, heavy industry, and marine transportation. In 2010, Epistar, currently the world's No.1 blue LED chipmaker by production capacity, took a 40.75% stake in NYPI from the group to help the company diversify into lighting from chip-making by offering its high power chips.
Wu is the engineer behind the automated assembly line, which was co-built by several FPG subsidiaries, Taiwan's Industrial Technology Research Institute (ITRI), and Epistar.
An American-trained compound-semiconductor specialist, Wu was employed by Epistar before being made the NYPI president. When working at Epistar, he planned Epistar's factory in Xiamen, China and played a part in boosting Epistar's output of four-element LED chips to 100 million units a month.
Fascinated about automation and having achieved certain degree of success, Wu, while working at LED maker Unilite International Co., Ltd. and his first Taiwanese employer after returning from the United States, worked with equipment suppliers to enlarge metal-organic containers for metal-organic chemical vapor deposition chambers to one kilogram in capacity from 400 grams, with the larger capacity being an industry standard now.
Industry executives say Wu may engineer automated lines for NYPI's LED streetlight project, which will target Taiwan and China markets with Taiwan's CNS15233 quality certificate it acquired in the second-half of 2012. Such goal is realistic as Wu has installed hundreds of LED streetlights at FPG's factory complex in Mailiao, Yunlin County, central Taiwan for field tests.