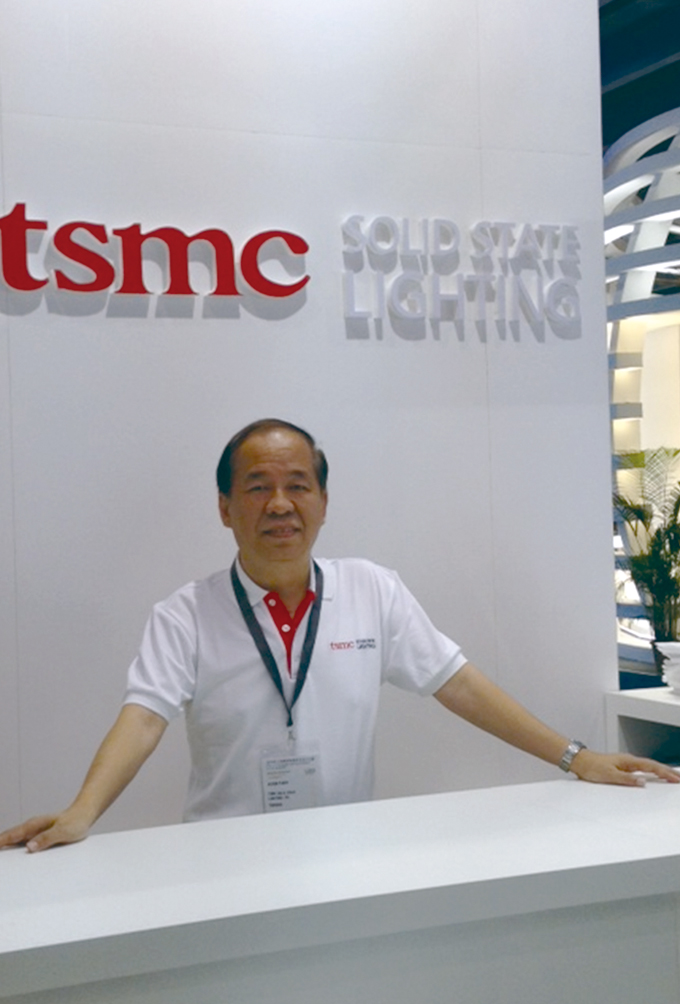 Tarn is confident of TSMC SSL's competitiveness.
Dr. Jacob Tarn, president of TSMC Solid State Lighting Ltd. (TSMC SSL), is confident that his company will soon achieve to a top position in LED lighting despite its relatively late entry into the industry. It was founded by semiconductor foundry giant Taiwan Semiconductor Manufacturing Co. only in 2011.
Tarn's confidence is based on his company's unique processing technology and highly integrated manufacturing capability, both of which have proven effective in bringing about a considerable reduction in costs.
Last year, the company already outstripped its industry peers in the mass-production of gallium-nitride (GaN) LED epitaxy layers on silicon wafers, and its defect-free output ratio "has risen to satisfactory levels."
Tarn points out that silicon wafers have a great cost advantage over sapphire for use as epi substrate. Statistics show that although 95% of blue and white LEDs together use sapphire wafers, while silicon wafers have only 0.1% of the market, silicon is integral to the computing-gadget industry, which is tens or hundreds of times bigger than the LED industry. Silicon is supplied in huge volumes to meet this demand, and so is much cheaper than sapphire.
There are some technical challenges to applying silicon to LED production, the biggest one being a mismatch of lattice and thermal expansion between silicon and the GaN layer that is worse than the mismatch between sapphire and the GaN layer. The mismatch tends to cause damage to the GaN layer because of the different thermal expansion coefficients of the two materials. However, Tarn claims, "We've broken through this technical bottleneck with the help of our parent company, so our defect-free output is quite high now."
After its success with silicon, the company will introduce package-free LEDs sometime in the second half of this year. LEDs using the firm's patented technology are able to deliver 130 lumens per watt, and Tarn estimates that the new technology can shave at least 15% off the cost of producing LED lighting fixtures because no packaging materials or processes are needed. Industry observers believe that this unique technology will accelerate the phasing out of LED packagers with poor technological capability and weak competitiveness.
Tarn declines to divulge the details of his technology and how the phosphor is affixed to the chip without packaging. He says simply that the package-free LED device is built around a flip-chip structure in which phosphor and chip are integrated, and mounted directly on the printed circuit board (PCB), a process otherwise known as chip-on-board (COB). "Our LED device is only one fourth the size of a high-power packaged LED, yet delivers as much intensity," he notes.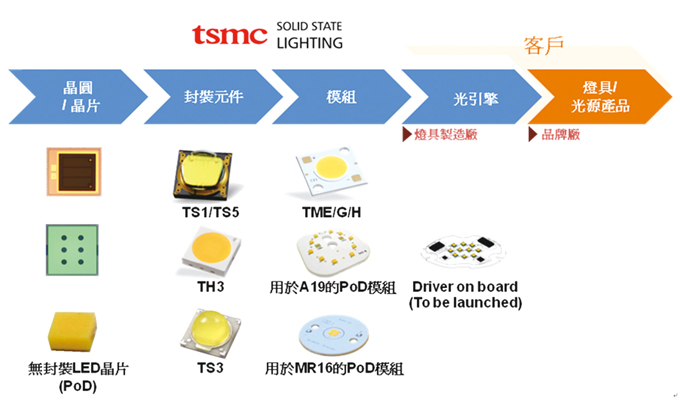 TSMC SSL has established a highly integrated manufacturing capability.
Unique Advantages
Fewer assembly layers and the use of the flip-chip structure largely reduce thermal resistance in the package-free LEDs, while their smaller size provides more flexibility for integration into lighting fixtures. "The Lilliputian size allows our device to fit into the narrowest space deep in the bottom of a lighting fixture," Tarn explained, "leaving the light emitter with an extraordinary amount of room from the bottom to the opening of the fixture for color mixing. This means a wide beam angle for lighting fixtures using our LEDs. Also, our device allows the aluminum heat sink block on the back of a lighting fixture to be shrunk in size, reducing the cost of materials."
Another factor contributing to the miniaturization of TSMC SSL's LED modules is that the secondary lenses are assembled into the devices during the chip-building stage instead of the module-assembly stage, when other manufacturers normally do it.
The company introduced the industry's first flip-chip COB LEDs, which are included in its TM series, at the Guangzhou International Lighting Exhibition in June this year. The devices are notable for their extremely low thermal resistance—only 0.2 degree Celsius per watt. "Each of our LED modules is a building block for a lighting fixture," Tarn comments. "Fixture manufacturers need only a single LED module from us to make an MR16 lamp, not only eliminating unwanted multiple overlapping shadows but also trimming costs." In addition to the MR16, the emitter can be built into light bulbs, recessed lights, PAR lights, light tubes, wall washers, and high-bay lights.
Tarn notes that mounting LED chips directly on PCBs can eliminate at least two thermal resistance interfaces. "The company's next-generation emitter will feature technology that mounts the chip directly on the heat sink module, reducing the cost of PCBs and dissipating heat more efficiently," he says.
The president attributes his company's ability to mount chips directly on PCBs now and heat sinks in the future, and to develop package-free emitters, mostly to its success in overcoming the mismatch issue as well as TSMC's advanced IC packaging technology. "TSMC owns the largest number of patents on packaging in the IC industry, freeing our partners from patent threats from our competitors," Tarn stresses.
Patents also represent TSMC SSL's differentiation from its industry peers. "We never blindly promote products unless they are really different from those of our competitors," Tarn says. "Now, it all depends on whose patents mark the most significant differentiation in the market."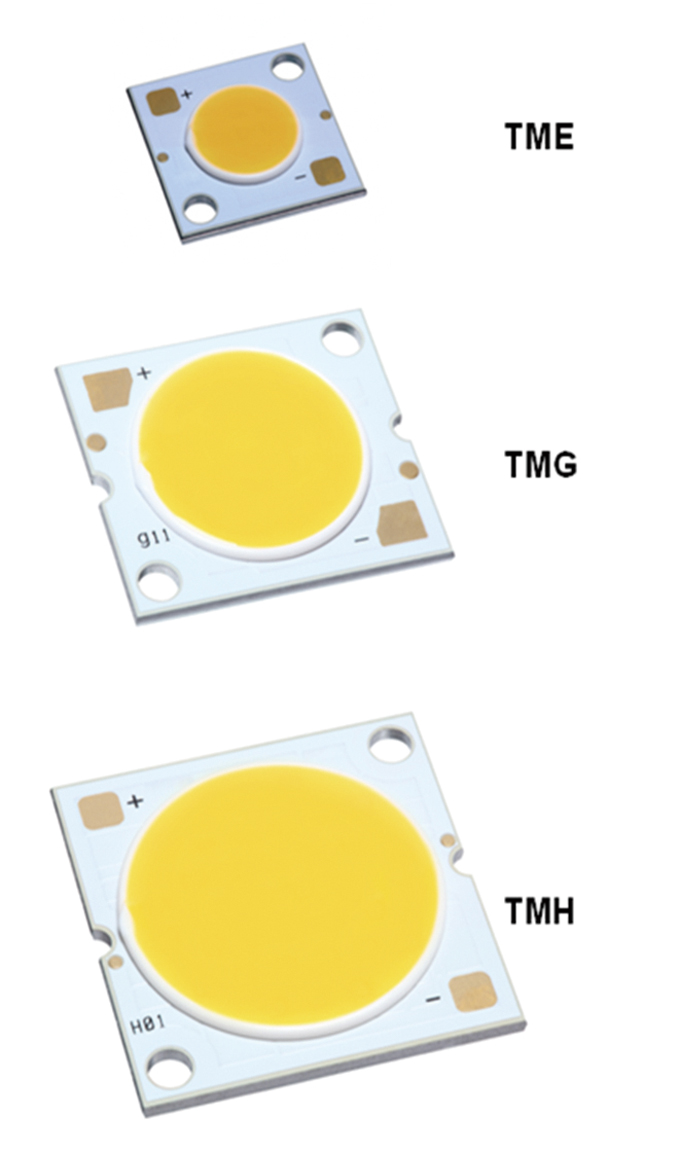 The industry's first flip-chip COB LED module, from TSMC SSL.
Differentiation of Products and Business Model
Differentiation is reflected not just in the company's products but also in its business model. "Standing out from the competition is achieved not only by technological breakthroughs but also by the ability to integrate thermal management with electrical scheme, mechanical refinement, and optical optimization (TEMO)," Tarn stresses. "Otherwise, an LED maker could hardly provide lighting-fixture manufacturers with workable solutions."
To provide workable solutions, TSMC SSL has built up a vertically integrated manufacturing capability that enables it to make almost every component, from epitaxy wafers and packages to power drivers, thermal module, and light engines. "We stop at light engines and pitch the 'TSMC Inside' idea to lighting-fixture manufacturers," Tarn adds.
"Verticalness" is the point that TSMC SSL stresses in its integrated manufacturing capability, on the ground that forming horizontal integration with manufacturers outside the company tends to cause waste from processing overlaps, according to Tarn. This means that in-house integration can save on costs.
Cost is one of the most crucial determining factors in the speed of LED-lighting market penetration. Tarn notes: "Before advancing from the startup stage to the growth stage, the LED-lighting industry has to overcome the challenge of high LED costs that still keep LED lighting penetration low. The availability of LED lighting remains low from the mass-market viewpoint mostly because prices are still unacceptable for general consumers. Since cost decides price, LED manufacturers need to eliminate unnecessary costs from production to make their prices more popular."
Tarn estimates that prices must drop to one to one and a half times those of conventional lights before LED lights will become acceptable to the mass market, and that prices will drop to that range in 2015.
In spite of TSMC's unassailable position in the silicon foundry industry, TSMC SSL insists on not operating as a contract supplier. Tarn points out that in the LED-lighting industry, contract manufacturing can last for only a certain period of time, at best, because the market is controlled by big-name lighting manufacturers. For instance, he explains, "Winners are always those who control the lighting-system market. For instance, Epistar runs a huge manufacturing capacity for epi wafers, but it is not the price setter because the price is manipulated by big-name lighting suppliers."
In the market, TSMC SSL cooperates only with brand-name lighting makers having their own distribution channels, and the cooperation model varies from market to market. In mainland China, the company's current partner is lighting maker Cnlight Co., to which it supplies mostly off-the-shelf light engines. But its cooperation with Western lighting manufacturers lays stress on teamwork in designing the incorporation of engines into their lighting fixtures step by step. This mode of operation makes for long-term partnerships.
Assessing Potential Partners
Tarn points out that his company's first step toward a global presence was taken in China, in consideration of the mainland's vast domestic market, but that he has no plans to open plants there at the present time. "Industrial integration in the mainland is quite low," he explains, "underscoring its rampant underselling competition; and our products are highly modularized, so that they do not need much labor for assembly.
Only when tariff and transportation costs go up will we consider opening assembly lines in other overseas locations."
Tarn holds an optimistic view of the LED-lighting market. "Many substandard manufacturers withdrew from the market in the latest industry cycle," he concludes, "and an increasing number of industry consortiums are struggling to set interface standards for LED devices. Both of these developments facilitate the restoration of market order and the reduction of production costs—and those are good developments.""