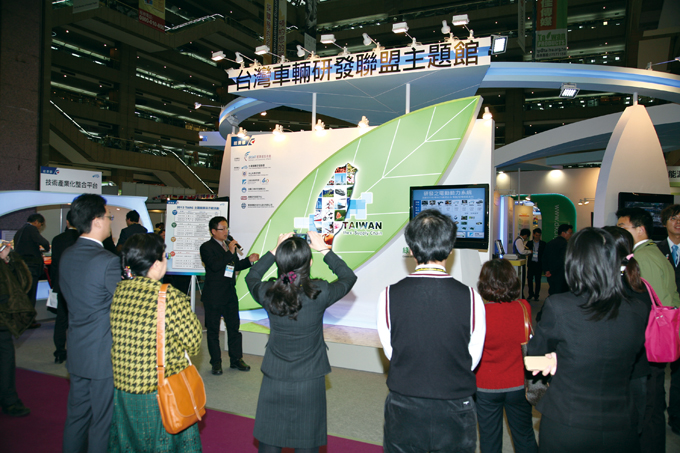 The TARC Pavilion in the TWTC Exhibition Hall 1.
To present R&D achievements in recent years to global visitors, the Taiwan Automotive Research Consortium (TARC), a key automotive industry alliance formed by domestic research institutes and private makers, showcased many advanced, innovative and globally competitive research results at this year's 4-in-1 auto and motorcycle shows in Taiwan, including the 2013 Taiwan Int'l Electric Vehicle Show (EV Taiwan), Taiwan International Motorcycle Industry Show (Motorcycle Taiwan), Taipei International Auto Parts & Accessories Show (Taipei AMPA), and Taipei International Automobile Electronics Show (AutoTronics Taipei).
TARC is generally seen as the driver of automotive R&D in Taiwan, a sector lacking world-class carmakers. Trying to remedy such shortcoming by integrating the resources of industrial, governmental, academic and research sectors in Taiwan, the Department of Industrial Technology (DoIT) of the Ministry of Economic Affairs (MOEA) urged the four research institutes to establish the TARC in mid-2005, whose six members consist of the Automotive Research and Testing Center (ARTC), the Mechanical and System Research Laboratories (MSL) of Industrial Technology Research Institute (ITRI), the Material and Chemical Research Laboratories (MCL) of ITRI, the Chung-Shan Institute of Science and Technology (CSIST), and Hua-chuang Automobile Information Technical Center Co. Ltd. (HAITEC).
The key goals of the TARC are to establish an integrated platform for automotive technological R&D; assist the domestic industry to set up concurrent engineering design platform through international cooperation and technology transfer; and work with local universities to train personnel to set up a platform for innovative research.
In recent years and supporting rising eco trend globally, the TARC aims to integrate all major industrial research institutes and technologies to develop EVs and key systems, as well as advanced automotive-electronic systems.
In the TARC Pavilion at the 2013 EV Taiwan held at the Taipei World Trade Center (TWTC) Exhibition Hall 1, consortium members unveiled eye-catching R&D projects and achievements that are practical, with many ready for technical transfer to private makers.
The 40Ah Li-ion Battery Pack (4P2S) developed by ITRI.
40Ah Li-ion Battery Pack (4P2S)
The ITRI showcased a 40Ah lithium battery pack with 4-series, 2-parallel (4P2S) connection design, with the terminals featuring advanced heat-dissipation architecture inside, for EV applications. Such designs can effectively slow heat generation inside the pack, which adopts high energy-density materials with ITRI's patented STOBA (Self Terminated Oligomers with hyper-Branched Architecture) inside, making it the safest and most reliable for battery electric vehicle (BEV) and plug-in hybrid electric vehicle (PHEV) applications. The pack's specific energy is 120Wh/kg, with specific power of 500W/kg, nominal voltage of 14.8V and maximum discharge current of 240A.
High Safety, Long Life Li-Ion Battery Materials
ITRI also displayed its LTO (Li4Ti5O12) zero-strained, high-rate-charging anode material and LNMO (LiNi0.5Mn1.5O4) cathode material at the TARC Pavilion.
According to ITRI staff, the LTO is a potential anode material with stable structure. Even after many recharges, its crystal structure won't collapse due to negligible volume change. In addition, LTO shows a mid-discharge platform close to 1.55V, higher than the reduction potential of most organic electrolytes. Consequently, there is literally no solid electrolyte interphase (SEI) formation on the anode surface, no rising resistance and temperature to diffuse quickly, hence being suitable for recharging with high current. Spinel LNMO is a promising cathode material for next-generation lithium-ion batteries because of its high voltage (4.7V), acceptable stability, and good cycling performance etc., ITRI said, making it an ideal choice for EV, PHEV, e-scooter and e-bike etc.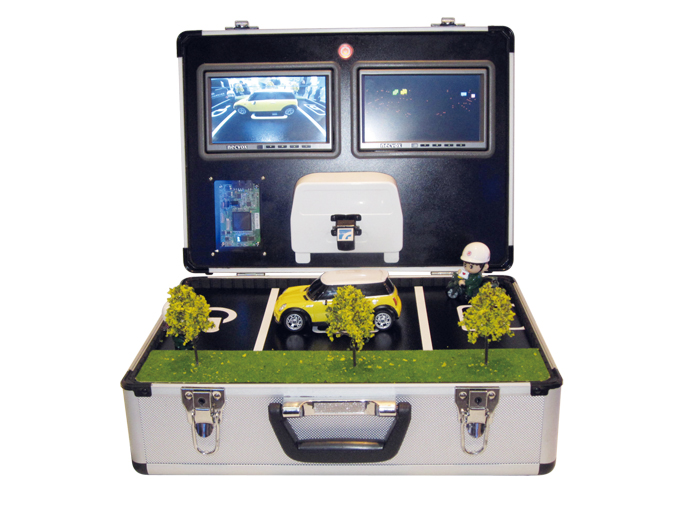 ITRI's vision-based obstacle avoidance system for parking.
Vision-based Obstacle Avoidance Parking
Another R&D achievement displayed by ITRI is a vision-based obstacle avoidance system for parking cars. Using a single camera, the integrated system provides vision-based dynamic trajectory assistance and obstacle detection for reverse parking. The visible display (monitor) and audible warning (voice) enable driver to discriminate cars' rear and synchronous dynamic/static multi-obstacle orientation directly. Key technologies adopted by the system include estimating visible features in backgrounds, obstacle corner feature extraction and support vector machine (SVM) classification, depth information estimation for optical projection technology, and Kalman (or linear quadratic estimation, LQE) filtering in object tracking.
Commercial EV Platform
The ITRI also exhibited a commercial EV platform featuring several advantages: a vehicle platform has passed the stringent certifications for vehicle safety; a powertrain system with STOBA-technology battery packs and variable-speed, high-efficiency motor/controller module; a virtual platform of vehicle integration testing; and the vehicle platform is a real-world, optimized model for commercial EVs in courier fleets, in cooperation with logistics company. The curb weight of the vehicle is 1,350kg, with maximum payload of 500kg, maximum speed of 104 kph, cruise range of 108 km in urban driving, with operational cost of NT$1.5 per kilometer, compared to about NT$4 for equivalent gasoline-engine counterpart.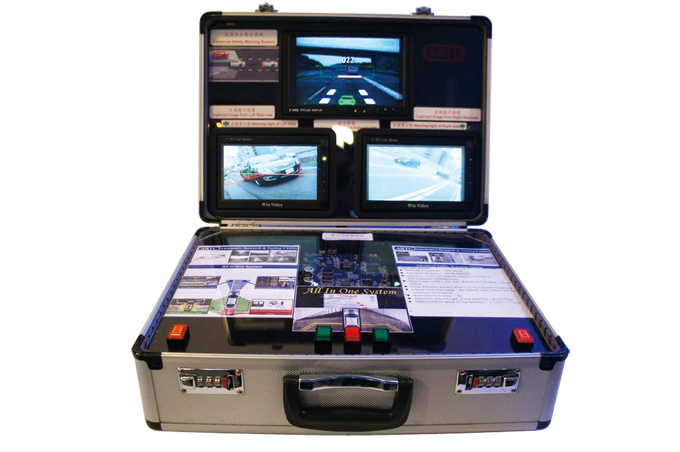 ARTC's all-in-one vehicle safety warning system that combines four image-based safety warning techniques.
Anti-glare Technology
By utilizing military-grade technology, CSIST developed the anti-glare technology for driving safety. Image-processing techniques are applied in different driver-assistant safety systems today, CSIST staff said, and such technique can identify lanes, front vehicle, pedestrian etc. However, image quality is often seriously compromised by glare during nighttime driving, hence reducing identification capability of image-processing systems. CSIST's anti-glare technology utilizes detection, tracking, and optical modulation to effectively reduce glare to achieve image quality for driver-assistant systems. The technique can adapt freely the high dynamic range CCD/CMOS camera module available commercially, effectively cutting costs.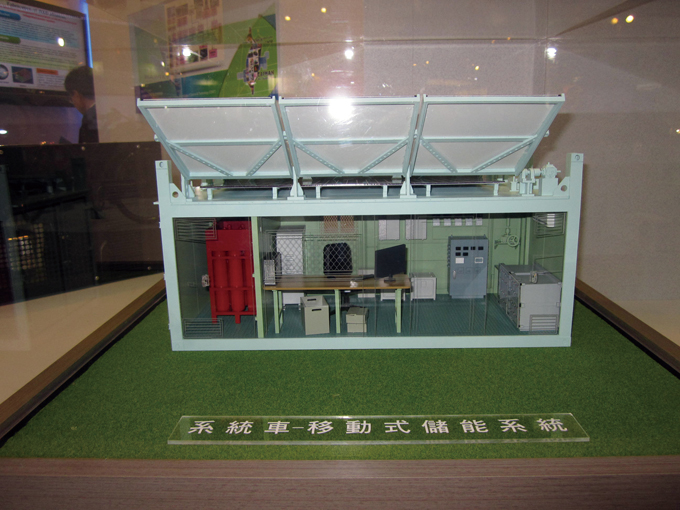 Miniaturized models for CSIST's Green EV Charging System.
Green EV Charging System
CSIST also unveiled a green EV charging system, consisting of System Control housing, Battery Module housing, and EV Charging Station, with sub-systems in including Photovoltaics (PV) module arrays, battery bank, fuel-cell power module, power conversion systems, and a system control computer. External power can be generated by wind turbine, PV modules, and/or diesel generator. CSIST says that the charging system is a standalone system to supply DC and AC power, as well as being able to be connected to the grid, using battery bank for energy storage. Some of Taiwan's offshore islets are interested in such system, CSIST said.
All-in-One Vehicle Safety Warning System
ARTC showcased the all-in-one vehicle safety warning system that combines four image-based safety warning techniques, including lane departure warning system (LDWS), Front Collision Warning System (FCWS), blind-spot detection, and image-based obstacle detection, into one dual-Digital Signal Processors (DSP) printed circuit board (PCB). So the cost of the integrated system can be effectively cut to about only one-fourth.
A frontal-view camera is adopted to detect lane-departure risks and recognize vehicles from the front. Two other cameras are separately mounted on both left and right sides, with mirrors able to detect approaching objects (including all types of vehicles and pedestrians) in both blind spots. In addition, the fourth camera mounted in the rear can detect obstacles in the back during low-speed reverse. The integrated system is more cost-effective, while providing more comprehensive protection.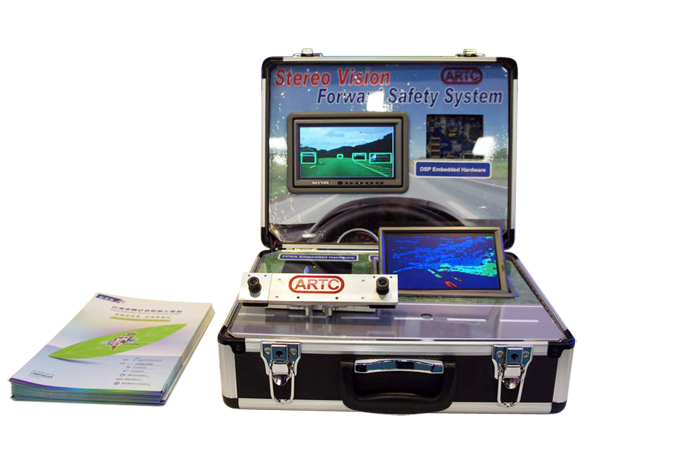 The stereo-vision forward safety (SFS) system developed by ARTC.
Stereo-vision Forward Safety (SFS)
The stereo-vision forward safety (SFS) system developed by ARTC uses two cameras mounted on windscreen to detect forward environment and estimate available free space in front below 50 meters by stereo vision algorithm and warning logic design. Upon nearing obstacles in front or frontal free space becoming too small, the system can alert driver in real-time to prevent collision. Key technologies include obstacle 3D coordinate computation, free-space computation, warning decision and over-warning prevention logic design, and embedded hardware design.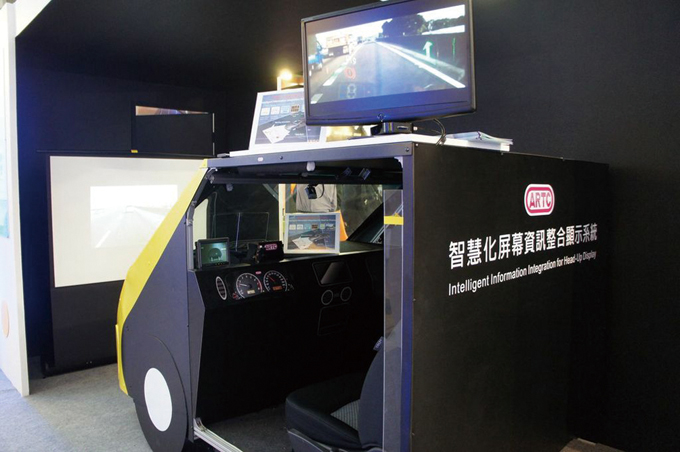 ARTC's Intelligent Information Integration for HUD.
Intelligent Information Integration for HUD
Intelligent information integration for head-up display (HUD) developed by ARTC combines multiple-image coordinate conversion technology, face-detection technology, large virtual image display technology, and optical thin-film technology. The System reflects to images of various vehicle data onto coated film fixed on windshield, and superposes image on exterior scenery. In addition, location of data-image can be real-time updated according to drivers head tilt. The system not only reduces parallax and eyestrain, but also offers better visual comfort. With more safety information and greater integration, the advanced vehicle display system is safer and more efficient, ARTC said.
ARTC also demonstrated that its new EMC lab can test even full-size buses.
The TARC also demonstrated different service platforms, including the Taiwan EV Supply Chain and EV Monitoring & Service Platform (http://www.ev.org.tw), the ARTC Intelligent EV Experimental Field, ARTC electro-magnetic compatibility (EMC) Laborotory. The first is an online platform established by the Department of Industrial Technology (DoIT) and TARC to promote Taiwan's EV supply chain to enhance EV industrial cooperation and development, with the latter two showing ARTC's comprehensive range of certifying, testing and inspecting capabilities.