Impacted by uncertain economic prospects, sales of new cars in Taiwan dropped 1.9% year-on-year (YoY) in the first half of 2013, with about 182,000 units sold, lower than original expectations by local auto dealers early this year, according to domestic Automotive Research & Testing Center (ARTC).

The top-five auto brands on the island in the first half remained unchanged, including in sequence Toyota, Mitsubishi, Nissan, Honda and Ford, among which only Honda and Ford enjoyed sales growth. Sales of Toyotas (by local agent Hotai Motor Co.) dropped 1.7% YoY in the first half to 62,087 units, but the brand's market share on the island still remained at 34%.

Mitsubishi (China Motor Corp., or CMC) and Nissan (Yulon Nissan Co.) sold about 21,992 and 20,736 units, respectively, in the first half, down 9% and 18% YoY. Overcoming key-parts supply shortage due to the floods in Thailand, Honda (Honda Taiwan Co.) sold 12,234 new cars, up 72% YoY; while Ford (Ford Lio Ho Motor Co.)'s sales increased 13% YoY to 10,703 units, thanks to the smooth sales of major models.


New-car Sales by Top-6 Dealerships in Taiwan (Jan.-June 2013)
Vendor/Brand
Jan.-June Volume
YoY
Hotai Motor / Toyota
62,087
-1.7%
CMC / Mitsubishi
21,992
-18.3%
Yulon Nissan / Nissan
20,736
-9.5%
Honda Taiwan / Honda
12,234
+72.2%
Ford Lio Ho Co. / Ford
10,703
+13.0%
Sanyang Industry / Hyundai
7,456
-13.0%
Others
--
--
Total
18,200
-1.9%
January was the best-selling month for the domestic automobile market in the first half, ARTC said, while the sharply appreciating Japanese yen and consumer expectations for new-car price cuts began clearly delaying purchase willingness in March, leading to a 16.7% YoY sales drop in the month. Automakers and vendors, in turn, engaged in promotions to elevate sales volumes in April and May, but barely maintained the overall market; while the continued preferential terms by automakers and the government's decision to subsidize old-car replacement with eco-friendly new cars successfully triggered purchases. New-car sales in June increased 7.6% YoY, offsetting the YoY market drop to 1.9%.
Rising Imported-car Market Share
The market share of imported cars has been rising in recent years in Taiwan. According to ARTC, the market share of imported cars accounted for about 20% of the overall market in 2009, but has risen to 28% in the first half of 2013. The center says prices of locally-assembled cars have been rising due to local assemblers' choosing to introduce more luxury products for the domestic market, and an increasing number of options are introduced to local consumers by local agents.
Market Share of Locally Assembled & Imported Cars in Taiwan (2009-2013)

 

Locally Assembled
Volume
Market Share
Imported  Volume
Market Share
2009
234,018
79.5%
60,405
20.5%
2010
252,449
77.1%
75,166
22.9%
2011
280,807
74.2%
97,484
25.8%
2012
271,566
74.2%
94,305
25.8%
2013
(Jan.-June)
131,330
72.1%
50,997
27.9%

Source: ARTC
Export Growth
In a small domestic market, with about 250,000 to 350,000 new cars sold yearly, local carmakers and assemblers have been trying to increase export opportunities to achieve economy of scale.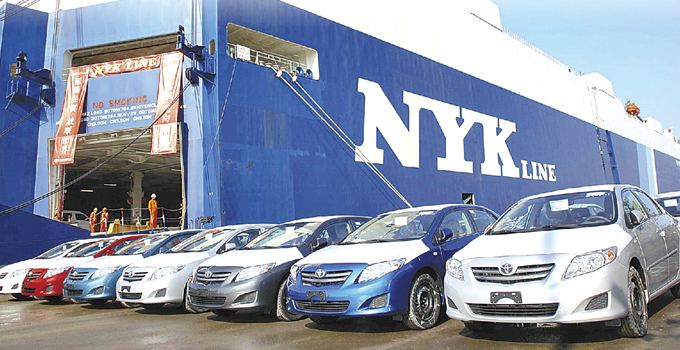 Kuozui increases its export volume of locally assembled cars through Toyota's international sales network.
From 2008, exports of locally assembled cars began on an uptrend. In 2012, more than 70,000 Taiwan-assembled cars were exported through foreign technical partners' (international auto brands) sales channels. As of the end of May this year, some 34,000 locally assembled cars have been exported, up 22% YoY.
Kuozui Motors Ltd., the local assembler of Toyotas, has led auto exports in Taiwan by accounting for more than 90% of total exports from the island each year. In 2013, ARTC says, Kuozui is expected to export more than 80,000 Toyotas.
ARTC says that most local automakers and vendors have reduced forecasts for the Taiwan market this year to 350,000 to 360,000 units, suggesting that even governmental subsidies is insufficient to offset sales downturn. However, the center stresses, automakers and vendors are still providing preferential car purchase terms, with more new models to be launched in the fourth quarter, all of which should create a better environment in the second half for new car sales.