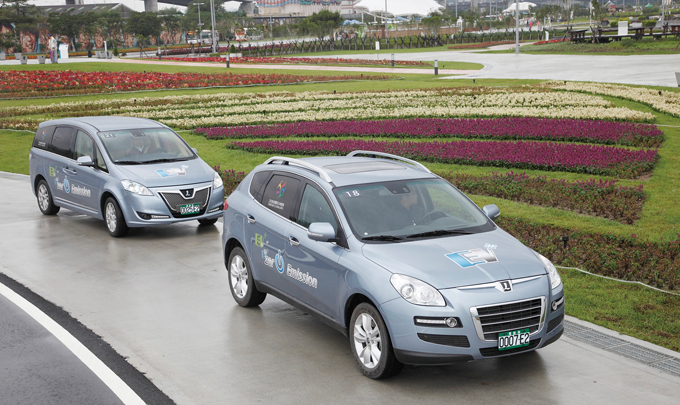 Taiwan's Yulon Group is to supply LUXGEN cars for the EV pilot project in Hangzhou.
A delegation from the China Association of Automobile Manufacturers (CAAM) recently signed a memorandum of understanding on cooperation in electric vehicles (EVs) with the Taiwan Transportation Vehicle Manufacturers' Association (TTVMA). The signing marks a significant step in cross-strait cooperation in the EV industry.
According to Industrial Development Bureau (IDB) of the Ministry of Economic Affairs, Hangzhou, in China's Zhejiang Province, is carrying out an EV pilot plan which involves public-sector purchases of EVs and government subsidies for EV purchases by private consumers. The bureau noted that Taiwan's Yulon Group is expected to take part in the Hangzhou plan by supplying its LUXGEN-branded battery electric vehicles, and the number of Taiwanese participants is expected to increase in the future.
The Chinese delegation, led by CAAM's vice chairman Dong Yang, signed the MOU at a recent Conference on Cross-strait Cooperation and Exchange in the Automobile (Including Battery Energy Storage) Industry in the southern Taiwan city of Kaohsiung.
The conference—the fifth such--provided a platform for over 100 senior automotive executives from Taiwan and China to discuss opportunities for cooperation. There were also displays of major R&D achievements by the local automotive industry, including assembled EVs.
This year's conference focused on three major themes: "cooperation in business opportunities," for further exchange between the two parties in the assembled car, auto parts, and bus markets; "EVs," for further strengthening of the exchange of certification techniques and equipment for assembled EVs and key systems/parts; and "telematics," for promotion of key telematics technology applications.
Three Big Features
TTVMA Chairman Chen Kuo-rong said during his opening speech that this year's conference has three major features: First, representatives from the machine tool industry in Taiwan were invited for the first time in the hope of creating more opportunities for automotive-related companies to tap into the big market in China, and to achieve win-win arrangements through cross-industry alliances.
The second feature was the opportunity for practical cooperation between the two sides in developing Hangzhou into an EV experimentation center. Third, all the agreements and ideas generated during the conference will be submitted to government agencies on both sides to serve as a reference in the formulation of future economic cooperation and negotiation schemes.
Three MOUs
Three important MOUs were signed at this year's conference, including the one mentioned above for cooperation in the development of Hangzhou into a major EV demonstration city with the aim of stimulating more vigorous investment in and development of EV-related electrical machinery, electronic controls, and batteries and encouraging other cities to emulate Hangzhou's model.
The second MOU was signed between Chinese bus manufacturer Shanghai Sunwin Bus Corp. and Taiwanese partner Tangeng Advanced Vehicles Co. (TAV) for further cooperation in the EV business. Sunwin is a joint venture of SAIC Motor Co., Volvo (China) Investment Corp., and Volvo Bus Corp.; it currently has more than 1, 200 employees, a plant area of 140,000 square meters, and an annual production capacity of 2,500 city and commuter buses along with 500 chassis. TAV assembles Bombardier rolling stock and Volvo trucks in Taiwan.
An MOU for cooperation in the development of telematics applications in China was signed between the Taiwan Telematics Industry Alliance (TTIA), Tenhong Group of China, and the Asia Navigation Satellite System of Taiwan.
TTVMA Chairman Chen pointed out that the EV is an inevitable trend of development for the future, and that Taiwan currently has 347 related projects calling for a total investment of about NT$10 billion (US$333.3 million). The development of the industry is still falling far behind expectations, however, because of problems with infrastructure, regulations, and operating costs, among other factors. Chen expects the EV tie-up between China and Taiwan to accelerate development of the industry and the market on both sides of the Taiwan Strait and gradually help the island's EV-related investments turn a profit.
Targeting the Global EV Market
Under the pursuit of cleaner energy and environmental protection, Chen noted, the EV industry has become a focus of economic development in Taiwan. However, he added, the very limited domestic auto market (about 300,000 to 400,000 new cars are sold per year) has forced local EV makers to cast their eyes at the global market.
For the more vigorous development of the island's EV industry, the TTVMA chairman explained, there is an urgent need to create opportunities for cooperation among all parties in the island's EV supply chain, and that is why Taiwanese machine tool makers were asked to join this year's cross-strait conference.
Currently, Chen said, Taiwanese machine tool makers ship 40% of their products to automakers worldwide. China is a prime market, since almost all of the world's big automakers now operate factories there, and it has huge potential for local machine-tool makers.
Chen admitted that there is a vast disparity in economic scale between China and Taiwan, and that most of the business models on the two sides are different as well. That is why, he said, it is essential to find ways to use the advantages of each in a complementary fashion and to create new opportunities for cooperation in the overall automotive supply chain. These are the ultimate goals of the annual conference.