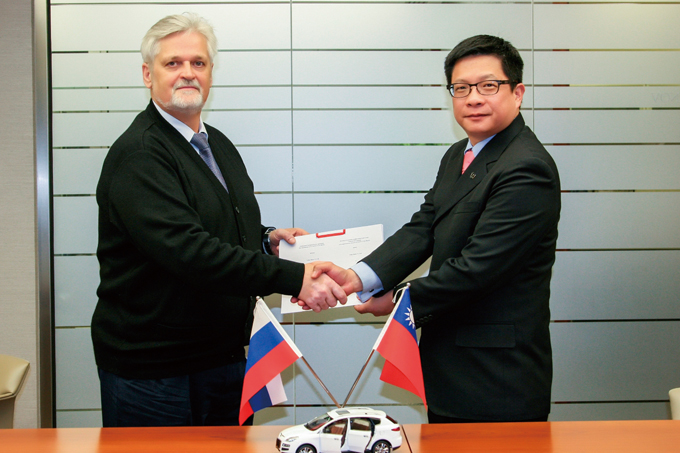 W.M. Wang (right), president of Yulon's branch office in Russia, shakes hands with Alexander Romanov, vice president of Derways Automobile after signing the cooperation agreement.
The Yulon Group, Taiwan's biggest automobile manufacturing conglomerate, recently announced that it has signed a cooperation agreement with Derways Automobile Co. of Russia for the joint development of the promising Russian market, which has annual sales of about three million units.
Yulon said that it has set up a branch office in Russia, with a staff of more than 20 Taiwanese employees, to work with Derways for the local assembly of the Taiwan company's self-developed LUXGEN products. The first model from the venture will be introduced in Russia as early as the third quarter of this year: the LUXGEN7 SUV.
After a long and intensive evaluation, Yulon decided to choose Derways as its contract assembler in Russia. To meet the needs of Yulon's contract, the Russian company has built a new auto assembly line with an annual production capacity of 100,000 units on a 23.5-hectare plant, and has sent its technical personnel to Yulon's factory in Taiwan for pre-training courses.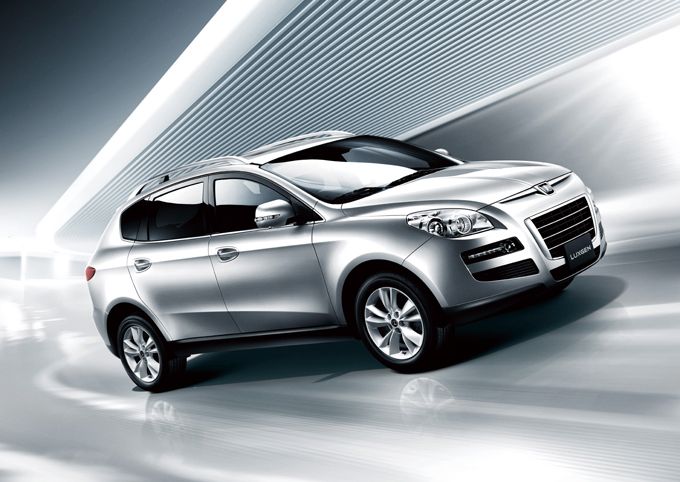 Yulon plans to introduce its locally assembled LUXGEN7 SUV in Russia in the third quarter.
Derways is scheduled to kick off production of the LUXGEN7 SUV soon, and plans to assemble a second model in 2014—possibly the LUXGEN5 sedan.
Yulon points out that Derways is part of Russia's Mercury Group, whose business scope encompasses foods, carbonated beverages, automobile manufacturing, auto leasing, logistics, and clothing. Based in the Cherkessk Republic in the southern part of Russia, Derways is a major carmaker which has had previous partnerships with Chinese partners such as Geely and Lifan.
LUXGEN in China
Yulon decided to develop the Russian market after it gained a foothold in China, the largest automobile market in the world. The Taiwanese group's Chinese subsidiary, Dongfeng Yulon Motor Co (a joint venture with the Chinese automaker Dongfeng), has previously announced that it aims to assemble and sell about 33,000 LUXGEN cars in China this year.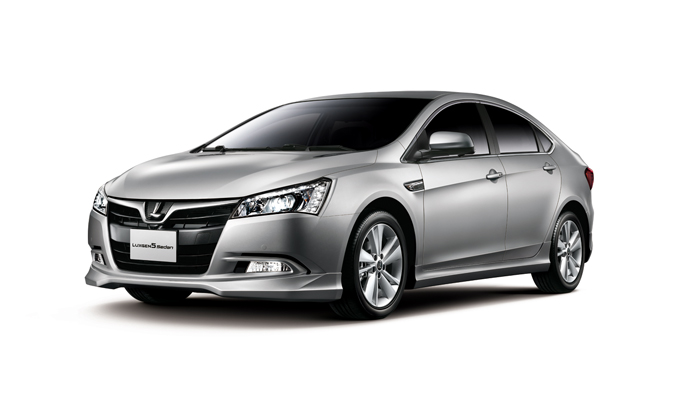 The LUXGEN5 sedan is likely to be introduced to Russian consumers in 2014.
With China being the most important market for LUXGEN cars outside Taiwan, Yulon has been accelerating its business development there. As of late of 2012, Dongfeng Yulon had 200 sales points around China.
Dongfeng Yulon sold about 30,000 LUXGEN7 SUVs in China last year, bringing total sales there to 40,000 units (the sales began in the fourth quarter of 2011). The introduction of the LUXGEN5 sedan is expected to boost annual sales in China to more than 50,000 units.
In addition to sales in Taiwan, China, and Russia, Yulon has successfully exported its Taiwan-made LUXGEN cars to other overseas markets such as the Middle East and the countries of the Association of Southeast Asian Nations (ASEAN).