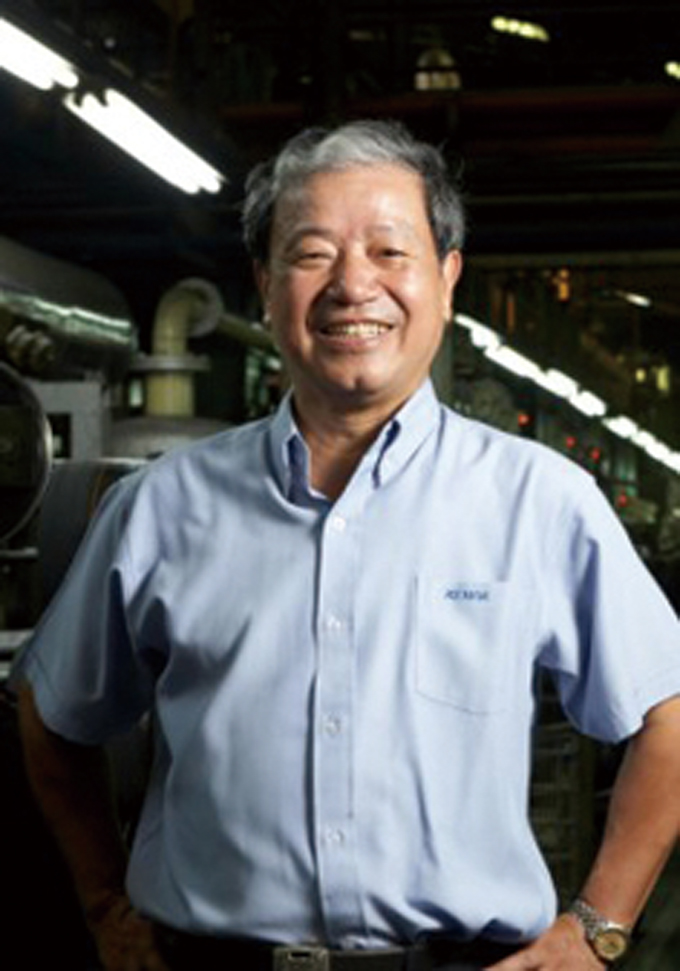 Kenda chairman Yang Yin-ming.
Yang Ying-ming, chairman of Kenda Rubber Ind. Co., Ltd., a major tire manufacturer in Taiwan with global operations, recently said that, in the wake of the Federal Reserve of the United States announcing possible tapering of quantitative easing (QE), global material prices may drop in the third quarter to boost Kenda's margin this year.
Kenda registered consolidate revenue of NT$29.34 billion (US$978 million) in 2012, up 5.6% from the previous year, a record high in corporate history. Driven by capacity-expansion plans, some institutional investors forecast that Kenda's earnings per share (EPS) should continue to set new record highs this year.
At a recent shareholders meeting, Yang pointed out that if the U.S. stops or shrinks the scale of QE, capital in the commodity market will exit, driving material prices down. For Kenda, he explained, falling material costs, continued internal cost control and efficiency upgrading, vigorous market development etc. should lead to encouraging sales in the second half and whole year.
Kenda's new passenger car radial (PCR) tire factory in Tianjin, China (its third PCR tire factory) has kicked off production in June. Jimmy Yang, Kenda's vice chairman, disclosed that the Tianjin factory has won the first order from a Middle East customer for 15,000 units. The Tianjin facility will began mass production in July with initial daily capacity of some 4,000 PCR tires, with the capacity to reach 10,000 units by the end of the year, and 20,000 units by 2016.
Regarding equipment utilization, chairman Yang said that currently average utilization at global factories for bicycle tires is about 95%, for motorcycles and passenger cars about 92%, and for bias-ply nylon tires about 88%. After the fourth quarter this year, he added, the rate for bias-ply nylon tires should rise further.
The daily capacity of Kenda's PCR tire factory in Kunshan, Jiangsu Province of China, is about 21,000 units and will be raised to 22,500-25,000 units by the end of this year. Kenda's PCR-tire daily production line at its headquarters in Yunlin, southern Taiwan, is about 5,000 units, to be raised to some 8,000 units by year-end.
By the end of 2013, Yang claimed, Kenda's total PCR tire daily capacity will be about 30,000 units, and to at least double by 2017.
Shenzhen factories to be sold
Kenda operates two factories in Shenzhen, Guangdong Province of China spread across 160,000 square meters, which will be sold profitably and to respond to Shenzhen government's development plans.
At the shareholders meeting, chairman Yang announced that the company just has signed an agreement to buy a 1,000-acre land lot in Kunshan, Jiangsu Province of China to set up a truck and bus radial (TBR) tire factory, with initial investment of NT$3 billion to NT$4 billion (US$100 million to US$133 million) and scheduled to kick off production by 2016, and targeted maximum daily TBR tire capacity of 6,000 units.
Kenda is the second Taiwanese tire maker producing TBR tires, following Cheng Shin Rubber Ind. Co. Ltd.
With the completion of its Kunshan plant, Kenda will become an all-round supplier of tires for bicycle, motorcycles, agricultural machinery, passenger cars, trucks, also having announced plans to be a globally top-20 tire maker in a few years.
In addition, Kenda has also applied to the Ministry of Economic Affairs (MOEA) to set up a new R&D center and PCR tire plant in Changhua, central Taiwan for some NT$10 billion (US$333.3 million).
In southeast China, Kenda has also signed an agreement to buy 885-acres in Huizhou, Guangdong Province of China to set up its sixth production base in China. Kenda will move existing production at the Shenzhen factories to Huizhou, chairman Yang said.