The vehicular telematics sector has been a point of strong interest in Taiwan for many years, drawing special attention because the island's information and communications technology (ICT) industry has been seeking new directions for further development after moving most of its hardware production to China.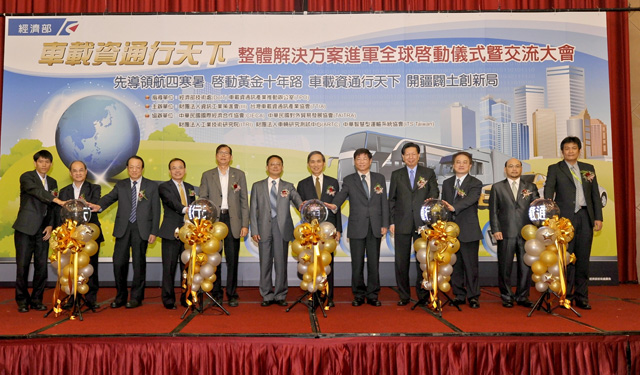 Representatives from the government, research institutes, and local companies jointly kicked off the global marketing of seven telematics solutions developed in Taiwan.
Telematics is also important because with the rapid advancement of technology, the global demand for a safer and more efficient transportation infrastructure is constantly growing. This creates opportunities for both technology companies and vehicle-parts makers to gain new footholds in the fierce global competition--if they can work together efficiently and intelligently.
Statistics compiled by the Market Intelligence & Consulting Institute (MIC), a unit of Taiwan's Institute for Information Industry (III), show that the production value of Taiwan's telematics sector grew more than 20% in 2012 to NT$529.6 billion (US$17.65 billion). Obviously, many local companies have become aware of this booming business and its lucrative opportunities.
To help spur telematics development and provide assistance to local makers for the joint exploration of markets in the U.S., Japan, Southeast Asia, China, and Eastern Europe, the Department of Industrial Technology (DoIT) under the Ministry of Economic Affairs (MOEA), the Taiwan Telematics Industry Alliance (TTIA), and the Smart Network System Institute (SNSI) under the III jointly organized a ceremony to announce the kick-off global marketing for seven telematics solutions developed by local companies and institutions. The ceremony was followed by seminars and panel discussions.
Hundreds of ranking officials and representatives of government, academe, and industry, along with dozens of foreign ambassadors and representatives, were invited to attend the event.
Total Solutions
With support from DoIT, the III combined the R&D capabilities of the Industrial Technology Research Institute (ITRI) and the Automotive Research & Testing Center (ARTC) to develop seven telematics total solutions in cooperation with the TTIA and Intelligent Transportation Society of Taiwan (ITS Taiwan). More than 100 domestic companies have adopted the solutions, tested then, and proven them effective.
The seven total solutions are a Smart Bus System, Satellite Taxi Dispatch System, Commercial Vehicle/Logistic Fleet Management System, Multi-card Electronic Ticket System, Intelligent Car OBU System, Electronic Toll Collection System, and Public Transportation Vehicle Infotainment System.
The domestic telematics industry will also integrate the strengths and resources of the domestic Chinese International Economic Cooperation Association (CIECA) and Taiwan External Trade Development Council (TAITRA) for the more effective marketing, on the global stage, of Taiwan's technical capability and successful business models in the field of telematics.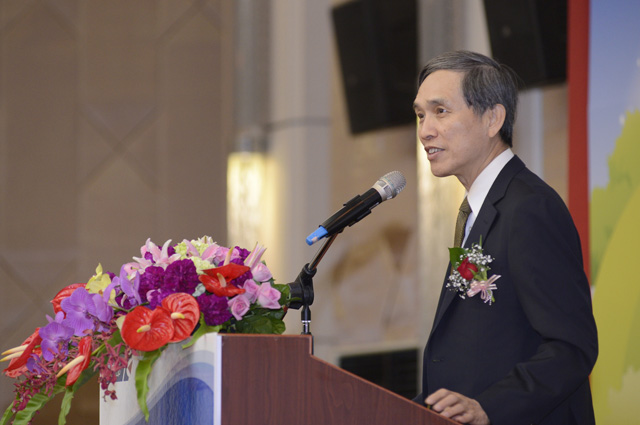 Shih Yen-hsiang, Senior Advisor to the President and former Economics Minster, said at the kick-off ceremony that cross-industry integration in the local telematics industry will bring together all of the useful related resources on the island.
In his speech at the recent ceremony, Shih Yen-hsiang, Senior Advisor to the President and former Economics Minster, said that cross-industry integration in the local telematics industry is expected to bring together all the useful resources on the island, and that the export of Taiwan-developed telematics solutions will help the local development of more value-added products and upgrade Taiwan's national competitiveness.
III representatives say that for the further development of the telematics industry, their organization will continue to follow MOEA policy by encouraging large or integrated technology R&D projects by different enterprises with the aim of achieving a comprehensive range of cross-field vertical integration. The promotion of common industry standards and business models, they add, will further enhance the advantages of local telematics companies and, perhaps, help them capture an estimated 30% share of the global market for public transportation vehicle infotainment systems.
Brighter Future
The Taiwan people are becoming ever more familiar with telematics. E-bus stations have been installed in 15 cities island-wide; they present information about bus route, bus locations, the numbers of bus stops remaining before the bus reaches the station, and estimated time remaining before arrival. The island's people use multi-card electronic ticketing systems in cities other than where they live 20 million times a year. Taxi companies have included more than 15,000 taxis in intelligent fleet management dispatching systems.
Other uses of telematics include GPS navigation, vehicle data recorders, and other applications on vehicles big and small.
The SNSI claims that Taiwan has an absolute advantage in tapping into global intelligent vehicle supply chains, especially in view of the MOEA's cooperation with the Ministry of Transportation and Communications (MOTC) in mapping out a set of industry standards for the intelligent bus industry and the operation of more than 10,000 intelligent buses around the island.
E-Bus in Taipei
The e-bus system currently in operation in Taipei, Taiwan's capital city is an example of the globally competitive use of telematics.
The TTIA explains that the whole system is connected with GPS and uses the general packet radio service (GPRS) to pass information to network control centers in the most accurate and fastest way. The GPRS passes information between the network control center and the bus drivers with the aim of providing the best quality and safety to public-bus users.
The fully automatic on-board unit can transmit the current bus location to the control center and to riders waiting for buses, accurately and immediately. The on-board unit can also notify the network control center if a driver is in a dangerous situation.
Paul Chou, secretary general of TTIA, introduced his association.
The duty of the network control center is to receive and send information between buses and e-stations, such as bus position and arrival time. A simple Web-GIS presents the location of all buses when you a route number is chosen the screen, and bus companies can use this information to schedule service intervals more efficiently.
The e-bus stations scroll information about bus routes, bus locations, number of stations remaining before bus arrival, and time until arrival on LED signboards; messages are displayed for three seconds every 15-20 seconds. Each e-station can show information about four bus routes.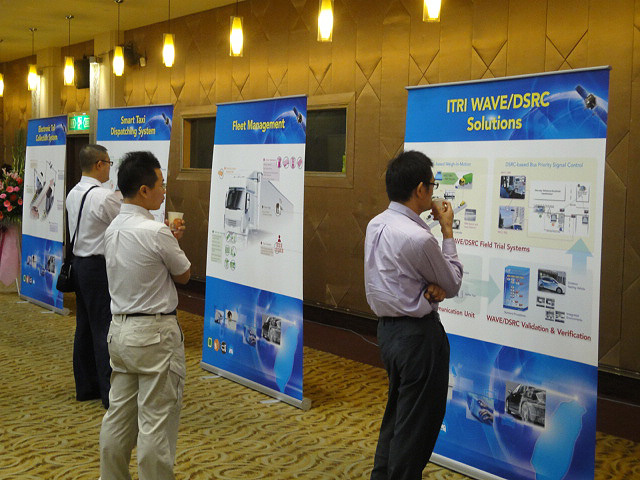 Research institutes demonstrated their technical capabilities and R&D achievements in after-ceremony activities.
Bus riders with Internet-enabled devices can use their browser to choose a bus route and access a display of bus position, arrival time at each e-station, and direction of travel. Intelligent voice recognition will offer even greater convenience. It is currently easier to use a fixed-line telephone or a cellphone to find the location of a bus, but a good voice-recognition system, with different languages available (English, German, Japanese, French, Chinese, Spanish), will help riders catch a bus anytime, anywhere, using only his or her voice. According to data released by the Taipei City government, its intelligent voice recognition system has proven to have a success ratio of more than 97%.