Automotive electronics have been rapidly replacing traditional mechanical systems in modern transportation vehicles, especially in systems requiring more precise control and faster response time. TRW Automotive, a major global tier-1 parts supplier, estimated this year that automotive electronics now account for 40% to 50% of a vehicle's cost, compared to about 20% 10 years ago, and the ratio is increasing.

The Automotive Research & Testing Center (ARTC), the most important vehicle testing and R&D hub in Taiwan, recently announced that in response to this trend it has successfully developed an integrated multi-core vehicle safety warning system that combines four image-based safety warning technologies--lane departure warning system (LDWS), front collision warning system (FCWS), blind-spot detection (BSD), and image-based obstacle detection system (IODS)—into a single dual-digital signal processor (DSP) printed circuit board (PCB). This cuts the cost of the array of systems by about 75%.

The ARTC points out that the performance requirements for increasingly-complicated image-based safety systems are becoming more stringent, greatly increasing power consumption and causing imbalances in system resource distribution. The multi-core system, which is constructed of heterogeneous system architectures, can enhance system algorithm capability and reduce power consumption.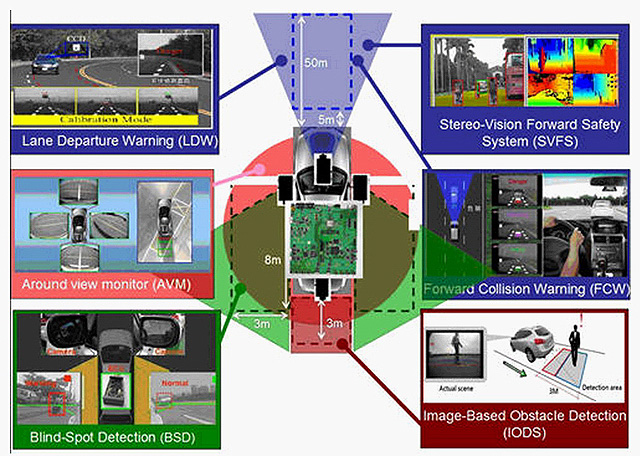 ARTC-developed Electric Power Steering System won a Silver Award in the 2013 National Invention & Creation Awards program.
According to the ARTC, its multi-core hardware platform combines the ARM-architecture embedded processor with digital signal processors (DSPs) and field programmable gate arrays (FPGAs), making it possible for different image-based safety systems to work simultaneously on the same platform. The platform also chooses the proper processors to carry out algorithms with different characteristics, provide HMI human-machine interface (HMI), and conduct power management for DSPs and FPGAs.
For example, the center says, the LDWS will emit alarms when a vehicle is too close to the lane sidelines, and the driver state monitor (DSM) will alert the driver when the system detects that the inclination of his or her head is too great. In accordance with algorithm characteristics, LDWS will use a lot of system resources to move data, so it is more suitable for use on the FPGA. The latter requires more sophisticated mathematical algorithms, and the DSP can execute them more efficiently. Through the ARM platform, these two systems will record vehicle safety data (to provide evidence in case of an accident), and the DSP and FPGA cores will be shut off when the vehicle is idling or backing to save energy.
The Center explains that image-based vehicular safety systems are inevitably becoming more and more sophisticated, and that the biggest challenge now is to design and develop safety systems that function better and do not impose a heavier load on the power supply system. Its multi-core safety system integration design, the ARTC claims, permits the use of a single module for different systems to simplify product design and shorten development period while achieving the best system-resource distribution and providing needed algorithm capability. This is a major development, the Center stresses, in the development of the image-based vehicular safety systems of the future.