Outlook Bright for China's Outdoor Furniture Industry
Market demand set to grow as consumers pursue more leisurely lifestyles

2013/12/17 | By CENS
While the global economic climate has improved a bit in 2013, China's growth has remained sluggish. This weakness, coupled with the short-term impact of the government's revision of regulations to cool off the overheated real estate market, has confronted China's furniture manufacturers with declining sales and profits. The industry seems destined to either stagnate or shrink, and the result will be an oversupply situation for manufacturers, distributors, and retailers.
Whether the furniture manufacturers are ready or not, China is now a buyer's market and the competition is becoming more intense and complex. Success depends not only on the product quality and price, but also on marketing, branding, management, and service strategies.
While the government's efforts to dampen the real estate market have led to an overall drop in furniture sales in China's home market, sales of outdoor furniture there have increased 20%. This trend, caused by a growing fondness of consumers for the outdoor life, has encouraged more furniture manufacturers to produce outdoor furniture.
Compared to most Western countries, and countries in tropical and subtropical areas, China's outdoor furniture market started relatively late. The market's development, however, has been spurred by the rise in living standards that has accompanied the rapid economic growth of the past couple of decades, and the people of China have put increasing emphasis on bettering their living space--including outdoor areas.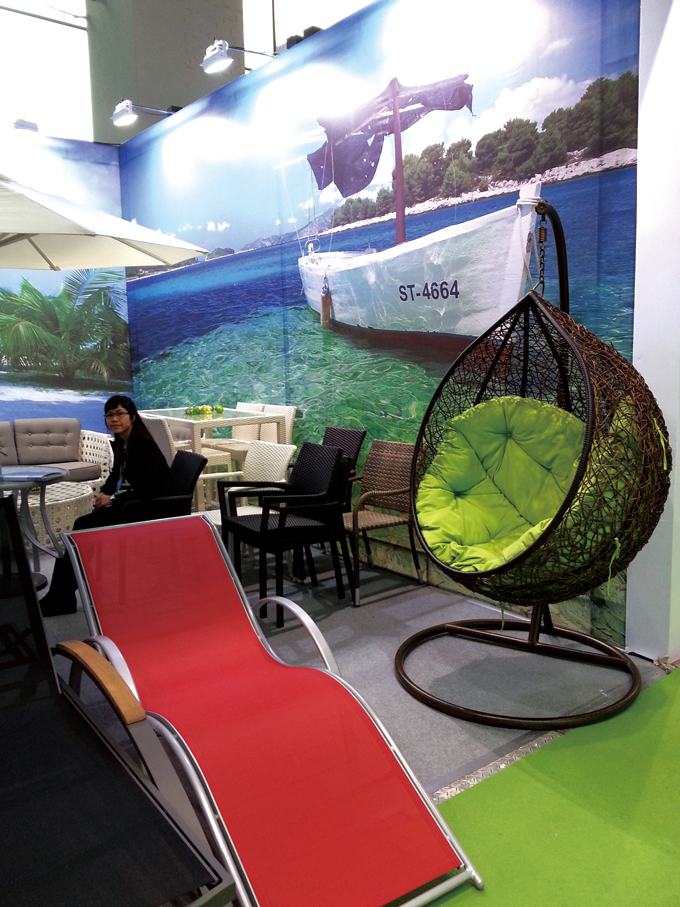 Various outdoor furniture items are showcased at 2013 China International Furniture Fair (Guangzhou).
Shenzhen Fengyuan
The Shenzhen Fengyuan Outdoor Furniture Co., founded in 1989 with a registered capital of three million renminbi (RMB), specializes in turning out furniture with an integrated operation from R&D to manufacturing and marketing. The company offers a range of products that includes garden chairs and tables, dustbins, beach umbrellas, and plant pots, as well as outdoor equipment such as bike parking racks, banisters, pavilions, and wrought-iron flower stands.
With good quality, competitive prices, and considerate after-sale services, the company's products have gained popularity among customers both at home and abroad. The major export markets are Singapore, Japan, Korea, the United States, and Europe.
Today Shenzhen Fengyuan has three well-equipped factories that generate products mainly on an OEM basis. They also turn out special products to meet the particular needs of their customers.
The growing market prompted the company to install a new production line in 2005 to turn out items made of eco-friendly materials like wood-plastic composites that are water-proof, moisture-proof, mothproof, and recyclable. The company's hardware items and metal furniture are specially treated by rust cleaning, sand blasting, and zinc spraying, and have SGS approval.
Under its corporate philosophy "Honesty, Hard work, Cooperation, Innovation, and Efficiency," Shenzhen Fengyuan continues striving to maintain its strength in the world arena and hopes to become one of the leading outdoor furniture makers in the global market in three years.
Quanzhou Kiansuccess
With more than 15 years of experience in furniture manufacturing, the Quanzhou Kiansuccess Furniture Co. is a foreign-invested enterprise located in Quanzhou, Fujian Province. The company's production facility is located on a site of over 40,000 square meters and turns out about 600,000 chairs and tables with a total value of 60 million RMB every year.
Kiansuccess has imported machines and equipment from Taiwan and adopted integrated manufacturing processes from design and mold development to bending, cutting, polishing, coating, assembly, and packaging. Among its products are outdoor tables and chairs, auditorium chairs, public area chairs, school desks and chairs, dining tables, and children's furniture.
To meet world standards and fashion trends, the company works constantly to improve its management and upgrade its manufacturing technology with the aim of producing innovative new products efficiently. It has won ISO 9001:2000 Quality Management System certification, and its products have been approved by SGS.
In addition to selling in the domestic market, Kiansuccess exports its products to Asia, Australia, and Europe. The company pays increasing attention to keeping its customers satisfied by enhancing the quality of its products.
Higold is highly promoting its uniquely-designed Shenzhou X outdoor furniture series.
Higold Group
Established in 1989, the Higold Group is a comprehensive enterprise that mainly manufactures and markets building materials. In 2000 the company expanded into kitchen hardware. A year later, it changed its brand name from "Kaigao" to "Higold" and registered the "Higold" brand in more than 100 countries.
One of the group's subsidiaries, Higold Outdoor Furniture Co., focuses on designing and manufacturing high-end outdoor furniture for villas and luxury furniture for deluxe hotels, as well as furniture for beaches, swimming pools, bars, and western-style restaurants.
Higold has devoted itself to the development of high-end furniture, and its products have been marketed in more than 150 countries in addition to China. The group hopes to achieve sales revenue of two billion RMB in 2015.
The company witnessed rapid growth in 2012 thanks to a big order from the Costco hypermarket chain. This year it began cooperating with renowned global brands such as LANDMANN and Metro during the year.
In 2013, Higold has signed a contract with a domestic outdoor furniture retailer for the sale of its products in China. The same year it participated in the Shanghai outdoor furniture fair and Spoga exhibition in Germany, as well as the 114th Canton fair held in Guangzhou on Oct. 23-27.
At the Canton fair, Higold presented newly developed products including the Shenzhou X Series, Fox Series, and York Collection. The Shenzhou X series is made up of innovative sofas featuring space-capsule shapes and bright colors, the design concept stemming from China's successful launch of its self-developed Shenzhou X spacecraft.
Higold has a strong R&D team and is proud of its in-house design capability. It intends to keep developing new outdoor furniture products and further exploring the market both at home and overseas.
Market observers foresee a bright future for China's outdoor furniture industry, despite the immaturity of China's market compared with that of the West. In recent years more and more Chinese have been following the Western example in pursuing a leisurely life instead of a life of hard work and austerity, and outdoor furniture is becoming increasingly with them, especially the younger generation.
But outdoor furniture needs a relatively large residential space or outdoor area, so it is usually sold to middle- or high-level consumers who own larger houses.