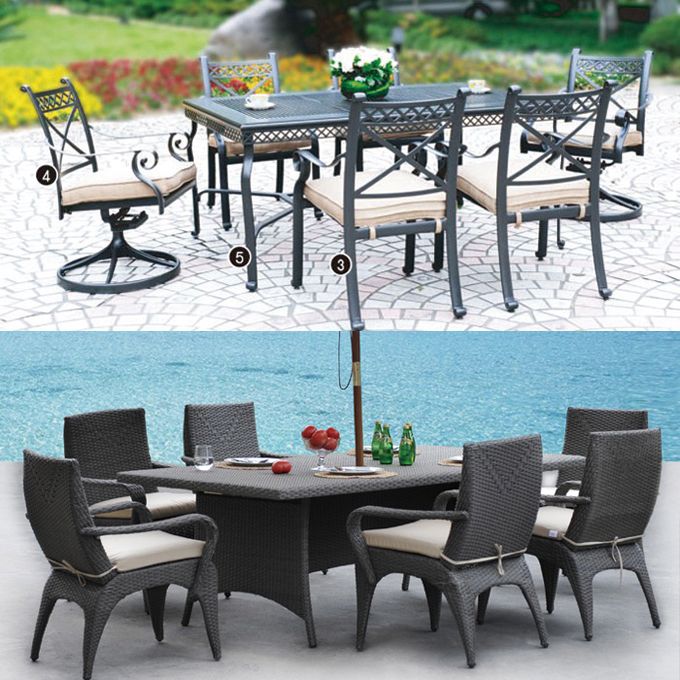 Outdoor dining sets from Shanghai Violet are made mainly of cast aluminum and woven wicker.
China's dining set industry has been developing smoothly in recent years, with most makers of outdoor furniture joining the line and adopting integrated manufacturing processes. Competition among manufacturers is now extremely fierce, and to remain in the global market suppliers need to find their own unique advantages.
With improved living standard, people today demand higher quality in their furniture and look for creative and fashionable dining tables and chair. Manufacturers are responding by laying more emphasis on innovation instead of sticking to traditional designs. Many products are made more desirable by the addition of foreign fashion elements.
For instance, the Shanghai Violet Shine Enterprise Co., Ltd., a professional producer of outdoor furniture, turns out mainly metal and woven-wicker dining tables and chairs. The company emphasizes that metal and wicker both have a fine and smooth surface which is durable, waterproof, mothproof, and easy to clean.
Chinese suppliers are always looking for new materials, and sometimes mix different materials in order to diversify their products. The materials they commonly use include metal, rattan, wood, glass, and stone, which are suitable for making both indoor and outdoor dining sets.
A senior Shanghai Violet executive indicates that the company's overseas buyers have expressed more concern about price in recent years, and have tended toward the purchase of large volumes at low prices. This forces the company to control its manufacturing costs carefully.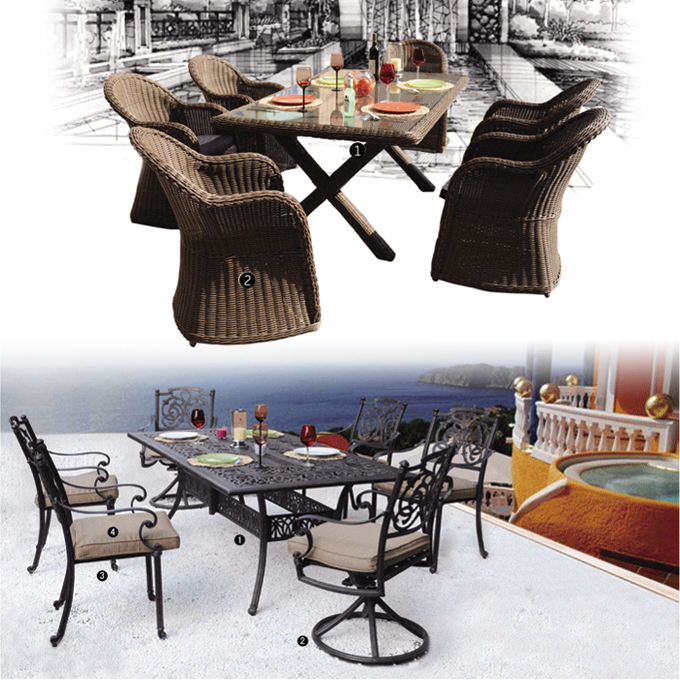 Shanghai Violet currently turns out about 5000 dining sets of furniture a month. In addition to marketing its products overseas, the company is also establishing its own brand and setting up sales outlets in the domestic market.
Sales in Europe and the United States were not good in 2012, thanks to debt and fiscal problems, but the situation has improved a little this year and more orders are coming in. Market observers expect a complete recovery in 2015.
Dining tables and chairs are the biggest items in the furniture market, and most leading manufacturers of the products are located in big cities such as Beijing, Shanghai, and Shenzhen. The governments of those cities support the industry by offering incentives such as tax reductions, export credits, preferential use of industrial land, and technical assistance.
Today's competition in the furniture industry is fierce not only in China, but also in the international market, and manufacturers in different areas have different advantages and disadvantages in terms of materials, labor costs, land costs, government regulations, and other conditions. For instance, manufacturers in the developing countries of the Asia-Pacific region can obtain raw materials at lower prices, while those in China, Japan, and the developed countries of Europe and North America have the advantages of skilled workers and advanced manufacturing technology and equipment.
As the Chinese market grows, observers believe, the furniture industry there will continue thriving and will gain a larger share of the global market.