Technology upgrading and transformation from OEM (original equipment manufacturing) to ODM (original design manufacturing) and OBM (original brand manufacturing) are essential efforts for Taiwanese hand tool manufacturers in their pursuit of enhanced added value. To achieve success in those efforts, said Arthur Hsu, an industry analyst with the government-funded Metal Industry Research & Development Centre (MIRDC) in an interview with CENS, they should engage in contrarian thinking instead of continuing to develop "me-too" products.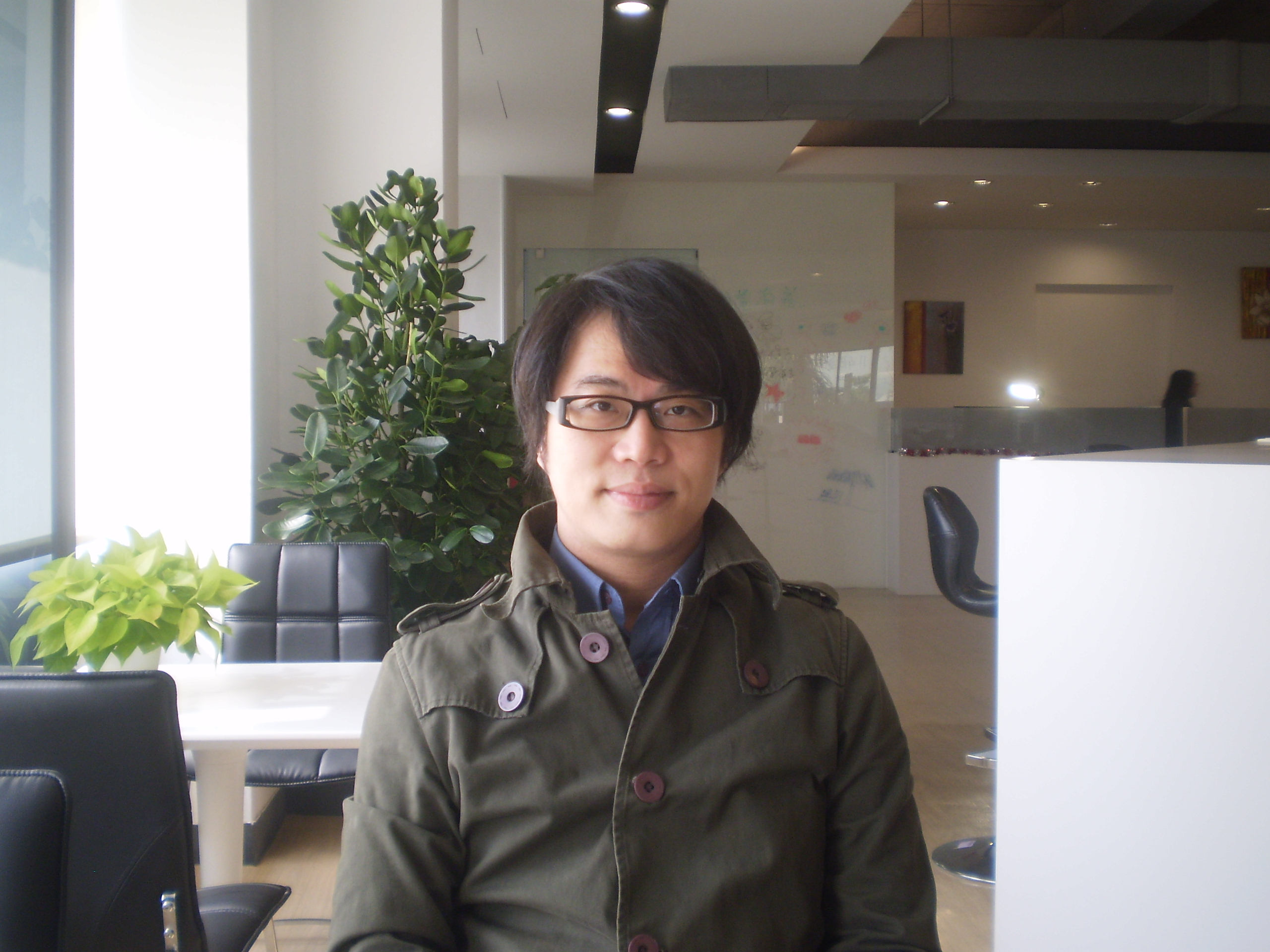 Arthur Hsu, industrial analyst from Industrial Research Section and Planning & Promotion Department in MIRDC
Growing in an Adverse Environment
In the face of underselling rivals and an uncertain global economy, Taiwan's hand tool industry managed to keep in good shape over the past year thanks mostly to the recovery of the market and the growth potential that local manufacturers gain from their mature technology.
The latest statistics from MIRDC show that the industry recorded an output value of NT$18.4 billion in the third quarter of 2013, up 9.6% year-on-year (YoY), and exports of NT$16.07 billion, an increase 12% from the second quarter but a reduction of 6.9% from a year earlier.
In fact, Hsu said, following a decline of exports in the fourth quarter of 2012 and the first quarter of 2013 due to the global economic doldrums, the industry rallied in the next two quarters and is expected to record a production value of NT$60 billion for the whole year, reflecting not just a recovery in global market demand as buyers restocked in preparation for the Thanksgiving and Christmas sales booms, but also the industry's structural health and strong growth potential.
Hsu indicated that mature technology, from forging and machining to polishing, thermal treatment, surface finishing, and packaging, are the main competitive advantages enjoyed by Taiwanese manufacturers. At the present time most of the larger manufacturers operate integrated production lines, while the smaller ones generally focus on forging, machining, packaging, and quality inspection in house and farm out midstream production processes, like thermal treatment and surface finishing, to subcontractors. This division of labor has proven helpful not just in developing an efficient supply chain for added flexibility, but also in enabling producers to concentrate on improving their core technologies and developing better products.
R&D Directions
Like most traditional manufacturers that want to upgrade to achieve higher margins and development sustainability, Hsu pointed out, Taiwanese hand tool makers also pay strong attention to R&D through cross-industry cooperation and technology integration.
"Taiwanese hand tool makers," Hsu said, "generally devote their R&D efforts to five different aspects: ergonomics, utility and ease of use, application of new materials, lightweight design, and digitization." The digitizing of hand tools provides a particularly striking example of the cross-industry R&D mode that Taiwanese makers use to move upmarket.
Digital tools feature a higher degree of torque force precision than traditional mechanical models, and require a higher level of technology to achieve the mechanical and electronic integration they need to assure safe use in such demanding industries as car-making, airplane manufacturing, and building construction.
Hsu noted that Taiwan's first homegrown digital tool was a torque wrench incorporating a micro electro mechanical system chip developed by MIRDC's counterpart, the Industrial Technology Research Institute, in 2004. Since then, a number of Taiwanese hand tool suppliers, including Eclatorq Technology, Stand Tools, and William Tools, have continuously fed the digitization trend by developing new models.
"In addition to manufacturers, the Taiwanese government has also moved to nurture digital tool manufacturing as part of its traditional industry reform and upgrading program," Hsu stated. "At the same time, China Steel (the largest steelmaker on the island by size) is interested in this as well, and has been actively working with hand tool makers and local universities to develop suitable materials."
 Hsu went on to say that it makes sense to use digital tools as a growth driver for the industry, given that Taiwan boasts world-class ICT (information and communications technology) and electronics industries, which form a solid foundation for developing such products.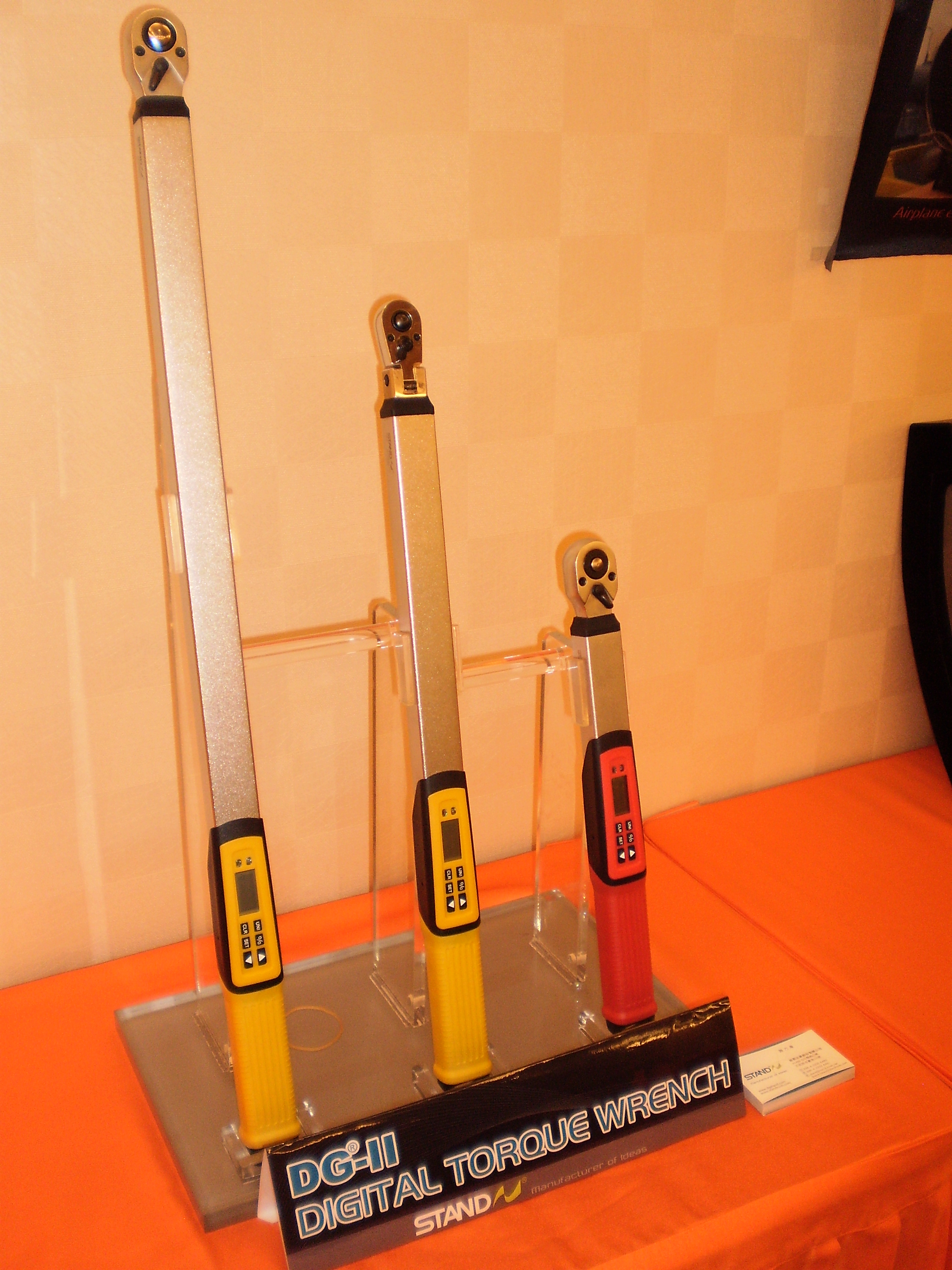 Digital tools are regarded as Taiwan hand tool industry's promising growth driver, but short of growth momentum for some reasons.
Slow Development
Although digital tools have drawn considerable investment from government and industry, and have been greatly improved in terms of technology and quality over the past years, Hsu indicated that there is still a great amount room left for further development. Digital tools now contribute only some NT$400 million to the industry's overall annual output of NT$60 billion.
Given the steady increase in the application of digital tools worldwide, Hsu feels that the sector's development in Taiwan is proceeding at a relatively slow pace. This is due, to some extent, to the fact that Taiwanese hand tool makers are mostly small in size and lack enough resources to develop new products independently or to effectively market new products in the face of fierce global competition, especially from emerging-country rivals that are prone to copy the products of others.
Hsu also thinks, however, that Taiwanese manufacturers lack creative thinking and keen sensitivity to the pulse of the market. This makes it impossible for them to lead the way in any emerging marketplace despite their solid global reputation for technological enhancement and product innovation. Marketable innovation and added value, he said, are more likely to be achieved by supplying products that feature distinctive functions and are targeted at different end-user segments rather than trying to develop a new product that is unfamiliar to the market. The cultivation of a contrarian way of thinking is one way that manufacturers can achieve this.
Products that Set Trends
Hsu believes that contrarian thinking can help Taiwanese manufacturers to work out marketable, value-added products that set trends in the market by analyzing the characteristics, end-user segments, distribution channels, and other factors.
As a whole, Hsu said, the global market for hand tools is divided into DIY and professional segments, and there are significant differences between the two. Nearly all of the tools needed by professional users such as technicians and skilled workers, for instance, are available in specialized hardware stores where ordinary DIY-class tools are generally not sold. DIY users, by contrast, tend to buy from wholesalers and brick-and-mortal stores.
Also, Hsu went on, most consumers, especially first-time DIY users, need more instructions on how to use the products than professional users do, and find easy-to-use tools more suitable.
From his studies Hsu has found that conventional hand tools have been stereotyped in consumers' minds in many aspects: users are always factory workers, gardeners, farmers, or middle-aged, low-level laborers; user environments are mostly dirty, greasy, noisy, and hot; hand tools are used only during working hours and mainly on machinery, cars, construction, and crop growing; prices are comparatively low; and wholesale and retail stores are where such products are found.
"Innovation can be achieved by upsetting these stereotypes through contrarian thinking," Hsu stressed. "We should think about why hand tools can't be used in an office or a clean, air-conditioned environment; how hand tools can be marketed to white-collar workers, students, women, and the elderly; whether they can be used after work or used for leisure activities, cultural creation, fashion styling, or military purposes; and how they can be sold in specialty stores as premium, avant-garde products."
"What if a tool is developed specifically for use by women, in an air-conditioned office, for cultural creation; or for the elderly to use in climbing mountains at night; or for sale in boutiques and arts and crafts stores? Might such a tool be popular in its targeted end-user segment, and generate lucrative profits for its maker?" This is how innovation can come from contrarian thinking, and how inspiration can lead manufacturers to develop new products and add value, Hsu added.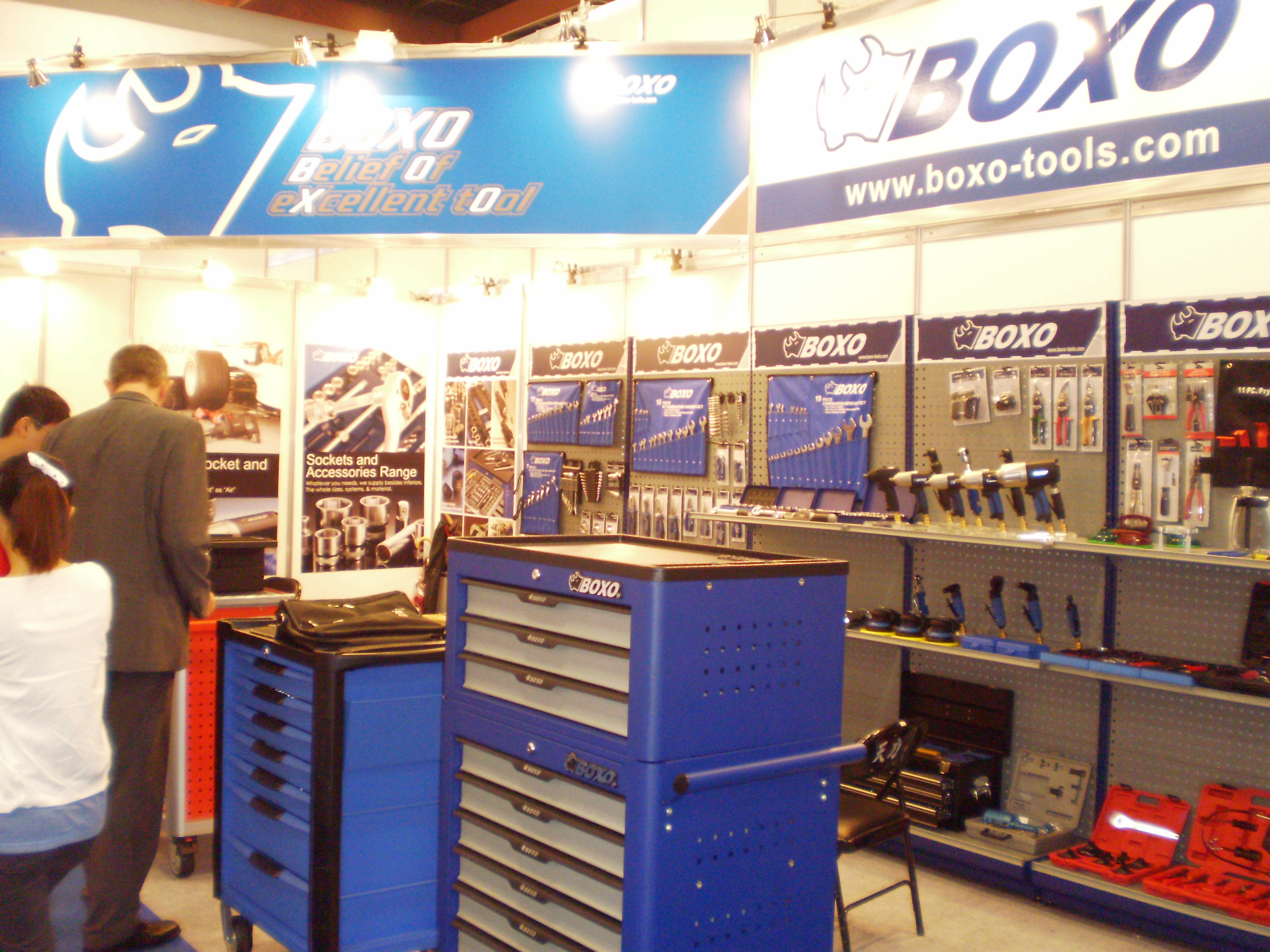 Ability to provide customers total solutions and one-stop shopping services is a major feature among Taiwanese hand tool makers.
Inspiration from National Development Policies
Hsu also noted that national economic and industrial development policies can be a prime source of inspiration for innovation. For instance, Taiwan has pinpointed six emerging industries--biotechnology, green energy, boutique agriculture, medicine and health care, tourism, and culture/creation--as drivers of economic growth in the years to come, and is actively soliciting investment in these fields. China, he noted, has implemented its 12th Five-year Plan to upgrade traditional manufacturing industries and nurture emerging sectors. Thsese policies can bring huge business opportunities to Taiwanese hand tool manufacturers, especially with the improvement in cross-strait trade relations resulting from the Economic Cooperation Framework Agreement.
"For instance," Hsu explained, "Taiwanese suppliers can exploit the booming market for wind power in both Taiwan and China by developing insulated, lightweight, and multifunctional tools for building and maintaining wind turbines, or supply tools needed by China's emerging advanced materials industry."
On another front, Hsu continued, to survive in the increasingly competitive global market, Taiwanese makers need to focus on creating synergies by forging R&D alliances composed of members from other industries and R&D bodies, and to work closely with each other to provide global buyers with total solutions and explore new markets around the world. Despite the recent economic downturn, Hsu said, "I think Latin America, India, and ASEAN countries like Indonesia remain potentially lucrative markets that Taiwanese suppliers can develop." (SC, Dec. 2013)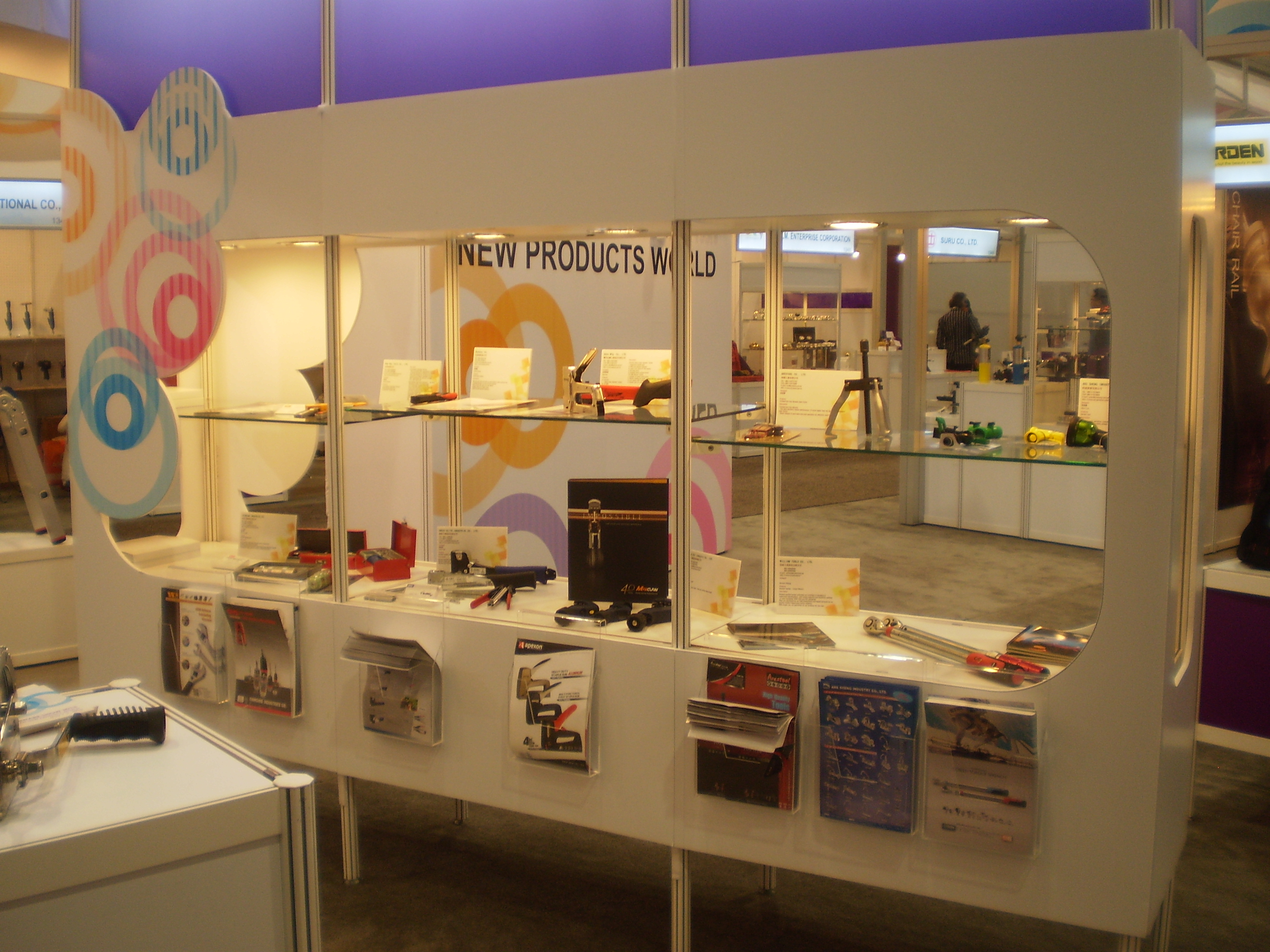 Taiwanese hand tool makers have actively taken part in global trade fairs under a shared image.
Export Value of Taiwan's Hand Tools. Jan.-May, 2013, by MDarket and Category Unit: NT$1 million
Market

Sockets

Wrenches

Pliers

Vices

Screwdrivers

Hammers, Axes, Pickaxes, Shovels

Saws

Scissors

Garden Tools

Overall Exports

U.S.

1,058.27

652.93

377.59

92.88

172.20

172.29

104.65

38.50

432.08

11,108.67

Canada

59.69

181.09

24.02

12.75

14.44

6.21

3.79

7.94

22.38

908.73

Japan

105.30

152.06

39.81

25.93

19.43

19.95

11.75

51.46

87.46

2,440.73

China

428.93

127.83

87.04

12.15

39.79

13.63

13.20

25.08

481.0

3,562.42

Hong Kong

8.66

13.34

16.40

2.99

8.21

0.01

8.91

4.62

2.39

456.95

U.K.

72.01

82.57

52.47

13.47

20.97

11.54

11.41

11.65

92.53

1,343.74

France

153.69

163.96

54.76

11.03

15.61

4.10

6.94

24.57

59.91

1,021.27

Germany

173.50

228.13

84.09

25.17

23.65

23.20

28.16

14.09

177.60

2,365.82

Italy

33.50

76.49

41.17

6.94

23.24

3.13

4.82

27.96

50.94

691.96

Australia

109.18

214.95

56.79

5.54

31.96

16.17

17.97

13.15

89.55

1,328.34

Africa

47.89

44.77

22.62

7.43

14.77

2.09

1.96

3.95

33.58

499.22

Others

1,353.28

1,031.05

467.03

171.83

230.07

128.77

153.77

159.58

566.88

13,201.62

Total

3,570.40

2,892.68

1,282.62

381.17

591.10

397.96

362.51

454.59

1,612.46

38,237.51

YoY Growth

-5%

-9%

-1%

-13%

-8.3%

2%

6%

0%

-5%

-4%

Source: Taiwan Hand Tool Manufacturers' Association
Taiwan Hand Tool Industry Performance, by Quarter
Period

Q3, 2012

Q4, 2012

Q1, 2013

Q2, 2013

Q3, 2013

Output Value

NT$15.862 Bn.

NT$15.240 Bn.

NT$15.714 Bn.

NT$17.589 Bn.

NT$18.403 Bn.

Import Value

NT$1.073 Bn.

NT$905 M.

NT$997 M.

NT$1.038 Bn.

NT$1.150 Bn.

Export Value

NT$15.856 Bn.

NT$13.999 Bn.

NT$13.186 Bn.

NT$14.348 Bn.

NT$16.075 Bn.

Source: Metal Industries Research & Development Centre