The 15th HKTDC Hong Kong International Lighting Fair (Autumn Edition) drew a record 2,360 exhibitors.
A record number of 2,360 exhibitors from 38 countries took part in the 15th HKTDC Hong Kong International Lighting Fair (Autumn Edition), held Oct. 27-30 at the Hong Kong Convention and Exhibition Center (HKCEC), drawing 38,030 buyers from 144 countries and regions.
This year, the event featured the Hall of Aurora, LED & Green Lighting, Advertising Lighting, Smart Lighting & Solutions, and Small-Order Zone. The Hall of Aurora hosted more than 470 lighting brands by 340 exhibitors, including Fulham, Fumagalli, Neo-Neon, Panasonic, Philips, Seoul Semiconductor and Vossloh-Schwabe.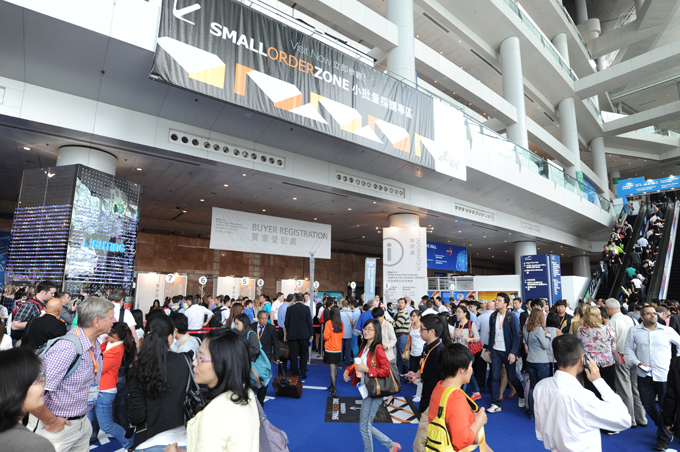 Over 30,000 buyers attended this year.
LED & Green Lighting covered LED and energy-saving lighting while Advertising Lighting highlighted display panels, light boxes and neon signs. Smart Lighting & Solutions was set up for suppliers of lighting design service and software, as well as lighting management systems and control panels. Around 140 exhibitors displayed some 1,500 products in the Small-Order Zone.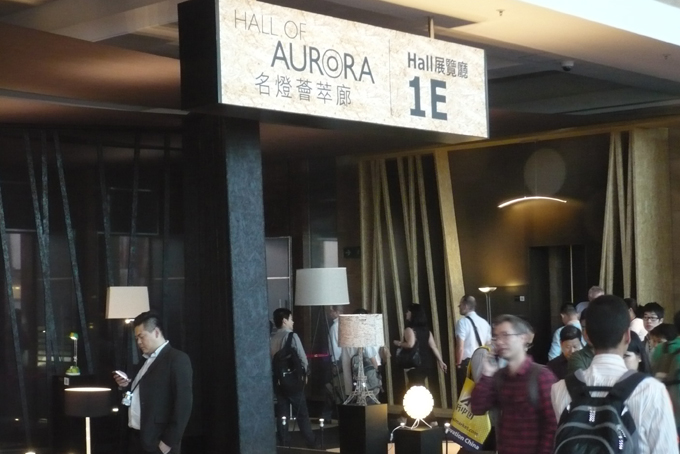 The 2013 autumn lighting fair had several feature zones, including Hall of Aurora.
"My Favorite Lighting Products Award 2013" debuted at the fair to showcase innovative lighting products chosen by buyers, with nine products submitted by mainland Chinese and Hong Kong makers winning awards, including Sheenly Lighting Co. Ltd. and Beijing Solarone Energy Technology Co., Ltd., and Neon King Ltd., AVC Technology Ltd., Highstar Industrial Co., Ltd., Windix Industries Ltd., and Mason Opto Co., Ltd. of Hong Kong.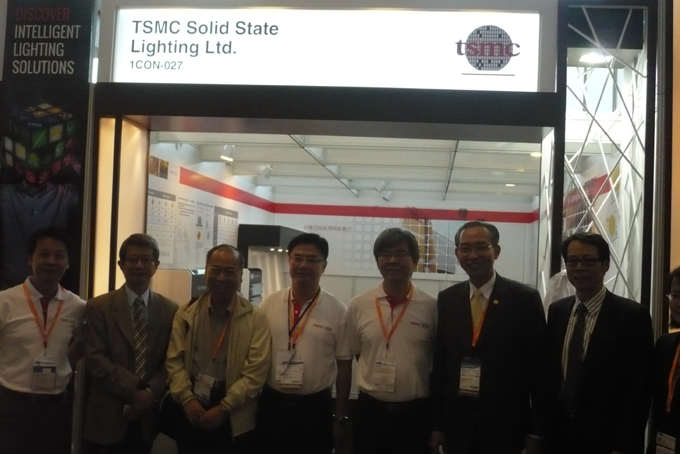 Chairman Steven Lin of the Taiwan Lighting Fixture Export Association (second from right), Managing Director Richard Sun of Taipei Trade Center Hong Kong (second from left), Director G.P. Chen (first from right), and Convener Yaw Wen of TLFEA (third from left) visited TSMC SSL booth.
Seminars were held offering insights into the industry, covering topics as "Lighting Market Across the Globe" , "LED Lighting Regulations and Standards", "E-tailing Strategy for Lighting Products", and the "Hong Kong Quality LED".
The HKILF is a crucial trade platform for Taiwan's lighting manufacturers, hosting 176 Taiwanese exhibitors this year, including Lextar Electronics Corp., Everlight Electronics Co., Ltd., Aeon Lighting Technology Inc. (ALT), Home Resource Industrial Co., Ltd., United Power Research Technology Corp., ADATA Lighting, Nan Ya Photonic Inc. (NYPI), TSMC Solid State Lighting Ltd. (TSMC SSL), Yah-Juang Lighting Technology Co., Ltd. and ProLight Opto Technology Corp. This show is important enough to be attended by NYPI Chairman Wilfred Wang, Everlight Chairman Robert Yeh, and TSMC SSL Chairman and Chief Executive Officer (CEO) Rick Tsai.
"My Favorite Lighting Products Award 2013" debuted at the fair.
Lextar
Lextar, an LED-lighting maker with integrated manufacturing capability involving epi-wafer, chip, packaging, light-engine and lighting-fixture manufacturing, exhibited several unique products, including the award winning pendant lamp "Harmonia" and an ultra high efficient light tube.
Harmonia won the Good Design Award 2013 in Japan for its dual-side emitting, and slim, sleek design, being another LED lamp from Lextar to win the award after the company's "Ceres" and "Colibri" LED bulbs won the award in 2012.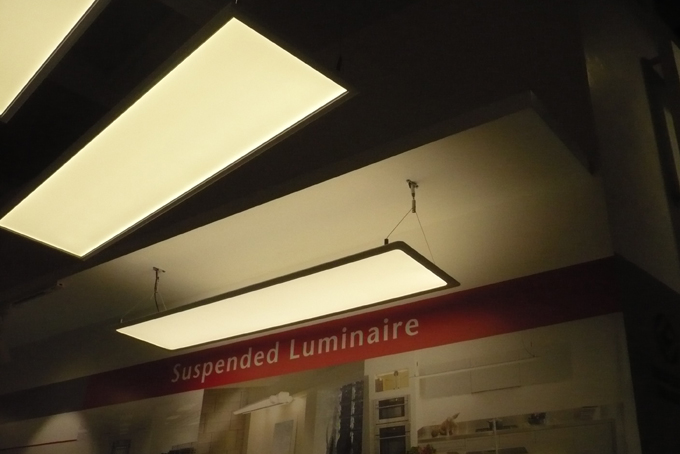 Lextar's Good Design Award pendant lamp named "Harmonia".
"Given enthusiastic responses to Lextar's panel light fixtures, this time Harmonia creates a new market of design fixtures where value innovation advances ahead of the industry," said Emersion Yen, the senior associate vice president of the company's marketing division.
The company also displayed an ultra high efficient LED tube generating 200 lumens per watt with 360-degree view angle. The tube incorporates in-house flip chip, chip scale package (CSP) and chip on glass (COG) technologies. The flip chip features high lumen on its relatively small area, the CSP eliminates the need for conventional lead frame and streamlines packaging process, and the COG enables 360-degree lighting projection by taking advantage of the glass transparency.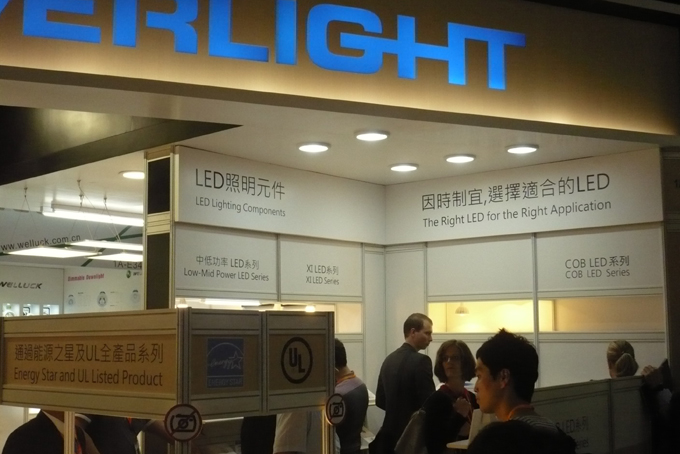 Everlight promoted high-power packages, mid/low-power packages and chip on board (COB) packages.
Everlight
Everlight, the world's No.1 LED packager by output quantity, promoted high-power packages, mid/low-power packages, and chip on board (COB) packages in addition to UL-, Energy Star- and CE-certified retrofit lighting fixtures to demonstrate its capability in OEM/ODM and total solution supplies for lighting.
The company's X13535 family of high-power packages boasts the highest price-performance ratio of the industry while its 2835 series of mid/low packages can boost luminous efficacy of lighting fixtures with its larger thermal module and thinner package casing.
Its COB series is rated 3W to 50W, ideal for a wide range of lighting applications; while its dual color temperature COB packages produce color temperature ranging from ANSI 2700K and 5700K, with luminous efficacy of up to 100 lumen per watt.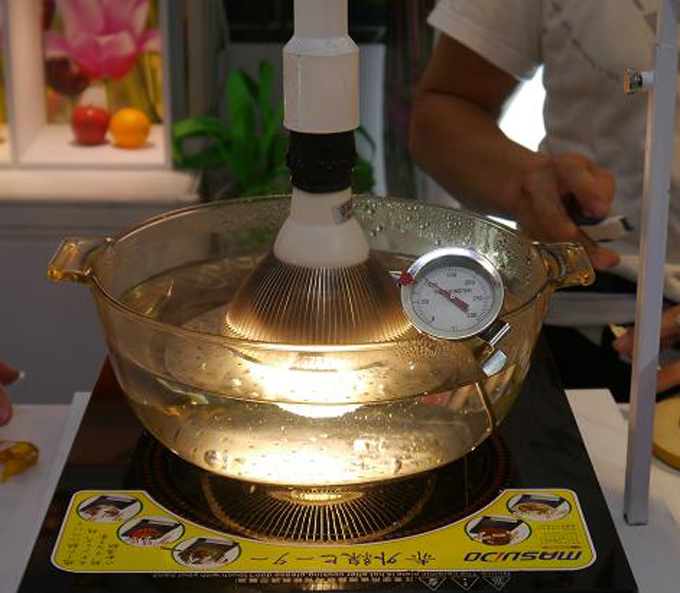 ALT submerged a lit Asteria in 100 C boiling water.
ALT
ALT, a winner of Good Design Award 2012, Red Dot Design Award 2011, iF Product Design Award 2012, and M Technology Award 2009, promoted various LED lamps at the show.
Its Asteria-series MR16 lamps are pure-gold plated, specifically targeting upscale market. Its F02 500W streetlights have reportedly the highest wattage of LED lighting industry, aiming to replace high intensity discharge (HID) lamps rated over 1,000W.
Its Metis 10W Grande chandelier bulb generates 1,200 lumens, an ideal replacement for 40W incandescent bulbs and a breakthrough when sub-6W remains the technological ceiling of the lamp.
Its Metis series of A55 LED bulb is 360-degree omni-directional light bulb thanks to a unique light guide and a proprietary design that allows light beam to go through its heat sink module.
To demonstrate quality, the company submerged a lit Asteria 30W PAR38 in 100 C boiling water at its booth without failure. This lamp, along with the company's ALTLED T8 light tube and A55 light bulb, work in minus 65C.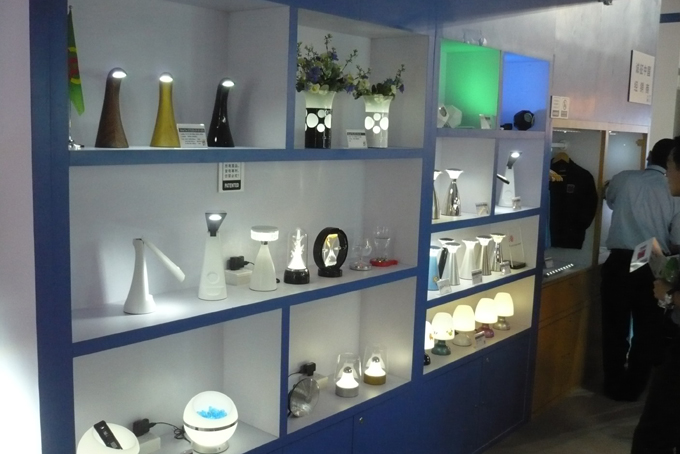 Home Resource exhibited patented LED table lamps.
Home Resource
Also a winner of Red Dot Design Award and Good Design Product Award, the 1988-founded Home Resource exhibited patented LED table lamps, including the Penguin-series table lamps, the Mini-series table lamps, iPple-series mood lights, the Mushroom-series mood lamps, the Vivid-series mood lights, the ETLED-10A portable lamp, the BO-LED70 battery-powered lamp, the Yoyo-series portable reading lamps embedded with computer USB plug, the Piano-series gallery lamps, the Swan-series table lamps, and the Elite-series 7W table lamps.
The Penguin family has six 0.3W SMD5630 LED modules to produce 100 lumens at 6000K.
The Mini family has 12 0.06W Φ5 LED modules to produce 60 lumens at 6000K.
The Mushroom lamp won the Red Dot Design Award 2008 and Good Design Product Award, emitting 60 lumens at 6000K.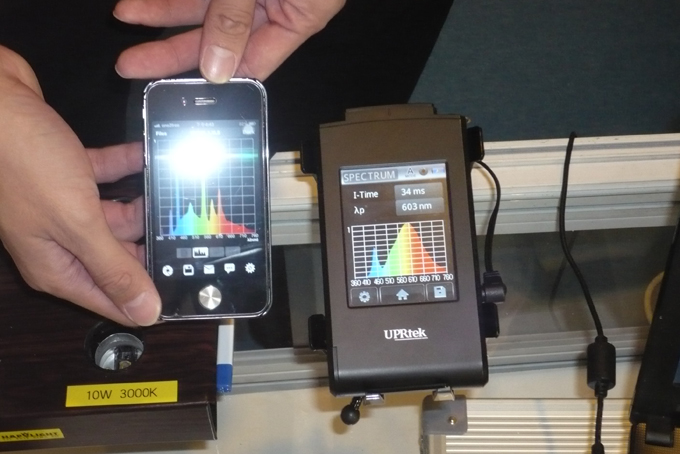 United Power Research displayed a series of LED lighting meters.
United Power Research
United Power Research displayed a series of LED lighting meters, with its MK350S selected by the organizer as one of the eight highlighted products. The tool, about the size of a mobile phone, measures over 30 LED lighting parameters at very high accuracy as defined by the National Institute of Standards and Technology (NIST) of the U.S. government.
MK350S, the latest version of the company's LED-lighting meters, allows lighting manufacturers to create customized interface with multi-functions, among others. Being a wireless gadget, the company also provides customers with measurement application software downloadable from Apple App Store and Android Google Play to smartphones.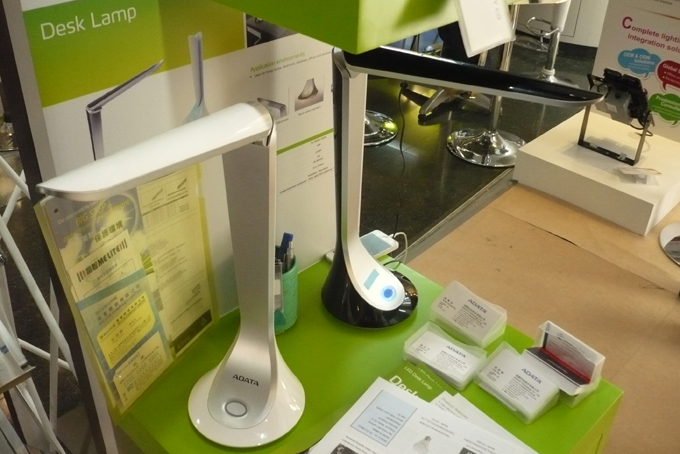 The ADATA 10W desk lamp is unique for several unusual designs.
ADATA Lighting
ADATA Lighting, the lighting branch of storage-media giant ADATA Group, debuted a range of LED lamps, including a unique desk lamp, T8 light tubes, MR16, light bulbs, streetlights, and candle bulbs.
The 10W desk lamp delivers 5500K cool-white light at CRI above 80, as well as being foldable.
The company is working on a desk lamp that can be lit wirelessly using its memory technology.
One of its streetlights is a modular product enabling easy replacement of burned module.
As a first time exhibitor, NYP displayed full range of LED lights at Hong Kong lighting fair.
NYP
NYP, the LED lighting subsidiary of the Formosa Group, was a first-time participant, displaying 100W outdoor patio light, 140W streetlight, 80W explosion-proof luminary, 3W explosion-proof emergency exit light, 24W recessed downlight, 2-feet and 4-feet T8 light tubes, 2-feet and 4-feet 3-lamps T-BAR fixtures, 100W indoor patio light, 10W wide beam-angle light bulb, and 7W MR16.
TSMC SSL
Also a first-time exhibitor, TSMC SSL, the LED lighting subsidiary of silicon foundry giant Taiwan Semiconductor Manufacturing Co. (TSMC), mainly promoted package-free Phosphor-on-Die (PoD) technology and integrated manufacturing capability, both of which enhance competitiveness by cutting production cost.
LEDs using the firm's patented PoD technology are able to deliver 130 lumens per watt, and the new technology can shave an estimated 15% off the cost of producing LED lighting fixtures because no packaging materials or processes are needed.
Also, the PoD device is reportedly only one fourth the size of a generic high-power packaged LED, yet delivers as much intensity.
Fewer assembly layers and the use of the flip-chip structure largely reduce thermal resistance in the package-free LEDs, while their smaller size enables more flexible integration into lighting fixtures.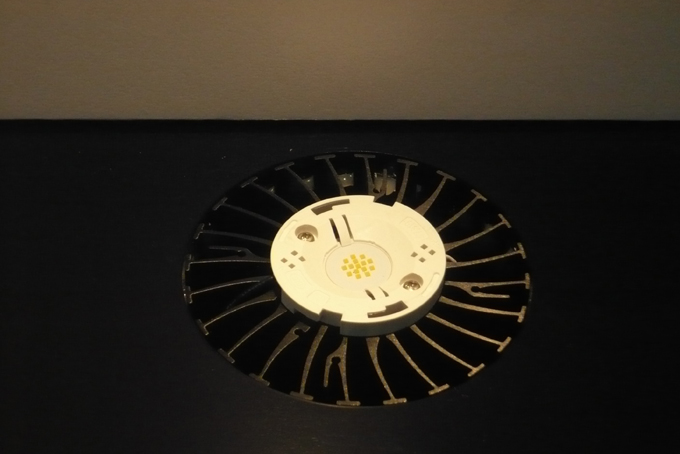 TSMC SSL promoted its package-free Phosphor-on-Die (PoD) technology and integrated manufacturing capability.
TSMC SSL has built vertically integrated manufacturing to enable using almost every component, from epitaxy wafers and packages to power drivers, thermal module, and light engines in-house, so it can further save on costs and provide workable solutions to luminary manufacturers.
Dr. Jacob C.L. Tarn, President of TSMC SSL, pointed out that LED lighting is well positioned to capitalize on the prevailing demand for energy-efficient lighting solutions although it is still in its infancy.
He felt the estimated 5% market penetration for LED lighting today proves LED technology is already taking a foothold in the lighting market. Nevertheless, like other industry executives, he has long believed that LED would eventually see huge gains in the lighting market when its expected high performances are met and costs continue to fall.
Citing market estimates, Tarn pointed out that LEDs will account for 52% of the lamps and luminaries shipped worldwide in 2020.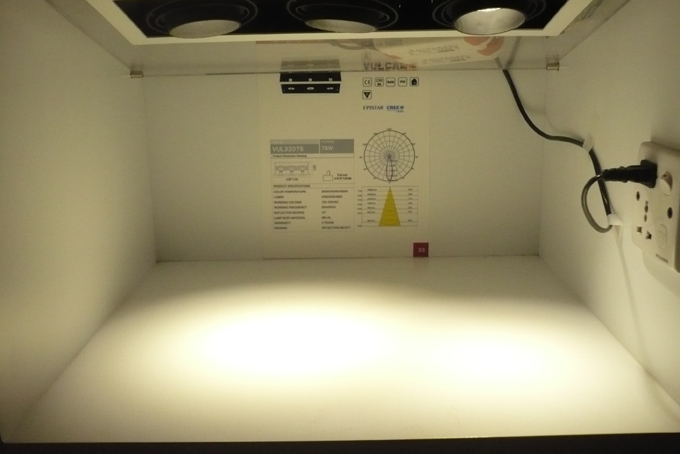 Yah-Juang promoted commercial and household LED lamps for upscale markets.
Yah-Juang
Yah-Juang promoted commercial and household LED lamps for upscale markets that stress good styling, durability, and perfect light intensity and distribution. To attain these performances, the company integrates chip-on-board (COB) LED modules involving Epistar, or Cree, chips into its lighting fixtures.
The modules in the company's lighting fixtures have been approved by Bay Area Compliance Laboratories Co. (BACL) of the United States to maintain at least 96% of intensity after 5,000 hours of non stop operation, meeting the IES-L80-2008 standard required by the Energy Star system.
The company also promoted the fact that many of its products meet the interface standards of Zhaga Consortium, which represents over 190 individual LED companies worldwide, so its lighting fixtures are available for all Zhaga-certified modules from different suppliers.
Currently, LED lighting accounts for 70% of Yah Juang's total sales, with commercial and household products carrying own brand "KOTAS". Its commercial lighting products include recessed lights, spotlights, troffers, pendants, wall washers, flood lights, panel lights, and wall lamps. Among its household lights are PAR lights and light bulbs.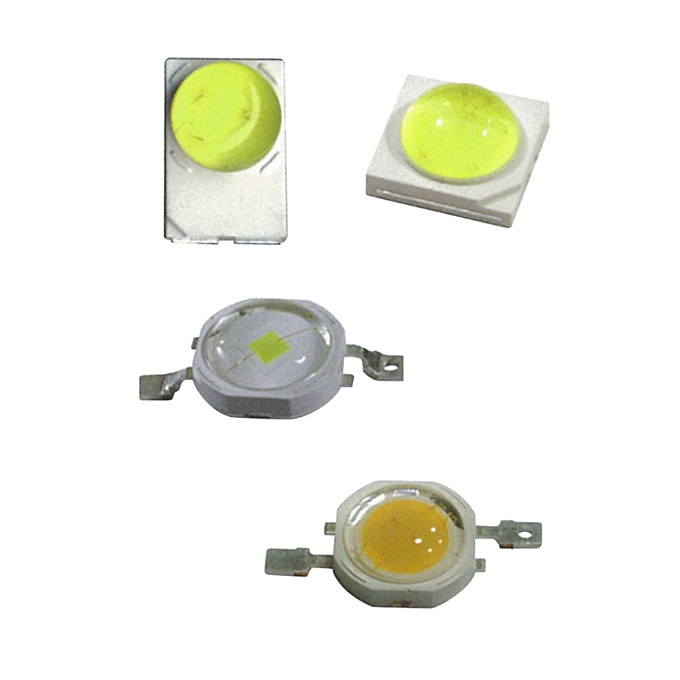 ProLight displayed high-performance LED packages for lighting purposes.
ProLight
ProLight, an LED package veteran, displayed a wide range of lighting fixtures rated 5W to 200W, including alternating current (AC) LEDs, high-voltage (HV) LEDs, COB LEDs, driver on board (DOB) LEDs, high-power flash LEDs, light engines, surface mount device (SMD) LEDs, and surface mount technology (SMT) LEDs.
Some of them involve unusual technologies. The DOB device, for instance, is crammed with not just LED chip but also driver circuit, saving lighting-fixture makers the trouble of sourcing the external drivers, which are usually big, for their products.
With some unique techniques, its flash LED meets the JEDEC Moisture Sensitivity Level (MSL) 1, the highest of moisture-resistance standard. Producing more than 240 lumens at 1 A, the LED is available for camera, mobile phone, entertainment lighting, decorative lighting, orientation marker lights, daytime running lights, and automotive illumination.
The Hong Kong lighting fair also provides a very good opportunity for foreign exhibitors to enter mainland China, now the world's No. 2 economy.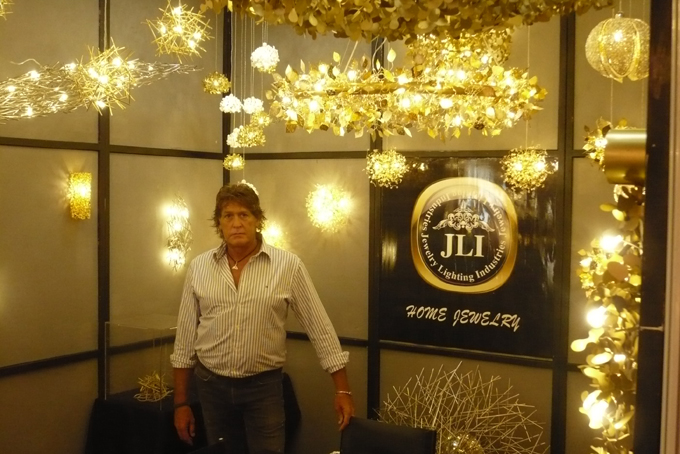 Jewelry Lighting Industries Co., Ltd. sales rep. Giora Rothman.
Jewelry Lighting Industries
Jewelry Lighting Industries Co., Ltd. is a first-time exhibitor from Israel, promoting its handmade residential lights including chandeliers, pendants, and wall lamps. The company's sales rep., Giora Rothman, said his company has decided to promote products internationally and the Hong Kong lighting fair is the right place for his company given its status as the world's second largest and Asia's largest lighting event. "Also, we want to open up the market in China as well because the market is huge and growing," he added.
The company's products look like jewelry and unique being tailor-made. "Any customer requirement can be met. Any size, any combination and any finish are all tailor-made. They are made out of the best quality materials by very skilled workers in Israel," he stressed.
However, rising production costs at home have forced the company to open a factory in China. "Manufacturing in China makes our products more affordable while maintaining quality," Rothman emphasized.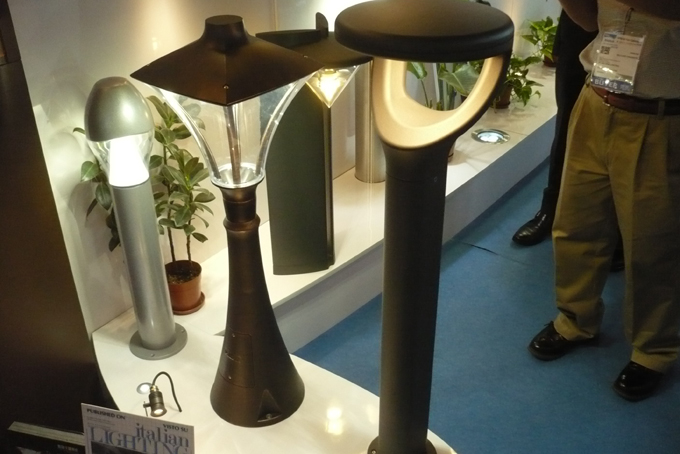 Landa Illuminotenica promoted a series of indoor and outdoor lighting.
Landa Illuminotenica S.p.A.
Landa Illuminotenica S.p.A. of Italy, the owner of the lighting brand "LANDA", specializes in outdoor and external lighting both in traditional styles and modern styles for mid-and-high end market. Andrea Bugatti, the company's sales representative, said: "Our products are unique and designed in-house. You can not see them elsewhere except at Landa. We finish the luminaries with polished cooper, which is much durable than the paint used by most of the lighting manufacturers."
Neonlite International Ltd.
Fred Bass, Director of the UK-based Neonlite International Ltd., owner of the lighting brand MEGAMAN, believed in promising outlook of the global LED market, citing estimates that the market will grow at compound annual growth rate (CAGR) of 30.7% between 2011 and 2018 mostly thanks to the improvement in LED technology and decrease in LED price. "Actually, it's probably conservative; some analysts are saying 50% in growth next year," he noted.
Bass estimated LED price to drop annually by around 30% until 2015, with mass adoption price point below US$10. He also believed that another element that can boost the market is that the acceptable maximum drop in LED efficacy is 30% after 50,000 hours of operation and CRI is of increasing importance than lumen-per-watt.
While expanding in all areas, Europe is his company's core market. "And the recovery there is helping our growth. Asia is growing with more project business and South America is similarly growing with more project business. And we are seeing some growth in USA," he added.
He pointed out LED has the highest penetration in general-lighting market in North America and Europe. However, by sales and revenue Asia is the leading market. The LED replacement lamp business is promising given the estimate that there are around 15.5 billion retrofit E27 sockets available worldwide, with around 5.5 billion in the United States, six billion in Europe and four billion throughout the rest of the world.
He estimated LED market penetration to reach 32% by 2018, up from 2011's 7%.
Matrix Holdings
Matrix Holdings Ltd.'s vice president, Jim Hardaway, said: "LED has given a new opportunity for new companies like us to get into the lighting market over the past five or six years to really take market share because LED is allowing for new models of business distribution, which really create new opportunity for new players."
JSC START
Management Company
Aleksey Knyazev, head of Purchasing Department of the Russia-based importer JSC START Management Company, was sourcing energy-saving lamps. "LED lamps have become a popular lighting product especially this year in Russia because the prices have come down about three times in Russia. In the past, LED was a premium market, but now it is an ordinary market," he said. The company has 15 stories across Russia selling only indoor lighting and plans to open more stores in 2014.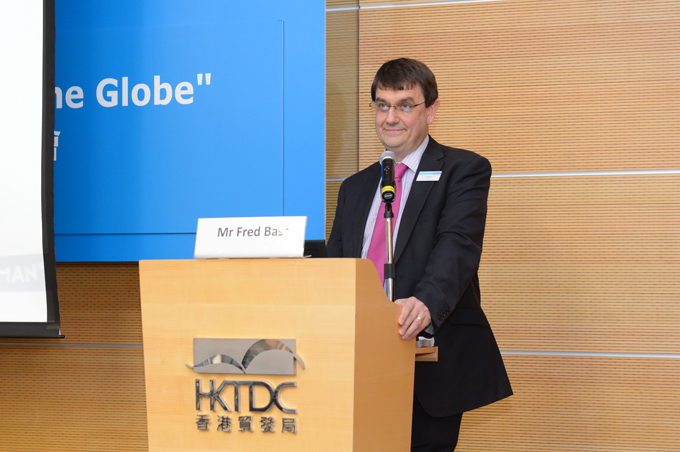 Neonlite International's Fred Bass is upbeat about future of LED market.
Australian Designer's Input
James Daniel, a lighting designer from Australia, felt that LED will take over lighting market share from traditional products. LED, being such a small light source, is very flexible," he said.
Daniel felt very encouraged that at this fair he saw some new applications and new technologies that will enable lighting designers to create a sparkle and concealment and give the designers the flexibility that we like but use only LED.
Daniel was excited about the sparkling effect LED creates in chandelier as candle lamps, which come with clear glass and with "very, very small" LED points. "LED has been up to very recently a diffuse light source, no sparkle. But now we can do it, which is great. I'm looking forward to putting some LEDs into chandelier," he noted.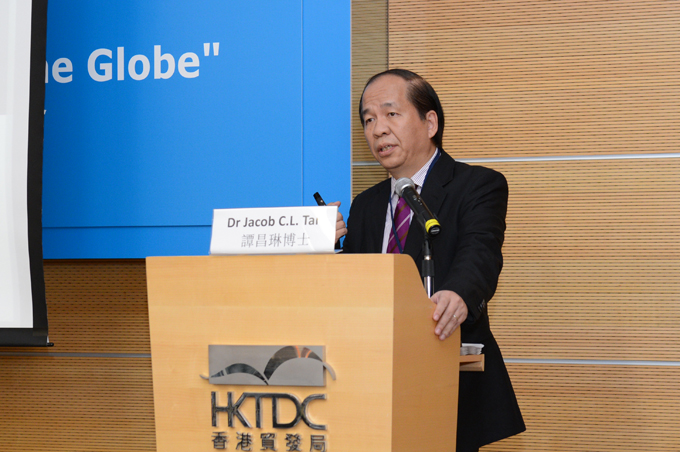 TSMC SSL President Jacob C.L. Tarn believes LED lighting is well positioned to capitalize on the prevailing demand for energy-efficient lighting solutions although it is still in infancy.
At least two trends are developing in the lighting industry, Daniel felt. One is sustainability, the other is self-illuminating exterior of buildings. "Sustainability is going to be the key word. Sustainability is a lot more than just about energy saving. It's about product developments and installation from cradle to the grave, if you like, the whole gamut."
"For 2014, from a lighting designer's point of view, we're going to see self-illumination of buildings, especially exterior of buildings. So we can reduce the amount of poles and streetlights and buildings will actually glow, producing very nice ambience for general public at night," he added.