The Hong Kong International Lighting Fair (Autumn Edition) 2013, held Oct. 27-30, hosted the first "My Favorite Lighting Products Award," with nine products voted by buyers as the winners among 87 products sorted into Architectural/Commercial Lighting, Decorative Household Lighting, and Outdoor Lighting categories.

The nine winning products were submitted by mainland Chinese makers Sheenly Lighting Co. Ltd. and Beijing Solarone Energy Technology Co., Ltd., and Neon King Ltd., AVC Technology Ltd., Highstar Industrial Co., Ltd., Windix Industries Ltd., and Mason Opto Co., Ltd. of Hong Kong, respectively.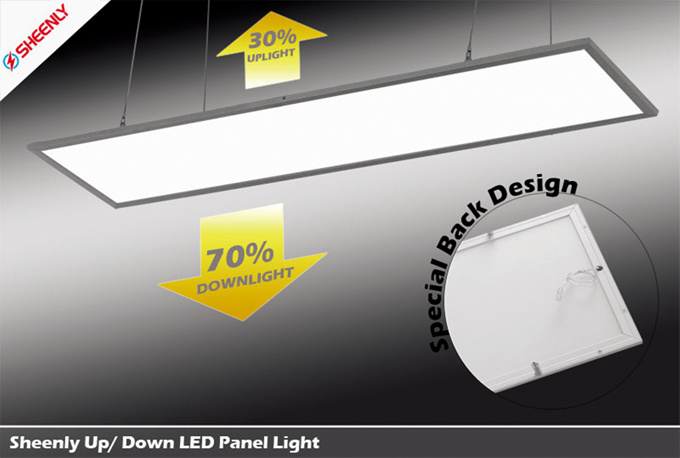 Architectural/Commercial Lighting Category
Winning Product: Sheenly Up/Down LED Panel Light
Company: Sheenly Lighting Co., Ltd.
Description: This lighting fixture has a specially-design shade to direct 70% of light downwards to the ground and 30% upwards to the ceiling, without glare and built to the Office Lighting Guide LG7 standard. Measuring 14mm thick, this fixture is equipped with an all-aluminum frame, Japan-made PMMA plastic panel, and LED chips from Epistar Corp. of Taiwan, and comes with a five-year warranty.
Company Profile: Sheenly was founded in 2009 in Shanghai to specialize in LED lighting, offering products in more than 30 countries. Its founder and chief engineer, Jeff Bi has a master's in optoelectronic engineering from University of Oxford and had worked at a top-500 company in the United States.
Winning Product: P5 Pillar LED Display Panel
Company: Neon King
Description: An ideal display for indoor places as airports, bus stations, banks, shopping malls, post offices, and hotels, P5 pillar LED display panel features 12 bit data processing, high lumen Nichia-made SMD RGB LEDs, high refresh frequency, non-linear color correction, low cost, excellent thermal dissipation, energy efficiency, low noise, and low current control. It's lightweight and so can be quickly assembled, maintained, and carried by one person, also being designed in France and manufactured in China.
Company Profile: Neon King was founded Hong Kong in 1977 as a decorative-lighting maker which now runs a factory in Zuhai, China.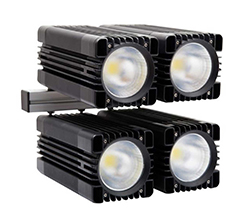 Winning Product: HB-4M Modularized LED Flood Light
Company: Beijing Solarone Energy
Description: This light has four independent modules, each measuring 293mm in length, 140mm in width and 140mm in height, and generating maximum 130 lumens per watt. Its modularization design is patented in China, built with German technique and integrated with Epistar LED chips.
Company Profile: Beijing Solarone Energy was founded in 2007 in Beijing to specialize in high-power LED lighting for public work projects, having been contracted to revamp lighting at the Beijing National Workers Stadium and Beijing Capital International Airport.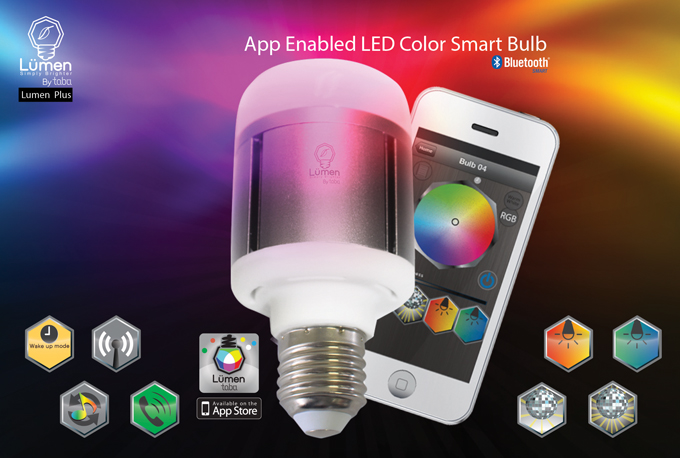 Decorative Household Lighting Category
Winning Product: Tabu Lumen Bluetooth Smart Bulb Plus
Company: AVC Technology
Description: This bulb is Bluetooth enabled to allow smartphones to download the app via Apple Stores to control the bulb color and light intensity. The bulb comes with a package of warm-white LED plus RGB LEDs.
Company Profile: AVC Technology was founded in 2001 to make electronic accessories, then merged in 2004 into the 1980-founded AV Concept Holdings Ltd. to start making electronic accessories for Apple iPhones and iPads.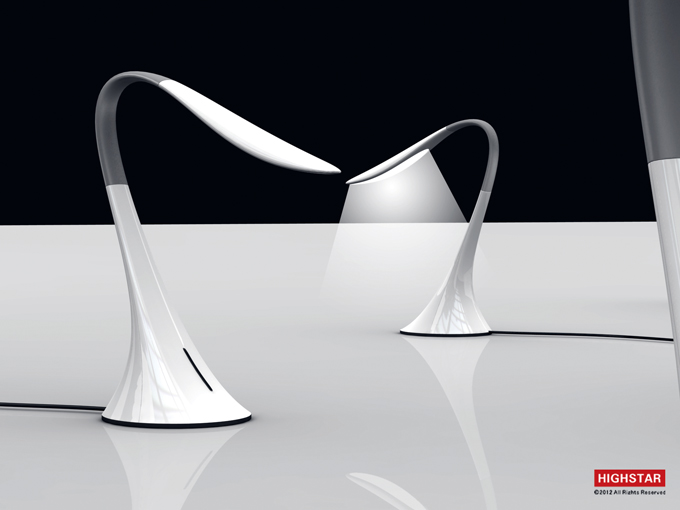 Winning Product: "Swan" LED Desktop Lamp
Company: Highstar
Description: The lamp (17cm x 16cm x 40cm) comes with a seamless adjustable arm, generating 1,300-1,800 lumens at 9W, with color temperature ranging 5500K to 6500K. A built-in USB jack behind the lamp base allows it to double as mobile-phone charger. It is equipped with a sliding dimmer and a touch on-off switch, with patent pending.
Company Profile: Highstar branched out into LED-lighting manufacturing in 2005 after six years of manufacturing USB accessories.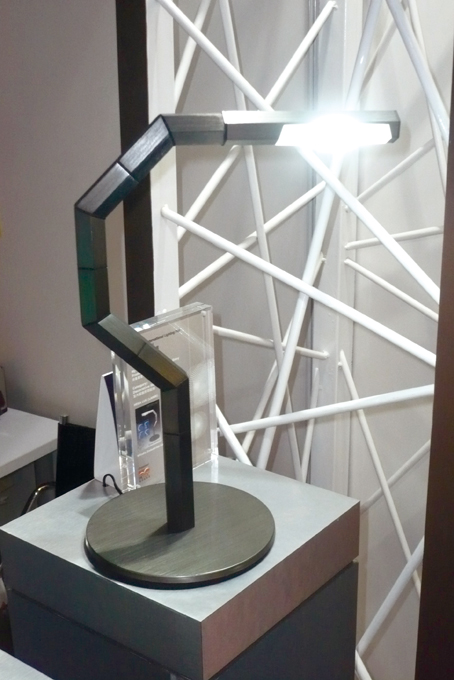 Winning Product: Hega Lux LED Desktop Lamp
Company: Windix
Description: This patented lamp has an articulated metal arm composed of six hexagon sections and different angle joints that allow consumers to assemble the lamp according to preferences. Equipped with a 3W LED module, it is an energy-saving light.
Company Profile: Windix was founded in 1988 in Hong Kong with a factory in Dongguan, China spread across 210,000 square feet to produce LED and LCD products with in-house tooling, plastic injection machines, and assembling lines.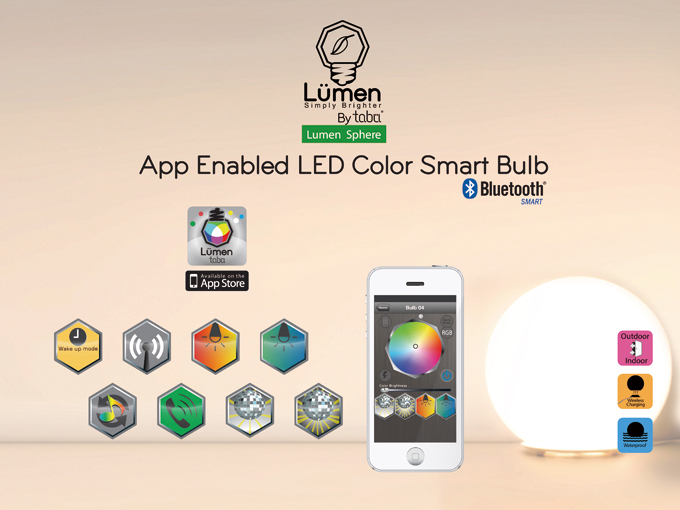 Winning Product: Lumen Sphere
LED Decorative Lamp
Company: AVC Technology
Description: 9.8 inches in diameter and 775 grams in weight, the globe is controlled wirelessly by smartphones in intensity and color, being ideal for outdoor places that call for fun atmosphere as gardens, backyards and swimming pools.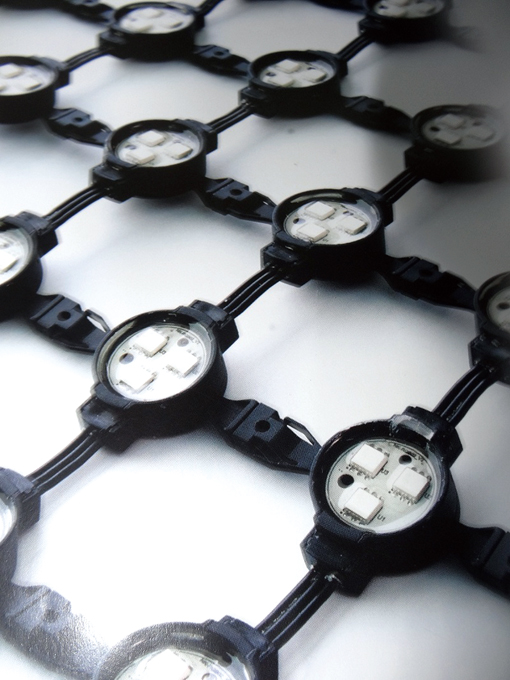 Winning Product: iNet LED Module System
Company: Neon King
Description: The lighting system has 1,536 red-green-blue (RGB) ultra-bright SMD LED modules from Nichia to generate 16.7 million-color picture images, ideal as lighting equipment for stage background, and symmetrical or non-uniform video walls. Picture resolution is 512 pixels, with weight around 15 kilograms, lifespan rated above 80,000 hours with IP rated at 66.
Winning Product: Modularized LED Streetlight
Company: Mason Technologies
Description: The light is composed of several 30W lighting modules, which is individually replaceable upon failure. Modularization improves thermal dissipation of the light. The power ranges 60W to 300W depending on the number of the modules attached. High power LEDs from Cree, Philips, or Osram are used to ensure color quality and high luminous flux maintenance rate. Efficient Philips high-power LED drivers provide reliability and stability.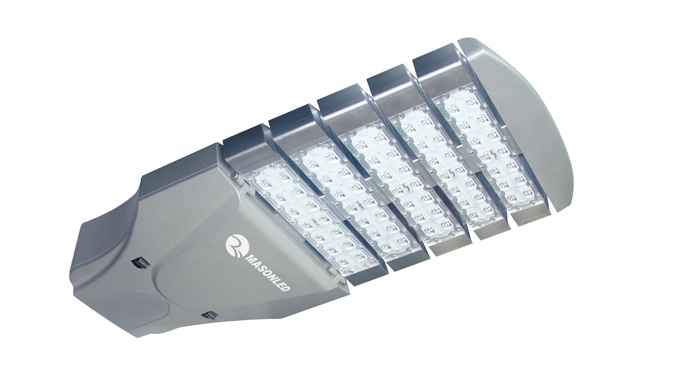 Company Profile: Mason was established in Shenzhen in Dec.2002 and listed in Feb. 2012 on the Shenzhen Stock Exchange. The company excels in designing, developing, production, and marketing LED devices and LED lighting equipment, also having been selected by the Chinese government as a strategic partner for the 12th Five-Year Plan's semiconductor lighting project.