C.F. Lin: Manufacturers need to form partnerships for mutual assistance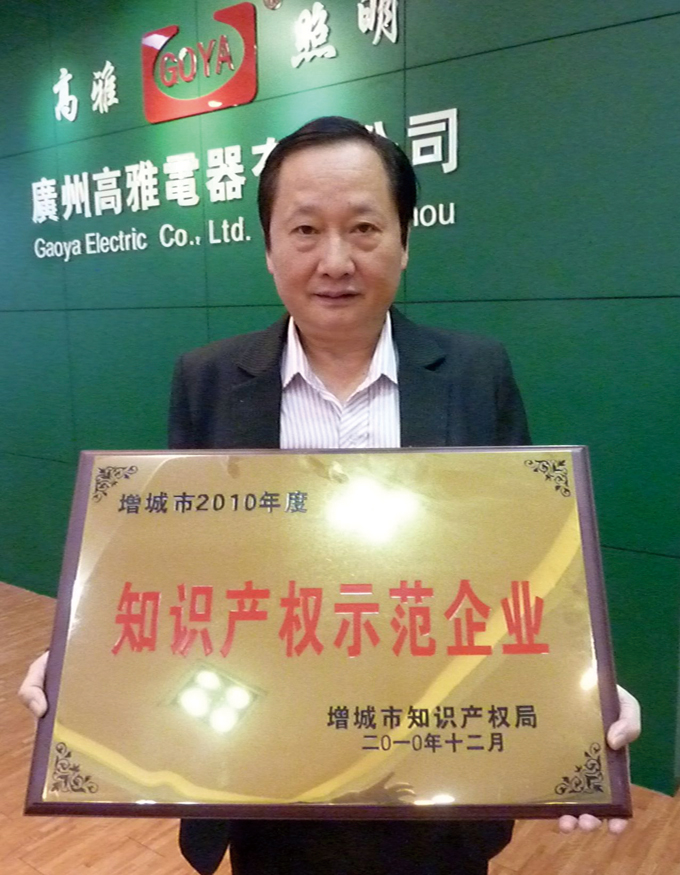 C.F. Lin and the plaque praising his company's achievements in the development of patented products.
C.F. Lin, chairman of the Cross-Strait Lighting Committee of the Taiwan Lighting Fixture Export Association (TLFEA), recently brightened up a committee meeting by making such comments as "The lighting business is better in 2013 than in 2012"; "Almost every Taiwanese manufacturer in this line has grown this year"; and "LED lighting still has 15 years of space for development." These statements reflect Lin's optimistic outlook for the lighting industry.
The meeting at which Lin spoke was held in November 2013 at the Grand Nobel Hotel in Humen, in China's Guangdong Province. Participants included the Guangdong Illuminating Electric Appliance Association and the Global Lighting Trade & Exhibition Center of Guangdong, which organizes the Lighting Expo in Dongguan.
At the meeting, Lin, who is also the chief executive officer of Gaoya Electric Co. in Dongguan, reported that his company would turn out three times more LED lamps this year than in 2012, and that its LED lamp production value in China would rise 40% in 2014 after an estimated growth of 30% in 2013. Lin predicted that his company's LED-lighting output would continue growing over the next five years.
The chairman pointed out that Taiwanese manufacturers began stepping up LED lighting production around five years ago, but the products were not well received in the market at that time because of high prices and low consumer recognition. However, he noted, consumer acceptance of LED lamps has surged this year thanks partly to vigorous government promotion of the energy-saving lamps in the world's leading economies.
Lin said that his company's LED lamps are mostly pitched at the mainland Chinese market to take advantage of Chinese government subsidies for energy-saving equipment, but he suggested that Taiwanese manufacturers should rely more on their own R&D capability than on government incentives to win market share. For instance, Lin's own company, which he emphasized develops and manufactures lighting equipment by itself, has been awarded RMB80,000 (US$13,000 at US$1:RMB6.1) by the intellectual property office of the Zengcheng City Government, along with a "Role Model Enterprise of Intellectual Property" plaque.
Gaoya is providing LED lighting equipment under an energy management contract (EMC), part of the mainland's program to advance its energy-saving policy by replacing traditional lamps with LED lamps at no cost to consumers.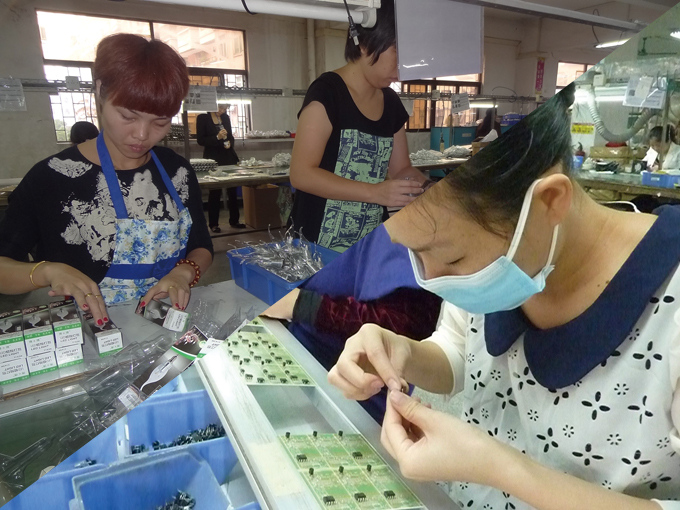 LED lighting has a promising future (workers at Gaoya are busy assembling LED lamps).
To encourage consumers to buy the company's LED lamps, it offers free lamps carrying a three-year guarantee that its 15W light tubes will consume 62.5% less electricity than 40W fluorescent tubes. Consumers can test this claim either on the spot or at certified laboratories.
Lin pointed out that Jin Fu Tang Co., a maker of Buddhist products in Dongguan, can save around RMB126,000 (US$20,600 at US$1:RMB6.1) a year after replacing all of its traditional lamps with LEDs.
Lin was the mover behind the committee's establishment, proposing in 2011 that the Taiwan lighting association should change its name from the former "Taiwanese Lighting Businessmen Club" to its current name and invite mainland Chinese manufacturers to join. The committee now has 10 branches in mainland China with 100-plus individual members. Mainland Chinese members make up a third of the total.
Lin said the committee's aims are to boost the strength of the industry on both sides of the Taiwan Strait, exchange information between the two sides, and facilitate mutual assistance.
He stressed that the time for the manufacturers to go it alone has passed and that manufacturers on the two sides should switch from the hostile competition of the past to the mutual assistance that is needed today, so that they can work together to seize business opportunities in world market. The committee offers opportunities for manufacturers on the two sides to form partnerships and take advantage of the synergies that exist between them.