Mainland China's LED (light emitting diode) lighting market is expected to get a further boost from a new government subsidy program to be inaugurated in January 2014. The program is designed to promote the use of energy-saving household electrical equipment, including LED lights.

The Chinese authorities have been offering subsidies since 2008 to encourage the use of high-efficiency fluorescent lamps; the target is to have 100 million lamps in use by mid-2014, when the subsidy program will expire.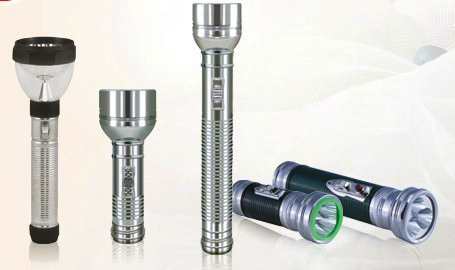 Guangdong Jinyuan's flashlights are recognized as iconic LED products in Guangdong.
After fluorescent lamps, LED lamps will be the next energy-saving lighting product in the mainland's subsidy program. A joint announcement by six government agencies projects that to the end of 2015 the country's semiconductor-lighting industry will grow at a median annual rate of 30% in revenue, with lights stressing functional purposes achieving market penetration of around 20%, backlights for liquid-crystal displays (LCDs) reaching 50%, and landscape lights achieving up to 70%.
Behind the mainland's vigorous subsidization for LED lighting are rising pressures from energy shortages and CO2 emissions, low consumer acceptance of LED lamps due to their relatively high prices, the growing maturity and declining prices of LED technology, and relatively high fees for electricity consumed by commercial organizations.
Vice president Ding Long of Opple Lighting Co., Ltd., a leading lighting manufacturer in the mainland, predicts that China's LED industry revenues will soar six- or even eight-fold in two to three years. He also estimates the mainland's LED streetlight market will expand at least 40% by the end of 2013, and that its LED indoor lighting market is likely to skyrocket over 200% at the same time, due partly to a low market base.
Guangdong Jinyuan's booth at the 12th China (Guzhen) International Lighting Fair.
Ding Long notes that the median price of LED light bulbs has dropped to just one or two times that of compact fluorescent lamps (CFLs) as a result of competing rollouts of LED bulbs by international heavyweights as Phillips, Cree, and Everlight.
Industry executives in the mainland believe that LED makers worldwide will continue to expand production in 2014 in order to seize more market share. They feel, however, that the manufacturers need to install better equipment to boost production efficiency and to consolidate among themselves to minimize price-cutting competition.
The mainland's demand for LED has surged substantially since September due to a brisk inventory buildups by retailers in preparation for the shopping seasons in October, December, and January.
Officials of Guangdong Jinyuan Lighting Technology Co., Ltd. feel that the new subsidies will inspire the mainland's LED industry to develop in a healthier direction by releasing higher-end products that have a better chance to receive subsidy support.
Guangdong Jinyuan was founded in 1992, mainly to make LED lamps outfitted with metal, metal-plastic, and plastic bodies, such as flashlights, camping lights, and emergency lights. The company is capable of turning out 80 million flashlights a year, using 1,000-plus employees and imported automated production lines in a 30,000-square-meter factory. Most of the products are shipped to Africa, South America, the Middle East, and Southeast Asia.
The company won an "Excellent Participant Award" for its outstanding LED lights at the Exhibition on Advanced Technologies during the 9th China-ASEAN Expo in 2012.
Shou Yi Lighting Co. executives note that the new subsidy project will not benefit their company very much because it is still small, making it hard to compete with big players for the subsidies. Also, manufacturers in the mainland are inconsistent in their quality because of the lack of standards, which makes it difficult for the government to examine applications for the subsidies. The executives think that a uniform industry standard is more important than a subsidy.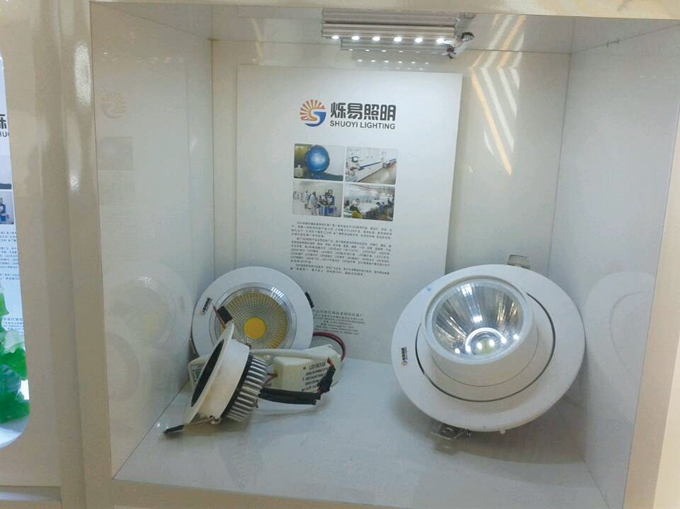 Shou Yi Lighting's booth at the 12th China (Guzhen) International Lighting Fair.
Osram China officials say that the new subsidies will help big international players gain market share in China, especially in the field of streetlights and commercial lights. They say that Osram has the advantage in terms of quality, technology, brand name, and distribution channels, and predict that the mainland's LED-lighting industry will develop in the direction of "the strong becoming stronger."
Osram opened its China branch in 1995 and now has three production locations, an R&D center, around 40 sales outlets, and 3,500 employees there. The branch plays a vital role in Osram's global strategy.
The company's product line includes high-efficiency LEDs for auto lamps and general lighting, infrared LEDs, laser LEDs, indicator LEDs, and LED testers.