Today, the emphasis has shifted to soft economic innovation to create momentum for Taiwan's new industrial development
Anyone traveling along section three of Zhongshan North Road in Taipei recently would certainly have noticed that there is a new addition to the buildings clustered in the flower, art, and culture area which includes Flower Expo Park, Taipei Fine Arts Museum, and Zhongshan Soccer Stadium. The new addition is a white-walled structure in front of the arts museum, with faintly discernible large glass curtains which reveal bright indoor lighting and an array of goods on display.

This is the Taiwan Excellence Pavilion, and it complements the size, height, and patchwork exterior of the Taipei Fine Arts Museum behind it. It encourages people to catch a glimpse of the marvels inside.

The pavilion was mapped out by the Ministry of Economic Affairs in 2010 on instructions from then Premier, and now Vice President, Wu Den-yih. The aim of the pavilion is to display a range of products which have been selected for the Taiwan Excellence Awards, in order to boost exports by enhancing their visibility and strengthening their marketing publicity.

This facility provides a direct method for the Taiwanese people to learn about the excellent products developed by the island's outstanding enterprises, and for foreign dignitaries and buyers to learn the details of the products.

The pavilion opened in December 2011 with the declared aim of highlighting the "R&D and innovation, design aesthetics, premium quality, and global marketing" of Taiwan's outstanding products. Its primary mission is to improve Taiwan's overall industrial image internationally and optimize the competitiveness of Taiwanese brands.

Taiwan has accumulated a formidable amount of hard power in the process of its industrial development, particularly with respect to R&D and manufacturing, and has played an important role in global supply chains. Today, the emphasis has shifted to soft economic innovation aimed at creating new momentum in industrial development through value-added aspects such as design, branding, international marketing, systems development, and operational models.

In addition to being functional, products need to be endowed with cultural and artistic qualities that give them with a sense of beauty that can impress consumers and build up brand style.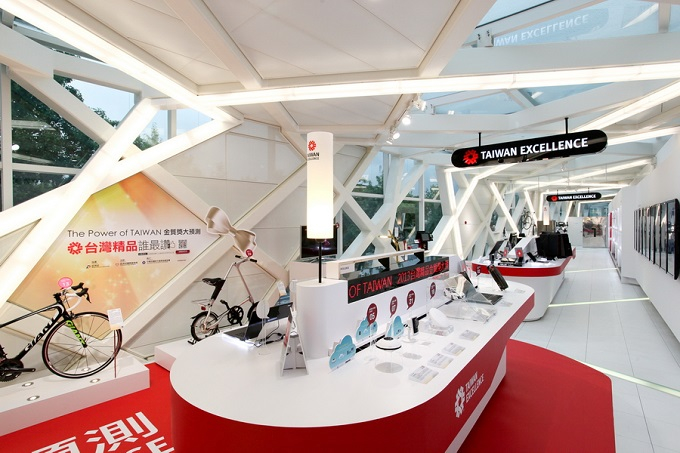 The Taiwan Excellence Pavilion's displays are intelligently designed in a corridor form.
Journey of Innovation
Some of the items on display in the pavilion have won major international awards, but most are there by virtue of having been awarded the Taiwan Excellence certification. The Taiwan Excellence Awards, which are part of the Branding Taiwan Project, are held annually; this year, 1,221 products were entered in the competition. The Taiwan Excellence Pavilion gives those items selected, and their makers, an opportunity for further promotion.
The pavilion's south entrance is shared with the Taipei Fine Arts Museum, which facilitates interaction and cooperation between the two exhibition venues. The majority of visitors to the museum also stop by to look at the award-winning products.
The items on display in the pavilion are concentrated in a long, narrow exhibition area which presents the products in a neat and simple linear fashion, making it easy for visitors to browse them and allowing an impressive variety of products to be showcased.
The Taiwan Excellence Pavilion uses dynamic simulation and interactive displays to bring visitors an experience of technology and design aesthetics, and to take them on a stunning journey of innovation.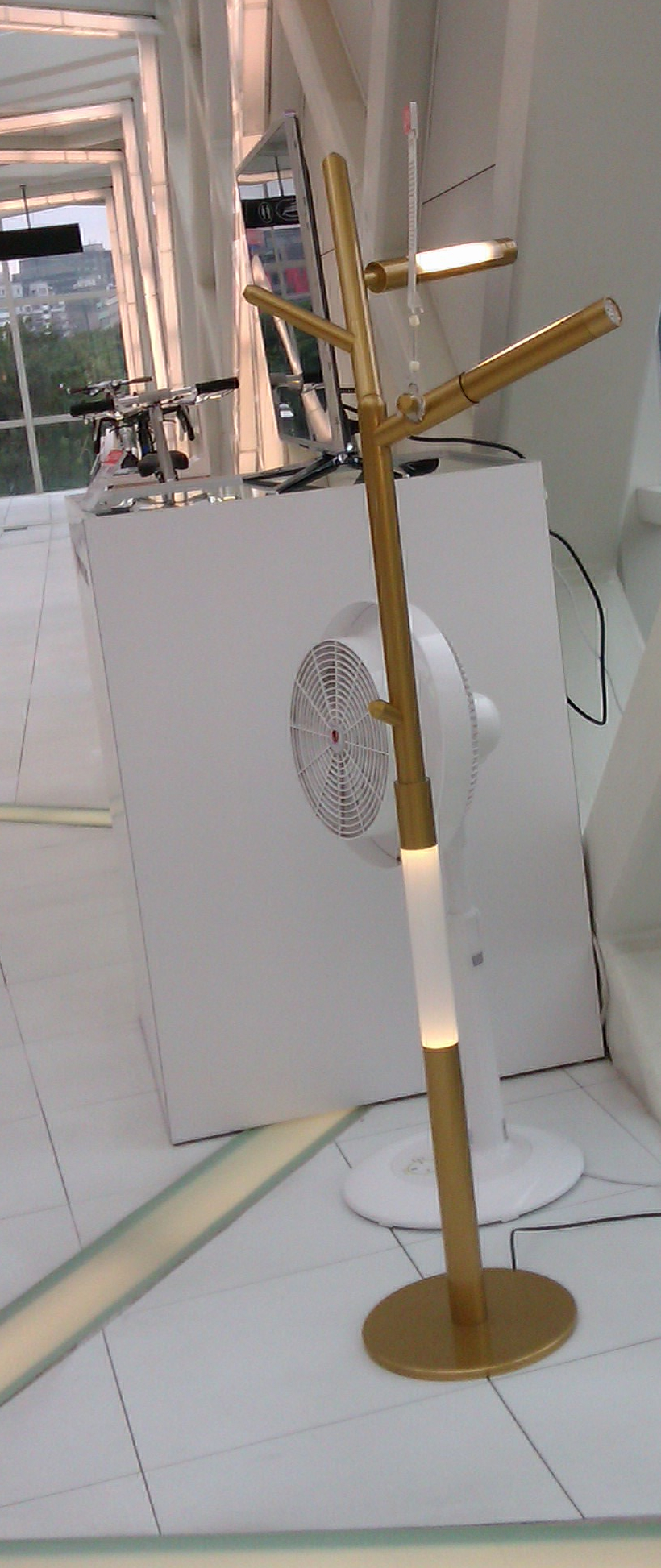 Just Power`s Tree Light offers superior stability and is not prone to flickering.
Just Power's Tree Light
The innovative lighting products on display this year include Just Power's Tree Light, a floor lamp, model number FL-TLR0-12. This product uses LED bulbs, provides superior stability, and is not prone to flickering. In addition, the shade has a matte effect that gives it a glare-free soft light.
This lamp does away with the usual switch-button controls. It is turned on and off by touch and its intensity adjusted in the same way. It comes with a remote control that increases its convenience of use.
The Tree Light is not just a floor lamp. It has a power storage system so that during power outages, its lamp can be removed and used as a flashlight. If the power goes out, the lamp continues to burn using power stored during normal use.
When used as a flashlight, the lamp has a number of modes to choose from, including dimmed mode and flashing mode, and can be used continuously for two hours in its primary full brightness mode. When the family is away from home, the lamp can be set to provide irregular lighting to simulate conditions when the family is there, discouraging burglars.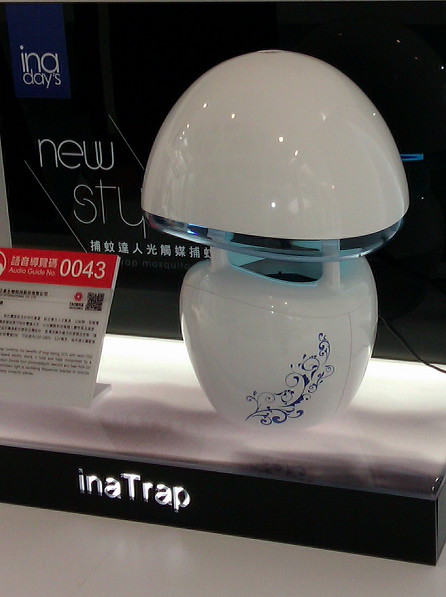 The photocatalyst mosquito trap by Invictus International provides a fresh new image for such products.
Photocatalyst Mosquito Trap
Another item on display is the model GR-330 photocatalyst mosquito trap from the Invictus International Co., which takes blue and white porcelain ware as its design inspiration and has a fresh and simple appearance. Compared with the conventional large mosquito traps which are placed on the floor, this photocatalyst mosquito trap, about 25 cm square in size, is attractive and doesn't take up space. It not only has an efficiency equal to that of other traps but also has an attractive exterior and compact body shape, so that it does not seem obtrusive when set on a desk or a shelf.
The photocatalyst mosquito trap has low power consumption—only one-third that of conventional traps--and is an environmentally safe method of trapping mosquitoes. Instead of the LED light source used in modern mosquito lamps, it uses a cold cathode fluorescent lamp (CCFL) with a wavelength of 360-370nm to attract mosquitoes.
The GR-330 has a lifespan six times longer than conventional fluorescent lamps. To trap mosquitoes, the photocatalyst trap simulates human respiration and body temperature, luring the pests and drawing them into a container with a low-speed fan.
Compared with conventional traps which cause sparks when mosquitoes make contact, or with gas mosquito traps which produce large amounts of carbon dioxide, the photocatalyst trap is quiet and safe as well as being more energy-efficient and environmentally friendly. The photocatalyst mosquito trap earned the Taiwan Excellence honor in 2013.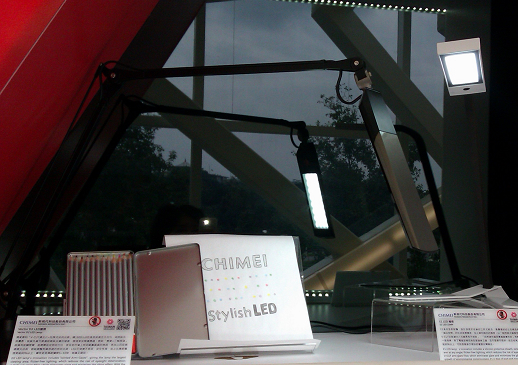 The Vector D2 desk lamp from NEXGEN Mediatech allows flexible adjustment of beam angle to meet different lighting needs.
Fashion Desk Lamp
The fashionable Vector D2 desk lamp from NEXGEN Mediatech Inc. has a two-armed tri-axial structure which allows for the flexible adjustment of the beam angle to meet different lighting needs. It also has four intensity levels.
Even at its maximum illumination level of 1500lux, the Vector D2 retains its power-saving efficiency. It is made of lead and mercury-free, environmentally friendly materials, making it harmless to users and reducing the burden on the environment.
The lamp's LED bulb uses a flat-plane light source matrix arrangement which enables the light to spread evenly, reducing the production of ghosting effects, and it comes with a patented 'V-CUT anti-glare filter' which can effectively relieve eye discomfort. Other advantages include an absence of flash and low levels of ultraviolet radiation.
Another stylish LED table lamp, the E1, is NEXGEN's latest flagship model. Lightweight and compact, it weighs in at just 800 grams. The coil of the support fixture is coated with soft silicone, which matches the lamp's form. It has a neat twin panel-type supporting light frame, a simple appearance, and a compact and unobtrusive form, making it suitable as a decoration of all types of sizes of desks.
This lamp has low power consumption and excellent energy efficiency. Using a mere 8 watts of electricity, it produces illumination that can reach in excess of 1000lux with no reduction of lighting quality. The use of V-CUT anti-glare filters vastly reduces glare and alleviates the burden on the eyes.