Cultural Exposition Showcases Creativity of Furniture Design
This expo aimed to boost cultural/creative vitality by highlighting localization and infusing energy into cultural enterprises

2014/01/21 | By Michelle Hsu
By MICHELLE HSU
The Taiwan International Cultural and Creative Industry Expo, organized by the Ministry of Culture since 2010, is now in its 4th iteration. During its short life the expo has strived to turn "creative ideas" into "commercial value" and play the role of a platform for communication between original creators and industry, making the abstract nature of culture more concrete and exposing local cultural brands to the world.
The theme of the expo this year was "Craft Work Design." It aimed to highlight localization infuse energy into cultural/creative enterprises.
Each pavilion at the show, whether manned by well-known brands such as Franz Collection or Liuligongfang, or smaller cultural/creative companies, attracted buyers with works featuring Taiwan's ethnic, geographical, and traditional characteristics.
The expo was divided into three major sections: "Furniture & Décor," "Stationery & Gifts," and "Daily Necessities," each combining local culture and cutting-edge creative works to achieve the goals of developing talent, infusing new blood, and propelling the industry onto the international stage.
In addition, there was an "International Style Zone" for the creative works and relevant trade organizations of a number of countries. An "Innovation Incubation Zone" and a "Back Street Creative Zone" were also there, presenting the cultural and creative achievements of 11 tertiary educational institutions and the micro-brand products of small individual studios hidden away in back streets. This zone reflected the flourishing creative energy from every corner of Taiwan.
Yilan Chairs
Under the spotlight in the Furniture and Decor Section were chairs that won awards in the "Yilan Chair" design competition held by the Yilan County Government last year. The theme of the contest was children's chairs, and entries were required to be made more than 50% of wood. Apart from showing off Yilan and nature, these products incorporated the playful impression of a people-oriented perspective.
1. Shake Shake Duck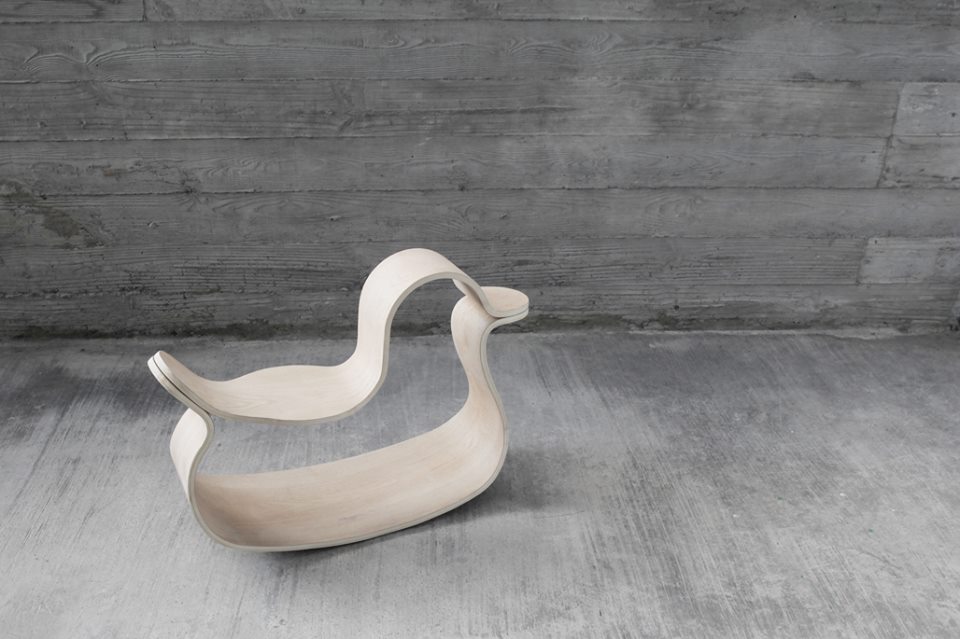 Shake Shake Duck transforms into a rocking chair, making it no longer only a static chair.
What we first saw in this section was the Shake Shake Duck, a combined creative effort of Chen Mu-chou and Bai Wan-hua. Made of wood that was heated and bent, the chair was designed in the simplified form of an Yilan duck; transformed into a rocking chair so that is no longer a static object but is fully interactive, the chair shows a naive, natural, and lively flavor.
2. Swivel Chair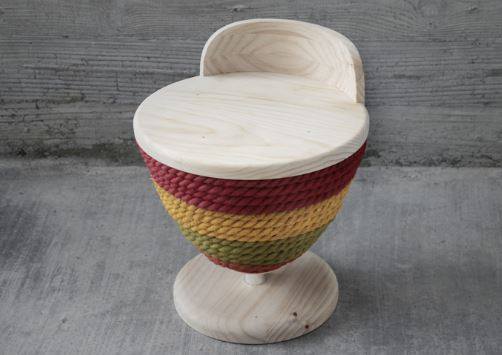 The Swivel Chair is closely associated with the spindle-type children's swivel chair, and thus brings to mind the wonderful happy memories of childhood.
The Swivel Chair by Chen Tz-hua won the online voting for the Most Popular Award at the expo. Chen used simple materials such as wood, hemp, and iron to create this playful chair. The creator took the Yilan International Children's Folklore and Folkgame Festival gyroscope as the base and wrapped it with hemp twine in the colors red, yellow, green, blue. The chair not only looks colorful but also conveys the significance of the gyroscope as an item of cultural heritage. In addition, the Swivel Chair is closely associated with the spindle-type children's swivel chair, and thus brings to mind happy memories of childhood.
3. One-acre Field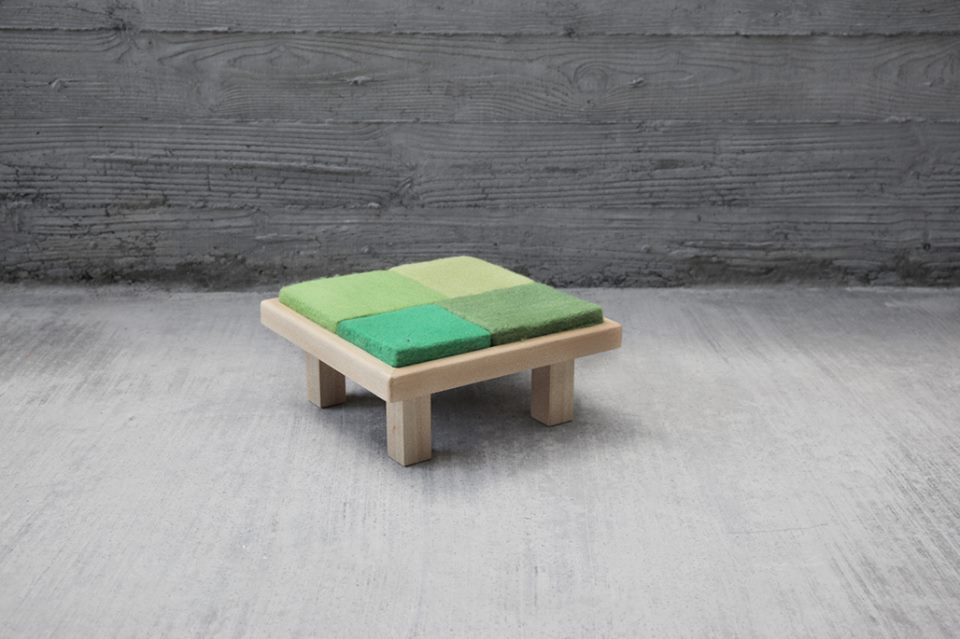 The "One-acre Chair" not only displays a fine piece of luxuriant green scenery, but has a simple shape that is reminiscent of the rustic Yilan landscape.
One-acre Field by Chou Yu-shan was another winner of the Internet-voting competition. Chou was inspired to create this work in the belief that everyone has "one-acre field" in their minds, where they grow an abundance of spiritual fruits. His chair consists of a collage of four green pieces made of wood, natural wool, and foam. It not only displays a fine piece of luxuriant green scenery, but its simple shape is reminiscent of the rustic Yilan landscape. The work itself is a collage that forms the written Chinese character meaning "field," underscoring the sense of fun and ingenuity of its creator and making it consistent with scenes of childhood.
4. Taking-off Chair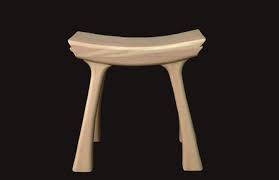 The "Taking-off Chair" has an appearance that reminds one of ancient Chinese door beams.
Apart from the Yilan Chair displays that imparted a warm and playful feeling, there were also simple and elegant pieces of mortise-and-tenon furniture, rich in antique flavor and classic beauty. Ho Wen-bin, a lecturer for a Ming-style furniture class sponsored by the Yilan County Government, uses traditional mortise-and-tenon art, without a single nail or screw, to make his furniture special. Such furniture can be used for centuries without becoming dilapidated; it is, in fact, a special art form which adds a classical Chinese beauty to life.
Ho's work, the "Taking-off Chair," has an appearance like that of ancient-style Chinese door beams, with swallows nests at the top. Swallows are considered representative of a harmonious living environment, and are also symbols of an inexhaustible supply of good luck. In addition, they imply care for all things and a reserve of energy that enables flight toward a better future.
HOMER CONCEPT
At the first glance, the "Benches Chair" looks like an ordinary chair.
Homer Concept was another major exhibitor which gave sparkle to the furniture section at the expo. One of the company's most striking products is a transformer-like "Benches Chair." At the first glance this flat board chair seems like an ordinary single chair, but a lateral pull splits it into two narrow wooden chairs and pushing down on the back transforms it into a bench that can seat four. And there are still more possibilities. With just a little imagination on the user's part, it can become a coffee table or a bookshelf, and several "Benches Chairs" together can be formed into stacked shelves.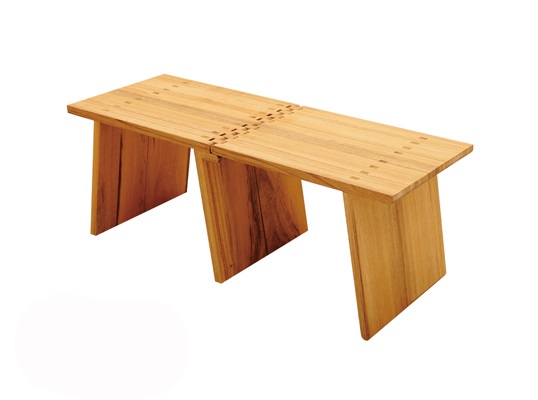 The "Benches Chair" can change its shape and function according to the needs of the location, event and user habits.
The height and angle of the chair back, the choice of board thickness, the height and width after folding, the mechanical structure of the bench legs, the position of each magnet and its attractive power, and other creative designs combine to allow a variety of changes in the Benches Chair.
In its single chair mode it will not separate if moved; but if you need to unfold it into two chairs, it is easy to separate. The Benches Chair can change its shape and function according to the needs of location, event, and user habits, and it alleviates the necessity of preparing storage space for a number of seats. It is suitable for any place with a need for seating, particularly where the number of people changes frequently.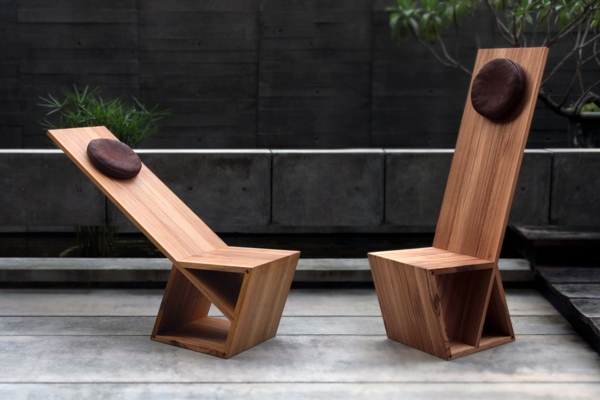 The Diamond Chair has two backrest angles so that it can be used either as a recliner or as a general high-backed chair.
The Diamond Chair is another Homer Concept masterpiece. Made of catalpa wood, it has two backrest angles and can be used either as a recliner or as a general high-backed chair. Its shape is highly flexible, and there is storage space under the seat.
The chair is suitable for placing by the side of a window or in a semi-outdoors space. It has a simple structure; the seat back angle can be changed without any special hardware, and it comes with a magnetic circular headrest which can be used on either side and adjusted for height. The circular design of the headrest allows for a fixed head position, and it provides comfortable neck support as well. (MH, Jan. 2014)