By STEVE CHUANG
Pneumatic tools—a category covering air-powered hammers, impact wrenches, spray guns, socket wrenches, grinders, sanders and screwdrivers—account for a major part of Taiwan's power tool production. Local products in this segment have also established a strong presence in the global market over the past decade due to their reputation for quality and competitive pricing, particularly among end-users in the U.S. and Europe.

According to statistics compiled by the Metal Industry Research & Development Centre (MIRDC), a government-funded research institute in Taiwan, the power tool sector in Taiwan peaked in 2011 with an output value of NT$37.1 billion (about US$1.233 billion), including NT$21.3 billion (US$710 million) in exports.

With the shaky global economy in 2012, output in the sector retreated slightly to NT$36.9 billion (US$1.230 billion), while exports inched up to NT$21.4 billion (US$713.3 million). MIRDC noted that the U.S., China, Japan, Germany and Belgium respectively absorbed 37.4%, 10.3%, 8.2%, 3.7% and 3.4% of Taiwan's total power-tool exports in 2012 as the top five buyers.

Growth in Taiwan's pneumatic tool sector is expected to have remained flat in 2013 as persistent economic weakness depressed demand. But a sustained recovery of the U.S. economy and gradual reduction of debt in the EU have made local suppliers generally optimistic about the outlook for 2014, and most of them are set to launch new products catering to increasingly fussy consumers and professional end-users worldwide.

Powagrip
Among the optimists for the year ahead is Bell Huang, president of Powagrip Industrial Co., Ltd., which supplies pneumatic tools under the ACT brand in over 15 countries. His optimism comes on the back of Powagrip's solid revenue growth last year.

"ACT is a registered tool brand in the U.S., Mexico, Columbia, Brazil, Japan, Germany, and Southeast Asian countries," said Huang. "Products under the brand boosted our revenue last year despite persistently market weakness in the U.S. and Europe, which together contribute 30% to our annual revenue." Huang said that the company's brand sales in 2013 grew particularly strongly in Central and South America and Southeast Asia.

Asked what strategies Powagrip followed to develop its ACT brand in Central and South America—a market that most Taiwanese tool suppliers have had difficulty tapping due to rivalry from cheaper Chinese competitors, Huang said that a key has been to partner with local agents that have exclusive distributor rights for globally known brands from the U.S. and Germany. A dual emphasis on quality and fast delivery, enabled by maintaining logistics centers near end markets, has also helped. "This strategy has set us apart from cheaper rivals and helped us to grow quickly in those markets," he said.

Business opportunities in Southeast Asia further underpin Huang's confidence in a good year ahead for its ACT brand. The president reported that his company recently signed contracts with new customers in Indonesia last year and is now poised to launch a new tool set mainly for auto and motor repair. The new tool set includes pneumatic and hand tools and related accessories aimed at professional end-users and packaged in a premium wooden box to add value.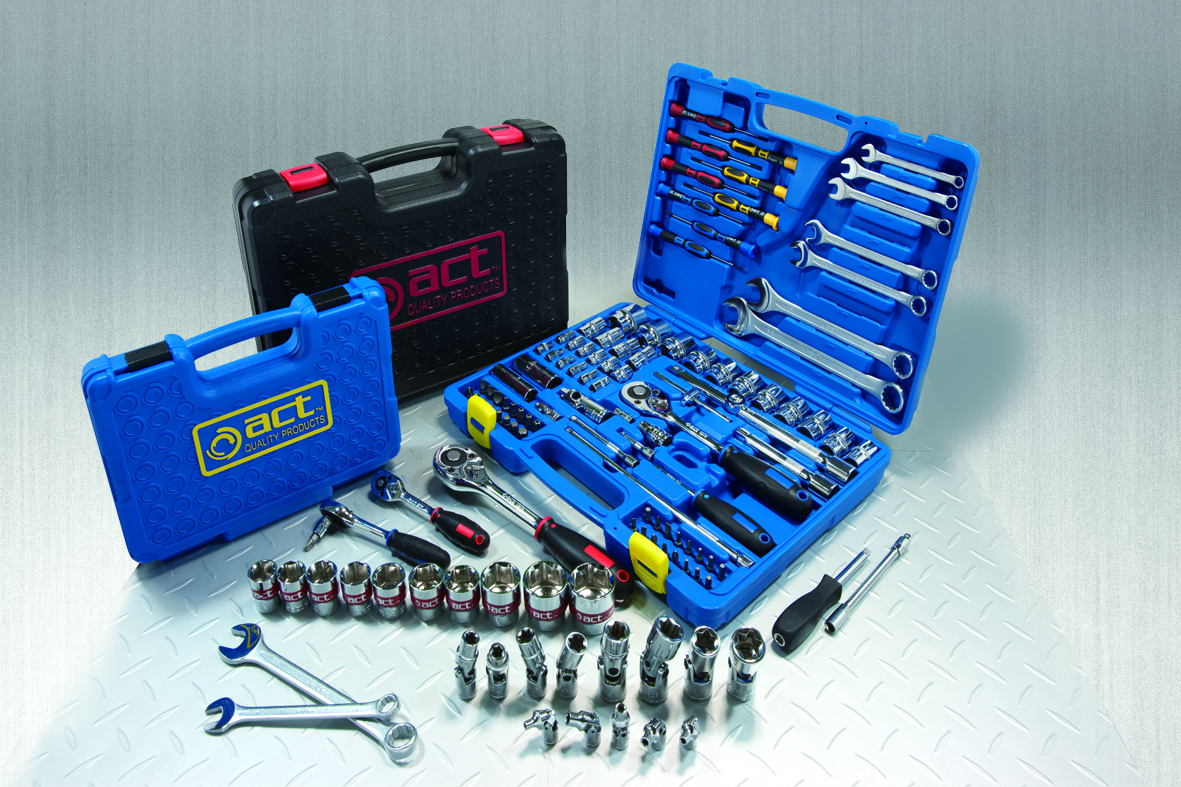 Powagrip also supplies ACT-branded hand tool sets.
Huang is aware that the huge growth potential of Indonesia's auto and motor maintenance service sector has attracted a flock of foreign competitors. "We are confident that our ACT products will stand out in the market through a combination of pneumatic and hand tools, which is rarely seen there. Our products also bring together quality tools from Taiwan in a gripping package."
Huang's company has also cultivated operations in the Association of Southeast Asian Nations (ASEAN) area over the past years and is now reaping the fruit. Huang said that Vietnamese customers that shifted orders to cheaper Chinese suppliers have been returning in force to ACT-branded tools. Powagrip has also finalized a new distributorship contract with a partner in China, positioning the company to increase China's share of Powagrip's total sales to 10-15% in 2014, up from 1-2% in 2013.
In the ASEAN area, Huang said that his company is in talks with a Singaporean company over cooperation on joint manufacturing of tools for sale in the free-trade bloc. The partnership will secure ACT's sustainable development in the ASEAN market by side-stepping the 15-20% duties typically levied on tools imported from Taiwan. Under the partnership, Powagrip will export semi-finished tools to Singapore for assembly and re-export throughout ASEAN on a more equal footing with local rivals.
Huang also aims to build growth momentum by participating in more international trade fairs, as well as by strengthening relationships with existing customers, including through joint development of new products, this year.
Success in the Details
After years of development, ACT is today one of the best-known Taiwanese brands of power and hand tools in Southeast Asia. This success has been built largely on Powagrip's attention to manufacturing details.
This attention is evident in Powagrip's choice of different materials for various tool types to optimize product durability, hardness and life span. For instance, the company uses S2 steel for screwdrivers, chrome-molybdenum steel for air sockets, chrome-vanadium steel for ordinary sockets, and nickel chromium molybdenum alloy steel for air screwdrivers and bits.
ACT tools are also made with advanced CNC equipment using strict numerical controls to achieve high dimensional precision and quality. Huang noted that for precise concentricity and great utility, all of his company's air tools are manufactured this way. Items are also inspected throughout the full production cycle, from forging, cutting and polishing to heat treatment and surface finishing.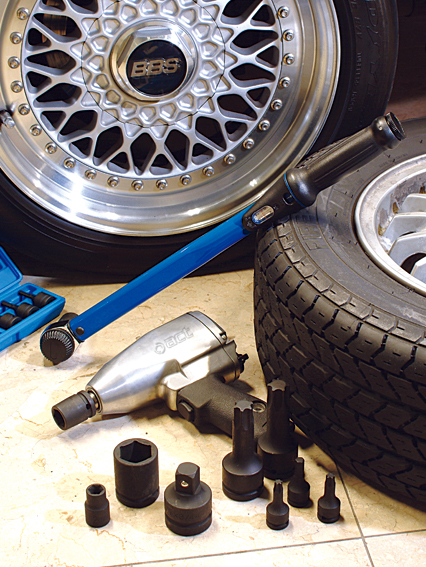 Powagrip markets its air tools worldwide under the ACT brand.
"ACT competes globally on integrity, quality and delivery," said Huang. "An attention to every manufacturing detail has further made this a reliable, top-end brand." In addition to its original brand manufacturing (OBM) business, Powagrip accepts original equipment manufacturing (OEM) and original design manufacturing (ODM) orders.
Gison
After a tepid year in 2013, Leo Lin, manager of Gison Machinery Co., Ltd., an ISO-9002-certified air tool manufacturer in Taichung, central Taiwan, expressed optimism about the outlook for 2014. His company plans to launch several new products in the year ahead to tap the economic recovery in the U.S. and Europe: the source of over 70% of Gison's revenue.
Gison's product lineup covers a full spectrum of pneumatic tools, from wrenches, grinders, sanders, polishers, hammers, needle scalers, drills, screwdrivers, hydraulic riveters and staplers to related accessories, such as air couplers, swivel coupler plugs and joints, oilers, air regulators, chucks, gauges, PU recoil hoses, hose reels and spring balancers. "We started out by contract manufacturing air tool parts and accessories, and then gradually ventured into developing, making and marketing air tools," noted Lin. "Today, Gison exports products to over 40 different countries, mostly under its own brand."
Lin said that Gison is particularly strong at making air tools for stone processing: a niche segment where its brand has been well recognized by professional end-users worldwide. With U.S. housing starts and manufacturing activity steadily increasing and Europe's debt crisis on the mend, Lin is optimistic that demand for such tools will grow in 2014. He also expects another growth engine in China: a market that the company tapped last year and plans to further develop in the year ahead.
New Products
Gison's strategy for growth in 2014 includes heavy promotion of new products, focusing on their superior performance, energy-saving qualities and improved functionality.
Among these upcoming products is the GPW-M1 Sink Oval Hole Cutter/Router for washbasins. Lin noted that this tool has a compact, space-saving design and can reduce the time needed to make an oval cut through a stone slab by making it easy to set the A/B axes and without any auxiliary tools. The improvement is enabled by a patented mechanical design inside the cutter control unit.
The tool can also be fitted with different types of diamond bits to handle hole drilling, cutting, grinding, sanding and polishing. Its unique torque sensor mechanism reduces the chance of profiling and cutting failures.
The GPW-M1 Sink Oval Hole Cutter/Router for washbasins is patented in both the U.S. and Taiwan.
Another potential hot-seller is the Air Random Orbital Sander: a winner of the Taiwan Excellence Awards. In addition to an impressive multi-toned exterior, the sander features several innovative, patented functional designs, Lin said. These include a safety lever coupled with a pad lock designed for convenient thumb operation by right-handed users, a fully dust-protective shroud, and shroud bearing with an improved oil seal that helps to prevent oil leakage and prolong tool life. A 75-hour test under 1.5kgf pressure verified that the tool is more durable than conventional models.
Gison's Air Random Orbital Sander features greater safety, longer life and protection against fine dust.
"Over the past year, Gison has consistently worked on improving not only air tools, but also key components, such as motors, to increase torque force, reduce noise and air consumption, and deliver higher performance for more value," Lin stressed. "Those have given our company a solid base to expand into the auto repair and maintenance application markets."
Years Way
Shrugging off a weak 2013, James Wang, general manager of Years Way International Co., Ltd., a time-tested supplier of power and hand tools with over 30 years of experience, expects his company to rally in 2014 with the debut of its improved Air Angle Head Impact Wrench. The company also plans to unveil a new series of socket wrench sets at the 2014 International Hardware Fair Cologne on March 9-12 in Germany.
Wang noted that market worries over the tapering of quantitative easing in the U.S. in the second half of 2013 strengthened the U.S. dollar against emerging country. He said that this prompted his company's customers to delay shipments to the later part end of the year, causing revenue to drop.
With global economic prospects brightening, Wang is conservatively optimistic about 2014. "Our overseas markets, including Russia, are generally showing a positive signs of recovery. That has motivated us to launch several new socket wrench sets along with the Air Angle Head Impact Wrench at this year's International Hardware Fair Cologne."
Among the products to be launched, the universal joint socket adapter set provides a full size range to serve a spectrum of applications. The adapters are all made of S2 steel to improve durability.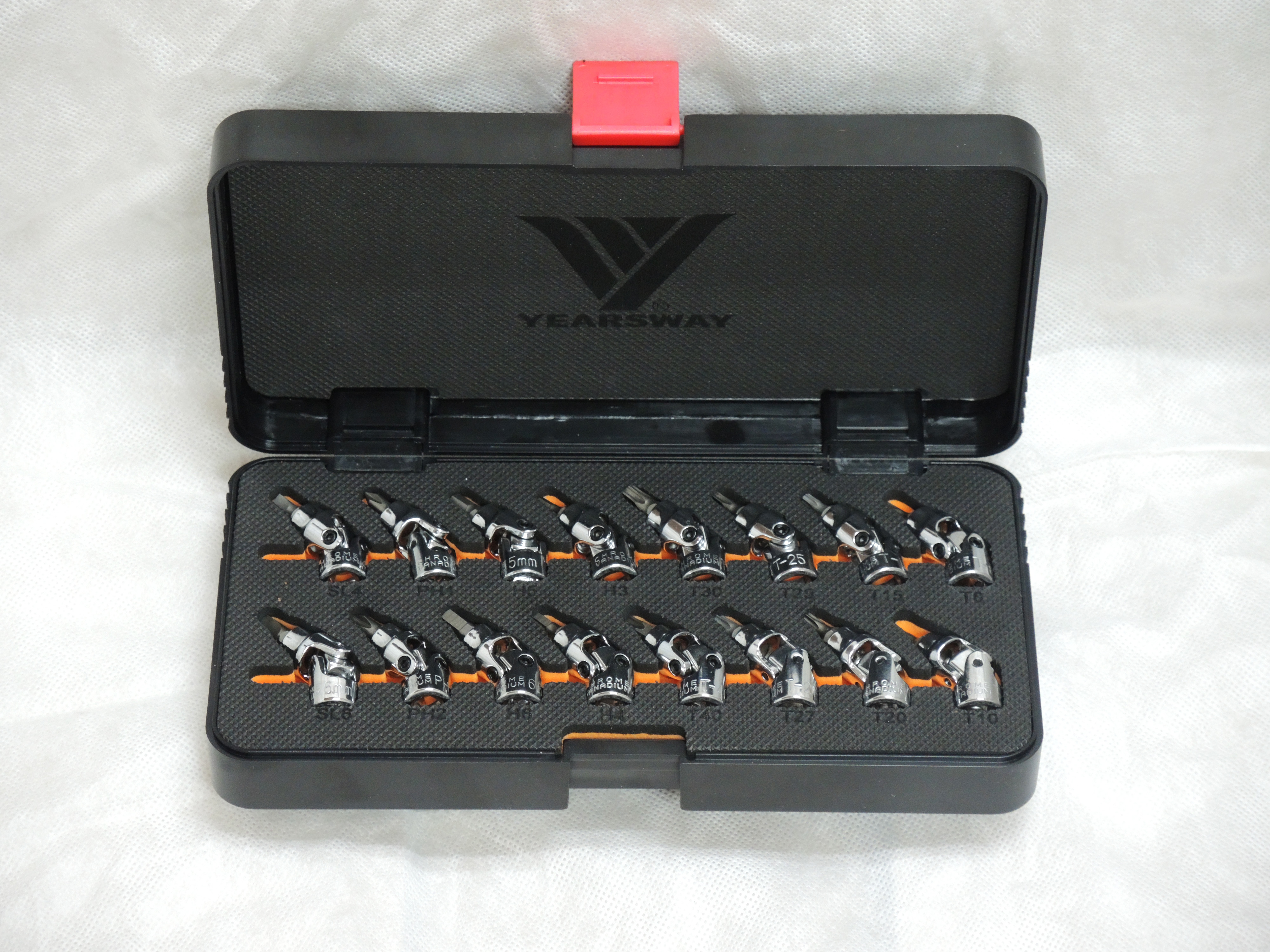 Years Way's universal joint socket adapter set provides a full size range to serve wide-ranging applications.
The ratchet socket wrench has an innovative dual-head design. One head can rotate 360% and the other can tilt 180 degrees. Wang said that the design makes the tool ideal for use in engine compartments and other narrow spaces. The set can also be used with a wide range of socket sizes.
Years Way will also showcase a box-end ratchet wrench set. The set has one mouth with 75-degree slant to increase torque force with less applied force. The ratcheting end can hold all of the sockets and bit sockets from the abovementioned sets. "All these new sets will include adapters to make the sockets interchangeable with each others, helping end-users to cut costs," said Wang.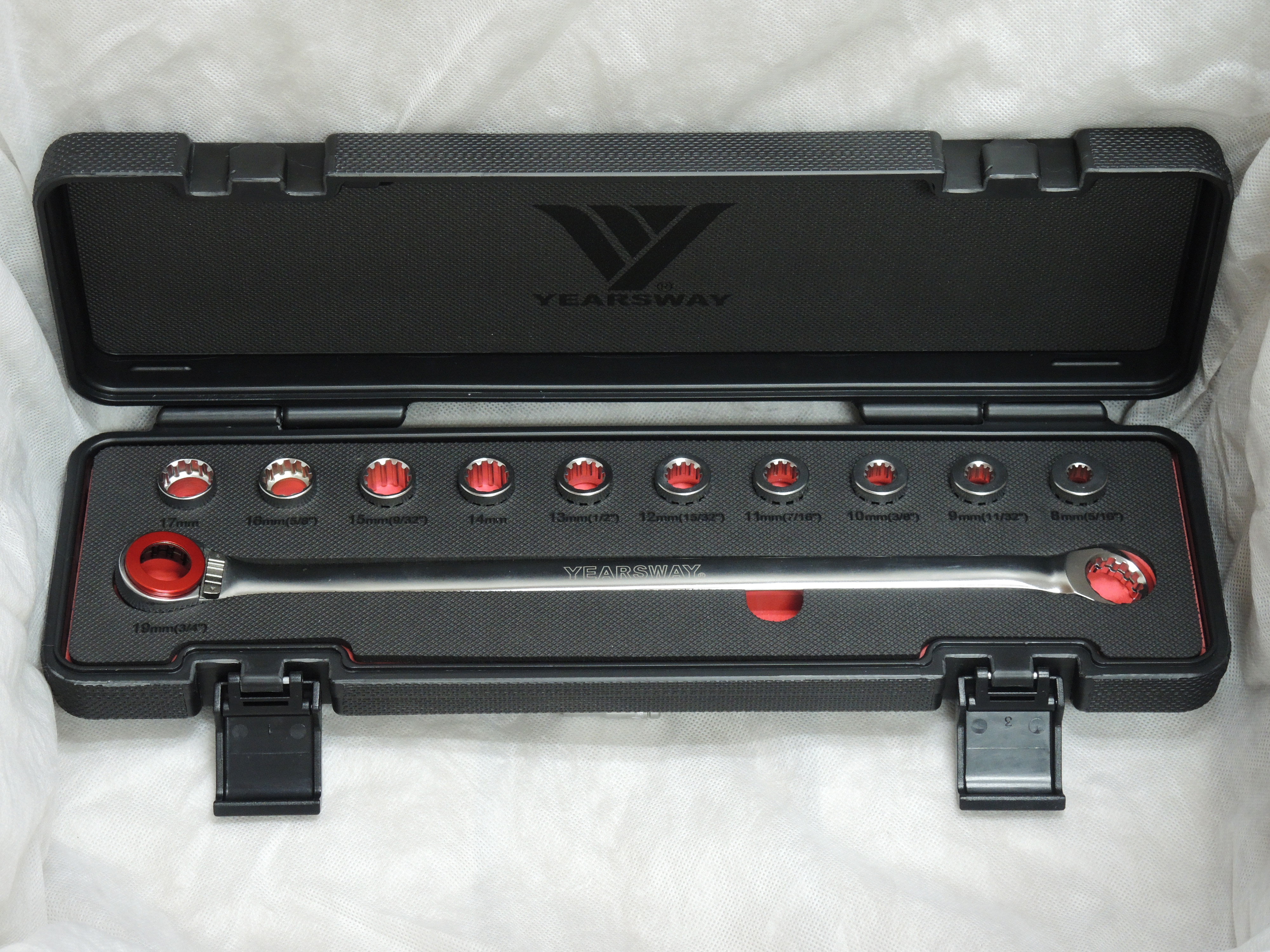 Years Way will showcase its wrench and socket sets at the International Hardware Cologne 2014 (booths H3.2 G059 and G507).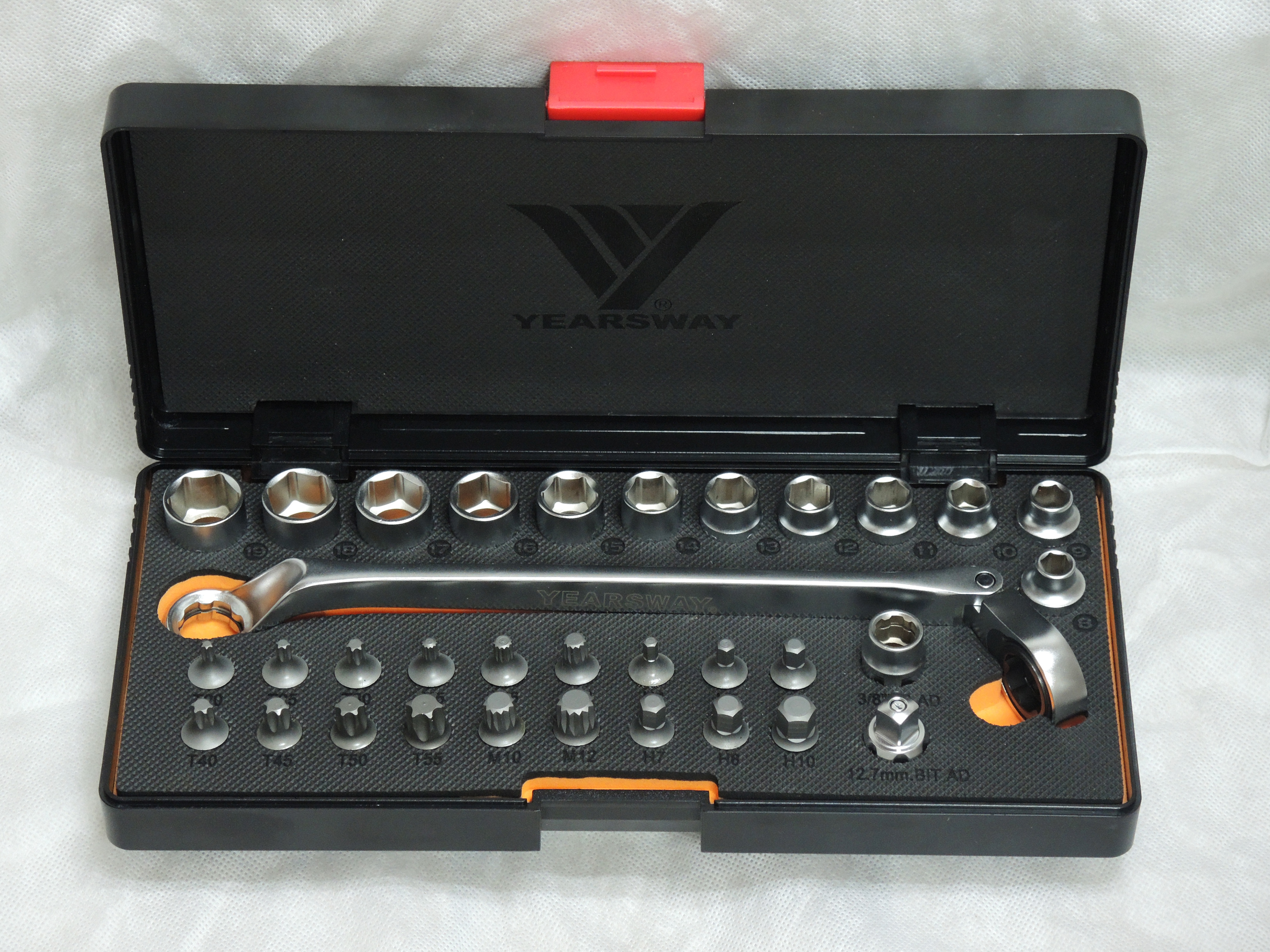 Wang noted that, while Years Way has focused on air tools since the 1990s, it began as a hand tool maker and has extensive expertise in this sector. "Socket wrench sets form a part of our growth reviving strategy this year," he said. "We believe that with a wider product range we can boost profits in cooperation with our customers."
Years Way is Taiwan's first hand tool supplier to be certified by the Article Numbering Center of R.O.C. and introduce the 4719847 Barcode System. Its product line is centered on pneumatic tools, including air spray guns, impact wrenches, air sockets, air ratchet wrenches, air tackers, air staple guns, air nailing tools, pneumatic grinders, pneumatic buffers, and pneumatic stripping tools. All of its products have been tested for CE and national standards worldwide. In addition to selling under its Yearsway brand, the company provides OEM and ODM services. 
Taiwan Power Tool Production by Year
Year

2007

2008

2009

2010

2011

2012

Output Value

NT$35.4 Bn.

NT$35.7 Bn.

NT$26.4 Bn.

NT$35.0 Bn.

NT$37.1 Bn.

NT$36.9 Bn.

Imports

NT$3.5 Bn.

NT$3.8 Bn.

NT$2.2 Bn.

NT$3.4 Bn.

NT$4.1 Bn.

NT$4.3 Bn.

Exports

NT$22.8 Bn.

NT$20.0 Bn.

NT$13.9 Bn.

NT$19.5 Bn.

NT$21.3 Bn.

NT$21.4 Bn.

Source: Metal Industries Research & Development Centre
Top 10 Buyers of Taiwan's Power Tools in 2012 by Export Value
Ranking

Country

Export Value

Proportion to Total

1

The U.S.

NT$8.03 Bn.

37.4%

2

China

NT$2.22 Bn.

10.3%

3

Japan

NT$1.75 Bn.

8.2%

4

Germany

NT$790 M.

3.7%

5

Belgium

NT$730 M.

3.4%

6

Hong Kong

NT$540 M.

2.5%

7

Thailand

NT$450 M.

2.1%

8

Australia

NT$3.8 M.

1.8%

9

Canada

NT$3.2 M.

1.5%

10

The Netherlands

NT$3.1 M.

1.4%

Sum

NT$15.52 Bn.

72.4%

2012's Total

NT$21.44 Bn.

100.0%

Source: Metal Industries Research & Development Centre