Sales growth of new cars in Taiwan turned positive in the second half of 2013, causing the annual sales to rise 3.4% to hit 378,000 units, according to the Automotive Research & Testing Center (ARTC), a transportation vehicle R&D and testing hub in on the island.

In the first half of 2013, new-car sales stagnated due mainly to consumers' wait-and-see attitude caused by the sharp depreciation of the Japanese yen (most locally-assembled cars are Japanese), anticipation for government's possible subsidies for old-car replacement purchases (which never materialized), resulting in a 1.9% decrease from the same period of previous year.

In the second half, all major car brands began launching new models to realize potential purchases; while the year-end international auto show in Taipei further boosted demand, leading to an 8.9% year-on-year (YoY) increase for the period.

Top-5
The top-five auto brands in Taiwan in 2013 were Toyota (distributed by local agent Hotai Motor Co. Ltd.), Nissan (Yulon Nissan Motor Co., Ltd.), Mitsubishi (China Motor Corp., CMC), Honda (Honda Taiwan Motor Co.), and Ford (Ford Lio Ho Motor Co.)

Hotai, the leader by market share, sold 127,220 Toyotas in Taiwan last year, a 2.8% increase from 2012, contrasting  No. 2 Yulon Nissan's 44,000 units (up 7.6%), No. 3 CMC's 42,060 units (down 13.1%), Honda Taiwan's 25,588 (up 36.1%), and Ford Lio Ho's 24,096 (up 30.6%). Yulon Nissan replaced its affiliate CMC (belonging to the Yulon Group) to take the No. 2, ending CMC's long-term No. 2 ranking.

ARTC says that new-car sales grew strongly at the end of the third quarter, driven by most brands launching new-year models. Since September, new-car sales volume has continued increasing for four months in a row until December.

Imported Cars
Imported cars rapidly gained a market share of about 30% in 2013, a new record high on the island, to which ARTC attributes rising price tags of locally-assembled models and aggressive introduction of entry-level models of luxury car brands by local agents. The narrowing price gaps between  locally produced and imported cars create more options for local consumers, of whom a big portion opted to pay a little more to enjoy affordable luxury and cachet.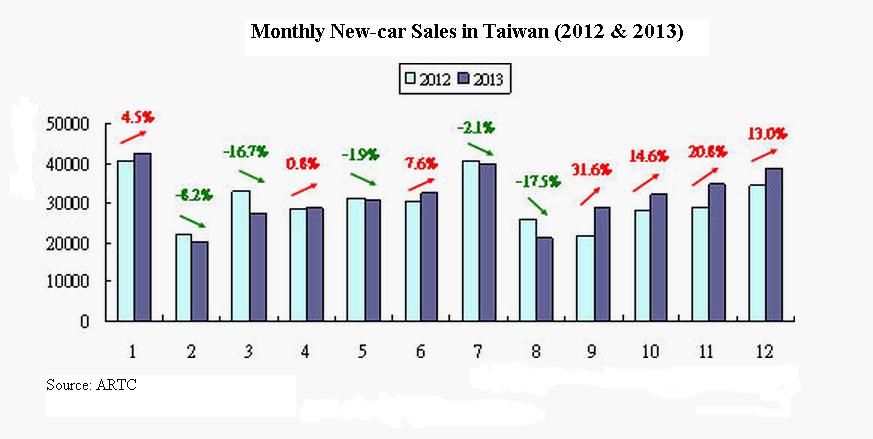 Monthly new-car sales in Taiwan (2012-2013) (source: ARTC)
In 2013, 111,000 imported cars were sold in Taiwan, up 12% from the previous year to take  a 29.4% share. Both the annual volume and market share of imported cars in Taiwan were record highs.
ARTC says that the automobile market in Taiwan weathered  difficulties in the first half of 2013, exasperating worries of auto makers and vendors. In 2014, the center forecasts new-car sales on the island to remain strong in January before the start of Chinese New Year, but to begin facing realities ahead in March.