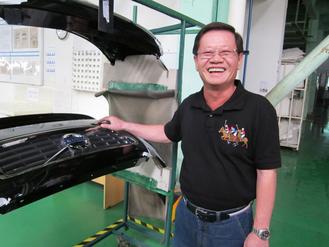 Tong Yang's vice chairman Raymond Wu.
Tong Yang Industrial Co., Ltd., a major maker of aftermarket (AM) plastic body-parts and also a major Original Equipment (OE) parts supplier to international automakers, foresees its operations in Taiwan and China to enjoy explosive growths in 2014, according to Raymond Wu, vice chairman.
Wu also announced that Tong Yang will set up its first global OE auto-parts R&D center at its headquarters in Tainan, southern Taiwan, where the group's global resources in production techniques and talents will be integrated to develop molds and dies, materials, new production technologies, and new products, to further fortify the group's sustainable competitiveness.
The R&D center aims to wean the parts maker off OE-only production to pave the way for developing into a globally-significant auto parts supplier with in-house design capacity. Wu said that, while R&D investment has  long return-on-investment cycle, it's opportune to set up such a venture when independent carmakers in China without technical cooperation with foreign partners are trying to cultivate homegrown design capacities instead of always  copycatting.  
2014 Operations
Thanks to the recovering economy in the U.S. and Europe, Tong Yang's sales of AM auto parts in 2014 are expected to continue growing. In addition, the company plans to invest more than NT$1.8 billion (US$60 million) into mold and die development for new products, as well as installation of eight new production lines at its plant complex in Tainan, including for plastic-injection items, fully automated sheet-metal stamping, and automotive radiator. These investments, the vice chairman says, are expected to further upgrade order-taking capability.
Wu said that inclement wintry weather in major export markets such as North America and Europe have been driving parts distributors to stock up to  meet foreseeable strong demand due to rising car accidents.
In conjunction with new capacities, Wu said, Tong Yang's overall AM parts sales revenue is expected to increase by about 15% in 2014. China will be a new target market for Tong Yang's AM parts sales, Wu said, and after years of business deployments, Tong Yang's AM-parts sales earnings in the big market increased by 87% in 2013, and are expected to continue growing by 50% this year.
OE Parts
Tong Yang's OE-parts operation has been also enjoying rapid increase. In 2014, Wu said, China, the world's largest automobile market, is the focal point for Tong Yang's OE parts business. Some 22 million new cars were sold in China in 2013, he explained, and there is room for 10% to 15% volume growth this year. In January, Wu said, all major automakers in China have been upgrading production capacity to enhance inventory to meet the strong demand after the long Chinese New Year break, demand of which Tong Yang's various production bases in China recognize.
Tong Yang has in-turn inaugurated three new parts factories in China since late 2013, including the Chang Chun Faway Tong Yang's new factory in Foshan (Guangdong Province), Xiangyang Tong Yang (Hubei Province), and Foshan Tong Yang. Despite having just started mass production, Faway Tong Yang, a joint venture with Chinese automaker Changchun FAW, has decided to begin second-stage capacity expansion in 2014, Wu added.
Tong Yang's internal forecast for total revenue generated from all production bases in China is about NT$16.6 billion (US$553.3 million) in 2013, and the figure is expected to jump to NT$20.7 (US$690 million) in 2014. Wu said without major conflict between China and Japan this year to impact sales  of Japanese cars in China as in the past, Tong Yang is expected to achieve target revenues of its Chinese operation. Currently, about half of Tong Yang's OE-parts sales in China go to Japanese car production ventures there.