The year 2013 was challenging for most Taiwanese enterprises, which seemed to have been left behind by the simmering American and Japanese stock markets, with Taiwan's economic growth having reached only around 2% to lag behind those of most of Asian countries; but it remained a busy year for China Economic News Service (CENS). The veteran of export media attended 11 major hardware shows, as well as many trade fairs for auto parts and accessories, lighting, furniture, machinery, etc., circulating buyer guides to help promote high-quality MIT (Made-in-Taiwan) hardware products worldwide.

The following is an overview of the global hardware exhibitions in which CENS served as the bridge between Taiwanese suppliers and foreign buyers.

Asia-Pacific Sourcing
Held March 3-5 in Cologne, Germany and spread over 17,000 square meters in KoelnMesse, Asia-Pacific Sourcing 2013 brought together 623 suppliers from 12 countries in the region to showcase a slate of products for gardens, home improvement, hardware and leisure activity, including tools, locks, fittings, hardware, fasteners, gardening equipment and supplies, DIY materials, furniture, barbecues, camping gear, sporting goods and toys. That show attracted around 5,000 visitors from 62 nations who were looking for high-quality products and suppliers from the Far East.

The biennial show is noted for high quality of visitors. The latest independent visitor survey completed in the 2013 edition shows that of the total visitors, 86% were corporate decision-makers; and representatives of the wholesale and export trades made up 40% of the total as the largest group, along with 31% and 17% being market participants from industry and retailers, respectively. This made the exhibition a great business hub between Asian suppliers and European buyers.

Of the total exhibitors, 33 were from Taiwan, including CENS, designated as the show's media partner to help international buyers better understand the island's world-caliber hardware manufacturing capability.

The next Asia-Pacific Sourcing will take place in the spring of 2015.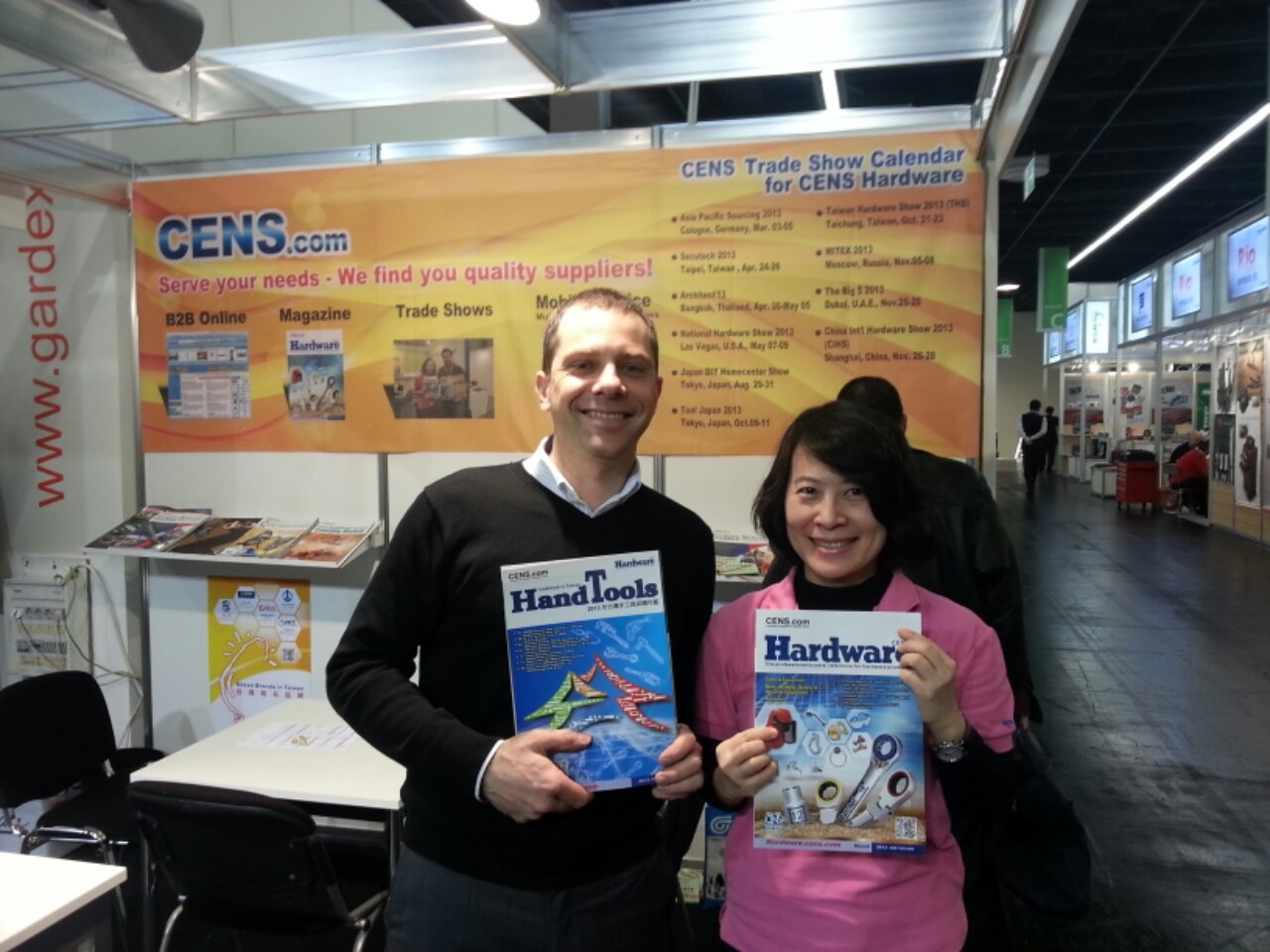 CENS Hardware and Guidebook to Taiwan Hand Tools are popular with buyers at Asia-Pacific Sourcing 2013.
NHS
A regular exhibitor at the National Hardware Show (NHS) over the past decades, CENS was also present at the 68th edition, held May 7-9, 2013 in Las Vegas.
Wide-ranging products on display from a large number of companies and systematically organized according to categories remained the show's  tradition, including Hardware & Tools (650 manufacturers), Farm & Ranch (200 exhibitors); Building Products (some 150 producers); Hardwares (more than 250 suppliers); Lawn, Garden & Outdoor Living (over 850 manufacturers); Paint & Accessories (250 makers); Plumbing & Electrical (around 250 suppliers); Storage & Organization (some 250 makers); Outdoor, Tailgate & Recreation (80 exhibitors); Inventors' Spotlight, International Sourcing (several hundreds of suppliers mostly from China, India and Taiwan), and Pet Products (over 200 companies).
NHS 2013 presented steadily growing and emerging trends in the U.S., including pet products, made-in-America products, farm and ranch products for backyard cultivators etc., as well as featuring educational seminars to provide insights into various market changes, such as how e-commerce has changed the country's retail sector.
Over 100 Taiwanese exhibitors attended the show, organized by Taiwan Hand Tool Manufacturers' Association (THTMA) and CENS. Notable was that in addition to more than 150 buyers, CENS also welcomed several VIP buyers introduced by the organizer, Reed Exhibitions, at its booth at the venue to help create potential business opportunities between Taiwanese suppliers and international customers.
The next NHS will take place  May 6-8, 2014.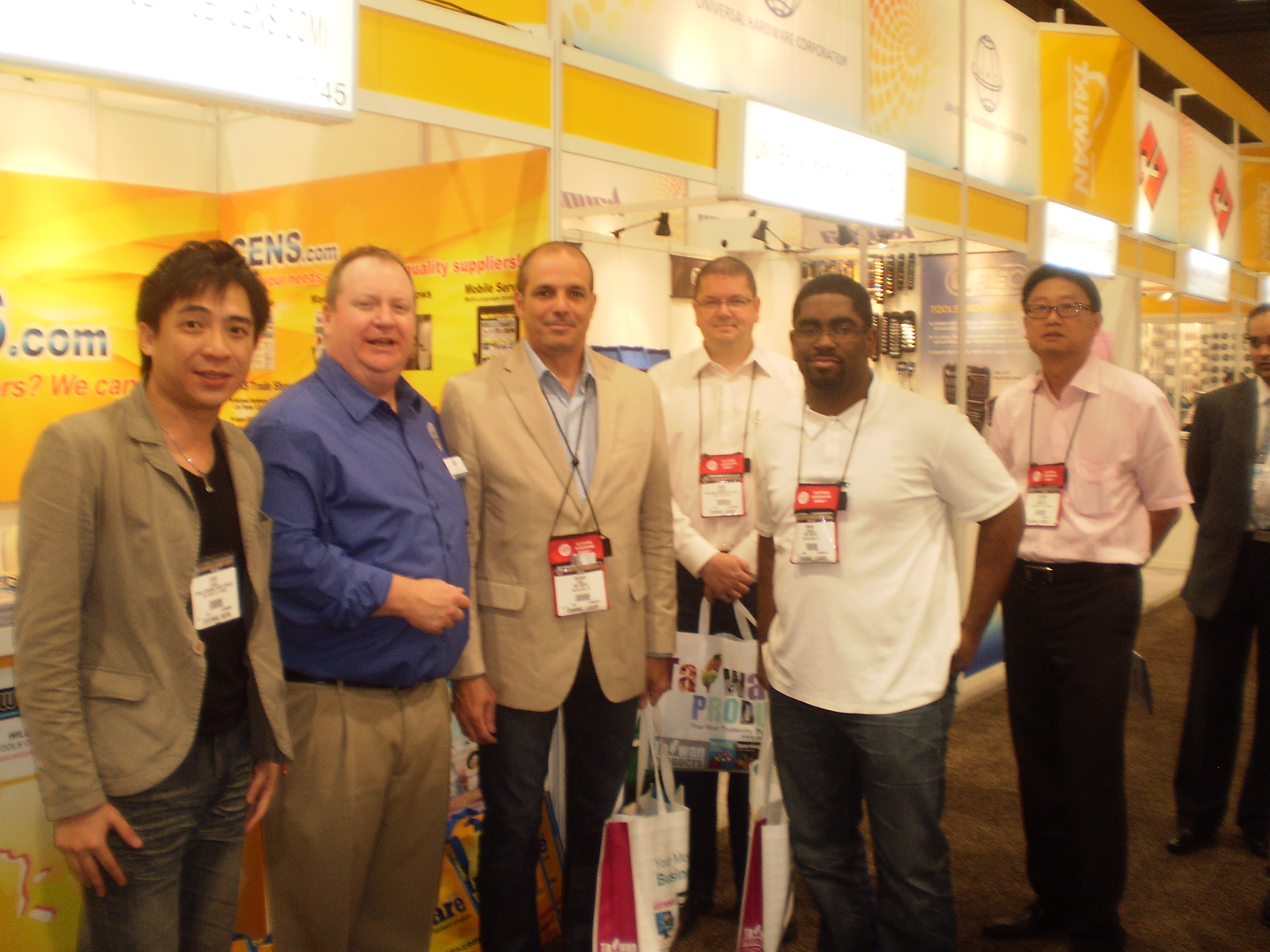 David Tobin (second from left), international sales director of Reed Exhibitions, brought some VIP buyers to CENS booth.
Japan DIY Homecenter Show
With exchanges between Taiwan's and Japan's hand tool industry steadily growing, CENS again took part in the Japan DIY Homecenter Show last year to help Taiwanese suppliers build closer business ties with Japanese partners and customers.
The show, organized by Japan DIY Industry Association annually, celebrated its 49th anniversary August 29-31 at Makuhari Messe, with the  theme "Tomorrow is dreamy with DIY! The world is full of dreams."
According to the organizer, 412 exhibitors (from Japan, Taiwan, South Korea, China, Germany, France and Hong Kong) came to the show, including such globally known brands as TOTO, 3M, Hitachi and Yahata, to showcase hand tools, hardware products, building materials, bathroom fittings, kitchenware, gardening equipment, pet products and ordinary DIY products. Compared to 84,547 visitors present at the 2012 edition, last year's Japan DIY Homecenter Show attracted 86,326 visitors to remain Asia's largest trade fair of this kind.
With a proven name among major global hardware trade fairs, CENS was again designated by the organizer as the sole media partner for the show. During the exhibition, CENS received a flood of inquiries, over 90% from local companies, for Taiwan-made products, particularly eco-friendly products, as the Japanese government has been actively promoting energy-saving household appliances, LED lighting, and electric vehicles nationwide for sustainable development.
The Japan DIY Homecenter Show 2014 will be held August 28-30.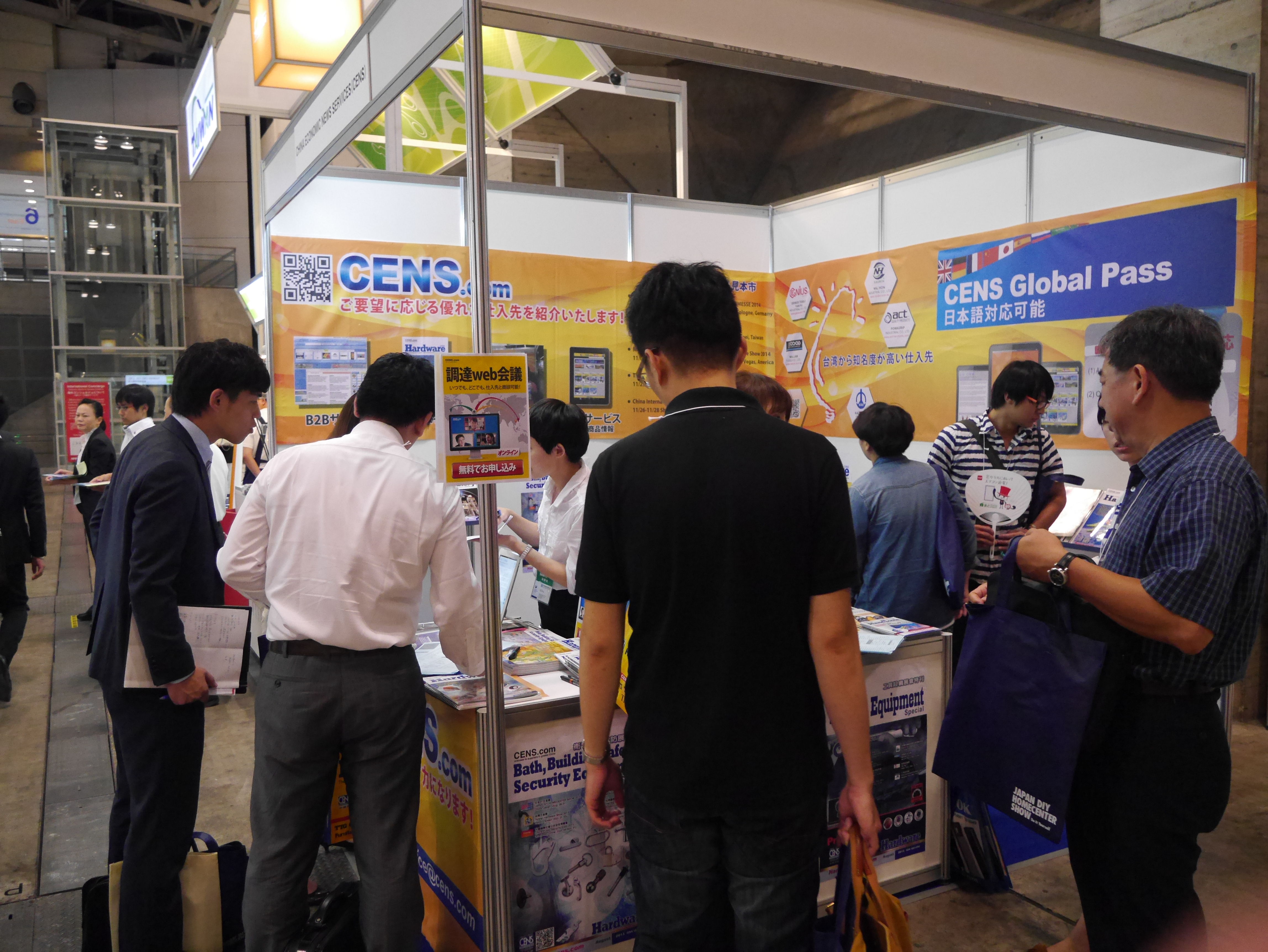 A flood of Japanese buyers at CENS booth at Japan DIY Homecenter Show 2013 show intense interest in Taiwan-made products.
Spoga + Gafa
As Europe annually absorbs a large share of Taiwan's garden tools and equipment exports, Spoga + Gafa has been CENS's priority trade fair among others to attend.
Last year, the show was held September 8-10 in the KoelnMesse, spread over 235,700 square meters to accommodate some 1,931 exhibitors from 56 countries, 46 of which from Taiwan. The visitor number exceeded 36,300, mainly from sectors of garden centers, furniture, warehouse, retail, DIY stores, architects, contract business, etc.
The product categories  encompassed garden living, garden creation, garden care, garden basis and garden unique.
CENS' representatives reported that buyers were generally satisfied with extensive supplier information provided by
Hardware and Guidebook to Taiwan Hand Tools,
as well as CENS's considerate services, including CENS Global Pass, which proved effective to facilitate access to Taiwan's best garden product suppliers.
The next show will be held  August 31-September 2, 2014.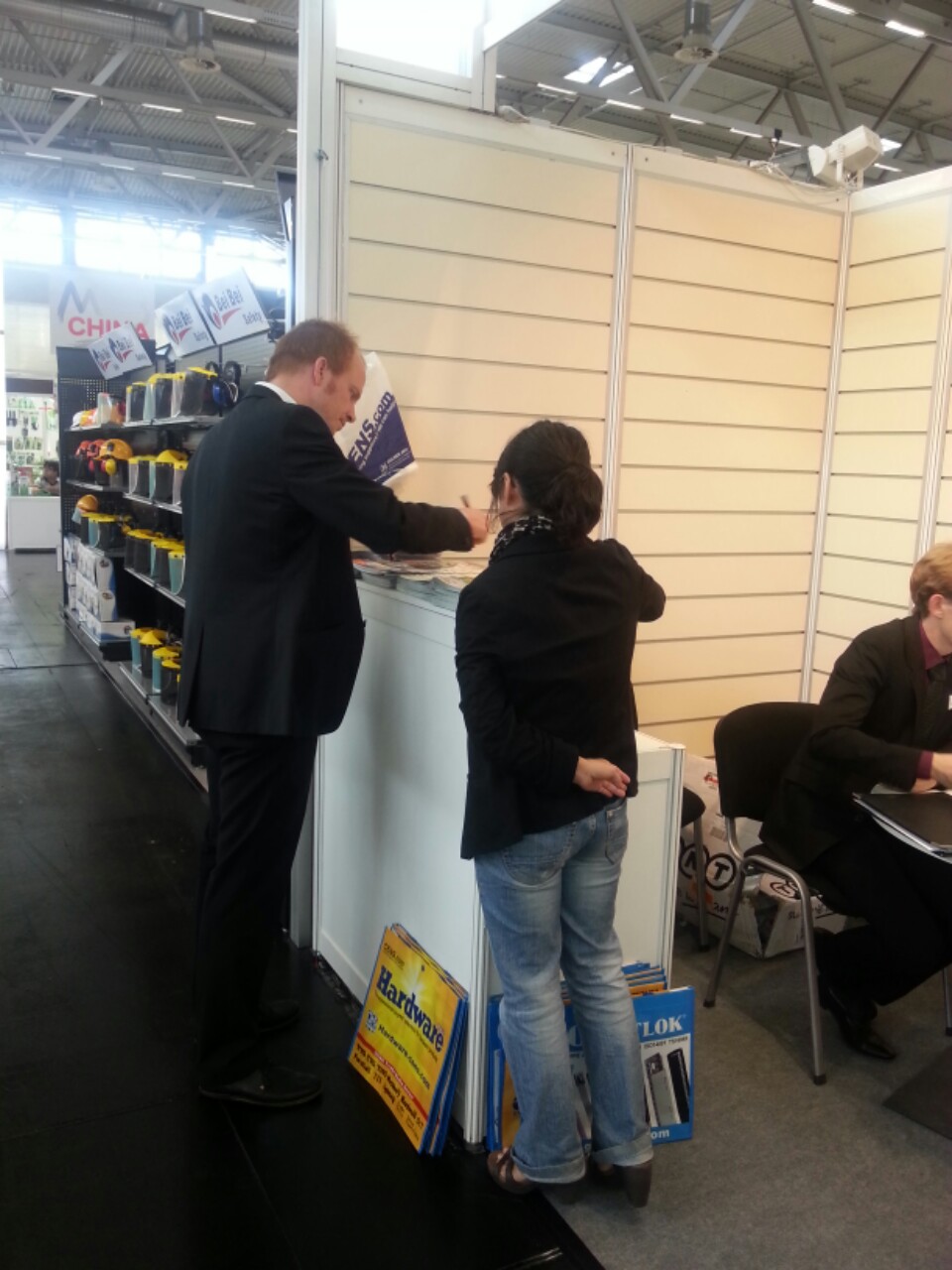 A local buyer inquiring about products at CENS booth at Spoga + Gafa 2013.
THS
CENS participated in the biggest transformation of the Taiwan Hardware Show (THS) since it was inaugurated 13 years ago in 2013, with the largest, hardware-dedicated event on the island moving for the first time to Taichung City, where a majority of Taiwanese hand tool makers are clustered.
Backed by the Taichung City Hall and THTMA, last year's THS was held October 21-23 in the Greater Taichung International Expo Center, accommodating 600 booths occupied by over 300 exhibitors, and categorized into sections for Tools & Accessories, Locks & Fittings, Fasteners & Fittings, Building Supplies, Garden & Outdoor Equipment, Automotive Supplies & Accessories, Machines & Plant Equipment, and Safety Equipment & Products.
With a bigger venue, the show recorded a new high of 23,847 visitors, including 3,300 foreign buyers from Europe, Australia, the United States, New Zealand, Southeast Asia, Russia, the Middle East, Japan, Uganda, Abu Dhabi, Turkey, and Panama.
Thanks to the organizers' efforts to muster forces from local companies and the city government, THTMA's chairman Arthur Wu said, "Over 88% of polled exhibitors saw THS 2013 a resounding success and hope the show to stay in Taichung in the future."
At the venue, CENS not just circulated its buyer guides but also introduced online services to facilitate sourcing by foreign buyers of Taiwan's globally known hand tool industry.
The next THS will be held October 21-23, 2014 in the same place.
CENS representatives introduce online business-matching service, CENS Global Pass, to attentive buyers at THS 2013.
Tool Japan
Tool Japan 2014 was held October 9-11 in Makuhari Mess as the country's only exhibition specializing in tools, and attracted over 34,118 visitors during its three-day run.
Among over 1,400 exhibitors, big brands, such as Makita, Black & Decker, Hitachi, Koki, Ryobi, ARS, Nnipex, PB Swiss Tools, etc., participated in the show with big stands to explore business with local retailers and professional users.
The annual show, inaugurated in 2011, provided a full array of products, including varieties of hand tools and garden equipment, builders' tools, painting tools and materials, construction supplies, and so forth.
Without overlooking growth potential of the young exhibition, which has steadily grown in size to keep pace with Japan's stable hand tool market over the past few years, CENS manned a booth at the venue last year, and saw a constant influx of local buyers interested in forging partnership with Taiwan's world-caliber hand tool industry. Positive responses to 
Guidebook to Taiwan Hand Tools and Hardware
amid  local visitors further made up CENS' mind to continue taking part in the show in the coming years.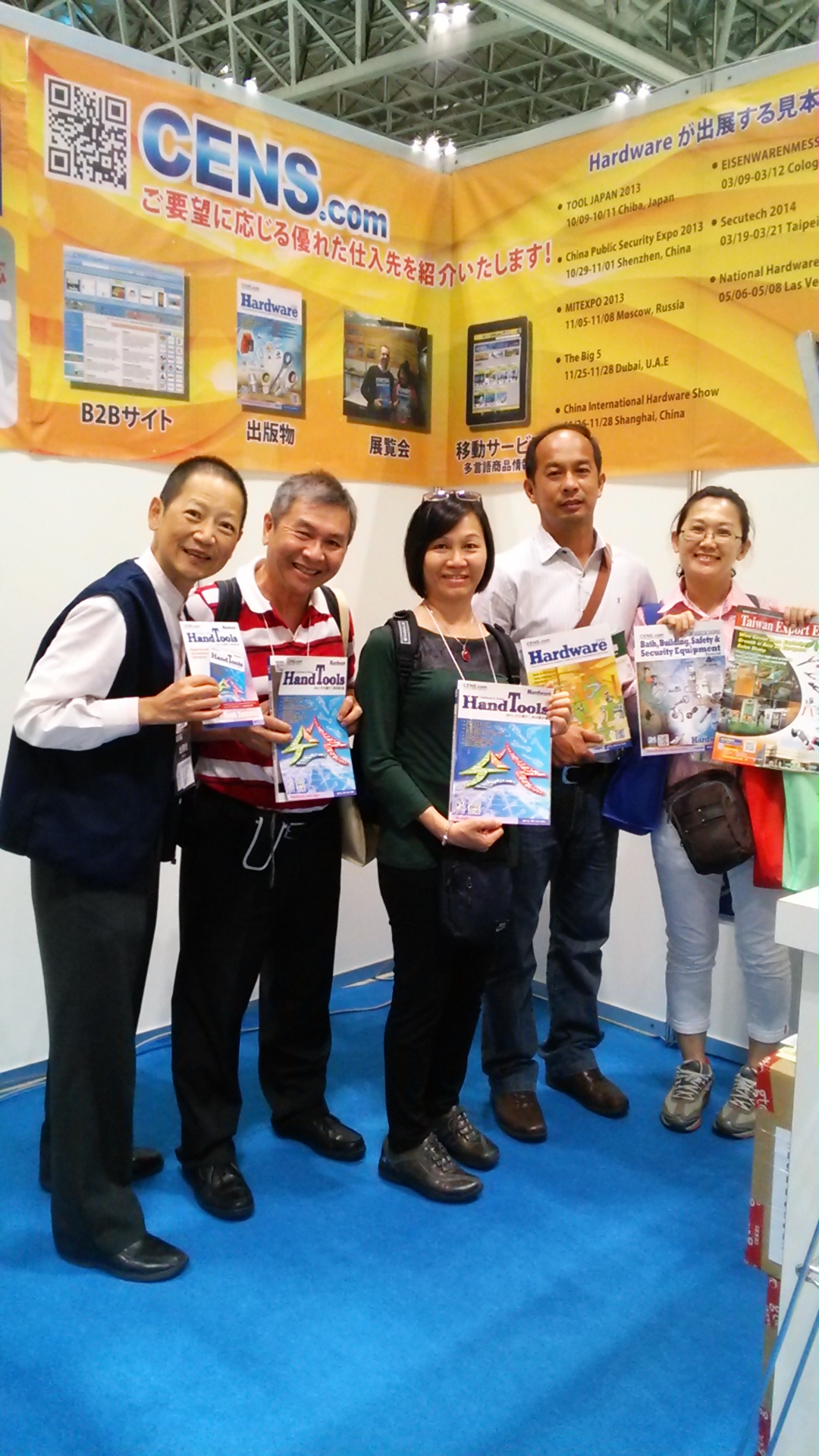 Buyers at Tool Japan 2013 find CENS buyer guides useful for sourcing from Taiwan.
Architect Expo
In addition to developed countries, CENS also concentrated on emerging markets worldwide, and took part in high-profile trade fairs with great growth potential there, such as Architect Expo of Thailand, last year.
The 27th Architect Expo, organized by N.C.C. Exhibition Organizer Co., Ltd., took place April 30-May 5, 2013 at the Impact Exhibition & Convention Center in Bangkok, and presented visitors various industry-leading, innovative architectural and building products, technology, materials, equipment and related services, mostly from Southeast Asian suppliers.
As the largest trade fair of this kind in Thailand, the annual show occupied around 70,000 square meters and attracted some 600 exhibitors and 300,000 visitors from all over the world last year. The exhibition also presented  considerable business potential to Taiwan, as CENS' representatives at the venue reported that during the six-day run, a constant flux of interested local buyers came to CENS' booth to inquire about MIT products.
Despite the country's continuing political unrest, the next Architect Expo, scheduled  April 29-May 4, 2014, is expected to score a bigger turnout, given its reputation across Southeast Asia for not just showing top-of-the-line building technology and products, but also providing easy access for foreign enterprises to the continuously expanding ASEAN (Association of Southeast Asia Nations) bloc.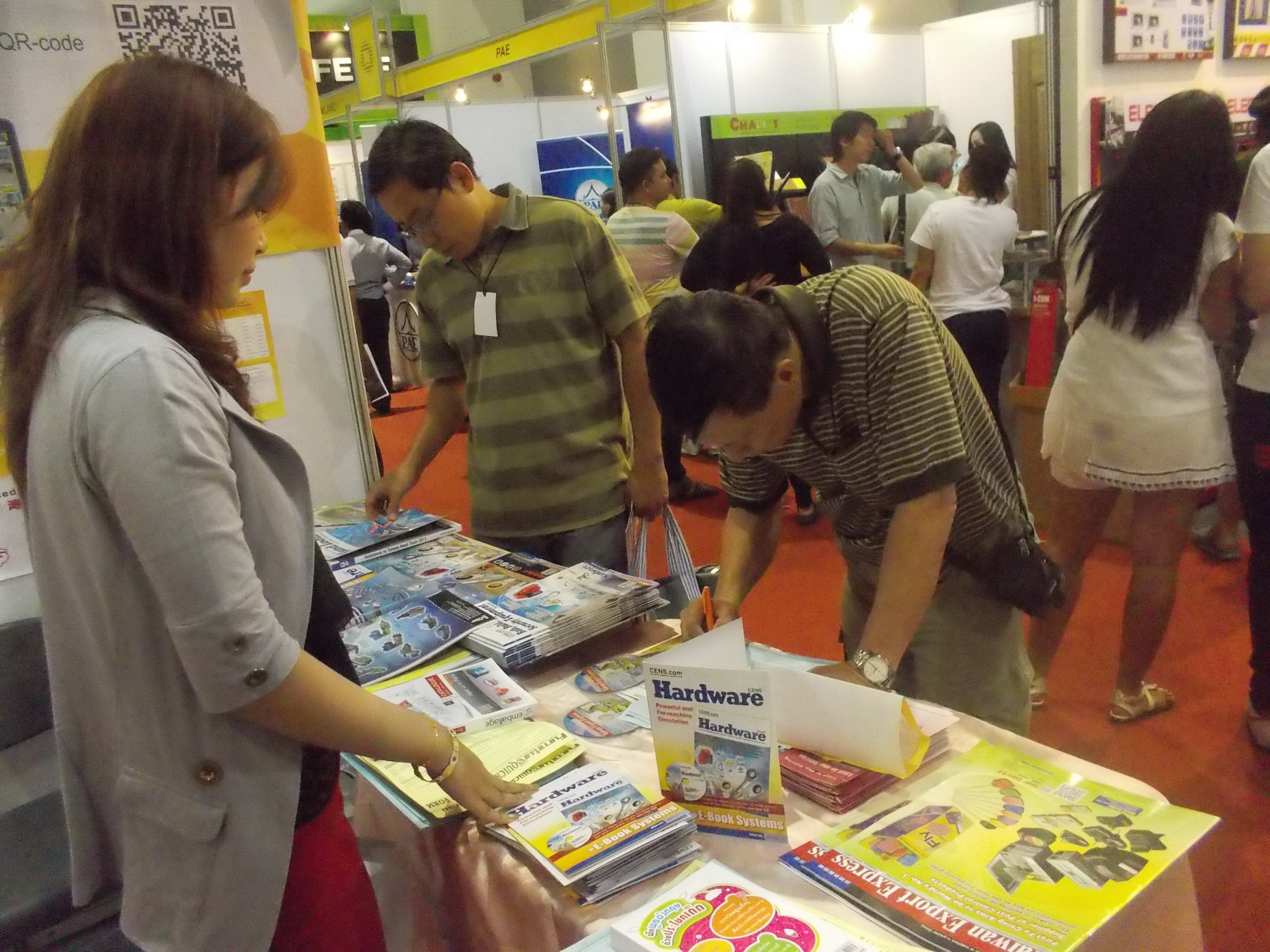 Local buyers fill out inquiry forms for Taiwan's high-quality building products and materials at CENS booth in Architect Expo 2013.
CPSE
Motivated by increasing concerns over personal and property security amid growing worry about terrorism, CENS has focused on Taiwan's globally competitive security equipment sector in recent years, hence its attendance at  the 14th China Public Security Expo (CPSE) October 29- November 1 last year the first time, aiming to aid Taiwanese suppliers to gain larger ground in the lucrative segment.
Held in Shenzhen, southern China, the event brought together some 1,500 suppliers from 48 countries to display nearly 80,000 items of advanced technology and state-of-the-art products during the four-day period, with a concurrent event, the 11th China Public Security Forum.
The exhibits were categorized into smart city, the Internet of Things, cloud computing, big data, surveillance and monitoring, smart houses, alarms, door security, access control, park space management, smart transportation, fire safety, crime control, anti-terrorism solution, security check, anti-counterfeiting solution, Internet security, emergency rescue, unmanned aerial vehicles, etc. The wide spectrum of security and safety products on display allowed foreign buyers a close look at China's impressive improvement in the segment.
According to show statistics, the biennial show attracted an estimated 120,000-plus visitors, compared to 118,000 in the 2011 edition. At CENS' booth, some buyers were impressed by CENS buyer guides as 
Kitchen Cabinet, Bath & Building Material Special and Hardware
, whose  comprehensive content allowed more sourcing choices from Taiwan.
The 15th CPSE will be held  October 29-November 1, 2015, in the same place.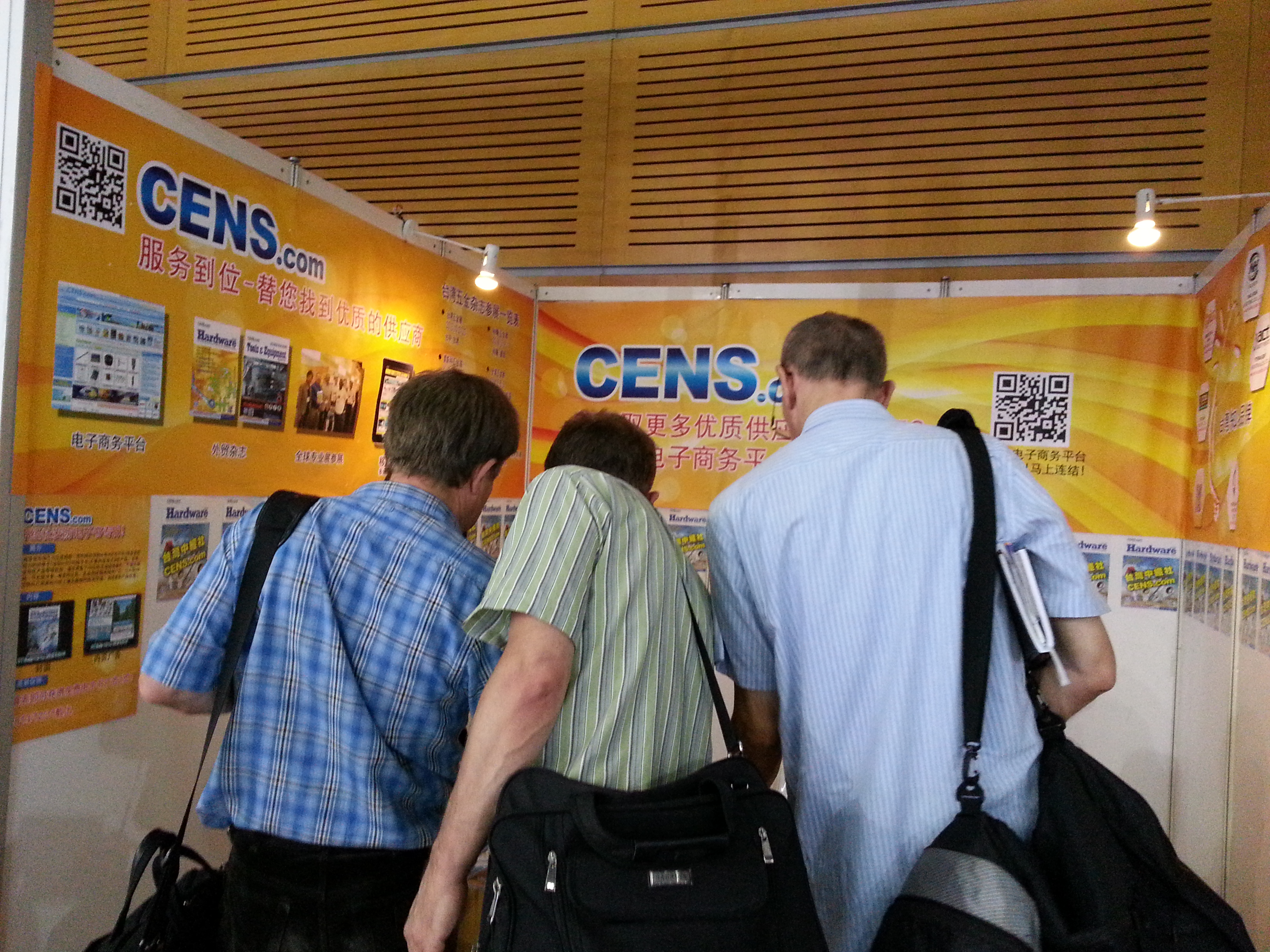 Foreign buyers flock to CENS booth at CPSE 2013.
The Big 5
CENS also attended The Big 5 2013, the biggest construction and building material exhibition in the Middle East.
Organized by DMG World Media, the exhibition was held for the 34th time November 25-28 in the Dubai World Trade Centre, attracting 2,742 exhibitors from 65 countries and 74,962 participants from 140 countries last year. The 12 exhibition halls occupied a total of 91,533 square meters, and accommodated over 30,000 items from building materials, hardware and tools to air conditioners, ceramic, porcelain tiles and bathroom equipment, water equipment, glass and metal, cleansers, stone material, eco-friendly solution and machinery.
Meanwhile, over 148 educational events were held during the show, including the Sustainable Design and Construction Conference, workshops and seminars.
With Taiwan's exports to Dubai steadily surging, to over US$1.6 billion last year, and made up of mostly machinery, auto parts and accessories, plastic products, CENS therefore witnessed its buyer guides, including
Taiwan Machinery, Taiwan Transportation Equipment Guide, Hardware
and related e-book CDs, well received by local buyers, most of whom left contact information at the venue for more business matchmaking services from CENS.
The show's next edition is scheduled for November 17-20.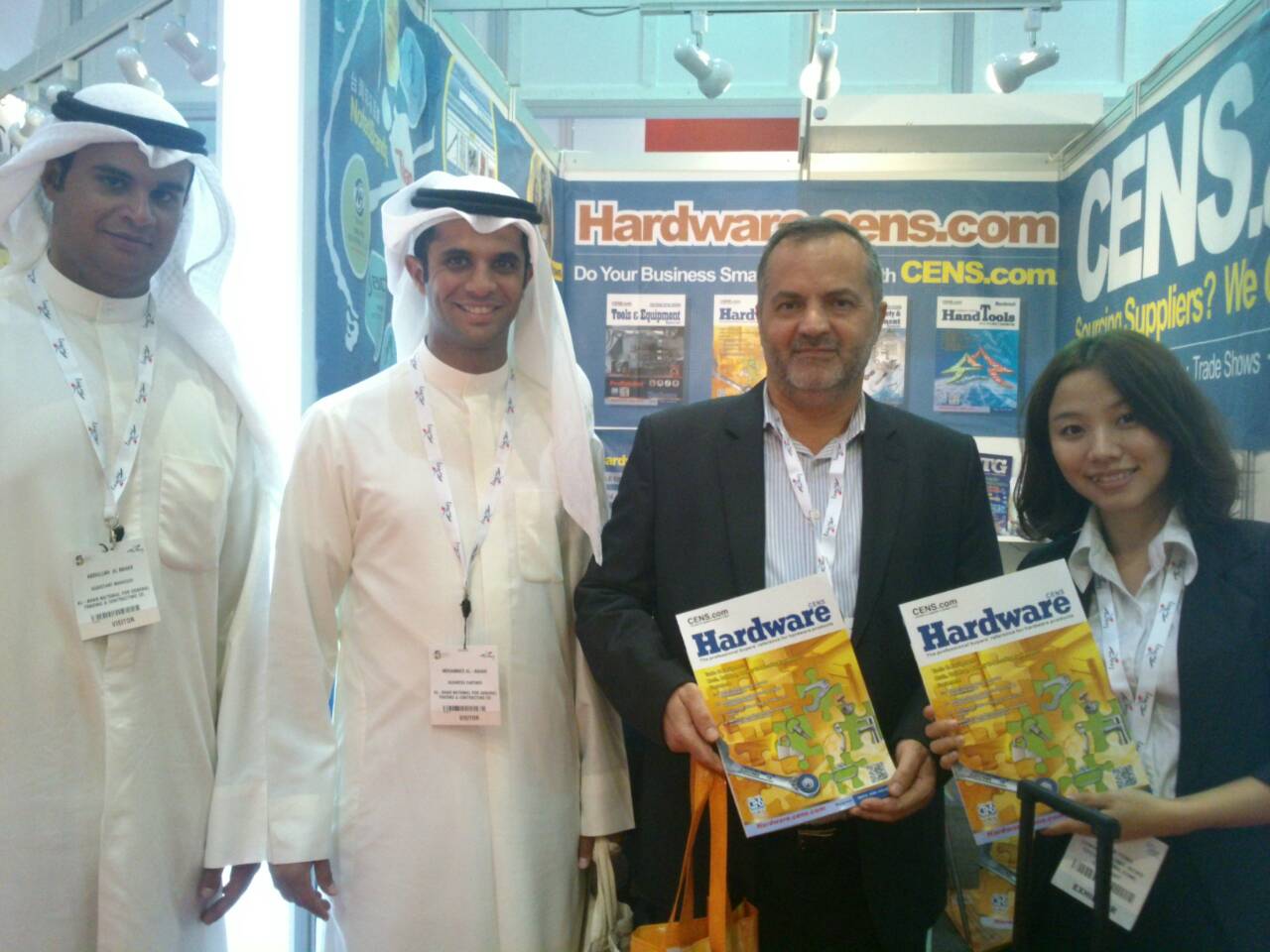 Local buyers at The Big 5 2013 with CENS buyer guides.
CIHS
CENS was at the China International Hardware Show (CIHS) 2013, held November 26-28 at the Shanghai New International Expo Center.
With a venue to accommodate over 2,800 exhibitors from  home and abroad, the CIHS 2013 consolidated its  reputation as the second-biggest trade fair for hardware industries, only next to International Hardware Fair Cologne. More than 50,000 visitors, including about 5,000 foreigners from nearly 90 countries, flocked to the exhibition, which also saw globally prestigious brands such as Stanley Blacker & Decker, Italy's Beta, Poland's Yato, U.S.'s Werner Ladder, and Germany's Crossman, Gedore and Bosch, along with THTMA, which again organized a big exhibitor group to promote Taiwan-made hand tools.
Designated as a media partner, CENS sent its senior representatives to promote buyer guides at the venue to introduce Taiwanese high-quality suppliers to foreign buyers from all around the world.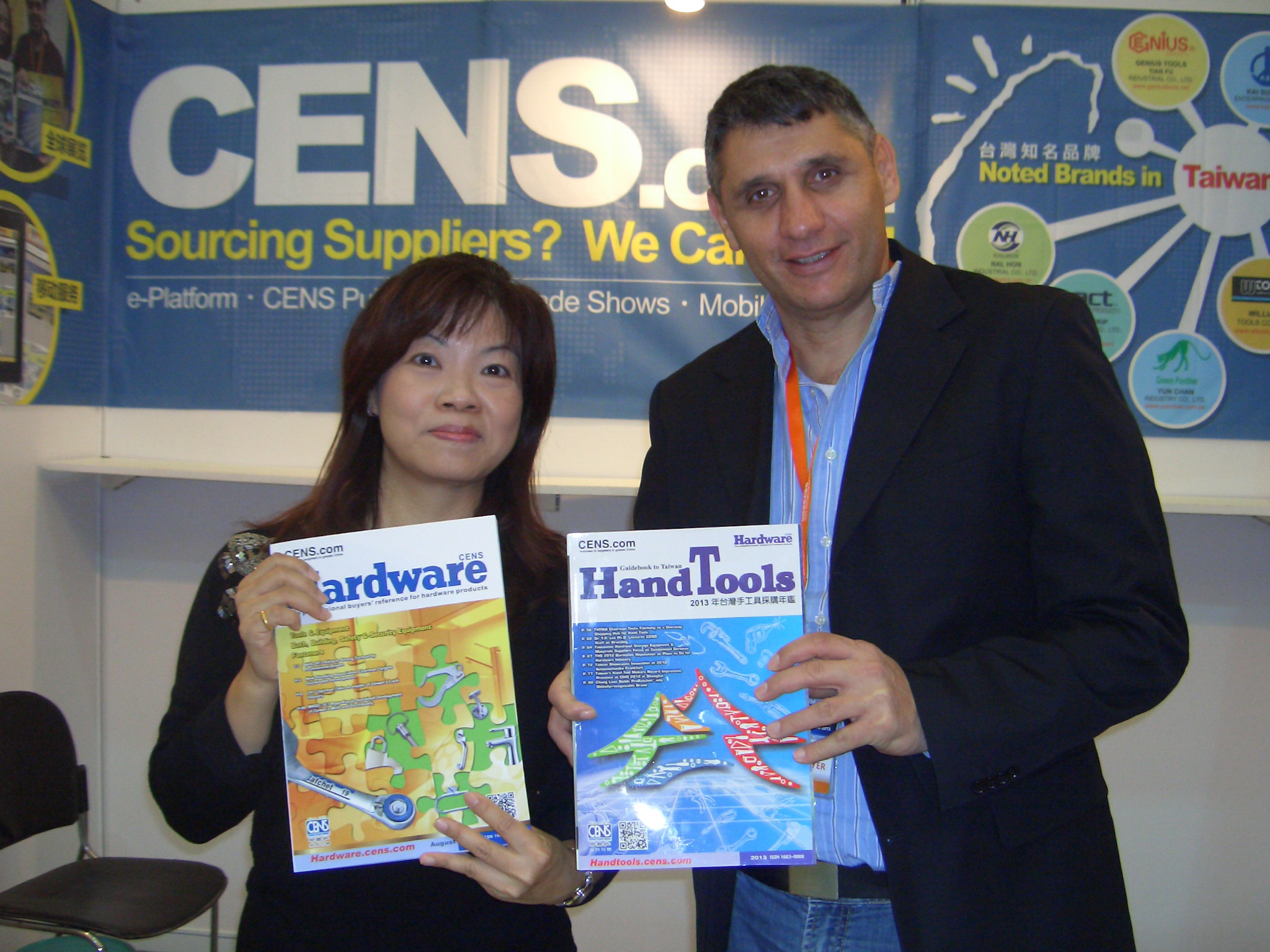 Foreign buyers at CIHS 2013 with CENS buyer guides.
MITEX
As the best-known Taiwanese export media, CENS always targets a country's most well-known trade fair to attend, such as Russia's Moscow International Tools Exhibition (MITEX).
MITEX 2013 was held November 5-8 in the Expocentre Moscow, spread over 20,000 square meters to accommodate 547 exhibitors from home and foreign countries, including the U.S., Austria, the U.K., Germany, India, Italy, Spain, South Korea, Poland, China, Turkey, Ukraine, Japan, etc., also attracting over 11,000 visitors.
Taiwanese exhibitors were mostly concentrated into the Taiwan Pavilion with eye-catching booths, some organized by CENS. With Taiwan-made tools targeted by local buyers as professional-caliber products to increasingly replace competing models from Europe, CENS's representative observed that Taiwanese exhibitors' booths were usually filled with interested visitors, not to mention that CENS buyer guides and digital content in Russian laid out at the booth were particularly sought-after.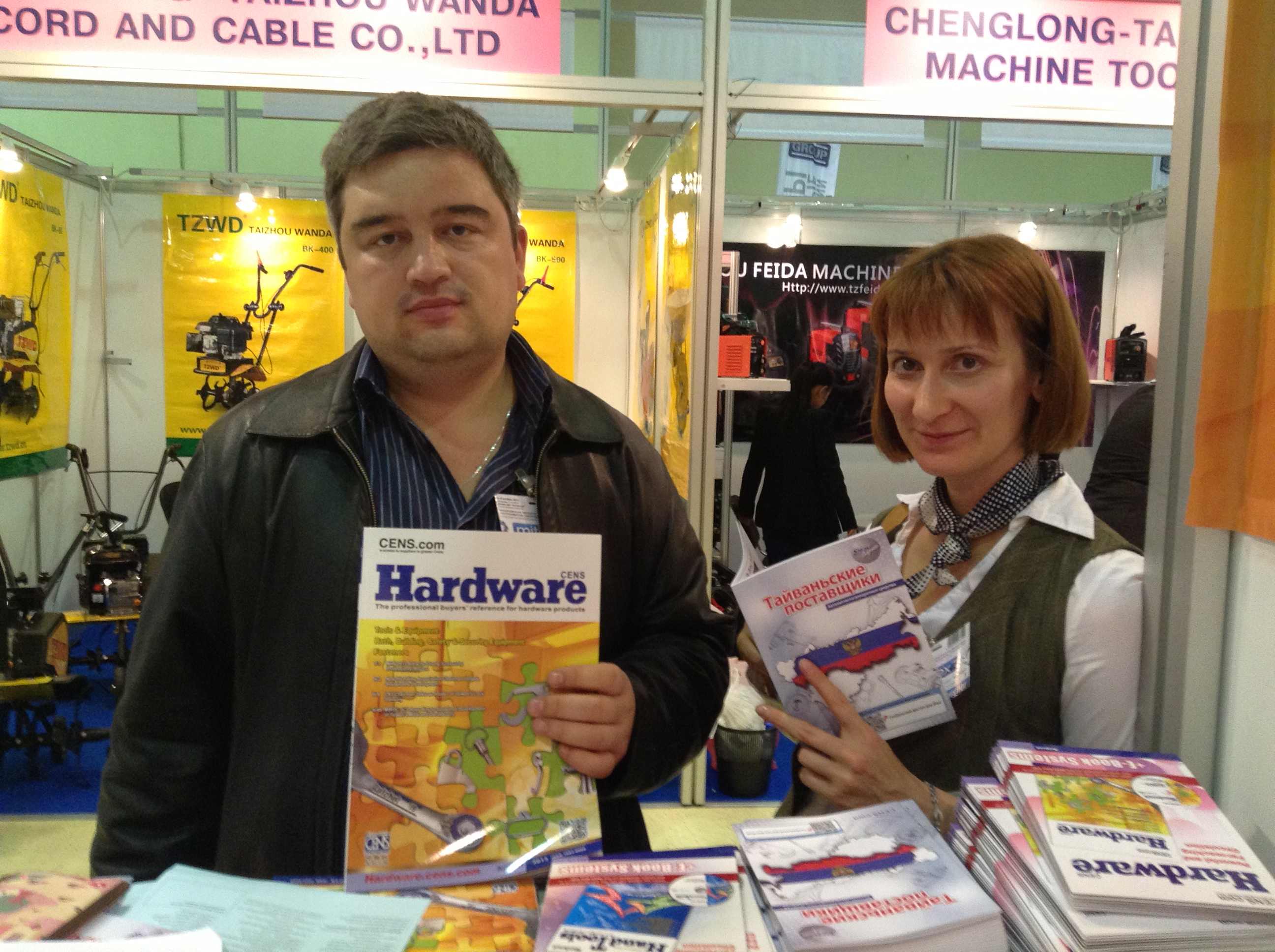 CENS buyer guides in Russian are well-received by local buyers at MITEX 2013.
MITEX 2014 is scheduled for  November 11-13 in the same location. (SC)