A new technology development trend has emerged in the automotive industry, and it is rapidly maturing in conjunction with more and more players jumping onto the bandwagon.

ABI Research, a market intelligence company specializing in global connectivity and emerging technology, says that in-vehicle wearable device integration is the latest trend in automotive with announcements following each other in quick succession : Harman's Advanced Driver Assistance Systems (ADAS) Google Glass integration, Hyundai's Blue Link Glassware application, Mercedes' Pebble smart watch Digital DriveStyle application, BMW's i3 EV Samsung Galaxy Gear smart watch integration, Nissan's Nismo concept smart watch displaying biometric and vehicle diagnostics and performance data, and INRIX's real-time traffic Google Glass demo app. Logically following in the wake of in-vehicle smartphone integration, wearable form-factors will interface – directly or via phones – with more than 90% of vehicles shipping globally in 2019.

"With in-car infotainment becoming a key customer proposition, the automotive industry is designing user interfaces both offering a rich and convenient experience and guaranteeing safety by preventing driver distraction. While head unit proximity touch screens, heads up displays and speech recognition are now well established, the quest for next-generation automotive HMI is still on with gesture recognition, eye control and augmented reality edging closer to implementation. At the same time, wearable form-factors are being explored bearing testimony to the automotive industry's objective to keep up with consumer electronics innovation. But they also contribute to creating a seamless digital user experience inside and outside the vehicle," says ABI Research's VP and practice director, Dominique Bonte.

However, the use of wearable computing devices in cars is controversial with many governments dismissing them for safety reasons. Legislation banning eyewear is already prepared in several U.S. states and in the U.K. But jurisdiction seems to be lacking as illustrated by cases dismissed on grounds it could not be proven the device was either switched on or a distracting application used, the research firm says. Clearly, it is not the form-factor which should be banned but certain use cases such as watching videos.

Eyewear functioning as dash cams or for displaying blind spot or collision safety alerts will contribute to safer driving, not deter it. At the same time wearables will kick start a thriving aftermarket connected car application ecosystem, the company adds.

Remote Convenience
One of the latest examples of the above-mentioned development trend is Mercedes-Benz having given a glimpse of the future that redefines device integration and remote convenience.

Mercedes-Benz announced a strategic partnership with Pebble Technology at the 2014 International CES, the largest consumer electronics show in the world held in January in Las Vegas. These invaluable partnership gives Mercedes-Benz early access to some of the newest hardware and early releases of application programming interfaces (APIs) offered by the Silicon Valley-based company, allowing it to develop innovative integrated applications that pave the way for the future of in-vehicle use cases.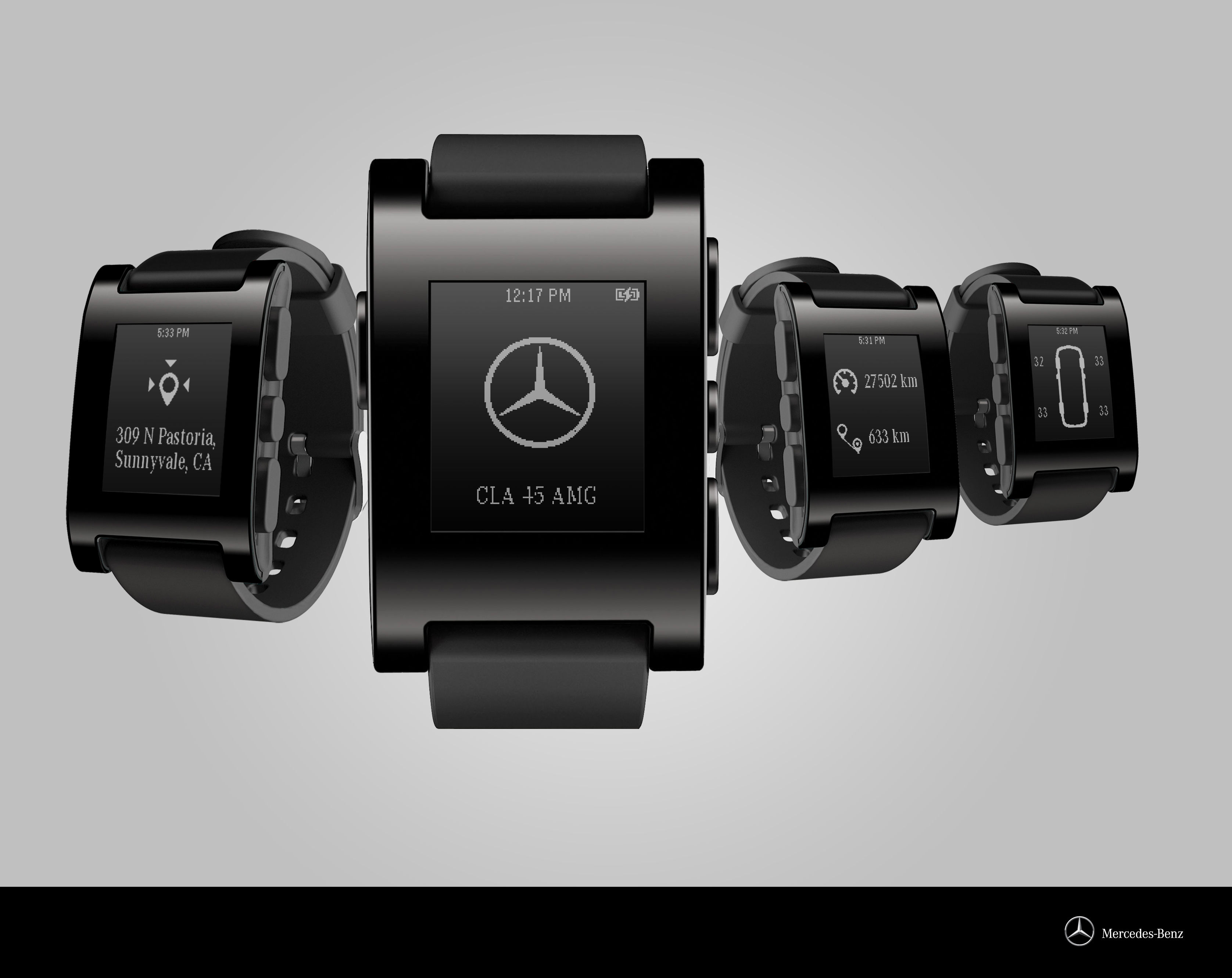 Seamless Integration of Wearable Devices: Pebble Smartwatch.
At its CES booth, Mercedes-Benz demonstrated a smartwatch that can be used with several car models from the auto-maker. Drivers can use the smartwatch, designed and manufactured to check on fuel level, location and door lock status.
The Pebble smartwatch connects seamlessly to your iOS or Android device using Bluetooth technology, and alerts you of incoming calls, emails, and text messages. There are also over 1,000 Internet-connected apps available for download including customizable watchfaces, fitness apps and music.
Wearable device integration: enhanced vehicle diagnostic awareness and multi-sensory notifications. (photo of Mercedes-Benz)
When hopping into their car, the companion Pebble smartwatch app transforms, alerting its driver to real-time hazards through vehicle-to-vehicle (V2V) technology like accidents, road construction, or stalled vehicles by vibrating the watch.