Sales of new cars in Taiwan contrasted the falling stock and housing markets in January. A total of 44,301 units were sold during the first month of 2014, up 13.6% month-on-month (MoM) and also a 4% increase year-on-year (YoY), according to statistics compiled by the Ministry of Transportation and Communications (MOTC).

Automakers pointed out that their January sales could be even better, if production caught up with the strong demand for some new, full-sized models. As deliveries were delayed due to supply shortage, these automakers said that the overall market is expected to continue to be on an uptrend in February and March.

Kenneth Yen, Yulon Group's chairman and CEO, pointed out that his group's Luxgen sport utility vehicle (SUV) was a hit in Taiwan by wining both the top-two positions with its U6 and U7 SUV models. Luxgen sold 3,101 units in January, up 475.3% MoM and 92.3% YoY, hitting a record market share of 7% and the best-ever monthly ranking for  the No. 4 auto seller in Taiwan. At Yulon Group's new-year party, Yen forecasted that new-car sales in Taiwan are expected to challenge 400,000 units in 2014.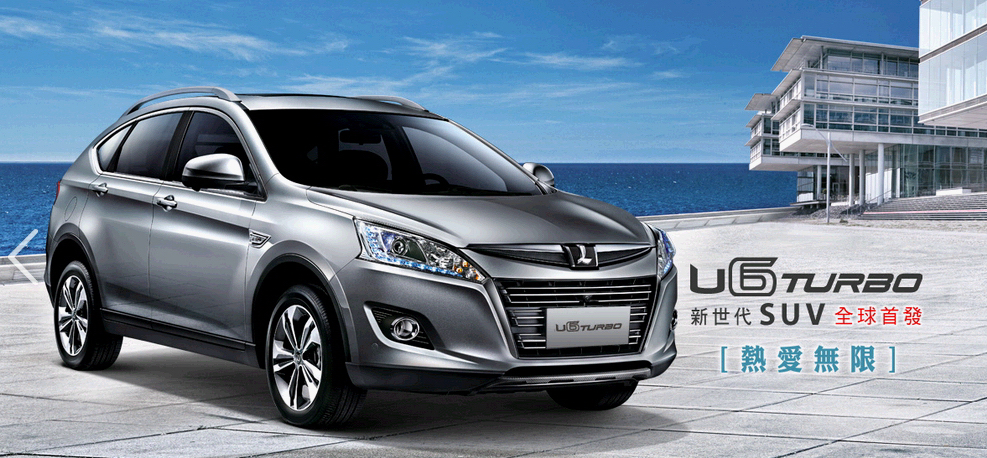 The Luxgen U6 SUV helped the domestic carmaker to hit record best ranking No. 4 in January 2014.
Yulon Nissan Motor Co., agent of Nissan, and China Motor Corp. (CMC), agent of Mitsubishi, were the No. 2 and No. 3, respectively, in January. Yulon Nissan sold 5,921 new cars, up 35.9% MoM and 18.2% YoY; while CMC sold 4,719 units, a 39.7% MoM increase but a 11.7% YoY decline.
Industry sources said that strong demand for new cars materialized in Q4, 2013, and yet many auto vendors are still facing supply shortage. Hotai Motor Co. Ltd., local agent of Toyota and the long-term No. 1 auto seller in Taiwan by market share, said that it delivered only 13,399 units in January, a 2% MoM increase but a 6.8% YoY decrease, due to serious supply deficiency. However, Hotai still won a market share of 30.2% in the first month of the year.
Extremely hot sales of Hotai's locally assembled new Toyota Altis sedan are expected to further elevate the vendor's market share. In the past few months after the local debut of the Altis, Hotai's affiliated Kuozui Motors Ltd., the local assembler of Toyota, has been busy in pushing more Altis, but a big portion of the locally assembled new Altis have to be exported to the Middle East market through Toyota's sales channel.
Both the No. 7 Mazda Taiwan and No. 8 Mercedes-Benz Taiwan enjoyed over-30% YoY sales increase in January.
In January, more than 6,000 imported cars were sold in Taiwan, up 24.6% from a year earlier; and many luxury brands hit record monthly sales volumes on the island during the month, including Mercedes-Benz, Volvo and Audi.
Industry experts attributed the eye-catching sales of imported luxury car brands to the seasonality factor, as well as the recent international auto show in which car vendors offered more incentives.
Mercedes-Benz Taiwan announced that it sold 1,815 new cars in Taiwan in January, up 38.3% YoY from 1,312 units. In addition to hot sales of its entry-level A- and B-class models, strong demand was also seen for the top-end S-class.
Volvo Car Taiwan sold 597 units in January, a record monthly high for the vendor  since establishment.
New-car Sales by Top-8 Dealerships in Taiwan (Jan. 2013)
Vendor/Brand

January Volume

MoM

YoY

Share

Hotai Motor / Toyota

13,399

2.0%

-6.8%

30.2%

CMC / Mitsubishi

5,921

35.9%

18.2%

13.4%

Yulon Nissan / Nissan

4,719

39.7%

-11.7%

10.7%

Luxgen Motor / LUXGEN

3,101

475.3%

92.3%

7.0%

Ford Lio Ho Co. / Ford

2,670

6.4%

2.3%

6.0%

Honda Taiwan / Honda

2,464

-20.4%

-18.9%

5.6%

Mazda Taiwan / Mazda

2,156

33.7%

36.5%

4.9%

M-B Taiwan / Mercedes-Benz

1,815

7.3%

38.3%

4.1%

Overall Market

44,301

13.6%

4.0%

100.0%

Source: MOTC