The trend towards eco-friendly building design is welcome news for both the earth and green product manufacturers
By MICHELLE HSU

From typhoons and floods to global warming, Mother Nature is making her ire over ecological destruction felt with increasing intensity. Countries around the world are heeding the message with redoubled attention to environmental protection, increasingly in the form of green building design.

The green movement has spread to a range of product categories that now balance the pull of profit with the needs of the earth. Among these, green buildings can potentially have the greatest impact given their long service life and effect on energy savings. Consequently, they are now playing a star role in conservation policies around the world.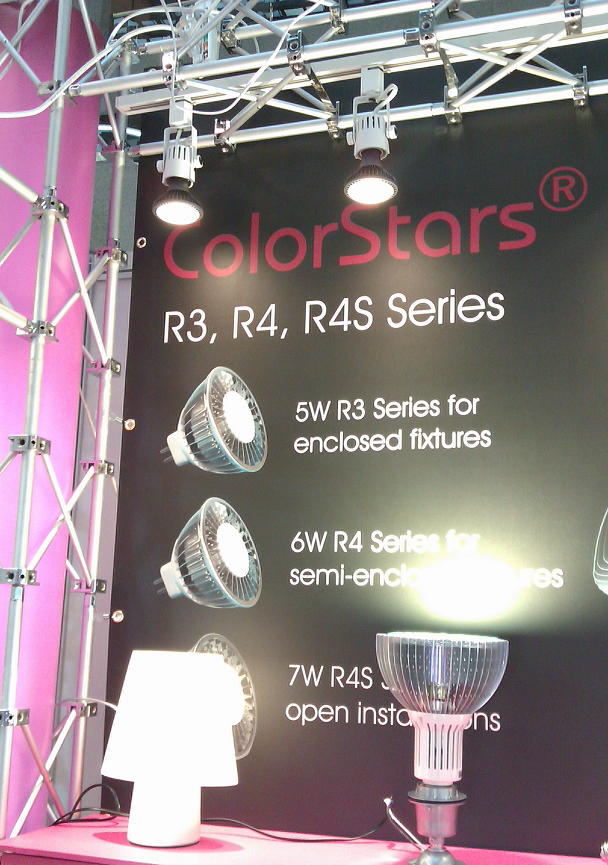 The rise of green buildings is expected to fuel demand for green lighting.
According to the Taiwan Green Building Council (TGBC), lighting and air-conditioning are two key components in the energy-saving of green buildings. For this reason, the rise of green buildings will undoubtedly be one of the main driving forces fueling market demand for the new generation of energy-efficient lighting.
Green Building Certification
To encourage the construction of energy and resource-saving, low-polluting buildings in Taiwan, the Ministry of the Interior (MOI) commissioned the Taiwan Architecture and Building Center (TABC) in 1999 to draft guidelines for "Green Building" certification. The guidelines outline testing and examination procedures that companies should follow to ensure their office buildings or factories meet environmental specifications.
The TABC began accepting applications for green building certification on September 1 that same year. At the time, a total of seven audit standards were applied to determine whether or not a building met the building standards of "minimum consumption of natural resources, and minimum production of waste products."
In response to rising public demand for environmental protection, the testing criteria were increased in 2004 to include nine benchmarks and a more stringent definition of green buildings as "ecological, energy-saving, waste-reducing, and healthful buildings."
Since 2002, all public work projects costing over NT$50 million must comply with at least two of seven Green Building evaluation benchmarks, and the issuance of construction permits is contingent on passing inspection by a "Green Building" review committee. This provision has had a positive effect on advancing green building concepts in Taiwan.
"Green Building" certification in Taiwan is divided into two categories: "Candidate Green Buildings" and "Certified Green Buildings." The former is designed to encourage the procurement of construction permits for new buildings that have not yet received use permits. The "Certified Green Building" certification applies to buildings that have obtained use permits or have existing legal permits and meet the "Green Building" evaluation benchmarks.
Focus on Energy-saving Lighting
According to TABC, the life cycle of most buildings is at least five or six decades. All of the various stages involved, from the production of building materials and construction transportation to daily use, maintenance and dismantling, consume a great deal of energy. The biggest energy users of all are air conditioning, lighting, and elevators.
Much of the focus of green building assessment is therefore focused on the big daily energy hogs: air conditioning and lighting. The daily energy-saving benchmarks are defined as the combined power efficiency of air conditioning systems and lighting systems during the peak summer period. Among the best strategies for reducing a building's lighting energy footprint are to use bright colors on interior wall and ceiling surfaces, install high-efficiency lighting, maximize natural lighting in the design, and  install automatic lighting control systems.
Apart from this, the energy saving requirements for external energy use are 20% stricter for green buildings than normal energy efficiency rules. The main assessment items include the building's exterior thermal load ratio, air-conditioning efficiency ratio, and lighting energy-saving ratio. The proportion of renewable energy used is also considered in the assessment.
Getting Up to Standard
In terms of lighting energy use, the green building benchmarks stipulate the following requirements:
*The interior areas should have ample window surfaces to take advantage of natural light.
*Use of low-efficiency lamps, such as incandescent light bulbs, halogen lamps, and mercury-vapor lamps should be minimized.
*Lighting used in general spaces should have fixed electronic devices and fluorescent lamps with highly reflective coating, where possible.
*High spaces should maximize use of high-efficiency, light-casting metal halide lamps or sodium vapor lamps.
*Use light platforms and casting lamps in place of bright ceiling lighting in work spaces used for reading, drawing, sewing, operating rooms, and other areas involving precision work.
*Avoid use of excessive or unnecessary lighting.
*Coordinate switch controls with interior work patterns so that lighting can be switched off when a partitioned space is unoccupied.
*Set automatic dimming controls, and automatic infrared lighting controls.
*Set the switch off point function on automatic daylight controls.
*Use bright interior colors to enhance illumination.
Green Light for Green Lights
With the notable benefits of low energy usage, long life and stable illumination, green lighting play a crucial role in the successful certification of a green building.
In recent years, energy-efficient lighting has steadily advanced with the introduction of new light sources and integrated electronic control systems, all of which have polished the appeal of green lighting.
Used in combination with a building's energy saving functions, green lighting can play an even more dramatic role. For example, a well-planned interior lighting plan, using the most suitable lamps in a given context, can simultaneously save electricity and create the optimal atmosphere. Some green buildings expertly match natural and artificial light to create naturally bright environments with a welcome ambiance. There are several types of green lighting, including the following mainstays:
Fluorescent Tubes:
Fluorescent lighting has benefited from new technology in terms of both light quality and level of energy savings. Compared with other light sources such as incandescent and LED light bulbs, fluorescent lamps emit a broader and more evenly distributed light. The lighting settings are also very neat and simple, making them suitable for use in offices, classrooms and other such environments. Slim sheet glare-reducing fluorescent lamps can also be used for smaller spaces, such as desktops.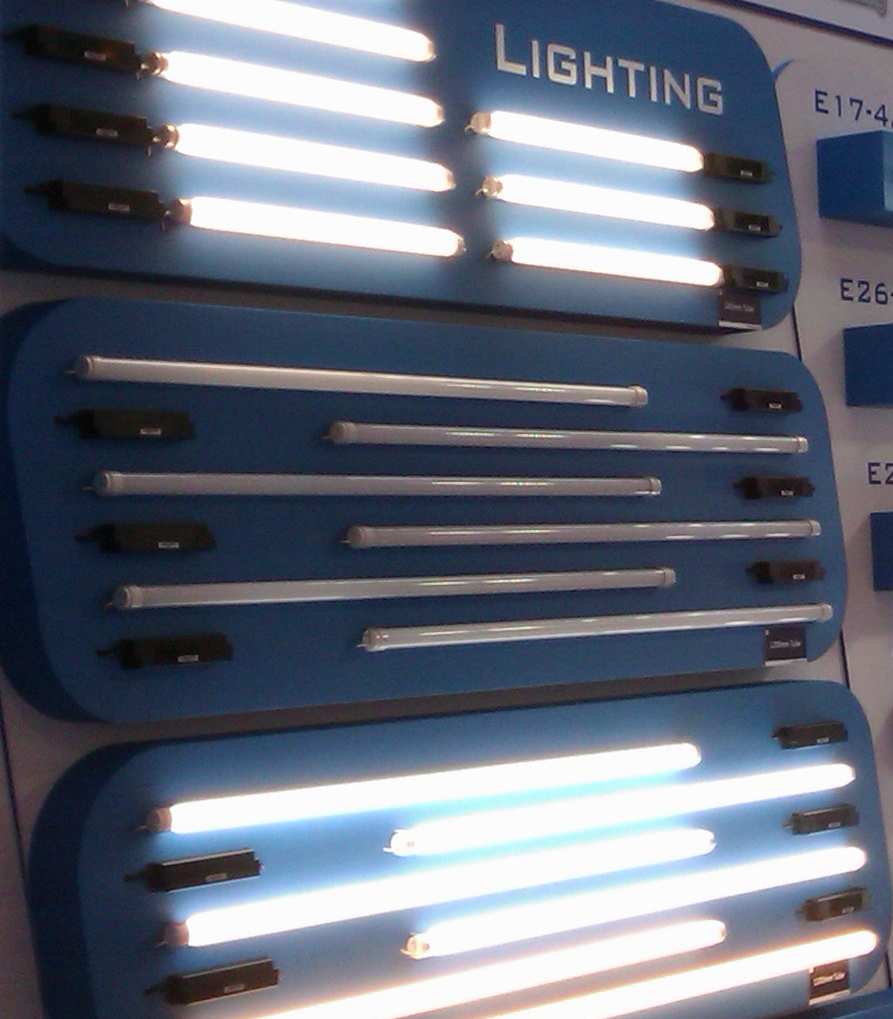 Fluorescent lamps emit a broad and evenly distributed light.
Energy-saving Bulbs:
Traditional energy-saving bulbs claim to use less than half of the energy required by incandescent lighting for the same lighting effect. These bulbs also have long life, greater durability and many other advantages. They are also compact in size and thus well-suited for use in small spaces.
If the lamps are properly designed, they can also render a particular ambiance to create different atmospheres. For example, a small coffee table in the corner of the living room can become a cozy little space with a well-designed shade on an energy-saving bulb table lamp; and one or two lamps can be suspended above a dining table to give off a pale yellow light to cast the food in a pleasing light. Compared with fluorescent lamps, energy-saving light bulbs are more compact and provide 360-degree illumination, making them the choice light source for many artistic applications.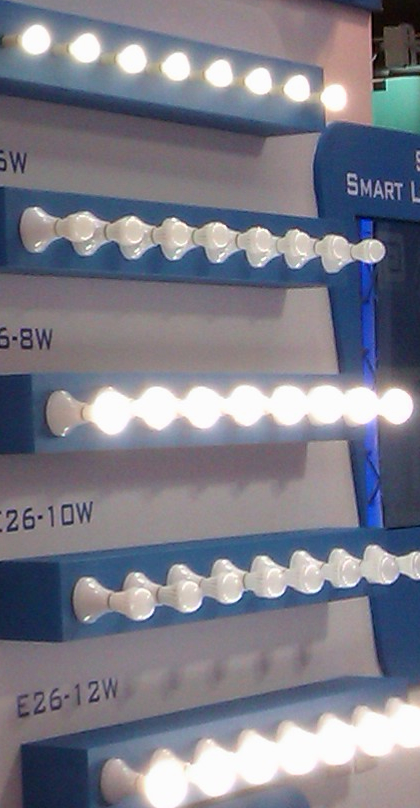 A single energy-saving light bulb is enough to provide good lighting.
LED Bulbs:
Light emitting diode (LED) lamps are generally made by grouping an array of LED bulbs together to increase brightness. In such configurations, they can be used in traffic lights, car headlights and other applications where bright lighting is required. One of the features of LED arrays is that there is very little blurring with distance, meaning that the lights are clearly visible even from a distance.
LED lights also come in a full spectrum of colors, further broadening their range of applications. LED arrays can also be covered to soften and evenly distribute the light for use in street lights, desk lights and other types of lighting.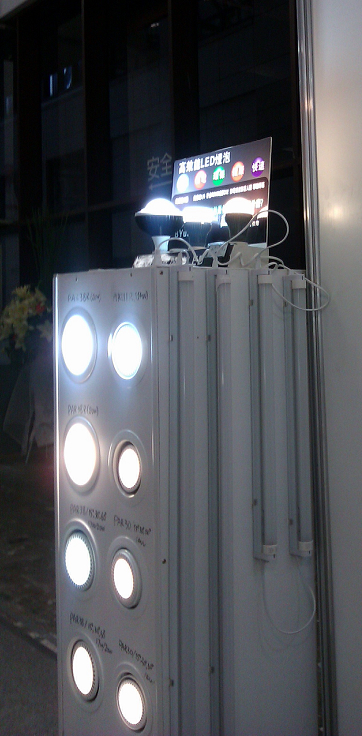 LED lamps are vigorously promoted by the lighting industry.
Induction Lamps:
Induction lamps, also called electrodeless discharge lamp (EDL), are a new breed of fluorescent lamp with a new type of light emission principle. When these lights are powered on, a magnetic ring takes the current and generates a low (250KHz) frequency magnetic and static electromagnetic field that produces light. This technique reduces operating temperature and light deterioration, while increasing lamp life, relative to traditional fluorescent lamps, mercury lamps, high-pressure sodium lamps, and metal halide lamps.
Introduced in the 1990s, EDL lamps can last up to 100,000 hours and have extremely high light efficiency: about 90lm/w. At present, EDL induction lamps are already in wide use in factory plant lighting around the world (replacing mercury lamps), in street lighting (replacing high pressure sodium lamps), in tunnel lighting (replacing metal halide and HPS) as well as gas station lighting, landscape lighting and other environments.

Induction lamps are gaining market traction worldwide.
Electronic Components
Energy-saving light sources are also often used in combination with electronic components to further increase energy efficiency and lighting. Among these devices, energy-saving electrical ballasts are key players. Unlike older models, new electronic ballasts work without a starter, reduce light flicker and extend the life of the light source. If people use unqualified or unsuitable electrical ballasts, they may cause unnecessary energy waste and shorten lamp life. The light flicker can also exacerbate myopia.
Other items, such as infrared controllers and lighting control systems, reduce light wastage when time settings are selected appropriately. Some green buildings install renewable energy systems, such as solar panels, and use natural light sources to reduce electricity use. In addition, well-designed exterior wall light capture can reduce lighting needs.
When designing and constructing green buildings, it is also important to consider the building as a whole, looking at both internal use and the external structure to get the best results from green lighting. A variety of lamps on the market have sufficiently bright light sources to meet all sorts of lighting needs. These lamps can be a strong ally for builders seeking to hit the benchmarks and make their buildings truly green.