The projects are designed to promote the formation of industrial clusters around major LED-lighting manufacturers
By CARMEN LO

An estimated 1.32 million LED streetlights with a value of around RMB8.6 billion (US$1.4 billion) have been installed in China since the Chinese State Council began pushing an aggressive LED-streetlight demonstration program named "Ten Cities, Million Lights" in 2009.

This program alone accounted for around half of the global market for LED lights in terms of value, and about 32% in terms of volume.

The ultimate goal of the three-phase streetlight program is to install two million LED streetlights in 50 cities across the mainland, thereby saving one billion kilowatt hours of electricity a year. Twenty-one cities were designated as pilot demonstration locations for the first stage, which began in 2009, and 16 others joined them in the second stage, starting in 2011. Most of the streetlights have been installed along roads and railways, at gas stations and parking lots, and in tunnels.

The program was designed to promote the formation of industrial clusters around major LED-lighting manufacturers. However, not all has gone smoothly; over 90% of the contract suppliers have yet to be paid by local governments responsible for implementing the lighting projects, and the local governments say that they have not yet received funding expected from the central government. In addition, critics have complained that most of the lights installed so far are substandard.

Since more than 20 of the 37 designated demonstration cities for the first two stages are in southern China, the industrial clusters have naturally developed in the south and the major markets for the lights have formed in the Pearl River and Yangtze River delta areas, along with Fujian and Jiangxi provinces.
Since streetlights are normally installed by government public-work projects all over the world, in China, as in the rest of the world, the LED streetlight industry has grown much faster than the consumer LED lighting industry.

Sky Resources
Sky Resources Solar Technology (Zhongshan) Co., Ltd., a member of the Sky Resources Group, was founded in 2000 to produce around 1,000 types of green-energy equipment including solar streetlights, solar garden lights, solar lawn lights, solar grids, independent power stations, mono/poly crystalline solar modules, solar inverters, solar PV controllers, LED outdoor lighting, LED commercial lighting, solar sensing communication systems, and intelligent power station management software.



Sky Resources' solar streetlights can shine for 35 days in a row, even in rainy and cloudy environments.
The company makes its products to ISO9001 and ISO14000 quality standards with cutting-edge inspection instruments from Germany, Taiwan, and Japan, and has installed an Enterprise Resource Planning (ERP)/Office Automation (OA) system. So far, the firm's 70-plus R&D engineers with doctorate and masters' degrees have helped win four invention patents, several utility patents, and 71 exterior design patents. One of the patents enables the company's LED streetlights to deliver an energy saving of 80%.
Sky Resources turns out 50,000 LED streetlights with a value of around RMB100 million (US$16.6 million) a month, all of them certified CE, 3C, UL, IEC, RoHS, and SGS. It has been contracted to install over 380 independent power stations and 130-plus solar streetlights at home and overseas. Unique techniques allow the lamps to give off light all year round regardless of sunny day or not.
Weihai Dongxing
Founded in 1996 in the Weihai High-Tech Industrial Development Zone in Shangdong Province, Weihai Dongxing Lighting Co., Ltd.  makes electroless lamps, LED lights, and LED power supplies.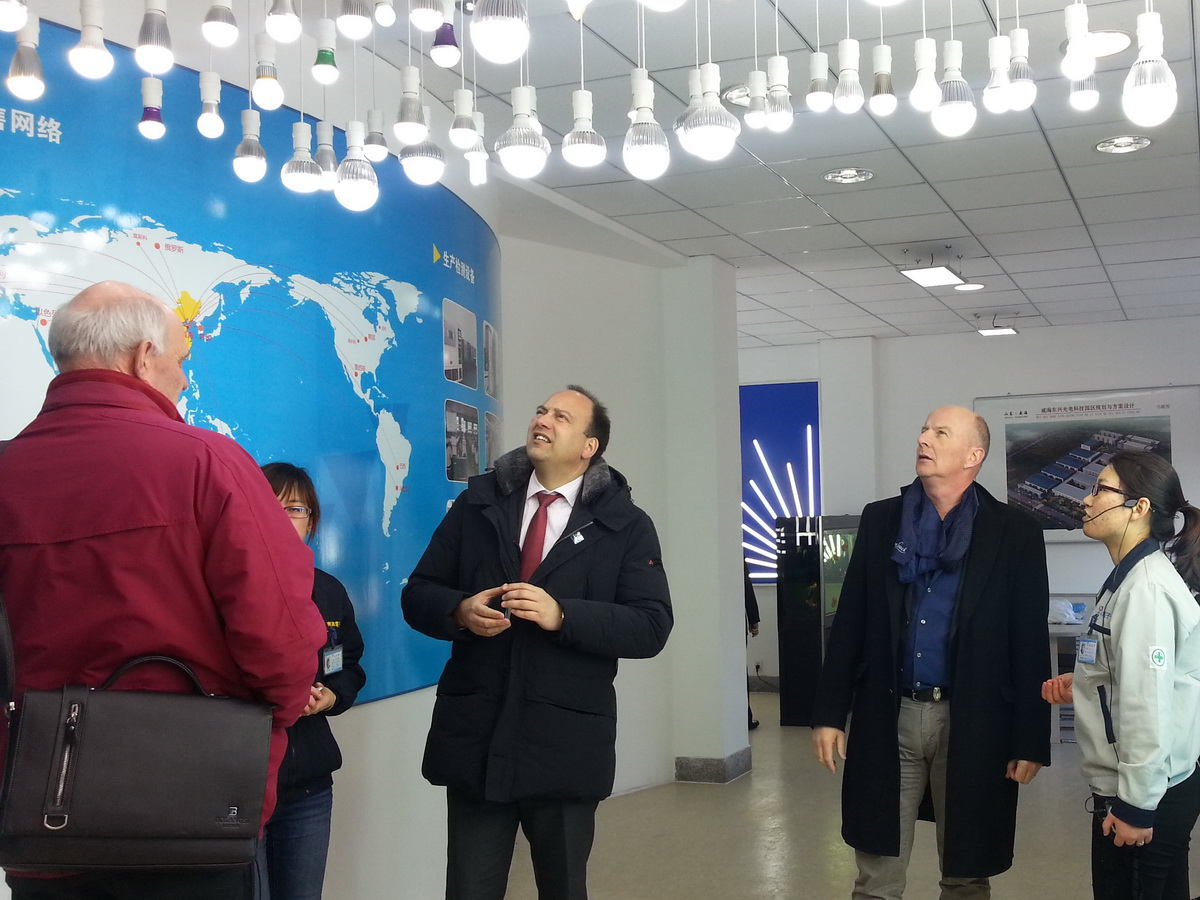 A Dutch trade delegation visits Weihai Dongxing
Weihai Dongxing Lighting is one of  the organizations engaged in the drafting of China's national standards for electroless lights, and the only electroless-lamp supplier in China capable of supplying total solutions. It is also a director of the China Association of Lighting Industry and the China Electroless Lighting Association.
The company has 500-plus employees, including more than 50 R&D engineers who have won 65 patents, 34 of them for inventions.
The firm enjoys ISO9001 and ISO14001 certification, and some of its products carry CQC, CCC, CE, VDE, UL, and FCC approval. It has established a RoHS testing laboratory and separate laboratories for testing product reliability, electromagnetic compatibility, and light sources.
Thanks to their top-grade technology and quality, the company's inverters have been integrated into heavy-duty equipment used in the transportation, communications, firefighting, and power electronics industries, as well as household appliances. Among the firm's foremost inverter customers are Siemens, Matsushita, Samsung, Hisense, SL, CSR, and Shanghai MOON's Industries.
Jiangsu Cheng Shin
Jiangsu Cheng Shin Electric Group Co., Ltd., founded in 2003 in Yangzhou, manufactures traditional outdoor lighting, commercial lighting, industrial lighting, LED streetlights, outdoor solar lights, landscape lights, and lights for architectural beautification at night.
With a solid design capability, excellent R&D engineers, and advanced manufacturing equipment, the company has won many patents, including one together with Sharp of Japan. It has entered into a strategic partnership with LED maker Seoul Semiconductor, and with China University of Petroleum Beijing and Southeast University, for the development of green-energy technologies.
In 2014 the company introduced an LED lighting module without an integrated power supply, which gives it a longer lifespan than traditional lights. Chip-on-board packaging assures high luminous efficacy of the module, and its rational mechanical design makes the module cost efficient.
The company has won CE, 3C, CGC Solar, and SGS approval, in addition to ISO9001 and ISO14001 certification. It ships most of its products to Japan and other neighboring countries.