With their home market saturated and under attack from more price-competitive luxury imports, automakers and assemblers in Taiwan are looking overseas for salvation.

In 2013, imported cars accounted for more than 30% of Taiwan's automobile market, with Mercedes-Benz, BMW and Volkswagen entering the top-10 rankings and outselling many locally-assembled makes. Taiwan's new-car sales in 2013 increased by about 4% to about 380,000 units, but sales of locally assembled cars were nearly flat.

Export Surge
For many local automakers, the call to export came with the economic downturn in 2008, when new-car sales in Taiwan suddenly froze. At the time, the domestic industry was focused largely on the local market since most automakers were primarily recipients of technology from foreign partners. Local auto assemblers began aggressively exporting locally assembled cars through their partners' sales channels in 2009. In 2013, the total export volume has grown by a factor of eight to about 82,000 units. Taiwan's car export volume is expected to further climb to about 100,000 units in 2014 thanks to the cost competitiveness and high quality level of local makes.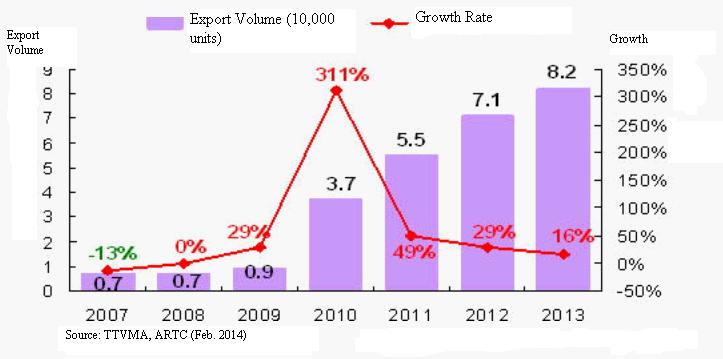 Taiwan's Assembled-car Exports (2007-2013)
Major auto exporters in Taiwan include Kuozui Motors Ltd. (a joint venture between local Hotai Motor Co. and Toyota Japan), China Motor Corp. (CMC, an affiliate of domestic Yulon Group and the local assembler of Mitsubishi cars), Ford Lio Ho Motor Co. (a subsidiary of Ford Motor of the U.S.), and Yulon Motor Co. (local assembler of the group's LUXGEN own-brand cars and Nissan models).
With strong support from Japan's Toyota, Kuozui has been the largest auto exporter in Taiwan. In 2013, the company exported about 79,000 Toyota cars, mainly to the Middle East, accounting for 96% of the island's overall automobile exports. Through its technical partner Mitsubishi Japan, CMC began exporting locally assembled Mitsubishi Lancer Fortis sedans to the Middle East (including Saudi Arabia and the U.A.E.) in 2013, with a total export volume of about 3,000 units.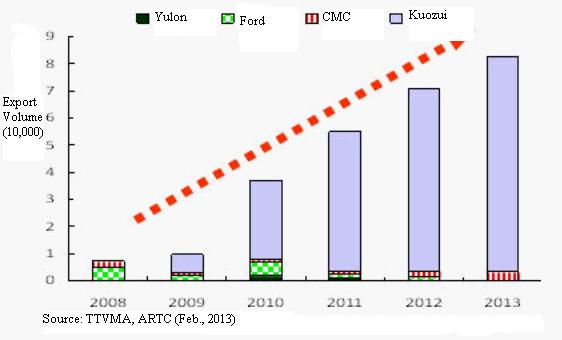 Taiwan's Assembled-car Export Share (2008-2013)
Ford Lio Ho has been exporting locally assembled Ford Escape sport utility vehicles (SUVs) to different markets, such as Japan, Australia, and New Zealand, but volume has been limited.
Yulon exported its homegrown LUXGEN makes to Vietnam, the Middle East, and Russia. It established a joint venture in China, the Dongfeng Yulon Motor Co., Ltd., to locally assemble and sell LUXGEN cars there. It also set up Derways Automobile, a contract assembler in Russia. Yulon also contract supplies the locally assembled Nissan Cabster light trucks to affiliate Yulon Nissan, which exports the trucks to some overseas markets.
Under the commission of Industrial Development Bureau (IDB) of the Ministry of Economic Affairs, Taiwan's Automotive Research & Testing Center (ARTC) kicked off a series of projects to help local automakers improve their overall competitiveness in product development, design capability, production processes and quality control to help them link with the international automobile industry. In addition, the center helps local automakers improve the production and management efficiency of their operations overseas, mainly in China.
ARTC points out that the increasing export volume of Taiwan-made passenger cars has opened up new prospects for the island's automotive industry, helping the sector to build scale of economy and foster a supporting network of domestic auto-parts suppliers.
Over next few years, the center adds, Taiwanese automakers are expected to win more opportunities to export locally assembled cars, thanks to their good quality and cost competitiveness. On the other hand, ARTC says, Taiwan and China are in intensive talks over product categories applicable for tariff reductions or exemptions under the Economic Cooperation Framework Agreement (ECFA). Any progress in reducing the tariffs applied on Taiwan-exported cars to China could give wings to the island's automotive industry.