Global sales of plug-in electric vehicles (PEVs)–including plug-in hybrid electric vehicles (PHEVs) and battery electric vehicles (BEVs)–increased by about 40% in 2013 to top 210,000 units. The biggest markets for such environment-friendly transportation vehicles were the United States (96,000 units), Japan (29,000), and the Netherlands (23,000), according to Taiwan's Automotive Research & Testing Center (ARTC).

ARTC attributes the high volume of electric-car sales in the United States to consumer environmental awareness, a wider model selection range, including popular models such as the Chevrolet Volt, Nissan Leaf and Tesla Model S.

The Volt is an extended range electric vehicle (EREV), whose gasoline engine acts as a generator to charge the lithium-ion (Li-ion) batteries onboard, offering a range of more than 400 kilometers. The EREV fits well to the longer-range requirement from inter-city drive in the United States, making a popular EV choice there. American premium electric-car maker Tesla's Model S is another success story in the EV industry. By correctly targeting the upper segment, the premium electric car's high performance and long range have attracted affluent buyers. Global sales of the Model S are also heading rapidly higher.

Japan & Netherlands
Sales of electric cars in Japan, the world's second-largest EV market, focused mainly on three most popular models in 2013, including the Nissan Leaf BEV, Mitsubishi Outlander PHEV, and Toyota Prius PHEV, which together command an 85% market share in the nation.

In the Netherlands, top-three best-selling electric cars were all PHEVs, including the Mitsubishi Outlander PHEV, Volvo V60 Plug-in, and Toyota Prius.

World's Top Models
ARTC says that Nissan Leaf was the most popular PEV model in 2013 in the global market with sales reaching 47,484 units, followed by Chevrolet Volt (about 28,252 units), Toyota Prius Plug-in (23,075), Tesla Model S (22,186), and Mitsubishi Outlander PHEV (18,444).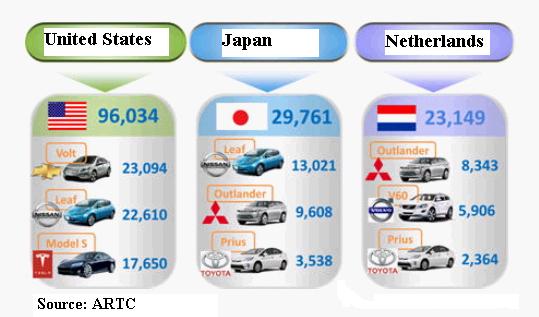 Best-selling Electric Cars in World's Top-3 Markets (2013)
The 2014 global PEV market is expected to further expand as other auto makers roll out EV models, including the Smart Fortwo, Volkswagen e-UP and BMW i3. EV sales by the said three newcomers were reported strong in December 2013, including 653, 842, and 527 units, respectively; while total sales of the three models are expected to hit some 24,000 more in 2014, ARTC forecasts.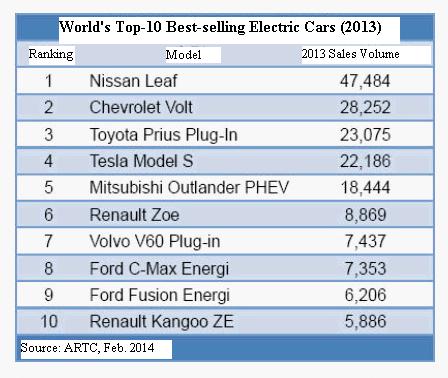 World's Top-10 Best-selling Electric Cars in 2013
Other EV models on the horizon include the Denza Qin, Audi A3 e-tron, Volkswagen e-Golf, and Tesla Model X. Denza is a new EV brand venture between German luxury-car maker Mercedes-Benz and Chinese automaker BYD. The Qin is the first PHEV model jointly developed by the two major players for sales mainly in China, where EV purchases enjoy the world's highest subsidy.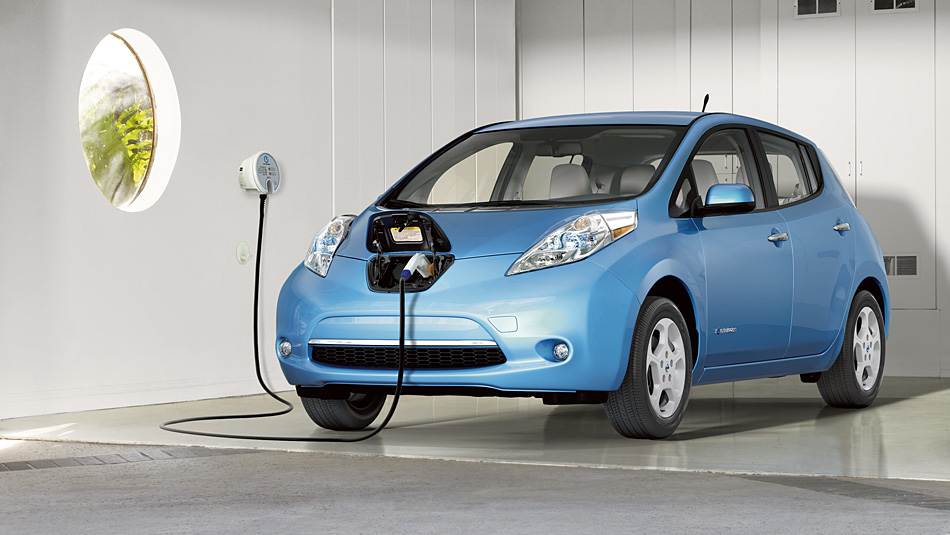 Nissan Leaf, the world's best-selling BEV in 2013.
The e-Golf is Volkswagen's first BEV model. Sales of the new electric car are expected to benefit from its maker's brand image. The Tesla Model X will be the third product introduced by the American electric-car company. It forecasts annual sales of the new model to reach 10,000 units. Tesla has landed in China and is aggressively developing its distribution operations there. The company's efforts are expected to boost global sales in 2014.