Manufacturers strive to close the technology gap with competitors in advanced countries
By JENNY WU

Along with the rapid advancement of new technologies, automotive electronics--vital to upgrading the powertrain performance, safety, and comfort of modern vehicles--have been drawing intense attention in recent year through the constant development of newer and better products and applications.

The automotive-electronics market in China has been enjoying robust growth, reaching a value of some 242 billion renminbi (RMB, or Chinese yuan; equivalent to US$8.07 billion) in 2012 and an estimated 255 billion RMB (US$8.5 billion) last year. Automotive electronic control system products accounted for about 80% of the overall market, leaving 20% for added-on items.

The development of China's automotive-electronics industry still lags behind that of the industrially advanced nations, especially the biggest automobile manufacturers, resulting in a high dependence on overseas suppliers for key electronic components. Future directions of development was the hottest topic of discussion during the whole of an international automotive electronics and semiconductor technology innovation forum that was held in China in 2013. The general feeling was that the development of automotive electronics in China must be associated with that of the semiconductor industry, and that the international competitiveness of China's domestic automotive brands should be strengthened through collaboration between alliances of assembled-vehicle makers, parts suppliers, and IC chip makers.

This dependence on foreign suppliers for key components, points out Liang Yuantsung, secretary general of the Shanghai Society of Automotive Engineers (Shanghai SAE), is the main reason why Chinese automotive-electronic makers are so far behind their international counterparts. All automotive-grade electronic components require zero defects, and the suppliers have to compile a zero-defect record for 10 to 15 years; however, Liang explains, most Chinese semiconductor makers can produce records of only five year of stability in product quality.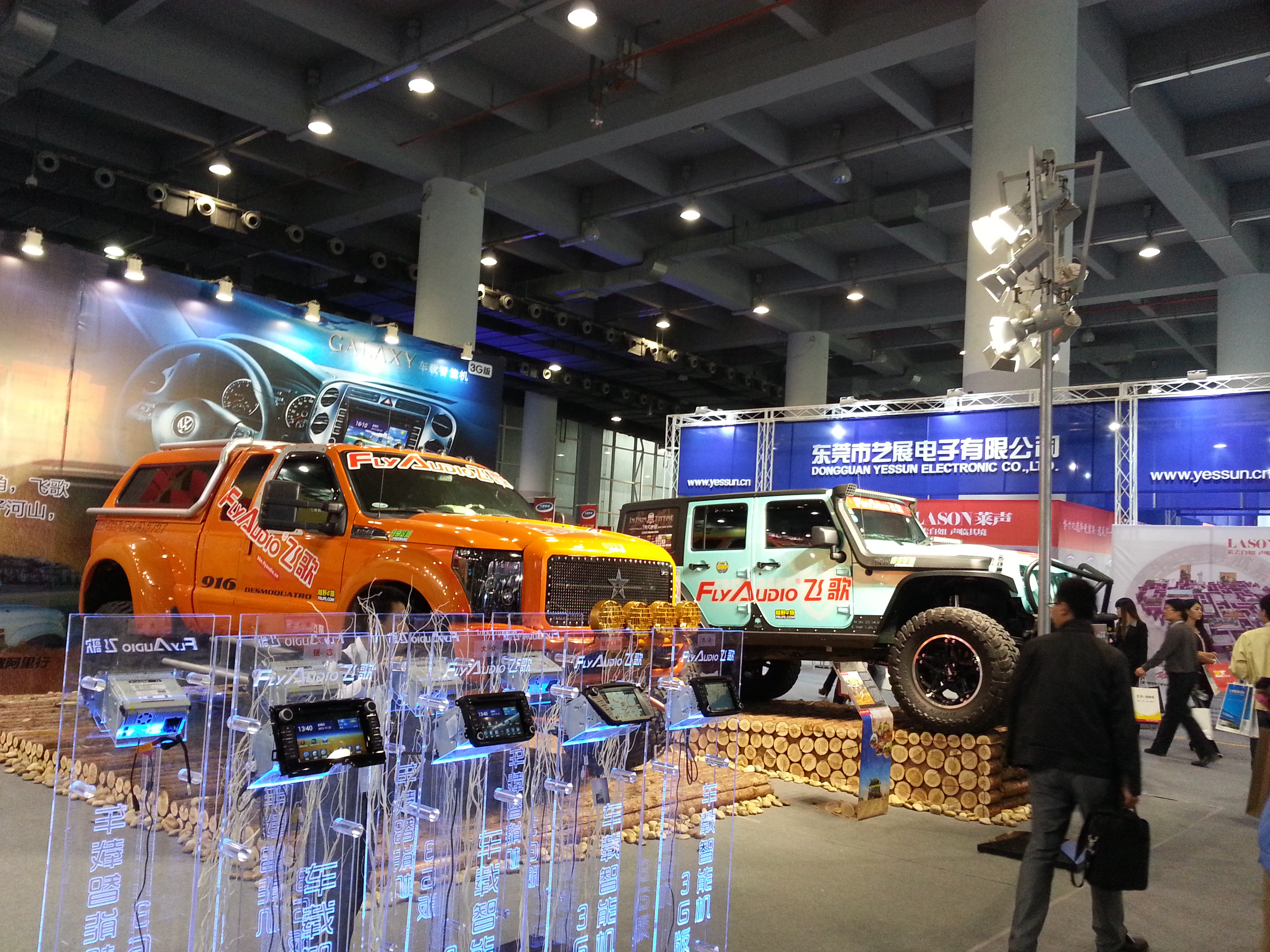 Automotive electronics on display at the 2013 Guangzhou International Auto Parts & Accessories Exhibition.
"If China's independent automakers (those that do not have technical joint ventures with international vehicle brands) want to grow increasingly stronger, they will have to tie up with the IC industry," stressed another Shanghai SAE official. "This is also expected to bring new opportunities for business development to the IC industry."
Pan Dinghai, president of the automotive-electronic technical center of the Shanghai Aerospace Automobile Electromechanical Co., points out that modern vehicles have entered fully into the era of electronic control. Currently, he says, automotive electronic systems account for about 25% to 30% of the cost of an average car (and even more for high-end luxury cars), and the ratio is expected to increase to 40% in 2015. Development will move in the direction of automotive electronics systemization, integration, and intelligent orientation.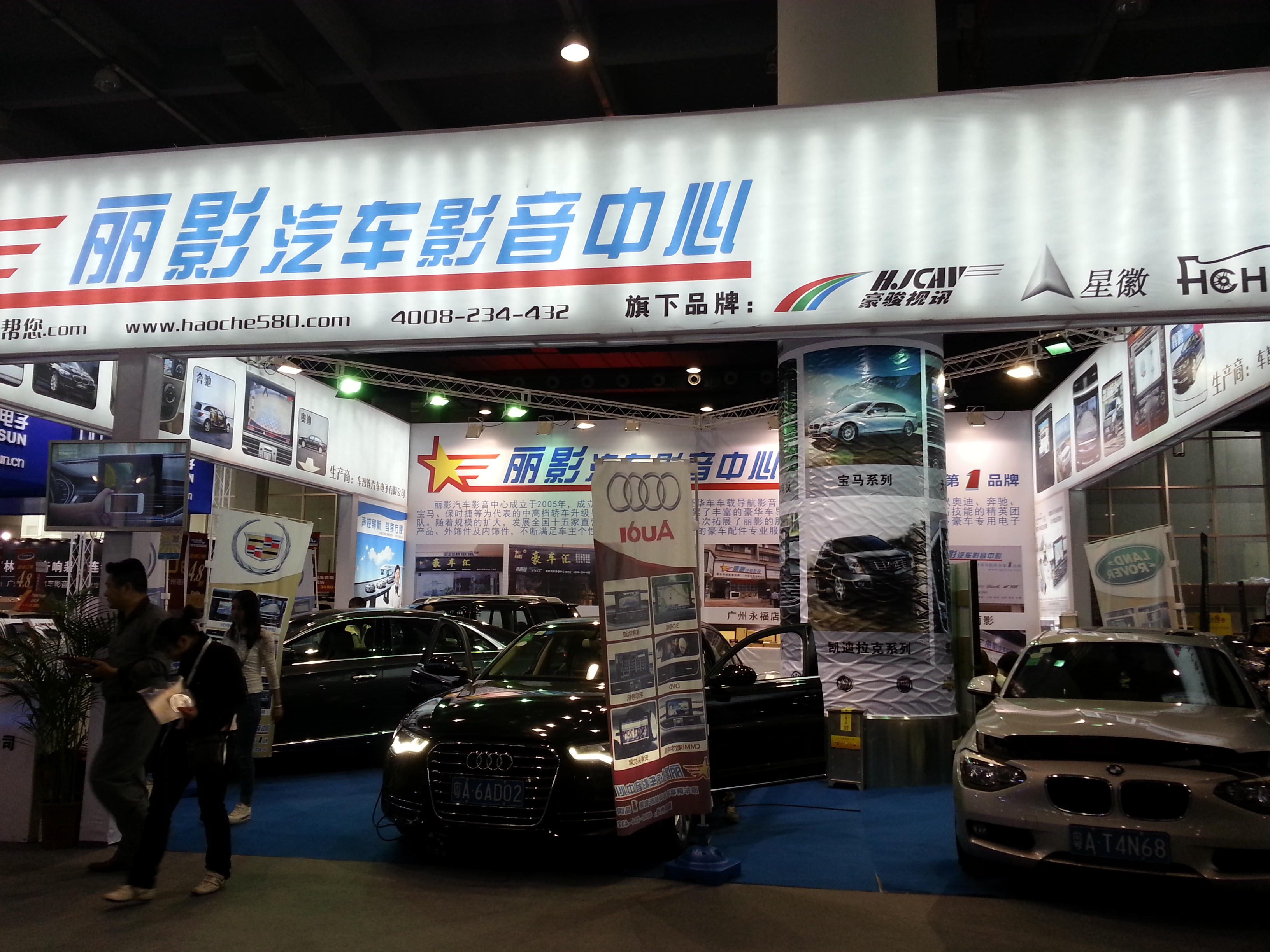 Automotive electronics on display at the 2013 Guangzhou International Auto Parts & Accessories Exhibition.
Pan stresses that more vigorous development and upgraded competitiveness of the Chinese automotive electronics industry require the more efficient development of upstream semiconductor products and integrated modules, as well as the core technologies used in key parts and IC chips. In this respect, Chinese companies are sorely lacking.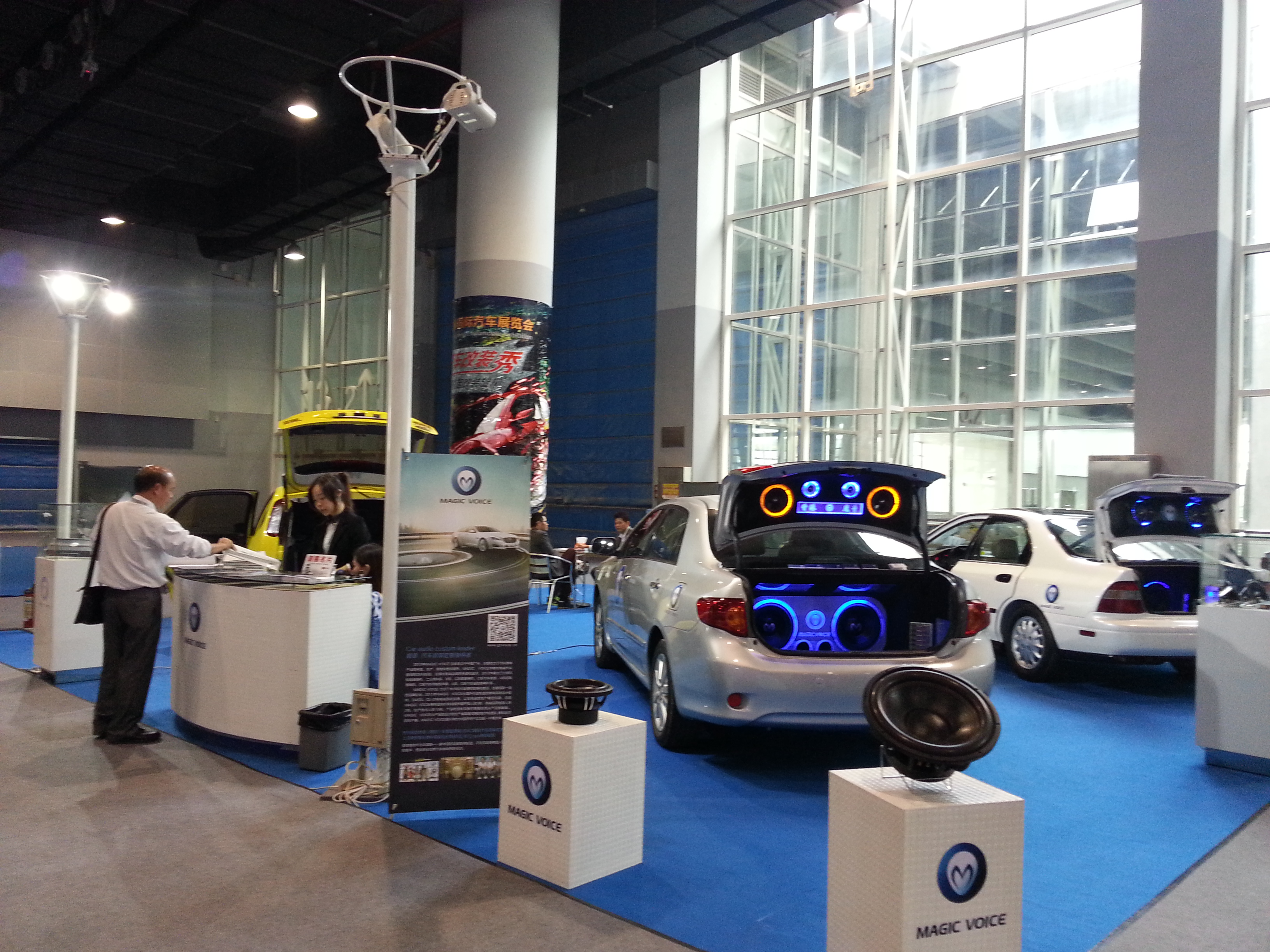 Automotive electronics on display at the 2013 Guangzhou International Auto Parts & Accessories Exhibition.
The president proposes a number of ways to deal with this difficulty. First, he says, assembled-car makers in China, and their parts suppliers, need to work together in mapping out long-term tactics for the joint development of automotive electronics. Second, local automotive electronic makers should collaborate in fighting against heavyweight international companies in the business by strengthening their R&D capability, lowering their investment risks, and finding new ways out of their current straits. Third, the government should give policy support to the automotive electronics industry through scientific policy-making and more concentrated resources. Finally, China needs to build national-level, unique core-technology and -product R&D platforms that can promote key R&D projects using integrated national resources. This can achieve developmental breakthroughs and help nourish the establishment of key-parts supply chains in China.
Zhejiang Aborn
A group of Chinese automotive-electronics makers have been aggressively striving to win more lucrative business opportunities in the booming global market. One of them is
Zhejiang Aborn Auto Parts Mfg. Co.,
headquartered in Zhejiang Province.
Aborn, formerly known as Ruian Dazhon Auto Electric Parts Co., Ltd., is an ISO9001:2000-approved manufacturer with TS16949 approval pending. Ever since it was established in 1992, the firm has specialized in the development and production of automotive electronics and electrical parts, with a monthly capacity of 400,000 pieces.

Quality automotive electronics products from Zhejiang Aborn
The maker claims strong R&D capability and efficient quality-management systems, effectively helping it offer a wide range of safe, energy-saving, and high-quality auto parts.
The firm's product line includes voltage regulators, ignition modules, sensors, controllers, flashers, and rectifiers, among other products; it now supplies over 500 product items, and the number is increasing steadily. Most of the products are for European, American, Japanese, South Korean, and Russian car brands; they are exported to more than 60 countries and regions, especially in Europe, South America, the Middle East, and South Africa.
Aborn operates a modern integrated plant in Ruian, Zhejiang Province, with a monthly production capacity of about 400,000 units of various products.

Aborn's automotive-electronics parts are popular with customers in 60 countries and regions.
The company says that it has been cooperating closely with Chinese technology universities, from which it can get the latest technical information and design concepts needed to improve the quality and functions of its products while cutting costs and staying competitive in price.
Shanghai Pucheng
Another major Chinese automotive-electronics maker is Pucheng Sensors (Shanghai) Co., which supplies mainly automotive oxygen sensors and other types of sensors featuring high quality and reliability.
Founded in 1986 and headquartered in Shanghai, China's economic and industrial center, Pucheng has grown into a high-tech company with an excellent R&D team comprised of highly skilled engineers. The company's modern and integrated production facility covers 5,000 square meters and is equipped with advanced manufacturing equipment.
In the early 1990s, Pucheng became the first Chinese supplier of oxygen sensor to the U.S. market, where it won high popularity. Today the manufacturer turns out thousands of oxygen-sensor models for over 80% of passenger-car makes worldwide. It currently ships more than one million sensors every year to about 500 big customers in major markets such as North America, Europe, the Middle East, and Latin America, where its high-quality, reasonably-priced sensors help create good profits for its customers.
With the know-how and experience it has accumulated during its more than 20 years in the automotive sensor business, Pucheng is cooperating with domestic industrial technology research institutes, schools, and related suppliers in the joint development of other product lines. It has already ventured into several new product categories, including cam position sensors, crankshaft position sensors, anti-lock braking system sensors, throttle position sensors, and idle-speed controllers.
In addition, Pucheng has applied stainless-steel materials in production, making its products more attractive and better resistant to high temperature and oxygenation.
The company's strong R&D team continues to introduce dozens of new sensor models every month, constantly upgrading its product comprehensiveness and consolidating its leading position in the international market. Thanks to its long-term cultivation in the fields of automotive sensors and injection systems, Pucheng has become well known in the international market as a reliable supplier of both original equipment (OE) and aftermarket (AM) parts.
Zhejiang Sensen
Founded in 1985, Zhejiang Sensen Auto Parts Co. (SENSEN) is an ISO 9001:2000- and ISO/TS 16949 OE supplier of high-quality auto parts to major automakers in China, as well as a leading AM manufacturer for clients in Europe, the U.S., Asia, and Latin America.
After a long period of steady business expansion, the manufacturer now supplies a wide range of automotive switches (combination switches, ignition switches, window regulator switches, etc.), automotive electronics products (electronic fuel pumps and assemblies, etc.), door locks and door handles, shock absorbers, throttle bodies, and other products.
Three decades in the business have seen SENSEN develop into an integrated group that efficiently organizes the resources available in its manufacturing, R&D, marketing ,and sales divisions. The group employs about 2,000 workers in five production bases in Zhejiang Province, Shanghai, and Jiangsu Province.
The manufacturer has built up a solid global reputation for its "SENSEN" brand and has become a major OE supplier to more than 30 automakers in China and overseas, including China FAW, Dongfeng, Geely, BYD, SinoTruck, Foton, and Tata (of India). It is also a contract supplier to many international first-tier parts brands as such as Delphi, Siemens VDO, and Bosch.
Over the past 30 years or so, Sensen has built success by being sincere, efficient, and people-oriented, by emphasizing technological innovation, and by placing the customer first. The company has won numerous major awards such as Trade Name in Zhejiang Province, Zhejiang Hi-Tech Enterprise, Enterprise with Great Achievements, and Ruian Star Enterprise. Its credit is rated AAA.
Stringent quality-control steps are enforced throughout the manufacturing processes to assure that each product meets the highest quality standards. In addition, the company insists on using only top-end machining centers and manufacturing equipment from Germany and Italy so as to assure the highest quality and precision in its in-house processing, mold development, new-product development, and testing.