Buyers at CENS`s booth inquire about high-quality hardware products from Taiwan.
At the world's largest trade fair for hardware products, International Hardware Fair Cologne (IHF Cologne) 2014, held March 9-12, in Germany, China Economic News Service (CENS), the veteran export media in Taiwan, was kept busy responding to an influx of inquiries from global buyers interested in Taiwanese suppliers.
IHF Cologne 2014 occupied an exhibition area of 142,500 square meters to accommodate about 2,700 exhibitors from over 50 countries, and was expected to draw more than 53,000 visitors and buyers from 132 nations. Exhibits were divided into four categories: tools, fasteners, industrial supplies, and home improvement products, in six exhibition halls.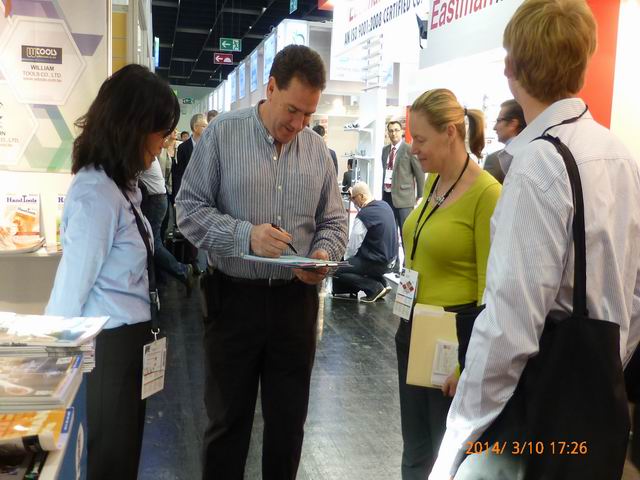 CENS Kept Busy Responding to Buyers` Inquiries for Taiwan`s High-quality Suppliers of Hardware at IHF Cologne 2014
According to Koelnmesse GmbH, the organizer, tools remained the biggest category at this year's IHF Cologne by both exhibitor number and exhibition area, covering varieties of hand tools, machine tools and power tools. Also notable was that rapid, convenient and reliable online ordering and sales service systems for the fastener sector were a fast-expanding category, due to fastener retailers nowadays tending to restock in small quantities and frequently, hence making e-commerce applications more important and popular than ever.
Among foreign exhibitors at the show, 403  were from Taiwan, of which 71 exhibitors were organized by Taiwan External Trade Development Council (TAITRA), a semi-official export promoter, into an area of 1,002 square meters. Members of Taiwan Hand Tool Manufacturers' Association (THTMA) and Importers and Exporters Association of Taipei also enhanced their presence with support from the organizations.
Taiwan's big-name enterprises present at the show included Proxene Tools Co., Ltd. (adjustable wrenches and ratchet wrenches), Redai Precision Tools Co., Ltd. (socket wrenches and spanners), Eclatorq Technology Co., Ltd. (digital tools), Lu Kang Hand Tools Industrial Co., Ltd. (hammers), Shan Hua Plastic Industrial Co., Ltd. (composite hoses), I Jang Industrial Co., Ltd. (racks and shelves), Lee Yeong Industrial Co., Ltd. (power tools), Win Chance Metal Co., Ltd. (hooks, wires and springs), Mobiletron Electronics Co., Ltd. (auto repair tools), Yih Cheng Factory Co., Ltd. (screwdrivers), and Kai Suh Suh Enterprise Co., Ltd. (wire connectors and tubes).
To further impress visitors with Taiwan's global reputation in hardware manufacturing, TAITRA joined hands with THTMA to set up a special area for showcasing 110 new products, including hand tools, locks, auto repair tools, garden tools and DIY supplies, from 76 Taiwanese suppliers. On the first day of the show alone, the special display area drew hundreds of buyers, mostly impressed by eco-friendly, ergonomic, lightweight, digital and multifunctional features.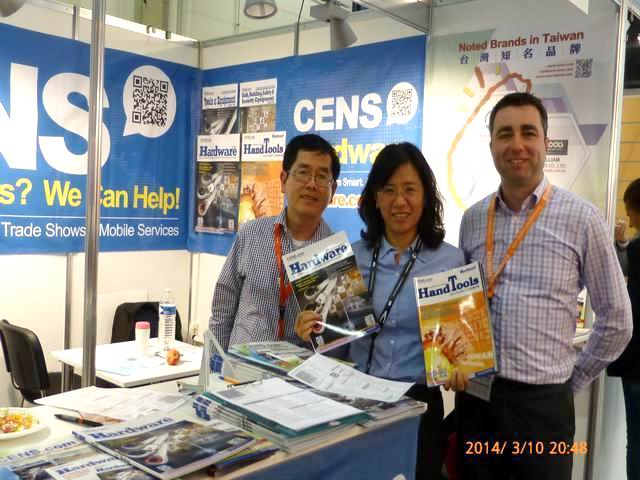 CENS`s booth at IHF Cologne 2014
A regular participant in IHF Cologne, CENS witnessed a flood of buyers to its booth numbered A-014 in the Hall 3.2, helping them source suppliers from Taiwan on-site and also  circulating publications and promoting online buyer services.
CENS's publications on display included
Hardware
2014 March Issue and
Guidebook to Taiwan Hand Tools
2014
. Both buyer guides were sought-after by buyers, for the
Hardware
2014 March Issue includes Taiwan's high-quality power tools suppliers, current development of the island's fastener industry and a large number of top-caliber companies from related sectors, while
Taiwan Hand Tools
2014
has hundreds of Taiwanese suppliers of various hand tools.
Meanwhile, CENS's online buyer services, including CENS Global Pass, also proved to be a useful tool for foreign buyers who prefer online sourcing and its convenience. (SC)