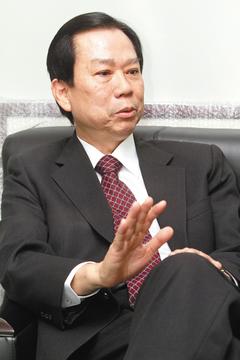 Simplo's chairman Raymond Sung (photo from UDN)
Simplo Technology Co., Ltd., a major Taiwanese maker of battery packs and modules, recently reported 2013 net earnings of NT$3.24 billion (US$107.9 million), a little bit lower than the previous year's, for earnings per share (EPS) of NT$10.5 (US$0.35).
Raymond Sung, Simplo's chairman, recently said that he aims to continue to stay onboard with his company until age 75, and achieve EPS of over NT$10 over the next 10 years.
Simplo estimated that its first-quarter revenue may reach NT$11.8 billion to NT$12 billion (US$393.3 million to US$400 million), for net earnings of NT$725 million to NT$749 million (US$24.2 million to US$25 million), and quarterly EPS of NT$2.35 to NT$2.43 (US$0.08), all higher than those in the same period of previous year. The firm's second-quarter revenue, according to Sung, is expected to increase 10% quarter-on-quarter (QoQ).
Due to fierce competition from Chinese rivals, Taiwanese battery-pack makers' profit margins have been sliding. Sung said, however, that Japanese and Korean counterparts are expected to suffer more from underselling competition. Sung directly denied institutional investors' worries about Simplo's falling profitability, saying that his company's revenue is expected to enjoy two-digit growth this year, with the EPS for 2014 higher than 2013.
Sung stressed that his company self-designs all the hardware, software, firmware and machinery used in automated production lines, but not all products are suitable for automated production. So, he added, Simplo's new strategy is to develop production lines for smaller-volume modularized products. Simplo has also set up a new business division to take orders for automated production lines, and the new business is expected to create annual revenue of about NT$1 billion (US$33.3 million).
Regarding the supply of battery pack to Tesla Motors Inc. of the U.S., a major maker of premium electric cars, Sung admitted that some opportunities exist for Simplo. However, he added, Simplo have won orders from electric-bike makers in Germany and Switzerland. In 2013, Simplo's battery packs for e-bike application generated revenue of about NT$800 million to NT$1 billion (US$26.7 million to US$33.3 million), and the value is expected to increase by 40% to 50% this year. Simplo has also successfully tapped into Chinese e-bus makers' supply chains, already supplying two e-bus models.
Regarding Siimplo's business deployment in wearable devices, Sung said that his company will target products with higher technical level, such as healthcare items.