All the chief executives of Taiwan's top-4  LED makers unanimously expressed optimism for the business, touting their companies will fetch fatter profit this year than last year.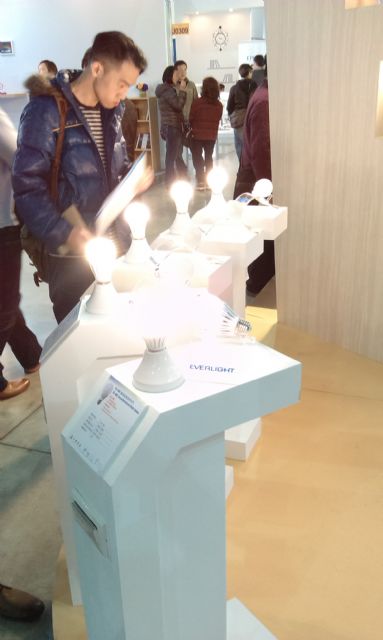 Taiwan's industry gurus feel LED lighting market is looking up.
After earning NT$3.51 per share in after-tax net income last year, chairman Robert Yeh of Everlight Electronics Co., Ltd., currently the world's No.1 LED packager by quantity, has said the company's earnings for this year will post a double-digit annual growth.
B.R. Wu, president of Nan Ya Photonics Inc., an LED-lighting maker held by the Formosa Plastics Group (FPG), says the company will see earnings for this year leap from last year's NT$10 million (US$333,333).
Epistar Corp. Chairman B.J. Lee, whose company is currently the world's biggest maker of LED chips by volume, says the company's earnings for this year will definitely pick up from last year's NT$74.55 million (US$2.48 million). The company's 2013 earnings were largely eroded by the loss of NT$300 million (US$10 million) in chipmaker Huga Optotech Inc. and the loss of NT$400 million (US$13.3 million) from investment in financial products.
Delta Electronics Co., Ltd. Chairman Yancey Hai assures that the company will definitely make money this year.
Epistar's Lee feels that the LED market will begin in the second half of this year to shift from oversupply in the last two years to excessive demand, that LED lighting applications has equaled in number to that used in backlight applications, and that this year lighting applications will exceed backlight applications for the first time.
Lee estimates LED lighting's average market penetration will reach 30% worldwide, with the penetration in Japan likely to rise to 70% from 50% and the penetration in the United States to expand to 20% from 10%.
Lee feels that 2014-2017 can be called the "golden three years" for LED lighting in anticipation of quick surge in demand. Nevertheless, the competition will be relatively intense as well. He suggests key players in this line prepare themselves for the expected transformation in 2017, when "killer applications", namely LED lighting integrated with smart control system, will be introduced in the market.
Everlight's Yeh projects both LED lighting and LED backlight markets to enter high season in the second quarter.
Industry executives feel that the LED lighting boom will last a year or so longer than LED backlight's and the market will be stronger in 2015 than in 2014, with such optimistic forecast based on slowing expansion by LED makers and huge demand. (KL)