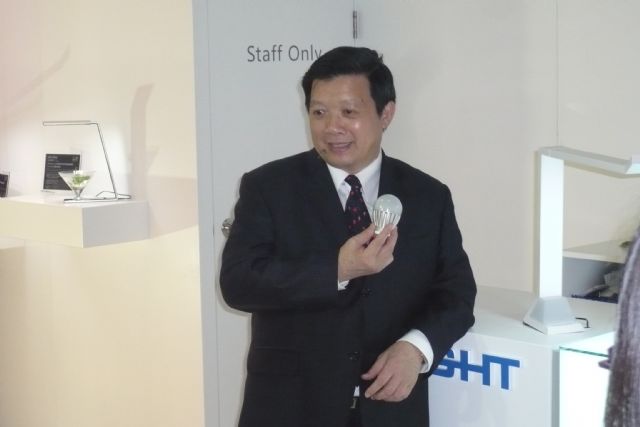 Everlight Chairman Robert Yeh estimates the Everlight-Epistar team to unseat Nichia as world's No. 1 LED Maker soon.
Chairman Robert Yeh of LED packager Everlight Electronics believes that the team made up of his company and chipmaker Episar Corp. is likely to dethrone Nichia Corp. soon as the world's No.1 LED maker by revenue.
Currently, the two companies are the world's No.1 LED packager and chipmaker, respectively, by production capacity. Last year their combined revenue of NT$47 billion (US$1.5 billion at US$1:NT$30) trailed Nichia's US$2.5 billion by at least 30%.
This year, Yeh thinks, his company's revenue will increase each quarter unless the world is afflicted by some major disasters or financial issues.
The top Everlight executive points out that the LED lighting industry is entering into a stage of growth, with upstream, midstream, and downstream suppliers having set up a partnership model similar to that of IC makers.
His company's lighting products are available in over 1,000 stores in mainland China, which is recognized as the world's biggest market for LED lighting. However, Yeh concedes that competition in the mainland market is much tougher than in Taiwan because of wild price competition among a hodgepodge of substandard manufacturers there.
He reports that for the future, his company will follow the trend of continuous declines in materials and manufacturing costs, and will strengthen its market development.
Everlight generated record high revenues of NT$24.7 billion (US$824.2 million) last year, thanks mainly to a business rebound and the acquisition of German lighting-fixture maker WOFI in August. Industry executives predict that the company's revenue will rise to NT$30 billion (US$1 billion) this year, thanks partly to the addition of WOFI's revenue in January.  (KL)
Everlight's Earnings, 2007-2013
| | | | |
| --- | --- | --- | --- |
| Year \ Operation | Revenue | Earnings | EPS |
| 2007 | NT$10.1bn | NT$2.2bn | NT$6.55 |
| 2008 | NT$11.3bn | NT$1.3bn | NT$3.73 |
| 2009 | NT$11.4bn | NT$1.8bn | NT$4.89 |
| 2010 | NT$17.4bn | NT$2.3bn | NT$5.52 |
| 2011 | NT$18.6bn | NT$1.3bn | NT$3.14 |
| 2012 | NT$19bn | NT$546M | NT$1.3 |
| 2013 | NT$24.7bn | NT$1.4bn | NT$3.51 |
Source: Everlight