TYC Brothers Industrial Co., Ltd., a major auto-lamp maker in Taiwan, recently led local counterparts to win the "Famous Brand in  China" certification, which should pave an even-smoother way for the company to  develop sales in China, the world's largest automobile market.

TYC also announced that its reinvested subsidiary DBM Reflex of Taiwan Co., Ltd. plans to set up a factory in Kunshan, Jiangsu Province of China to tap the Chinese truck-reflector market, which is expected to boom after the Chinese government has mandated all trucks to be equipped with qualified reflectors for safety.

The Taiwanese auto-lamp maker pointed out that some 22 million new cars were sold in China in 2013, and the volume may grow double-digit this year, creating huge demand for auto lamps. To meet demand growth, TYC has been accelerating business deployments in China.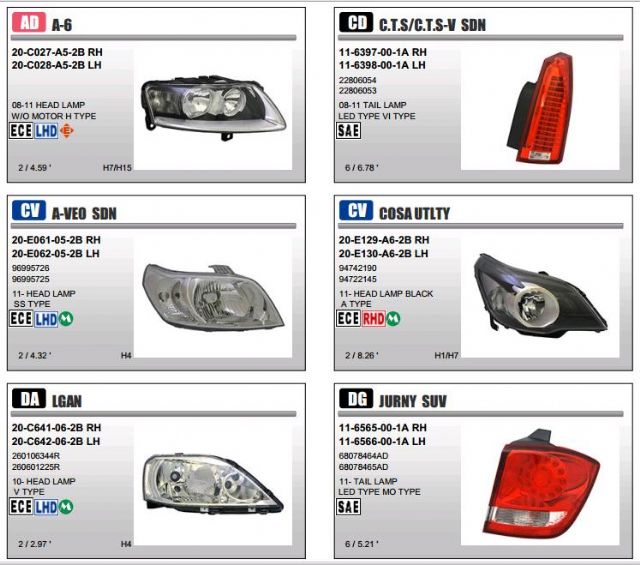 Some of TYC's auto lamps at the 2014 Taipei Int'l Auto Parts & Accessories Show (Taipei AMPA), a major auto-parts trade fair held in Taiwan. (photo from TYC)
Among TYC's aggressive business developments, Varroc TYC Auto Lamps Co., Ltd.., a joint venture in China between TYC and Varroc Lighting Systems, has inaugurated  a factory in Chongqing, Sichuan Province by emulating major customer Changan Ford's business deployment. Varroc TYC's new Chongqing factory kicked off production in the fourth quarter of 2013 and has been ramping up production capacity, which is expected to achieve about one million sets per year.
Chinese government authorities have approved the TYC trademark as one of the China's famous brands, with the Taiwanese auto-parts logo becoming the first to win the approval. TYC is optimistic about even-smoother sales in China in the future after winning the approval, in light of preceding successes as Taiwanese tire brands Kenda and Cheng Shin, as well as assembled-bicycle brands as Giant and Merida.
Currently, there are more than 30 million trucks on China's roads, and more than three million new trucks are added every year. Each truck will be equipped with more than 10 reflectors under the new requirement, so the estimated truck-reflector market is about 10 billion renminbi (RMB, or Chinese yuan) annually.