A common feature of displays set up by international tier-1 auto-parts suppliers at major trade shows in recent years is stop-start, or stop-and-go, systems, which all have a simple yet valuable function: they eliminate idling by shutting off the engine when the vehicle is stationary, and then restart it automatically when the driver releases the brake.

More and more vehicles available on the market today come with stop-start technology, which offers some of the fuel economy benefits of hybrid vehicles at a fraction of the cost premium.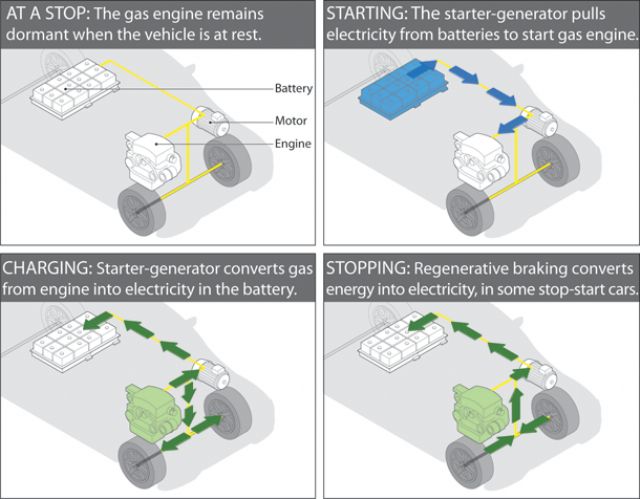 Operating processes of a stop-start vehicle. (photo from the Internet)
Stop-start technology is developing rapidly and, according to a recent report from Navigant Research, more than half of all light-duty vehicles sold worldwide will incorporate such capability by 2021.
"The newest stop-start systems coming to market incorporate some drive assistance, which classifies the models that use them as true micro hybrid vehicles," says David Alexander, senior research analyst with Navigant Research. "Micro hybrid technology enables large vehicles to be designed to run leaner without sacrificing drivability, and small vehicles to be set up for limited electric-only operation."
For manufacturers, the primary motivation to incorporate stop-start technology is tightening restrictions on fuel consumption and emissions, according to Navigant Research. Vehicle manufacturers must achieve specific average fuel economy targets in order to avoid financial penalties in many countries. Automakers are also responding to consumers who increasingly want better fuel efficiency in the vehicles they buy.
Efficiency vs Cost
To keep drivers happy with a stop-start vehicle's (SSV's) performance, the process must be seamless and must not have any measurable effect on performance, the research firm notes. The latest systems are starting to adopt some of the features that were first developed for hybrid vehicles; while the challenge is to get the most efficiency benefits from the smallest increase in cost.
Growth in light duty SSV sales during the next decade will be predominately in the three major market regions of North America, Western Europe, and the Asia-Pacific, primarily because these regions are the most aggressive in implementing fuel economy and emissions regulations.
Stop-start systems will help bring the advent of other electrification features that, in combination with engine downsizing and other enhancements, will increase efficiency without large-scale adoption of full hybrid or plug-in electric capability. Navigant Research forecasts that total global sales of light-duty SSVs will exceed 55 million by 2022, accounting for 54.3% of total vehicle sales.