Auto door and window handles, manual/electric window regulator, door locks, hinges etc.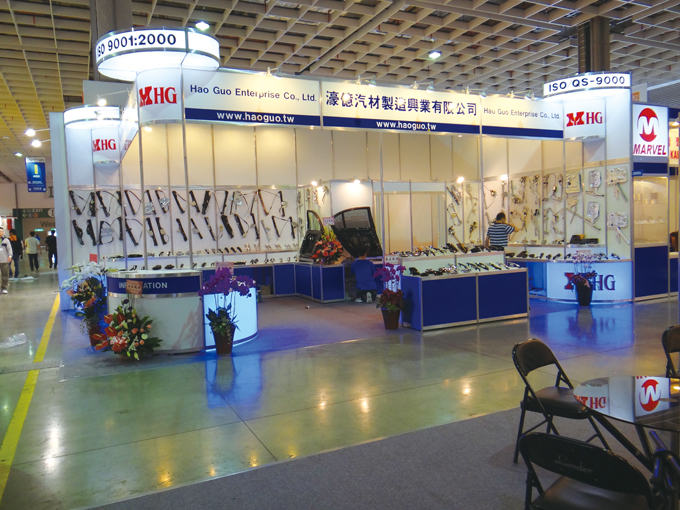 Established in 1985, Hao-Guo Enterprise Co., Ltd. is a veteran company specializing in developing and making aftermarket (AM) auto door and window handles, manual and electric window regulators, and other hardware such as door locks, door hinges, engine hood locks etc.
The firm promises to live by the motto "three firsts":
Customer First: The maker always conscientiously deals with customers' requests and issues.
Creativity First: The company always collects the latest market information and data to engage in new-product developments that meet the latest market trend.
Quality First: The maker always prioritizes quality and insists on 100% Made-in-Taiwan quality.
With consistent product development work, Hao-Guo now supplies over 10,000 products, including thousands of handles for popular European, Japanese, American and Korean cars, stressing that its products cover almost all Japanese makes and models in operation.
To further upgrade product comprehensiveness, Hao-Guo is also accelerating the development of new products for famous truck brands such as MAN, Renault, DAF etc.
In addition to in-house mold/die development and production of some key parts, the company also closely cooperates with a group of satellite plants to source quality parts and accessory for final assembly at its own factory. The firm stresses that its 100% Made-in-Taiwan quality is the best guarantee of reliability and durability.
Hao-Guo Enterprise Co., Ltd.
No. 21-5, Alley 82, Lane 422, Mintsu Rd., Luchou Dist., New Taipei City, Taiwan 247
Tel: 886-2-2282-8601, 2289-3575
Fax: 886-2-2283-4463
E-Mail: hao.guo@msa.hinet.net
Website: www.haoguo.tw