Many practical development projects for EVs and key systems are ready for technical transfer to private makers
By QUINCY LIANG


To present R&D achievements in recent years to global visitors, as well as attract more participants in joint development of automotive technologies, the Taiwan Automotive Research Consortium (TARC), a key automotive industry alliance formed by domestic research institutes and private makers, showcased many advanced, innovative and globally competitive products at this year's 4-in-1 auto and motorcycle shows in Taiwan, including the 2014 Taiwan Int'l Electric Vehicle Show (EV Taiwan), Taiwan International Motorcycle Industry Show (Motorcycle Taiwan), Taipei International Auto Parts & Accessories Show (Taipei AMPA), and Taipei International Automobile Electronics Show (AutoTronics Taipei).

The Department of Industrial Technology (DoIT) of the Ministry of Economic Affairs (MOEA) urged the four research institutes to establish the TARC in mid-2005, whose six members consist of the Automotive Research and Testing Center (ARTC), the Mechanical and System Research Laboratories (MSL) of Industrial Technology Research Institute (ITRI), the Material and Chemical Research Laboratories (MCL) of ITRI, the Chung-Shan Institute of Science and Technology (CSIST), and Hua-chuang Automobile Information Technical Center Co. Ltd. (HAITEC).

The TARC aims to establish an integrated platform for automotive technological R&D; assist the domestic industry to set up concurrent engineering design platform through international cooperation and technology transfer; and work with local universities to train personnel to set up a platform for innovative research.

In recent years and supporting rising eco-awareness globally, the TARC has been integrating major industrial research institutes and technologies to develop EVs and key systems, as well as advanced automotive-electronic systems.

In the TARC Pavilion at the 2014 EV Taiwan held at the Taipei World Trade Center (TWTC) Exhibition Hall 1, consortium members unveiled R&D projects and achievements that are practical, with many ready for technical transfer to private makers.


50kW EV Propulsion Module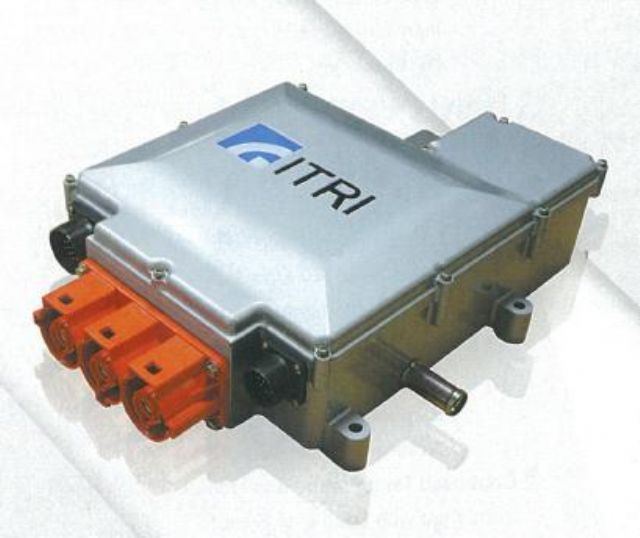 The 50kW EV Propulsion Module
The ITRI showcased a 50kW electric vehicle (EV) propulsion module, the first such developed and made in Taiwan. ITRI says that the technology is transferrable to domestic controller company to establish productive electric propulsion control systems. Controller companies need to develop their own EV propulsion modules to become key suppliers in the global EV supply chain.
Module features:
1. Extended range of vehicle at maximum power.
2. High power density, high efficiency, and wide-range of applications.
3. Safety-protection and diagnostic technology for the EV propulsion module.
4. Strengthened tolerance for temperature, vibration, and moisture.
6.6kW EV Onboard Charger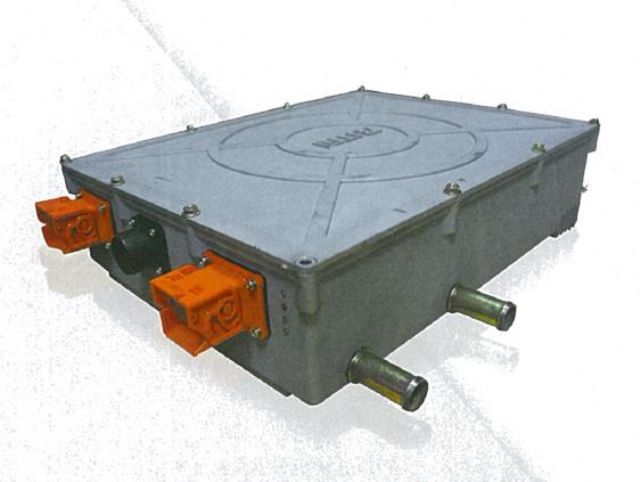 The 6.6kW EV On-board Charger
According to ITRI staff, the 6.6kW EV onboard charger features compact size and lightweight, as well as low energy-consumption electronic technology for further development of associated power conversion devices. Other advantages of the onboard charger include high-efficiency power conversion, high power factor in wide-range load; lower harmonic distortion; and high precision charging performance.
22.5kWh STOBA-technology Battery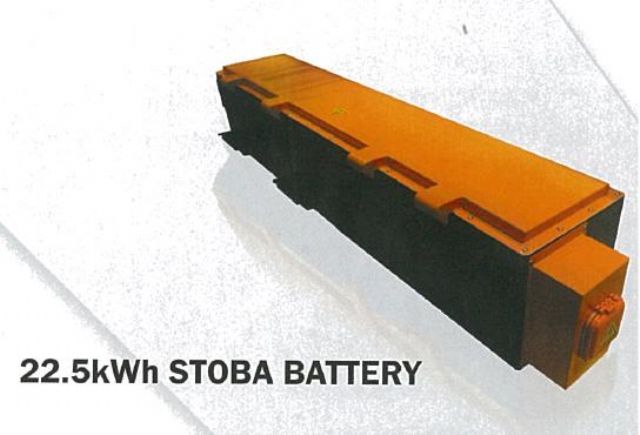 The 22.5kWh STOBA-technology Battery
The 22.5kWh battery pack integrates high-safety power cells produced by the STOBA (Self Terminated Oligomers with hyper-Branched Architecture) technology; highly reliable BMS (Battery Management System); EV battery renewable energy storage system; high-capacity uninterrupted power supply (UPS); power-cell safety diagnostic system; and advanced technology for extending power-cell life cycles.
Specifications of the battery pack include  32.4V, 70Ah, 55kW, 1,500 Hz, 250kg in weight, also meeting puncture, short, impact, and crash tests.
40Ah Cell and Battery Module for EVs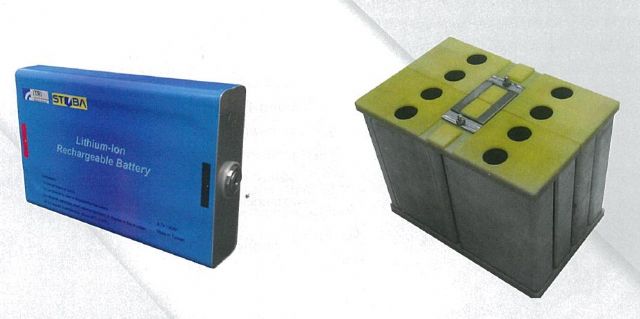 The 40Ah Cell and Battery Module for EVs
Lihtium-ion (Li-ion) battery is considered the key component of EVs. Compared to small cells, the large-format cell design has better system assembly reliability and hence higher system energy density, ITRI points out. However, it is riskier to pack much more energy in a single cell, with heat-dissipation also a key issue in EV safety.
The 40Ah prismatic cell with terminals on two end surfaces has unique heat-dissipation design: it adopts high energy-density cathode materials with STOBA technology inside, and targets to be safer and more reliable in EV and plug-in hybrid electric vehicle (PHEV) applications.
According to ITRI, STOBA is a nano-grade, high-molecular material integrated in lithium batteries to automatically form a protective film. When a lithium battery is overheated, impacted or pierced, STOBA immediately stops electro-chemical reactions hence triggered to prevent short-circuiting that generates excessive heat, consequent fire hazards to achieve significant safety upgrade. So STOBA-integrated lithium batteries are much safer for 3C (computer, communication, and consumer electronics) or EVs.
1kW Battery Module for E-scooter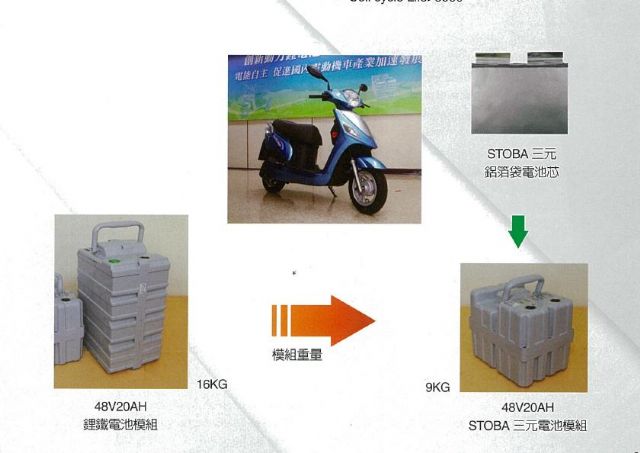 The 1kW Battery Module for E-scooter
ITRI has successfully introduced the STOBA-technology battery module made by local Amita Technologies Inc. to be adopted by e-scooters made by local China Motor Corp. The 1kW battery module for e-scooter features:
1. STOBA innovative technology that enables the implementation of high energy-density materials.
2. The same battery capacity with volume reduced by half and weight reduced by 40%.
3. The same battery size with driving range increased by 50%.
4. Lower cost and 20%-higher  cost/performance (C/P) value.
5. Life cycles up to 3,000 times and and 80% capacity remaining after five years of use.
PLC Charging Module
The programmable logic controller (PLC) charging module can be used in EV AC charging systems, such as those in demonstration fields, buildings etc., improving the problems of instant messaging communication, and achieving real-time monitoring of charging safety.
The PLC Charging Module
The PLC charging module showcased is in compliance with the SAE J1772 standard of PLC protocols, real-time information delivery and charging safety monitoring (including charging voltage, charging current, insulation detection, battery voltage, battery current, battery temperature, state of charge (SOC) and state of health (SOH) of a lithium-ion battery etc.) On the other hand, assembled-EV makers can know about the EV battery status (battery life, charging status, battery state of equilibrium, battery temperature, power estimation, error state etc.)
Prototype Parts for Lightweight Chassis Module: 980MPa High-strength Steel Bumper Beam by 3D Roll-forming Technology

The 980MPa high-strength steel bumper beam by 3D roll-forming technology
In order to achieve the technical capability of lightweight bumper beam with higher strength for locally made sport utility vehicle (SUV) models, TARC members utilized the 980MPa high-strength steel to make the front bumper beam by three-dimension roll-forming technology. Compared to the original design, the weight of the new design is reduced 28%; while during the analysis of collision by the LS-EYNA software, the energy absorption characteristic difference between new and old designs was 3%.
Major technologies used in the lightweight chassis part development and production include: collision reengineering analysis, roll forming engineering analysis, roll forming process analysis, roll forming mold design, and roll forming system design.
Aluminum & CFRP Sub-frame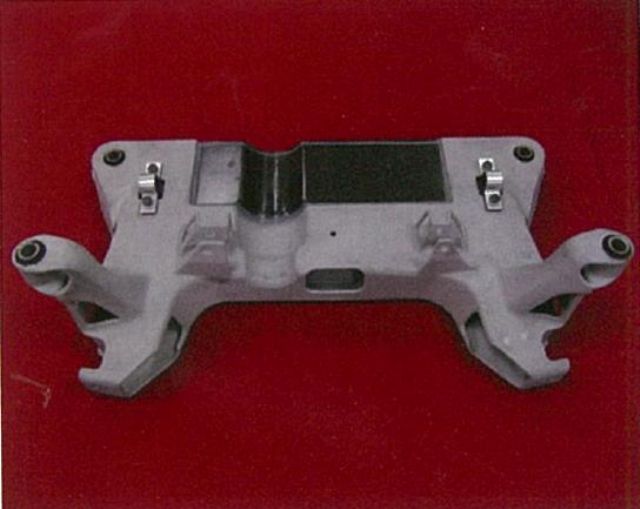 The lightweight sub-frame of aluminum and CFRP
The prototype parts for the lightweight chassis module of a locally made SUV, with the weight-cutting sub-frame of aluminum and carbon fiber reinforced polymer (CFRP) materials, is 31% lighter and has eight fewer components.
3D AVM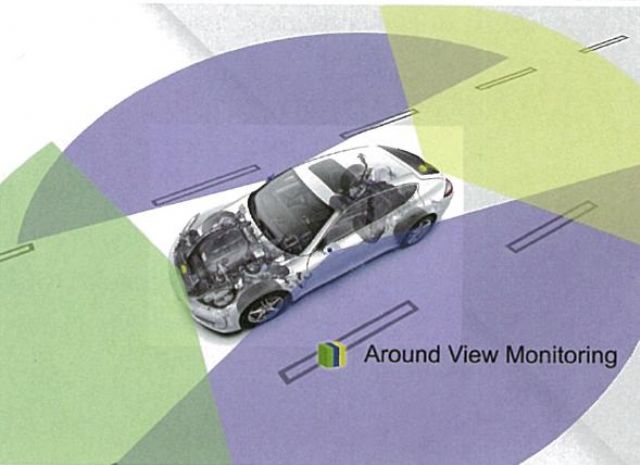 The 3D AVM
The 3D Around View Monitor (AVM) system can perform real-time aspheric perspective transforming, stereo image stitching, and vision conversion. It features no visual blind spots, helps drivers avoid accidents, simple and clear display, and enables drivers to relax while  driving.
Vehicle Parking Collision Avoidance System

The vehicle parking collision avoidance system
The vehicle parking collision avoidance system combines vehicle sensors, such as ultrasonic parking sensors, and speed sensors with integrated electric parking brake (IEPB) technology to execute brake assist in park. Compared to general and typical emergency braking safety structure applying hydraulic brake and millimeter wave radar, the cost of this system is lower, while the parking safe function is still provided during low-speed situation.
Key technologies used in this system include rear-end obstacle detection, IEPB brake control design, parking collision-avoidance algorithm, vehicle tracking prediction, and system motor fault identification and analysis technology.
MIRDC EV-No.3 EREV Chassis Platform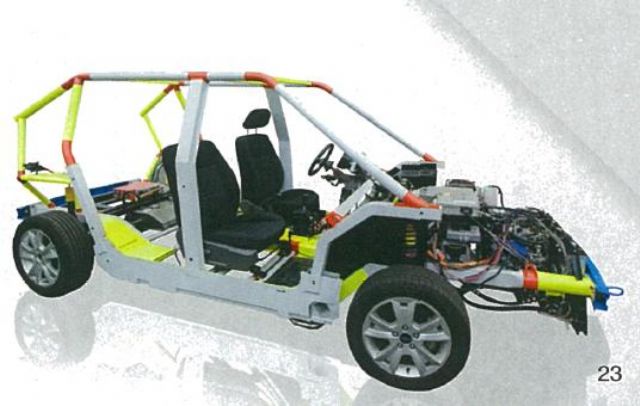 The MIRDC EV-No.3 EREV chassis platform
The Metal Industries Research & Development Centre (MIRDC) EV-No.3 extended range electric vehicle (EREV) chassis platform features Space Frame structure design and high-strength steels, making it both lightweight, structurally strong and compact. With key components developed and made by local companies, the platform is expected to help local EREV- and EV-related parts makers to more smoothly tap into the international market.
Main features of the EVER chassis platform:
1. Space Frame is utilized as the main structure for underbody to save development cost of molds by more than 30%.
2. Using slip joint and slip plane design technique to fine-tune chassis structure and ease use of more models and reduce assembly tolerance.
3. The Space Frame structure suits small-volume and diversity of different types of EVs.
TARC also demonstrated family-use energy storage system, intelligent portable power source made of recycled lithium-ion battery packs, electricity storage demonstration for small community, wireless charging system with magnetic field shaping, and the Taiwan EV Supply Chain and EV Monitoring & Service Platform, which is an online platform established by the Department of Industrial Technology (DoIT) and TARC to promote Taiwan's EV supply chain to enhance EV industrial cooperation and development.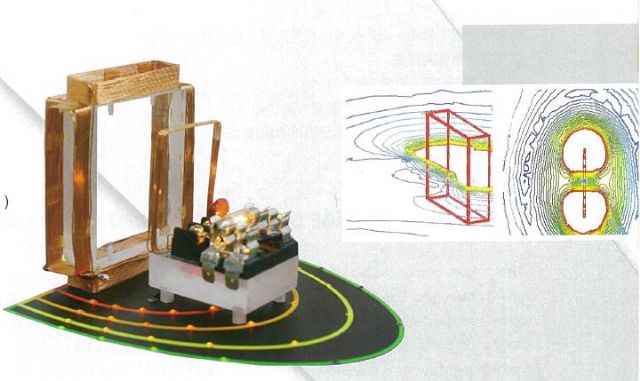 The wireless charging system with magnetic field shaping