An Interview With Frank Kauer, Managing Director of SKN Global Ltd., a Ford licensee
The HK firm is looking for distributors in Taiwan or other markets to promote the Ford brand in lighting

2014/04/28 | By Ken Liu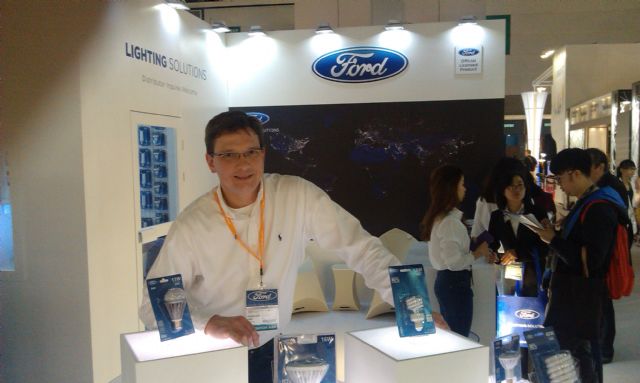 SKN Managing Director Frank Kauer and Ford-branded lamps.
By KEN LIU
Ford was surprisingly not promoted as a car brand but for household lighting at the Hong Kong International Lighting Fair 2014 (Spring Edition), held April 6-9. The Ford marque was seen at the contract supplier SKN Global Ltd.'s booth in Hall of Aurora, a venue for brand name exhibitors.
SKN, a Hong Kong-based company, is licensed to market lighting and electrical appliances worldwide under the Ford brand, whose lighting products were promoted by the licensee at the show.
SKN Managing Director Frank Kauer talked about Ford lighting in an interview with CENS Lighting, with the content excerpted below.
Q: I'm quite surprised to see Ford at a lighting fair, particularly at the Hong Kong lighting fair, because I've never seen Ford at this show despite having attended this show for over a decade.
A: We're SKN Global, a licensee of Ford marketing lighting and electrical appliances under Ford. We are here looking for distributors in Taiwan or any other markets to wave the Ford banner as a supplier to lamp consumers.
Ford does not directly produce lighting and appliances, but it sets certain standards obviously for SNK's lighting and goals we need to meet for potential market share. They look to us to achieve 5% of the global lighting market by 2020 under Ford.
Q: How will SKN achieve the 2020 goal?
A: It's a target we set for ourselves through finding the right partners at the show to distribute Ford lighting in their market. So, we're here meeting various potential distributors. And we have to find the correct partners after the show for whichever market that we bill would have the potential to achieve the target we've set.
Q: Is SKN the only Ford licensee in lighting and household appliances?
A: That's correct.
Q: Does that mean Ford opened the new business when SKN was licensed?
A: That's correct. SKN created the Ford Home Solution branding concept.
Q: Why did Ford want to open the home solution business?
A: It is not necessarily that Ford wanted to. We convinced Ford that Ford-branded items boast huge name-recognition. And that could be carried over not only from car and motor sector but also bring Ford into the home.
Q: Why did Ford choose to work with SKN and what's SKN's competitiveness and strength?
A: It's SKN's experience over the past 20 years in the markets worldwide. Through the Hong Kong office we've distributed to Europe, the America, Australia, and also South Africa. So, Ford believes SKN is the right partner to market Ford-branded items globally.
Q: Is it not strange for Ford to sell lighting? How can people associate Ford with lighting?
A: Ford is not selling shoes. People who know Ford and recognize it are emotionally attached  to Ford. We're offering alternatives to the high-price A brands with a recognized brand. Before you buy Frank fluorescent or some known A.B.C. brands cheap, you see Ford and believe there is a quality level that is maintained. Then you say I trust it, and want to put it in my house because Ford, if not as good, is very close to global brands producing lights. So, we're piggybacking on consumers' awareness and trust in the Ford brand.
Q: Ford is a carmaker. Is it familiar with the lighting industry?
A: Ford is not directly involved with the products we're marketing. We are obliged to Ford to make sure Ford-branded lighting items have quality that consumers expect from Ford.
Q: Why did SKN want to partner with Ford?
A: Ford is a living brand that produces cars. They make money. They are in the market and have an annual advertising budget under Ford from which they spend 25% only marketing Ford overall. And that's also something all of our distributors have benefited from.
On a global scale, Ford is sponsoring, for example, UEFA Champion League, Australian Open, and American Idol. These are things that consumers are constantly made aware of, not any specific Ford Ranger or Ford Fiesta. It's the brand Ford.
Q: Why not Toyota, GM and other big-name carmakers?
A: Ford is the No.2 on the Best Global Green Brands. And so that's why we are promoting LED. That is an advertising tool for any distributor. LED is green and environmentally friendly.
Q: How has the cooperation been going so far?
A: It's been great so far. We've had the license now for about a year and a half. We launched about eight months ago in Brazil. Now, the global launch is in Hong Kong and we have good response from all visitors to this booth. A lot of people are surprised and say they have never seen Ford lighting at any other show. Those people in the lighting business that don't have any established brand see the potential obviously to use Ford to develop their sales and revenue.
Q: How is the Ford lighting revenue now?
A: We've only started in Brazil, so I can only speak for Brazil. The Ford brand has doubled the revenue for our Brazilian distributors. It's only in eight months and, potentially, this is what we expect to see in other markets as well.
Q: What's SKN's goal for the marketing?
A: We're just starting. We're flexible and we're going to work with the best partners in every market for the growth potential. Basically, we work with only one distributor in each market because we don't want same market  competition. But in the United States, China, and India we must have more than one distributor because of size.
Q: What's SKN's job in the partnership?
A: What we're doing is putting something together for the distributors. We're working with the facilities that are already producing lights for Philips, Osram, or other multinationals. We're not at the stage where perhaps Osram or Philips is, but we're with them. They are developing next-generation lighting technologies. Technically, our product developments rely on the facilities. But they are working for these brands. So, our distributors won't have the second-generation LEDs if Osram is promoting the fourth-generation LEDs.
Q: What is the lighting market potential to SKN?
A: I think there is great potential especially in LED, which is becoming more popular as incandescent has been almost totally phased out and CFL is being phased out slowly in Europe. We are flexible because for those markets that still want CFL we can supply CFL although the market concentration now is on LED.
Q: Any possibility for SKN to enter into alliance with other brand names?
A: I guess. I mean anyone already producing lighting, or any A brand producing lighting. Right now I can't imagine how beneficial that would be for A brands. But, for some B brands that are trying very hard to build something to have Ford in their portfolio is definitely an advantage simply because of the brand recognition from industry and consumers.
Q: Will SKN expand into other sector than lighting?
A: Yes. We also have Ford license for household electrical appliances, including vacuum cleaners, ovens, coffeemakers, toasters, gas barbecue, wine refrigerators and air conditioners. So, these are something we will be doing in the Hong Kong electronics show next week where we have a booth to introduce Ford.
Q: Will you attend similar shows outside Hong Kong to market Ford lighting?
A: From our experience, we find real potential buyers and distributors in Hong Kong. We're looking for distributors in certain territory. When they go back to their territory, they will take part in local shows and have a booth with Ford home and lighting solution. So Hong Kong is a good location to draw the right distributors.