By MICHELLE HSU

This year's Taipei Int'l Gift & Stationery Show, held at the Taipei World Trade Center on April 24-27, was again combined with the Taiwan Souvenir & Handicraft Show; together, the two shows drew approximately 700 domestic and overseas exhibitors. Among the extensive range of products on show was a large number of lighting products with the function of gifts.

Lighting products at the show, such as the one that began as an Oriental flower vase and evolved into a functioning light, had both practical and decorative value added via Taiwan's emerging creative/cultural industry.

RSBN Ceramic Lighting
The "Ceramic Lighting" series developed by RSBN, a new lighting brand, was a contribution primarily of creative/cultural worker Roger Chen Wei-ting, the initial of whose English name, plus those of his wife Sunny, son Benjin, and daughter Nataly, make up the name RSBN. The name has been given the additional meaning of of 'Recreation, Style, Beauty, and Nature.'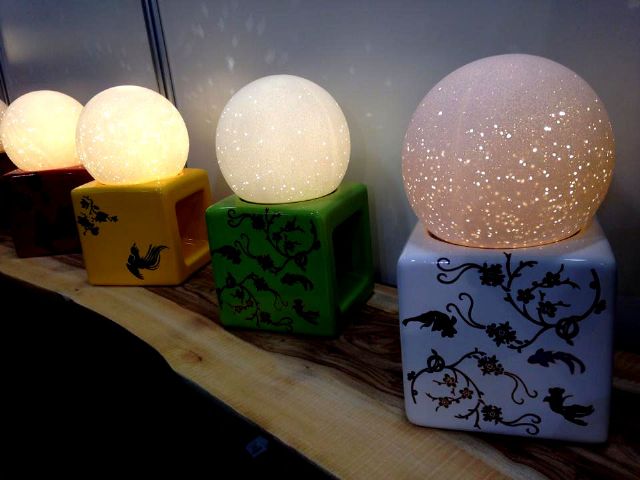 RSBN's Ceramic Lighting series presents the spirit of 'Recreation, Style, Beauty, and Nature.
"Let the light penetrate the eggshell-thin ceramic, and spill its warmth around" is the demand that Chen makes of his brand. RSBN's flagship 'When Porcelain Meets Timber' series mates ceramic spheres with the phytoncides released by different types of trees to enrich home design and the flavor of life. Chen designed different styles--basketballs, golf balls, and other interesting shapes--to match different lifestyles.
The "When Porcelain Meets Timber─Cypress" series incorporates a special technique in which ceramics are fired in an eggshell thinness before being subjected to a special process that lends a starfilled-sky quality to their surface appearance. When this is combined with precious Taiwanese woods like hinoki cypress, nanmu, and Taiwan cypress, a shape which portrays a 'spherical sky and square earth' is created that possesses Oriental aesthetics with a rich Zen flavor. Those who like these products can have their choice of any combination of wood and sphere.
To further narrow the distance between his creations and consumers, Chen is currently working on a 'When Timber Meets Color' series of works inspired by the use of bright colors to interpret a youthful and dynamic attitude toward life. Chen hopes that the approach to beauty embodied in these new lamps will produce the atmosphere of a simplistic lifestyle while at the same time being rich in elegance and energy.
Himalayan Rose Salt Crystal Lamp
Lamps made of rose salt crystal rock were introduced by a specialist feng shui ornament company, the Advance Jewel Group. Salt crystal rock is a kind of rock that has a high concentration of salt in its crystals; lying at depths of about 800 meters, this rock has been produced through tens of million of years of sedimentation​​.  The company's salt crystal lamps are produced in Pakistan of rock that is hand-mined in the Himalayan mountains there.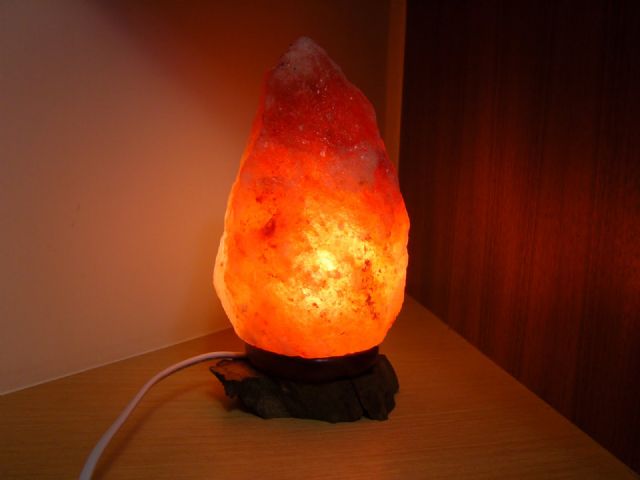 The Rose Salt Crystal Lamp by Advance Jewel Group emits a rosy glow, a soft light which creates a warm and romantic atmosphere.
The base for each salt crystal lamp is made ​​by a Taiwanese master carpenter. As the rock is a natural mineral product, a craftsman must make a base tailored carefully to match each lamp.
The light transmission of each salt crystal lamp is emitted, depending on the rock's coloration, as a rose-colored, white beige, or orange glow. The Himalayan salt crystal lamps on display at the exhibition emitted a rosy glow, a soft light which created a warm and romantic atmosphere enriched by the natural beauty of the rock texture.
Some people believe that because the salt crystal lamps are made of hand-mined rock, they preserve an energy field that has a beneficial effect on physical health. For example, believers say, the rock releases negative ions that purify the air and improve allergy conditions, eliminate the smell of smoke, and create a fresh and comfortable environment.
Elegant Carved Color Porcelain Lamp
The Elegant Carved Color Porcelain Lamp on display at the show was the work of Wang Jia Art Products Co.,Ltd., which was founded in 2004. The hand-made Elegant Carved Color Porcelain Lamp combines sculpture with high-purity clay, imagery, and  painting, and undergoes several firings at high temperatures. It features excellent light transmission and a fine texture that feels like glass to the touch. The product is enriched by a diversity of colors.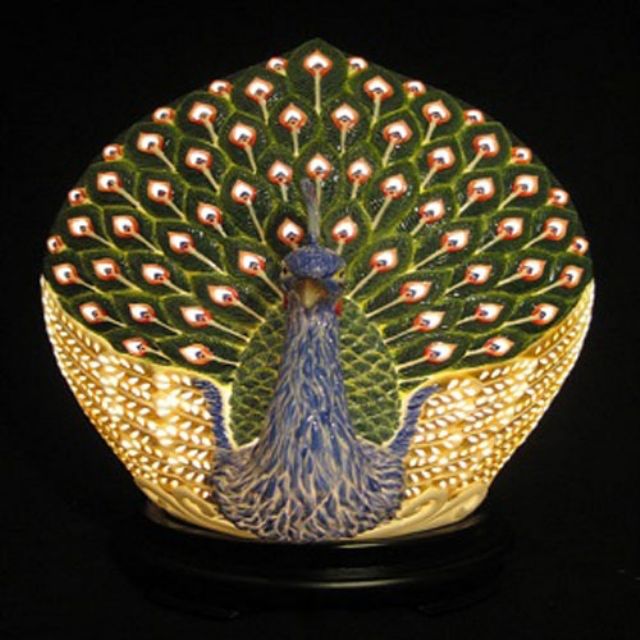 The Elegant Carved Color Porcelain Lamp from Wang Jia Art Products features excellent light transmission and a fine glass-like texture.
 In a brightly lit room, the lamp serves as a beautiful decorative item. Placed under a plain white wall, it adds a small but exquisite embellishment. A bunch of blooming flowers or a beautiful little fairy bring their own unique visual effects. Reflected light penetrates through the lamp and shines from the inside out, enabling the flowers or the fairy to radiate another kind of soft, warm beauty.
Another featured display was the Peacock Porcelain Lamp, with a body shaped like a peacock with a fan of ornate feathers that open downward to touch the floor.
Colorful and bright, the lamp is all the more dazzling for having been hand painted, stroke by stroke. The cores of the "eyes" on the feathers and the ends of the feathers are hollow, increasing the radiation of light and highlighting the peacock's erect stature.
The "Autumn Lotus Female Model Lamp" is another masterpiece of the series. The woman of this lamp reveals through color the very essence of Autumn, and after the light is switched on, the golden ambiance of Autumn increases, a little bleak, yet also with some mood of hope. Add to that the woman's stance and gesture, and one gets a fuller sense of a woman greeting the Autumn, facing the birds, with a heart of infinite melancholy. In addition, the bottom of the lamp is a wooden base, and from here the bulb can easily be replaced. 
Another featured display was the Spring Bird Lamp, with a lamp body comprised of two birds, one yellow and one red, perched on green branches as if looking at a scene bursting with the energy of spring.
Sharply contrasting colors allow the light emitted by the lamp to transmit a feeling of spring--a feeling that remains even when the light is dimmed.
Customized Lighting
Yi Feng Co., Ltd.  displayed customized lighting products featuring a combination of lighting and painting, lamps that incorporated photos, paintings, personal creative works, and works with sentimental value into personalized shades, lending a human touch to the lighting and combining it with the users' outlook or philosophy.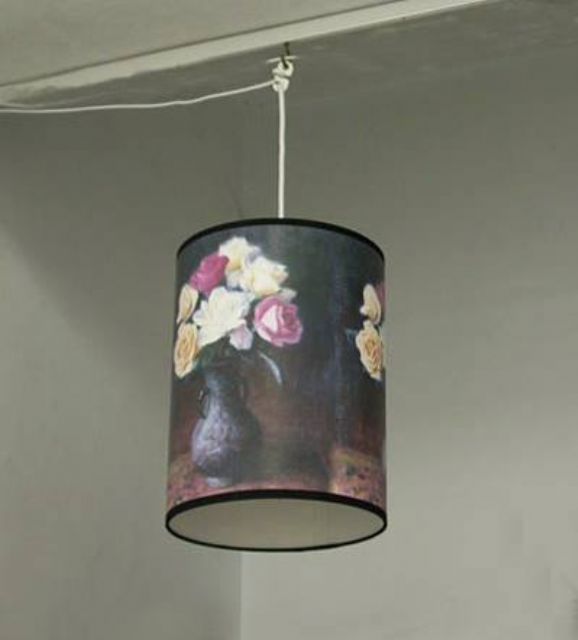 Customized products displayed by Yi Feng combined lighting and painting
This kind of lighting not only lets users see the famous paintings of artists of various schools take in a different "light," but also makes individual works a part of daily life, thereby incorporating art with life. The products are offered as table lamps, night lights, floor lamps, chandeliers, and other items.
The Painting-style Night Light is made of a metal frame covered with a linoleum shade, keeping the painting free of dirt and providing a waterproofing function. The most unique quality of this lamp is its hidden lamp head, which avoids visual interference and maintains the lamp's original warm and romantic atmosphere. The painting chosen for this lamp is "Starry Night" by Van Gogh.
The Cylindrical Barrel Random Hanging Lamp exhibits a relaxed and highly natural style. Users can put their own painting into the lamp shade, and the lamp can be hung in a location that allows it to be seen from anywhere in the room. Additionally, it is waterproof and easy to keep clean.