Visitors from around the world look for efficiency and innovation in lighting products
By KEN LIU

A total of 10,097 buyers from 112 countries and regions eagerly shopped for energy-saving lighting products, especially LED lamps, that were displayed by 1,081 exhibitors from 14 countries and regions at the Hong Kong International Lighting Fair (Spring Edition) 2014, which was held on Apr. 6-9 at the Hong Kong Convention and Exhibition Center.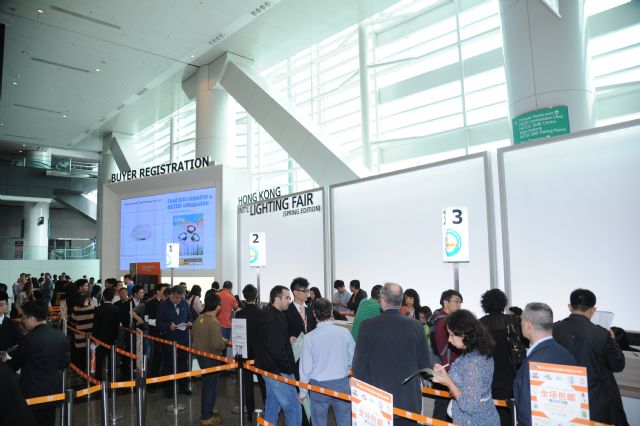 More than 10,000 buyers shopped for energy-saving lighting products at the Hong Kong International Lighting Fair (Spring Edition) 2014.
The number of exhibitors was up 6% from 2013, thanks partly to more first-time exhibitor countries including Australia, the British Virgin Islands, Canada, Italy, Malaysia, and New Zealand.
Malaysian exhibitors organized a group pavilion especially for the show. Mdm Zaimah Osman, Trade Commissioner of MATRADE Hong Kong, noted that the aims of the pavilion were to promote and explore business opportunities in East Asia for participating Malaysian companies, to create awareness of Malaysian lighting products in Hong Kong, and to enhance bilateral trade between Malaysia and Hong Kong.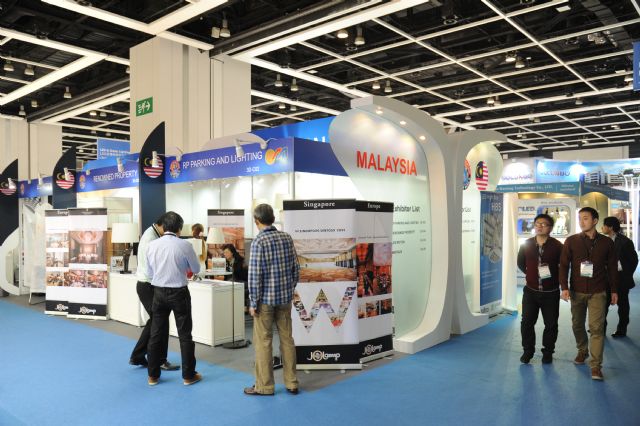 Malaysian exhibitors showed off their products in a national pavilion.
Special Zones
A new highlight of this year's show was the Avenue of Inspiration, which showcased creative offerings from new designers and design start-ups integrating lighting technology with unique designs.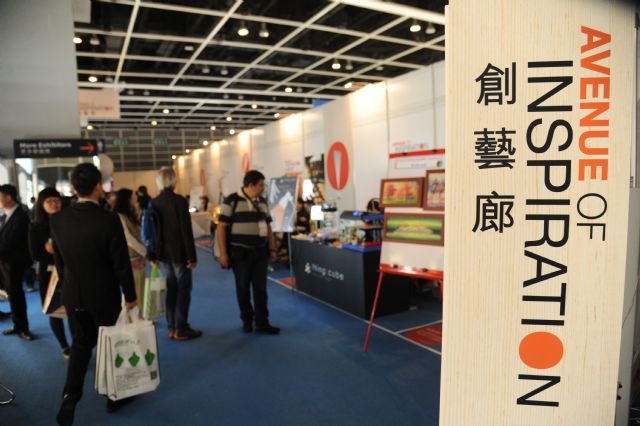 The Avenue of Inspiration was a new zone inaugurated this year.
Other zones included the Hall of Aurora, World of LED & Green Lighting, Commercial Lighting, Decorative Lighting, Display World, Lighting Accessories, Parts & Components, Technical & Outdoor Lighting, World of Chandeliers, and Small-Order Zone. The Small-Order Zone was set aside for buyers with orders for only five to 1,000 units.
Another special zone in the Hall 1C Concourse, which gloried under the theme "Blossom Blooms," showcased winning entries in the seventh Hong Kong Lighting Design Competition.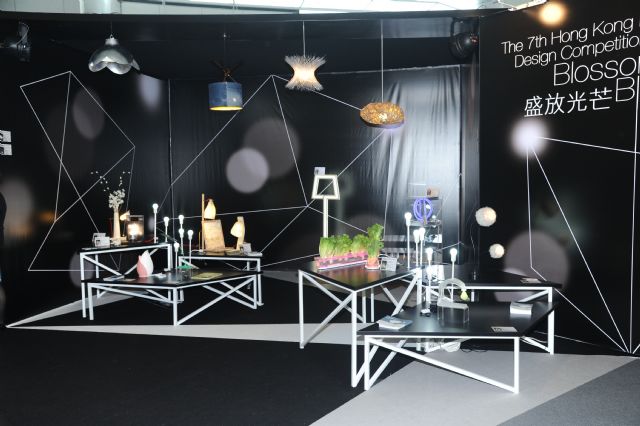 Winning entries in the seventh Hong Kong Lighting Design Competition were displayed at the Hall 1C Concourse.
Hong Kong Trade Development Council (HKTDC) Deputy Executive Director Benjamin Chau noted that buyer attendance from the United States, Canada, Italy, the Netherlands, Thailand, and Poland chalked up double-digit growth this year.
The organizer arranged for 53 buying missions with a total of more than 3,500 corporate buyers to visit the fair. The missions included such major importers and distributors as Home Depot of the U.S., mainland China's GE Lighting, Malaysia's ML Lamp & Electrical Supply, Poland's Zuma Line, Russia's Ledru and Palantir, and the United Arab Emirates' Light Vision LLC.
Among the exhibitors displaying interesting products especially selected by HKTDC were the HK3DPrint Co., Next Generation Lighting Source Co., Dreambox (HK) Ltd., Sunsi Australia Power Energy Ltd., Acrox Technologies Co., iBrain Technology Ltd., Flex Boxlight Co., MRC Technology International Ltd., Lucibel Asia Ltd., and iPlus Technology Co.
HK3DPrint exhibited a series of refined table lamps produced through its 3D printing service. The lamps were made mostly of polycarbonate using the company's Stratasys Fortus 3D Production System.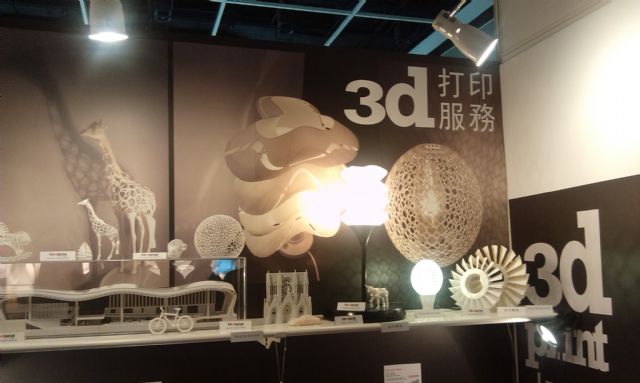 HK3DPrint exhibited a series of refined table lamps produced through its 3D printing service.
"3D printing makes highly complex designs possible and can convert the designs into physical workpieces directly from 3D CAD files in just a few days at fairly low cost," commented Ruby Tse, HK3DPrint's sales manager.
The company uses mostly polycarbonate as its printing material because of its good tensility, flexural strength, and heat resistance, properties that are ideal for lighting products. "Also," Tse added, "we use nylon as the material in some cases."
She reported that her company is Hong Kong's first 3D printing service provider, starting around a year ago. The firm uses equipment from Europe and America to assure top product quality for its customers, most of which come from Singapore, Australia, the United States, and mainland China.
Next Generation Lighting Source from Taiwan displayed a series of eye-catching LED lamps designed to replace the floating candles generally used to create a fun mood. The lamps are named "Ripple" after the appearance of their exterior.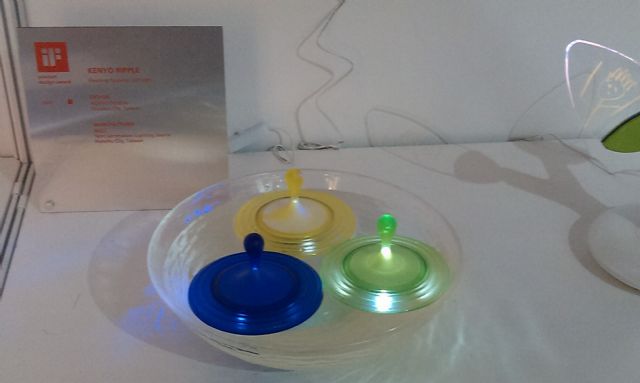 Next Generation Lighting Source promoted its "Ripple" LED lamps as a replacements for floating candles.
Fun Lamps for Babies and Adults
The lamps automatically switch on when in the water and off when out of it. They are light and colorful, and water-drop design on the top of the ripple makes the lamps easy to grasp. These features are designed partly for babies in bathtubs, pacifying them while they are being bathed.
iF-winning Next Generation promotes its products under the "Kenyo" brand. The company evolved from a maker of LED modules into a lighting-fixture manufacturer after most of its customers began going around it and approaching LED packagers directly. "Since the transformation," said sales representative Jing Liao, "we've been stressing innovation and branding."
In Dreambox's booths at the fair stood a series of table and floor lamps outfitted with arms of bamboo material, which is biodegradable and recyclable. The company endeavored to convey an image of eco-friendliness by promoting these lamps.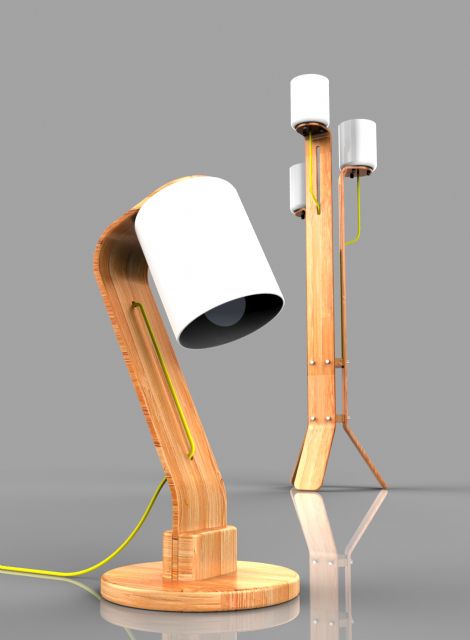 Dreambox pitched a series of table and floor lamps sporting arms of a bamboo material.
The lamps have wood-colored arms and white glass lampshades, highlighting a Scandinavian flair: simplicity and naturalness. Both of the materials used are recyclable.
In spite of the abundance of bamboo groves in mainland China, where the company sources most of the material, bamboo workpieces ares usually pricier than wooden workpieces because of the more complicated processing they require, according to Dreambox's marketing and product design director, Alex Yeung. For this reason, the company pitches its products mostly at European consumers.
Sunsi Australia Power Energy showed off an LED PAR38 lamp featuring superior heat dissipation thanks to a Taiwan-developed nanometer material coated on its exterior, leaving an extremely smooth surface layer. The company claims that heat on the 20W lamp's surface will not rise higher than 52 degrees C.
Also, thanks to a top-notch IC driver, the lamp generates none of the flickering that can cause eye fatigue with long exposure.
Shining Light on Suspicious Subjects
A 7W LED motion-sensing bulb was the highlight of the Acrox Technologies display at the show. A built-in IC allows the 600-lumen lamp to increase its light intensity from 1%, 25%, and 50% to 100%, depending on the closeness of the moving object being detected. To provide a sense of safety in darkness, the lamp always stays on at its minimum intensity of 1%.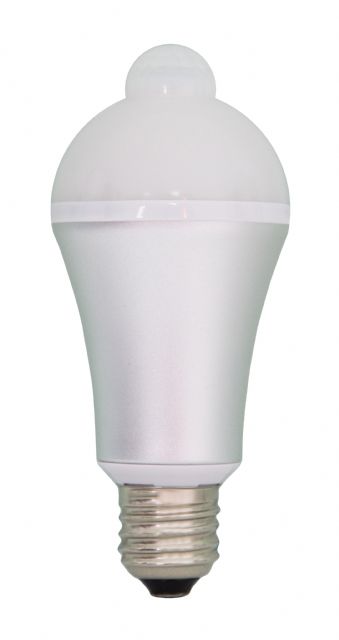 Acrox Technologies' patented 7W LED motion-sensing bulb has a dimming function.
The lamp has an effective sensing of over four meters and an effective sensing angle of 120 degrees.
The lamp is adjustable not only in intensity but also in color temperature, allowing a range from cold white 5,000K to neutral white 4,200K, warm white 3,500K, and warmer white 2,700K.
iBrain Technology displayed LED light bulbs with graphene applied to their plastic casings as a thermal-conductive coating instead of the more usual aluminum casing.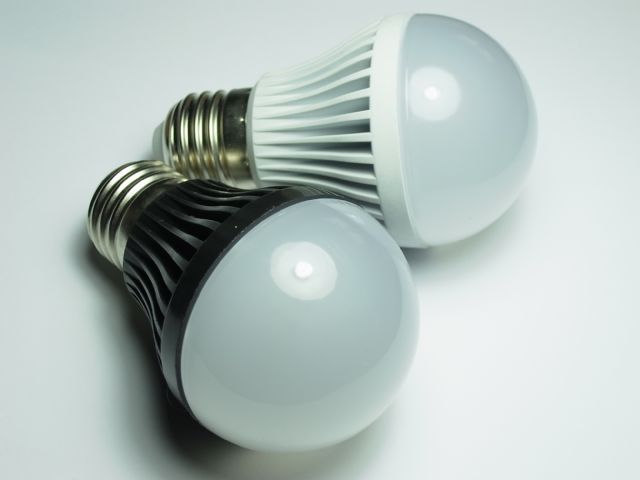 LED light bulbs with grapheme coating were the star of iBrain Technology's exhibit.
The use of plastic casings with a graphene coating makes the company's lamps less expensive and lighter than products with aluminum casings.  Also, the graphene-coated plastic casings do not conduct electricity, have good mechanical strength, and are easy to assemble.
iBrain began coating its LED lamps, including light bulbs and downlights, with graphene last year. Graphene has long been used on mobile phones because of its good thermal conductivity; according to the company, its conductivity rate is 11.5-11.8 W/mK, close to aluminum's 12 W/mK.  Graphene's heat dissipation rate is 48W per square centimeter per minute.
Flex Boxlight showed off its flexible "Window" LED screens, which are 75% transparent and 25% covered by LEDs, measuring 60cm by 30cm and weighing three kilograms.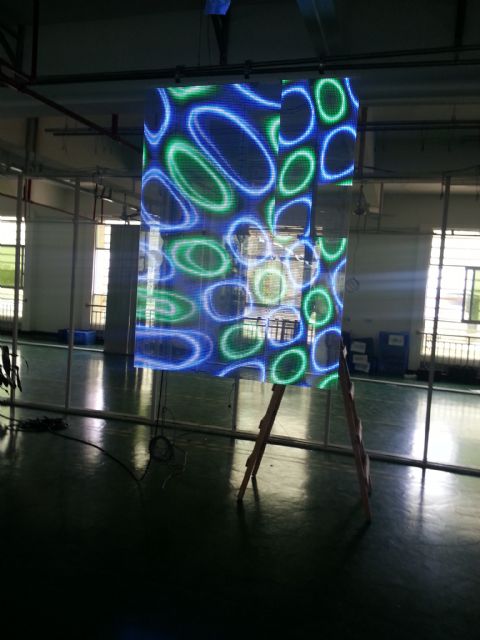 Flex Boxlight's flexible "Window" LED screens are 75% transparent.
The screens can be mounted on window glass--no tools needed--as an outdoor advertising billboard.
This product underscores the company's emphasis on the high value-added market that focuses on design. America, Europe, and Japan are its main export destinations.
MRC Technology also promoted energy-saving lighting technology at the show, but with a focus on T5 fluorescent light tubes rather than LEDs.
The company exhibited advertising light boxes illuminated by its T5 lamp, which integrates unique technology that enables it to deliver a color rendering index (CRI) greater than 90 and energy savings of more than 80%, meeting the U.S. LEED standard. Its special design allows the lamp to distribute light inside the boxes evenly with fewer lamps than competing designs, thereby eliminating the need of cooling systems and maintenance.
MRC Technology's T5 fluorescent tube delivers a color rendering index (CRI) greater than 90 and energy savings of more than 80%.
The firm claimed that its T5 lamp is more energy-efficient than LEDs, is recyclable (unlike LEDs), and less expensive than LEDs.
MRC has been contracted to supply T5-lit advertising light boxes to a variety of prominent organizations in Hong Kong, including the MTR Corp., Swire Group, Sino Group, Hang Seng Bank, Hongkong and Shanghai Banking Co. (HSBC), American Express, Wing Hang Bank, Citibank, 3M, Hong Kong and China Gas Co. (Towngas), J.P Morgan, Kodak, and Epson.
The name MRC, an acronym for "Mission to Reduce Carbon," strongly associates the company with eco-friendliness.
Lucibel Asia, the regional sales branch of the Lucibel Group of France, exhibited an interesting product at the Hong Kong lighting fair: an LED reflector lamp featuring advanced anti-glare technology and super-slim aluminum fins on its heat-sink modules.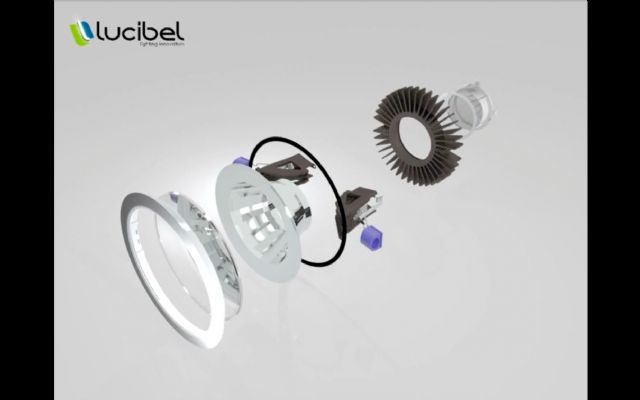 Lucibel Asia's LED reflector lamp features advanced anti-glare technology and a heat-sink module with super-slim aluminum fins.
The lamp's design, with a pair of fixation flaps on its two fixing devices to protect the false ceiling to which the lamp is fixed from being left with scratches, has been patented.
The lamp, which made its debut at the Hong Kong show and is available in 11W, 15W, and 22W sizes, was developed through teamwork between Lucibel's Hong Kong subsidiary and specialists in mainland China and France. A Taiwan-made power driver is integrated into the lamp.
Handy LED Sensor Light
iPlus Technology's household LED PIR sensor light was another interesting product on show in Hong Kong. The light has built-in photosensitive resistance and a PIR sensor, and can be affixed anywhere wirelessly.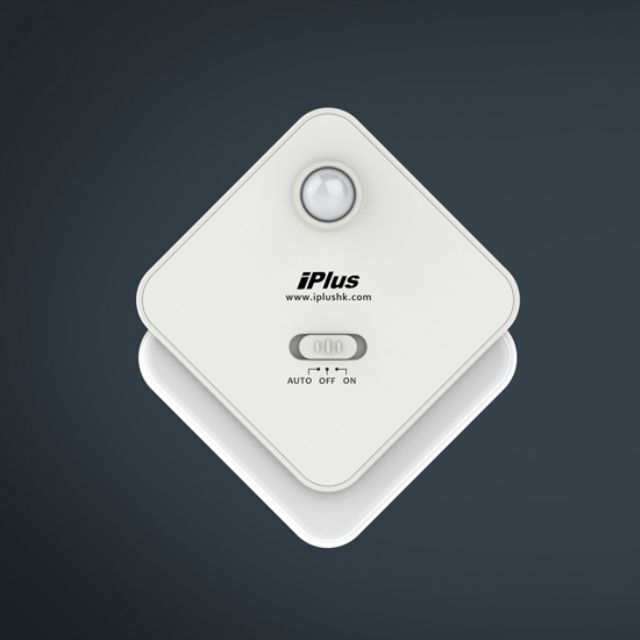 This LED PIR household sensor light from iPlus Technology can be affixed anywhere, with no wires needed.
Powered by three AAA batteries, the light has an effective sensing angle of 120 degrees and an effective sensing distance of five to seven meters. It produces a maximum of 41 lumens of 6,000K-6,500K cool white light, and dims when no moving object is within sensing range.
iPlus Technology is supported by technical backing from its parent company, Eastel 33 Enterprise Ltd., which has been operating in Hong Kong's fixed-line telephone industry for 16 years.
The Hong Kong lighting fair is recognized by many exhibitors as an ideal event for promoting brand names, given Hong Kong's highly free trade environment, transparent legal system, and position as the West's gateway to mainland China.
One of the prominent companies promoting its brand at this year's show was SKN Global Ltd., which is making a global pitch for Ford-branded household lighting products. SKN Managing Director Frank Kauer said that Ford is hoping his company will capture a 5% share of the global lighting market for the Ford brand by 2020.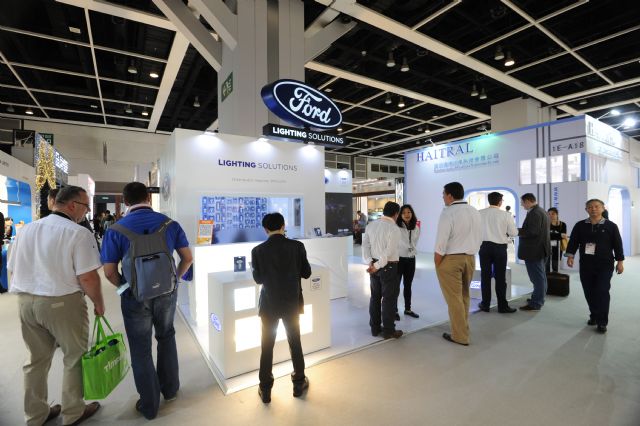 SKN Global mounted the global release of its Ford-branded household lighting at the show.
Manning a 27-square-meter booth in the Hall of Aurora--the biggest of the booths occupied by the 15 Taiwanese exhibitors at the show--Jan Cheng Lighting Co., Ltd. promoted its Dancelight-branded LED luminaries, including spotlights, omni-directional light bulbs, downlights, track lights, and panel lights.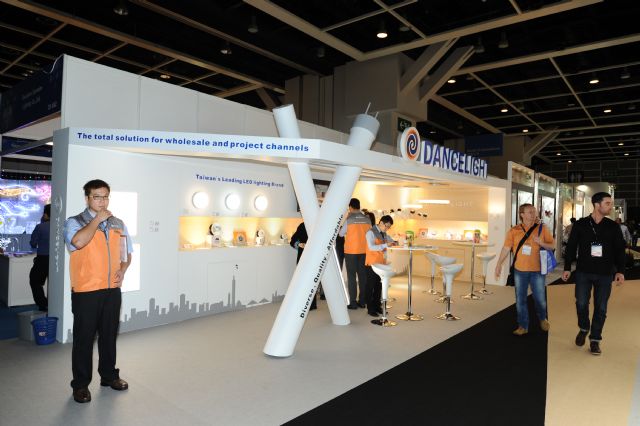 Jan Cheng Lighting was at the show to promote its Dancelight brand name.
The company stresses that all of its products are completely made in Taiwan in an effort to distinguish itself from manufacturers that compete on made-in-China pricing, which has been recognized as the primary killer of Chinese quality. "Actually," commented Chen-wei Huang, director of the firm's international division, "Taiwanese brands are very well received, especially in developing markets, thanks mostly to their good quality."
Although the company's 300-plus products are available at over 3,000 shops across Taiwan, Huang emphasized that her company needs to tap overseas markets because the domestic market is not big enough. So far it has introduced its products to over 20 economies worldwide, convincing consumers with the quality it has built into its products for over 30 years--not to mention their less expensive price tags.
Traditional to Novel
Rooster Lighting Co. , Ltd. is a typical Taiwanese lighting firm that has undergone the transformation from traditional technology to novel technology and innovation. At the Hong Kong show, the company exhibited projection-mapping projects which turn objects, often irregularly shaped, into a display surface for video projection.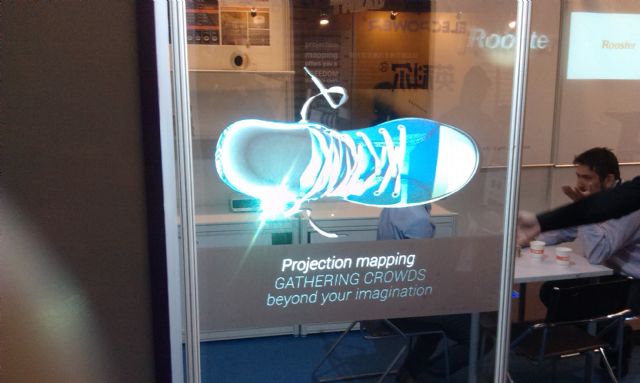 Rooster Lighting promoted its projection-mapping services at the show.
The company began life in 1989 by manufacturing street lights and has evolved through architectural lighting and solar glass bricks to projection-mapping projects.
Howard Hsu, special assistant to the company's president, is the engineer behind the migration to today's projection-mapping projects. "In projection mapping," he explained, "we began by cooperating with Australian designers and then integrating the technology we acquired into architectural-lighting projects." Hsu earned his degree in illuminating-engineering science in Australia before joining Rooster Lighting, of which his father is president. He is a member of the Illuminating Engineering Society of Australia and New Zealand.
Today the company has moved its projection technology beyond architecture to commercial advertising, providing pattern designs and control software.
Over the past few years the firm has won numerous awards for its design projects, including a Red Dot Design Award 2008 from Germany, a bronze plaque in the International Design Excellence Awards 2009 from the United States, and a Good Design Product Award from Taiwan.
There were 834 mainland Chinese exhibitors at the show, and Baoshida Electronic Technology Co., Ltd. boasted the biggest booth (54 square meters) of all of them. It used the booth to promote its brand name Baoshida, and its quality. "I've just flown back from the Light+Building show, where my company's Western customers said that 'Made-in-China' quality is not bad although it is cheap," commented Monica Liang, sales manager of the company's international sales department.
According to Liang, Baoshida is the biggest lighting manufacturing in northern China in terms of production scale and brand recognition. In Hong Kong, the company exhibited LED indoor and outdoor lighting.
Liang said that to avoid competition with local low-price suppliers, her company focuses on technically demanding products such as project-use lighting as well as the provision of after-sale services. "You can increase sales revenue in short term by offering low-price products," she asserted, "but for the long term, you really have to embrace brand-name operation. That's why we stress quality."
The company is a part of the Baoshida Group, which operates electrical-wire, magnetic-wire, and optoelectronics businesses--plus, following the acquisition of a Swiss metal manufacturer in 2013, the metal business. Liang said the group has reorganized as a holding group and will open an LED outlet in Switzerland.
The Jiashan Sunovo Lighting Technology Co., Ltd., headquartered in the Chinese coastal province of Zhejiang, greatly impressed visitors to the show by offering a 7W LED PAR light priced at only US$2.29. A company sales representative claimed that a Spanish buyer delivered an order for 80,000 of the lights at this show.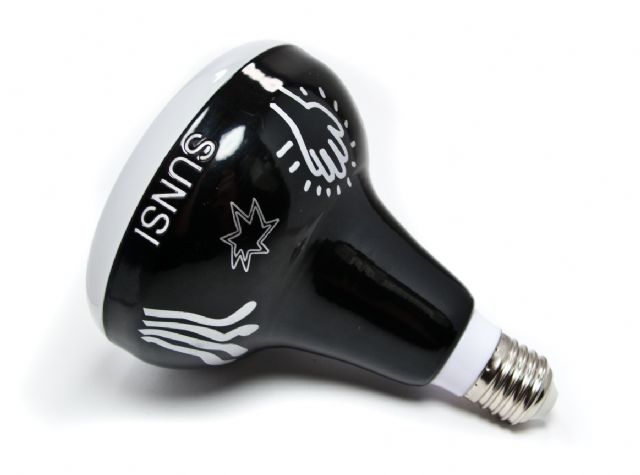 Sunsi Australia Power Energy uses nanotechnology to give its LED PAR38 lamp excellent heat dissipation.
The company's general manager, Stanley Shen, stressed that his company has a strong R&D team with excellent personnel, international-grade equipment, and rich experience in LED-lighting field.
Jiashan Sunovo has won CE, RoHS, CNAS, and GMC certification over the past few years, and has been granted several patents in mainland China. Its LED-lighting products include spotlights, candle lights, bulbs, tubes, G4 lights, streetlights, flood lights, and solar streetlights.
Classically Italian
Forme Di Luce Roma from Italy was a first-time exhibitor at this year's show, promoting Forme di Luce-brand classical-style lighting products including table lamps, chandeliers, wall lamps, floor lamps, lampshades, and parts finishes. According to sales representative Roberto Aversa, the company's products are all made by hand in Italy with materials sourced completely from that country. "Although our products are hand-made and high in quality, they are competitive in price," stressed Aversa.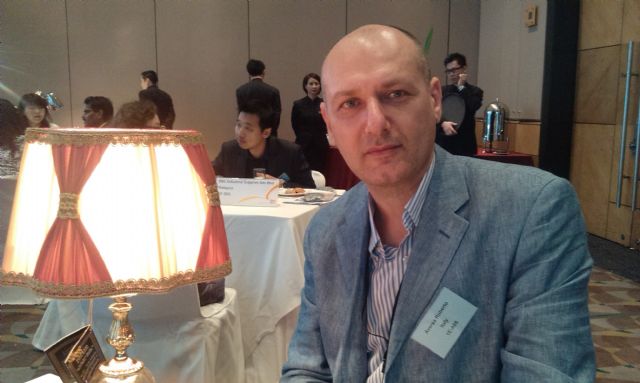 Roberto Aversa with Forme Di Luce Roma's hand-made classical lighting fixture.
The company was founded only in 2003 and produces lampshades along with lamps in a workshop having a galvanic division for the treatment of brass and another section for assembly. "The company is the result of the owner's commitment to offering an excellent-quality product at a competitive price," Aversa added.
Classical-style lighting fixtures in Italy, he said, come with trendy bright-gold, antique-gold, super-gold, satin-brass, satin-nickel, medium-nickel, old-brass, silver, and old-silver finishes.
In addition to branded lamps, the company can also offer products based on personalized requests.
Filling Energy-saving Needs
Buyers at the show eagerly searched for energy-saving lighting products to fill growing demand in their home markets.
Kenny Tey, general manager of Tebisa Industries of Malaysia, came looking for LED lighting. He said the market potential for LED lighting in Malaysia is huge, especially in light of the many three-star and budget hotels that are under construction there.
Manager Cabrera Chen of Taiwan's Circle World Corp. was at the 2014 show to source LED lighting with integrated COB LED devices. His company supplies Philips, OSRAM, and GE lighting products to wholesalers in mainland China, Hong Kong, and Taiwan, he said, adding that "LED lighting products are widely accepted in our markets because they are energy-efficient."
Francisco Jose Garcia Campuzano, owner of Instalaciones Electricas CABELUZ in Spain, was there shopping for LED lighting. LED lighting products are preferred in the Spanish market, he said, because of their longer lifespan, higher luminescence, and environmental friendliness.
CEO Brenton Mauriello of Flexfire LEDs, a U.S. online store that sells LED lights and strip lights with high brightness for commercial, industrial, and residential use, came to the show to source LED lamps from mainland Chinese suppliers.
First-time visitor Ruben Nariyants, general manager of Forward Light Ltd. of Russia, was looking for LED light bulbs for indoor use. His company, he said, needs more suppliers to support its expanding LED lighting business. Usually, Forward Light purchases LED lights from Shenzhen and other cities in Guangdong Province.
The show featured a number of forums, most of which focused on LED lighting technology and market trends. At the "Asian Lighting Forum," Dr. Sun Tam, engineering director for Optiled Lighting, estimated that the market penetration of LED lighting will surge to 50% in 2020, up from 30% or so today."Although LED has its own pros and cons," he commented, "compared with other lighting products or light sources such as incandescent and fluorescent, LED is still the most eco-friendly light source."
However, the engineering director noted, as the technology has advanced the price of LEDs has been dropping rapidly in recent years, leading to fierce competition. "The industry should increase its competitive advantages and product differentiation,"l he suggested, "to seize future business opportunities by means of innovative designs and technology such as wireless smart technology."
Terry Lau, lead engineer with Intertek Hong Kong Ltd., suggested that small and medium lighting enterprises should avoid unnecessary losses by spending time to understand the increasingly strict European and North American regulations on environmental protection and safety.
Antony Chan, chairman of the Hong Kong Interior Design Association, pointed out in a forum talk that lighting design can create an overall atmosphere and lend energy for various facilities. "Lighting design definitely helps strengthen the esthetics of everyday life," he stressed.
Tino Kwan, founder of Tinokwan Lighting Consultants Ltd., pointed out that the pace of LED development has been very rapid since the initial introduction of red LED lighting in 1962, and that "LED lighting, making the interior design become more three-dimensional, plays an important role in the overall design."