By JUDY LI

The furniture and handicraft industries have played an important role in Indonesia's economic development, and are a major source of jobs there, supplying employment (directly or indirectly) for more than three million people. Both industries have a very long value chain that intersects with several other sectors, producing a large multiplier effect which benefits the artisans who supply intermediate goods to exporters, wood and rattan traders, and businesses.

With its rich natural and human resources, Indonesia is well poised to become a leader in the furniture and handicraft industries in Southeast Asia. The Association of Indonesian Furniture and Handicrafts (AMKRI)  has targeted boosting exports of furniture and handicraft exports to reach US$5 billion over the next five years.

With full support from AMKRI, the Indonesia International Furniture Expo (IFEX) has become a showcase for the country's celebrated furniture and crafts and the perfect opportunity to introduce product designs inspired by nature and brought to life by skilled artisans.

Organized by UBM Asia, the show this year took place from Mar. 11 to 14 at Jakarta International Expo, with 17 members of the International Alliance of Furnishing Publications (IAFP) invited to attend the show for the first time. The 17 members came from Germany, France, England, Italy, India, Turkey, Belgium, Russia, Australia, Romania, Mexico, Brazil, the United States, China, Japan, Singapore, and Taiwan.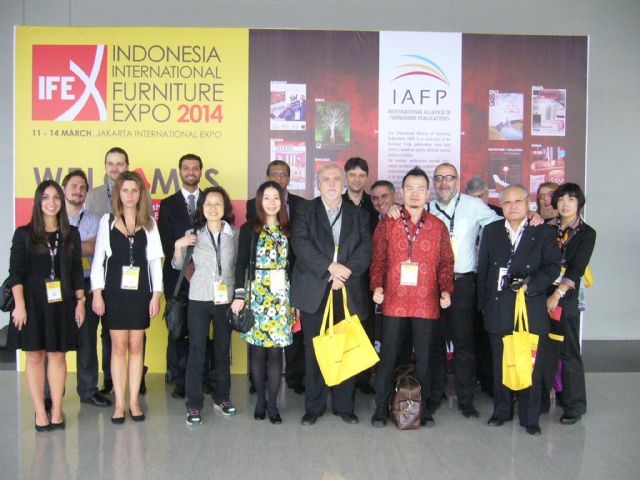 IAFP members at IFEX 2014.
The four-day event drew a total of 367 domestic and overseas exhibitors who displayed a variety of traditional and modern furniture products as well as handicraft items that featured innovation and creativity. The exhibition was enriched by collections of wooden, rattan, and bamboo furniture for the living room, dining room, and bedroom, as well as furniture for kids, along with an extraordinary diversity of handicraft items.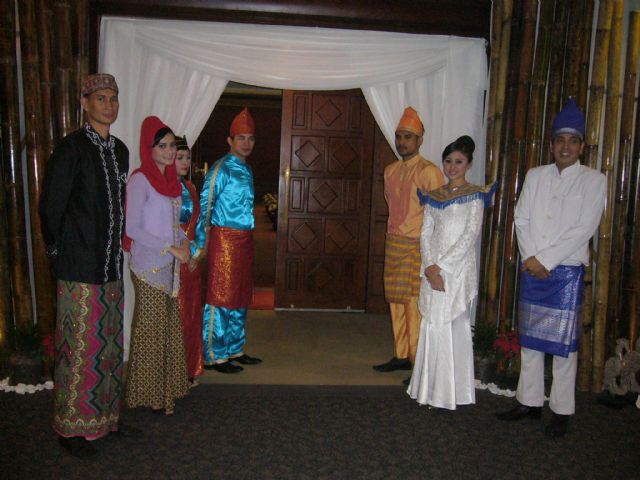 Receptionists in traditional Indonesian dress stand in front of the door, ready for the opening ceremony.
Reusing Relics from the Past
Eco-friendliness was neatly incorporated into the furniture products made by local furniture producers; for example, old dugout canoes were given a new lease of life as bookshelves, reclaimed wooden boards were turned into racks and chairs, and colossal tree roots were crafted into dining tables.
To keep up with world market trends, Indonesian furniture makers have in recent years used advanced expertise and high technology to generate traditional furniture products that are made mostly of wood, bamboo, and rattan. "The market decides everything including manufacturing technologies, materials, and designs," noted Utama Kajo, an international economist in Indonesia. "The demand for new designs is very important and will help activate the market."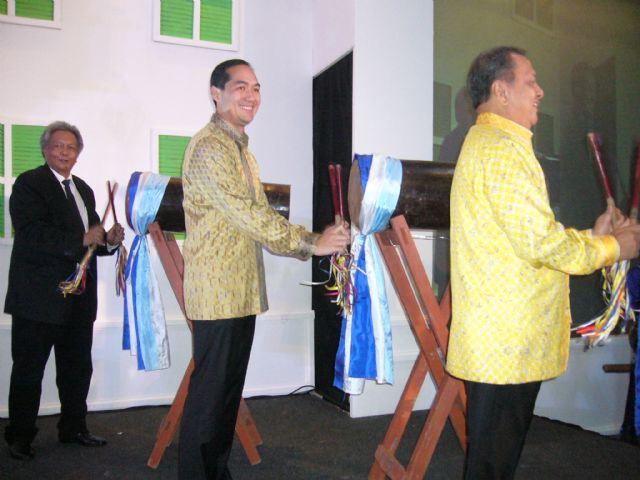 VIP guests beat Indonesia's unique drums at the opening ceremony.
Today Indonesia is regarded as an emerging market that is becoming attractive to foreign investors and manufacturers. Scores of the exhibitors participating  in IFEX 2014 were from Taiwan and mainland China, and most came for the first time.
Taiwanese Exhibitors Look for Indonesian Market Niche
Taiwanese participants consisted mainly of hardware manufacturers looking to sell hardware parts to furniture manufacturers in Indonesia. "My company generates window blinds and related parts, and is present at the show for the first time," said Mountain Lai, sales specialist with Ace Power Blinds Co., Ltd.
Ace Power was established in 1985 in Tainan, southern Taiwan, and produces mainly plastic blinds. "We export 80%-90% of our products globally, with major markets in Europe and the Middle East," Lai commented. "The prices of our products are about 30% higher than those of products made by our counterparts in mainland China, yet the high quality of our products has won the loyalty of clients."
"We intend to explore the market in Indonesia and provide blinds and hardware parts to furniture factories here. So we hope to find interested local buyers at the show."
Also attending the show for the first time was Martin G. T. Hwang, managing director of Aking Trading Co., Ltd., who believes that Indonesia is a promising market as it has the world's fourth-largest population of about 250 million people. "Being a trader," Hwang noted, "I can supply the market here with many different kinds of products turned out by manufacturers in Taiwan. The purpose for me to attend IFEX is to find local agents to help me sell products in Indonesia; I believe we can find a market niche for Taiwan's metal and office furniture here."
Established in 1986 in Kaohsiung, southern Taiwan, King Slide is a world-leading slide maker and is listed on Taiwan's stock market. "IFEX is a very important furniture show in Indonesia, and is fully supported by the government," said King Slide's international sales manager, Eva Hsieh. "This is the third time for King Slide to participate in the show. IFEX helps us explore the market in Southeast Asia, and we are glad that we have a better exhibition location this year."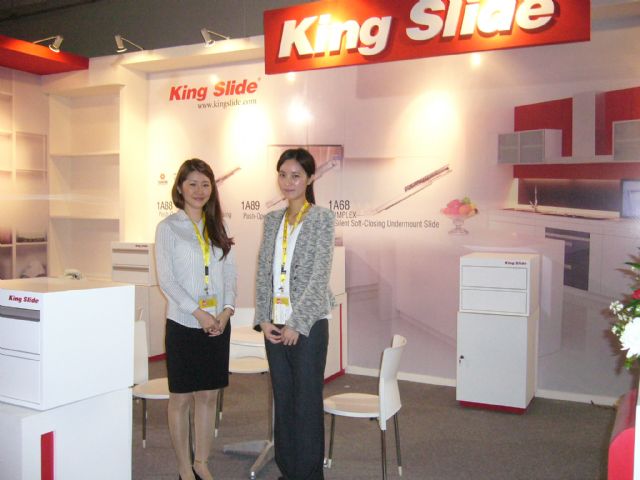 King Slide's booth at the show.
"Our company exports 80%-90% of its hardware components globally, mainly to Europe and Japan. In Indonesia we sell slides to local furniture manufacturers who ship their furniture products to Europe and the U.S. We have two factories in southern Taiwan that turn out all of our products. To effectively promote our products to our big markets, we have established showrooms in the U.S. and mainland China."
Seeing a rosy outlook for emerging markets in Southeast Asia, particularly Vietnam and Indonesia, King Slide is working actively to tap the market in the region. "We hope to find more local agents to sell our products in Southeast Asia," Hsieh noted.
Chinese Firms Come to Tap the Indonesian Market
Many exhibitors from China were also at IFEX for the first time, aiming to tap the market in Indonesia. "This is the first time for my company to attend IFEX, and we hope to explore the market here," stated Jeff Wei, sales manager of Luoyang Jin Feng Office Furniture Co., Ltd., a Chinese manufacturer of computer desks, metal drawers, and file cabinets for offices.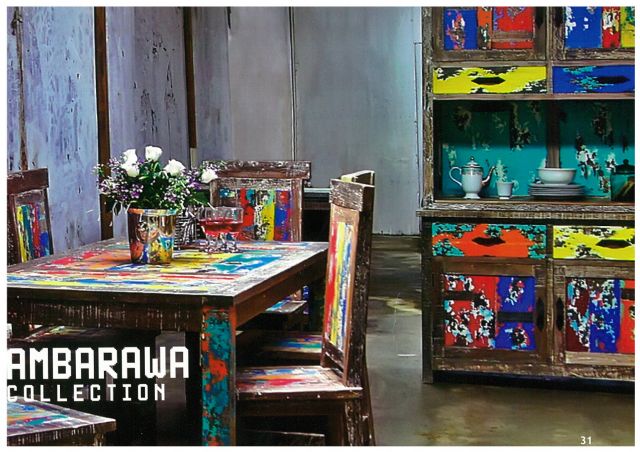 Compact steel cabinets are among the most popular items in Luoyang Jin Feng's product lineup.
With a workforce of more than 300, Luoyang Jin Feng is located in China's Henan Province. "Our products are made of heavy gage cold-rolled steel plates coated with electrostatic powder, and feature knock-down structures as well as innovative designs. For instance, our cabinets have reinforced doors that can be opened to a 40-degree angle, plus adjustable shelves inside," Wei said proudly.
"We began selling our products overseas only in recent years, and today exports absorb 40% of our products," Wei added. "The Middle East is our No. 1 export outlet, followed by Australia, Europe, South America, Japan, and the United States. And now we intend to explore the markets in Southeast Asia, and this is the reason why we are attending IFEX."
Ample Electro-Mechanic Development Co.,Ltd., China's largest manufacturer of safe deposit boxes, was at the show for the same reason. "Like most Chinese exhibitors," commented the company's sales consultant, Peter Hu, "we are participating for the first time and hope to find local agents here."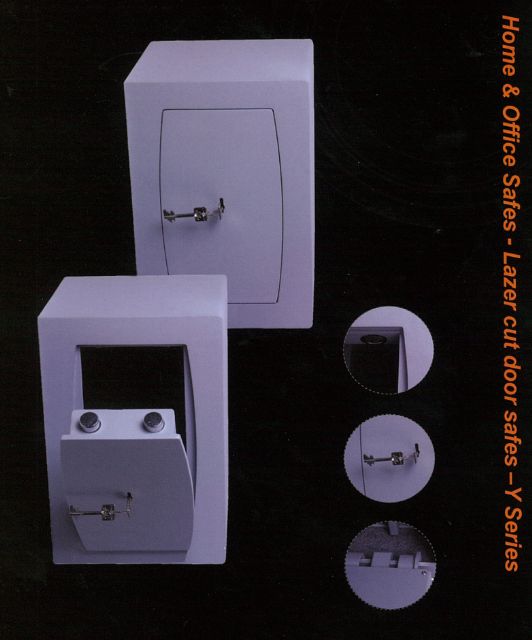 Ample's home and office safes are gaining popularity in the global market.
Ample originally supplied only the domestic market, and began marketing overseas only a decade ago. "Today we sell 60%-70% of our products at home and export the remaining 30%-40% to over 50 countries around the world, with the U.S. being our major export outlet," Hu reported.
"In China," he added, "we have more than 600 sales outlets and our products have gained a pretty good reputation at home. Now we see promising markets in Southeast Asia and hope to find local agents at IFEX."
Indonesian Manufacturers Seek Wider Markets
Having particiated in IFEX since 2009, Djawa, an Indonesian manufacturer of furniture, home and interior decoration products, and construction goods, takes the show as one of the main channels for the global marketing of its products.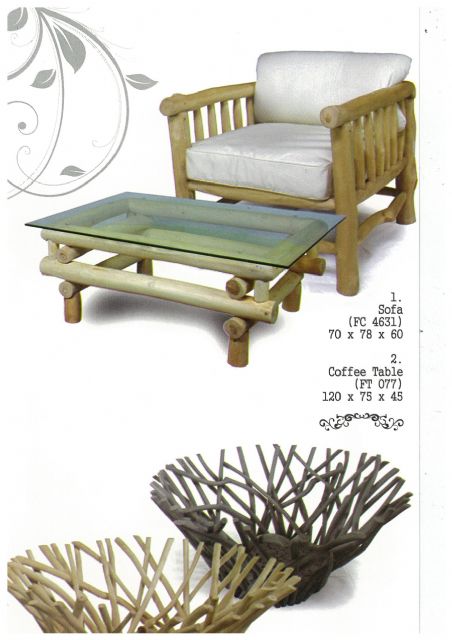 Djawa's simple-looking sofa, coffee table, and log bowls are made of plain wood.
"IFEX is a very good exhibition in Indonesia, and we have chances to meet buyers from many countries here," stated Jajak Suryo Putro, general manager of Djawa. "We have four factories in central Java with a workforce amounting to about 230 persons who are skilled in the production of furniture made of various materials including leather, teak, and mahogany."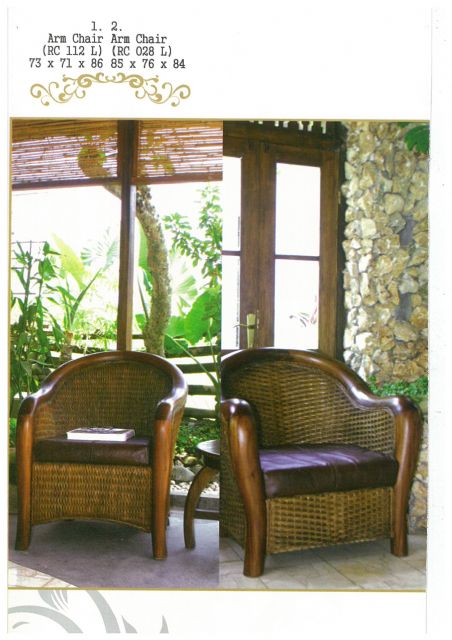 Djawa's arm chairs, made of rattan and wicker, feature simplicity and elegance.
Djawa exports 70% of its products to markets including France, Switzerland, and the U.S. It is eager to explore other overseas markets, with South America and Southeast Asia being its next targets.
Another Indonesian manufacturer and exporter of furniture and handicrafts, Home Design turns out products rich in Indonesian's tropical style with materials consisting mainly of locally-grown wicker, rattan, bamboo, and wood, as well as fabrics with a local color.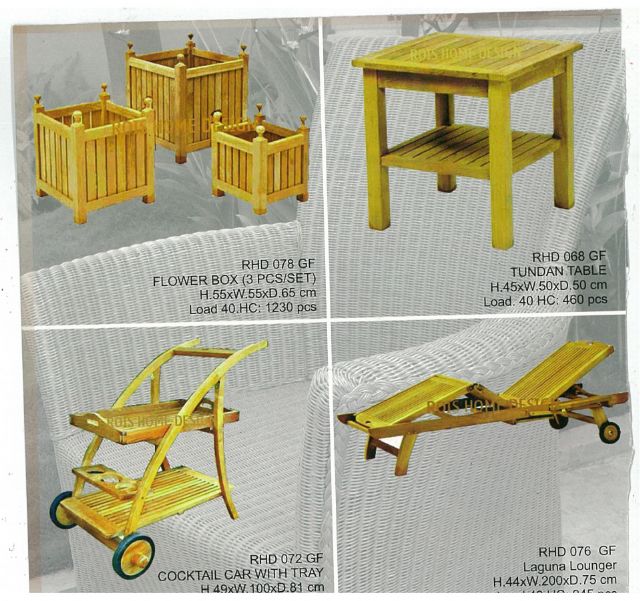 Home Design uses plain wood to make a variety of products including flower boxes, casual tables, and cocktail cars with trays.
"We provide a variety of indoor and outdoor furniture items made mostly of wicker, rattan, and wood," says Isnaini Hurhidayati, senior official at the company. "Our products feature a mixture of Western and Indonesian style and are 90% exported mostly to Italy, France, the United States and Canada. This is our first time attending IFEX and we hope to find new buyers in the show as we intend to explore markets in China and South America, like Brazil and Chile."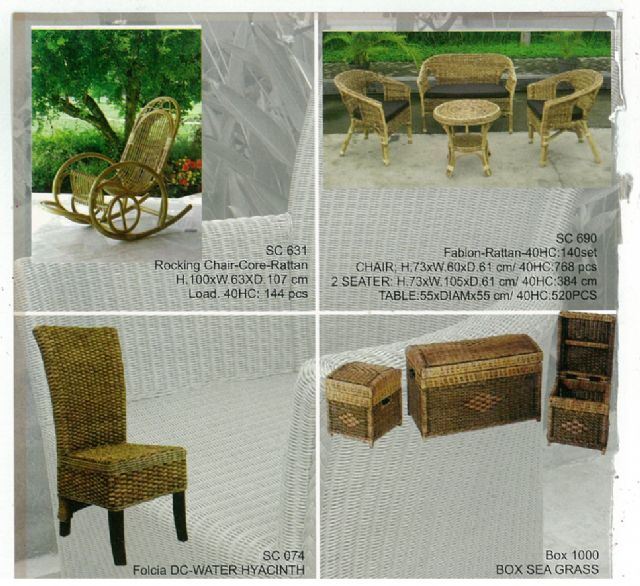 Home Design makes a variety of furniture items of rattan and wicker.
Even as the company intends to further explore overseas markets, it also wants to enlarge its home market. "Indonesia's economy is improving and a better business climate is foreseen in the coming years," Nurhidayati emphasized. "This is one of factors that attracted us to attend the show, which is believed to be an effective channel for furniture manufacturers to explore markets both at home and abroad."
Established in 2003, Asiatradeperkasa (ATP) is a Jakarta-based company run by a Chinese Indonesian. "I got a master's degree in finance at a university in Australia, and returned to Indonesia to start up my own business in 2003," explained Erry Indrianto, the firm's managing director. "I had a pretty hard time in the beginning years."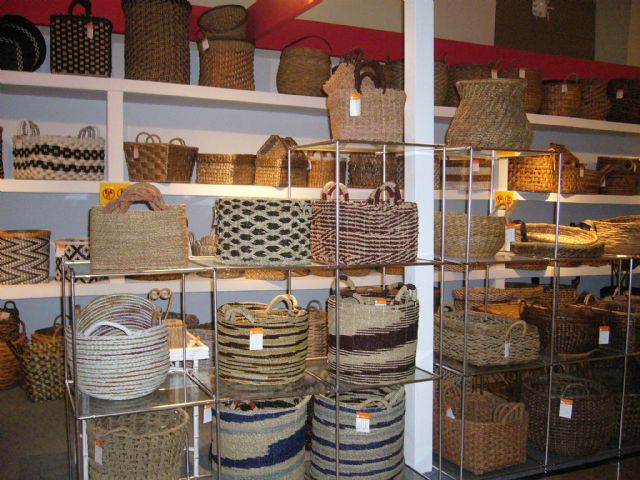 ATP uses locally-grown wicker, water hyacinth, and coco sticks to weave a wide variety of baskets, jars, bowls, and bins.
"Now," he continued, "I have a plant in central Java with a workforce of about 150 personnel who fabricate a wide variety of hand-made items such as baskets, magazine holders, candle holders, decorative bowls, stools, boxes, and cabinets. The materials of our products are mostly locally-grown wicker, rattan, bamboo, water hyacinth, and banana trees, all of which are abundant in the forests of Indonesia."
"Our products are 100% exported globally and are increasingly popular, as they meet the worldwide trend toward environmental protection by being natural and recyclable. The company constantly pays attention to R&D and rolls out new products almost every month to remain competitive in the face of the growing competition we have seen in recent years, particularly from neighboring Vietnam and Myanmar," he added.
"IFEX is an important furniture show in Indonesia and can attract a lot of foreign buyers. We hope to meet new buyers at this show."
Another leader in the Indonesian furniture industry, Wisanka Indonesia, uses recycled wood, old dugout canoes, discarded boards, and abandoned wood from boats as materials for its furniture products, which present a unique mixture of tradition and innovation while featuring a primitive simplicity and a novel antique appearance.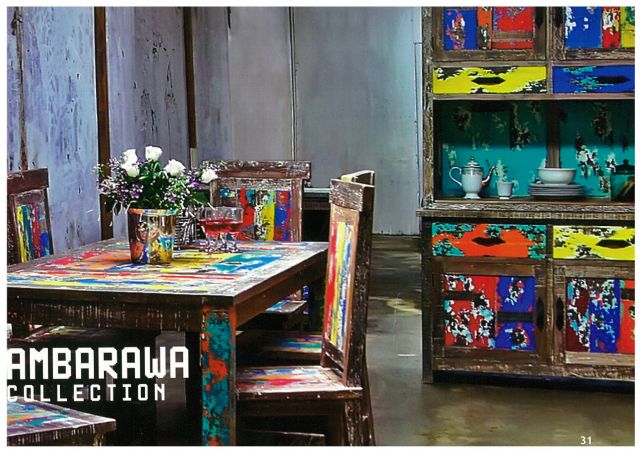 Wisanka's dining room sets are made of reclaimed boat wood showing different colors from repeated paintings.
"We purposely keep the multiple colors resulting from the repeated painting of the abandoned boat wood when we make furniture products out of it, and this gives the finished furniture products a unique colorful appearance," pointed out company president Murwat. "In addition to reclaimed wood, we also mix fresh wood and rattan with the recycled materials."
Wisanka has eight factories in central Java with a combined workforce of 300-400. "In recent years we have experienced slow growth due to difficulties caused by wage hikes, rising prices of raw materials, and labor shortages, as young people are unwilling to do traditional handicraft work," Murwat lamented.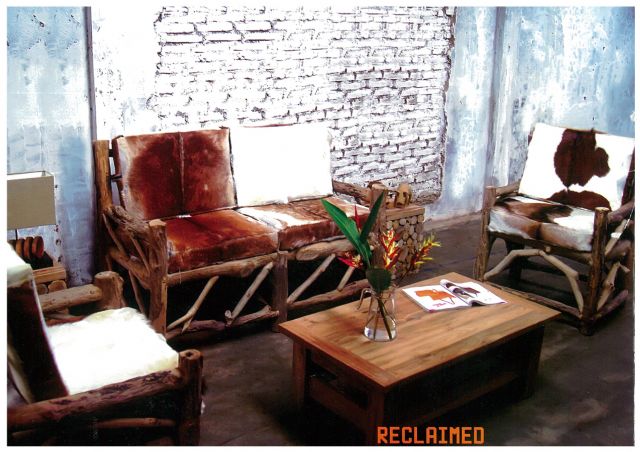 This rugged-looking living-room furniture was made by Wisanka using reclaimed teak wood.
"Nevertheless," he went on, "we try our best to cultivate young talent and improve the manufacturing environment. We attend IFEX because it is a leading furniture show in Indonesia and a venue where we can meet international buyers."
The company exports 95% of its products, with Asia being the main overseas market. "We also sell products to Europe and Central America, and we hope to further explore those regions this year," Muwat said.